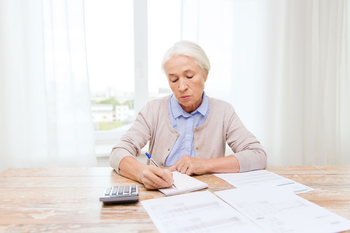 All Rights Reserved
As a financial planner for the elderly, one of the issues that I am frequently confronted with is the spending down of the inheritance to pay for the high cost of eldercare. All too often, when an aging person's health and care needs require important difficult financial changes to be made, the adult children's sense of financial bequest and expectation misdirects their decisions and actions, negatively impacting the quality of care received by their elderly parent.
Many elderly people view the inheritance they've saved to give to their children as their final legacy, a way of ensuring their children's and sometimes even their grandchildren's financial stability. Many of these elderly adults view the inheritance they plan to leave as a final purposeful action.
Then there are the heirs. Those who are aware of this potential and final gift of love tend to ride the cognitive spectrum from concern for their parents' well-being to a sense of entitlement. Sadly, the prospect of losing a substantial inheritance clouds the decision-making process for some of these adult children.
Many factors—financial resources, family expectations and relationships, healthcare demands and time—can influence the crucial financial decisions around making senior care arrangements for a loved one. Oftentimes a substantial liquidation of assets—even a combination of home and savings—may be required to facilitate the care of the elderly parent. This is when adult children must come to terms with their expectations and some must deal with the loss of what they believed to be already theirs. Assets that have been promised to adult children and assets that adult children have expected to inherit are not theirs until there is a legal agreement in place.
I try to sit down with my elderly clients before speaking to their children and/or their future heirs. My clients need to know that I represent their interests, and they should feel entitled to claim what is rightfully theirs. When necessary, I remind the heirs that the money they view as their inheritance is not theirs yet. As harsh as those words may sound, they need to be spoken in certain situations. It often takes an experienced financial professional to assess the whole picture and bring any sense of entitlement into perspective.
The cost of senior care today is very expensive, and it's only getting pricier. It's likely you'll be confronted with difficult financial issues that require decisions, such as: Do we sell the house? Which assets do we liquidate first? How long will my mom require care and how costly will it be? Unfortunately, perhaps because of the high cost of long-term care, many adult children as well as the elderly parent seem to weigh the financial considerations first. The main priority should always be the well-being of the elderly individual.
Of course, understanding all the financial variables and evaluating every alternative will help ease the anxiety around making these crucial decisions. You may want to consider hiring a financial professional who can advise you of your options and help create strategies that can maximize your financial resources.
Planning and talking about eldercare before situations become dire makes a significant difference in the resulting options, quality of care, dignity afforded to the elderly individual upon entering care services—and most of all, planning ahead will only help the maintenance of healthy family relationships.