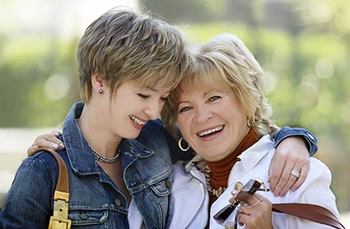 All Rights Reserved
You've gone through all the hard work of choosing an assisted living community for your loved one, and now you face the next hurdle: move-in day.
Settling into a new living community can be overwhelming for your loved one. It's like the first day of high school all over again. She wants to get to know her new living space, meet new people, and make a good impression -- at the same time, she might be feeling blue about the home she's left behind.
So we asked experts this question, and we hope their answers will help you find a new idea or helpful tip to help your loved one move into senior living when the time is right.
Once the movers finish settling your loved one into her new room, what can she do to reduce any nervousness she might be feeling?
Don't forget the importance of fashion.
"I learned this when my mother moved to assisted living. Your loved one wants to be comfortable, but it's important to feel put together and confident, too. Go to a local store like Coldwater Creek or Chicos, and ask what color is popular. Help your mother choose a nice scarf or piece of jewelry -- and don't forget the lipstick. Wearing a bright, beautiful scarf or interesting brooch can even be a conversation starter -- when someone compliments your loved one, it's a great way to break the ice."
-- Mary Furlong is the president and CEO of Mary Furlong and Associates.
Help your loved one find a buddy.
"Many independent and assisted living facilities have a resident 'buddy' system for new residents. Find out if that's available and make sure your parent knows their buddy and has that resident's phone number. If it isn't available, ask the resident services manager or activities director to match your parent with a person who lives near or will sit at his or her dining table and facilitate the introductions so that your parent has a new friend from the beginning. Also, review the activities calendar with your parent, discussing the options, what they might have an interest in, where the activity is held, and what the sign-up process is. Get them involved and with other residents as soon as possible."
-- Mary Koeffend is president and CEO of Accountable Aging Care Management.
Encourage your loved one to take it slow.
"It's important to continually remind yourself not to make snap judgments about your new environment. Given that change is almost always difficult, it's critical not to mistake the normal and expected initial upset that you may feel for evidence that the move wasn't a good idea. Do your best to take it slow, accept that your new surroundings may not be perfect, and that whatever problems you may initially encounter can probably be resolved without too much difficulty. Once you've settled in and gotten familiar with the environment, the people, and a new schedule, you'll have a much better sense as to how the move is going to work out for you."
-- Linda Adler is the founder of Pathfinders Medical.
Make their living space feel like home.
"Once the movers have finished their job, it is so very important to take extra time to make your loved one feel at home in their new, unfamiliar space. All boxes and packing material should be removed, closets organized, and extra items stored. Place familiar sheets and pillows on the bed the first night. Duplicating the placement of favorite collections, furnishings, accessories, pictures, clocks, bath and kitchen items so they mimic the previous home is a great way to help your love one feel settled and reinforces their sense of self, empowering them to venture more readily into community."
-- Nan Hayes is founder of MoveSeniors.com.
Take part in your loved one's first meal with the community.
"I think the most important thing is to stay with your parent for the first meal she would have in the community. Parents need that support, so they're not just pushed into the community life. It's also a good idea to ask the person in charge of meals if you can be seated at a table where there are residents from the community. That way your parent will meet a few people and not feel so alone when you leave."
-- Donna Robbins is the CEO of Ultimate Moves.