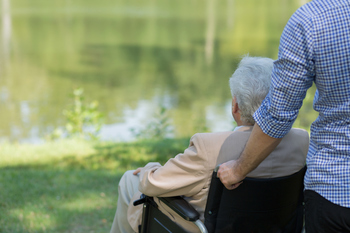 All Rights Reserved
Even though he'd been working in skilled nursing and rehabilitation centers for over a decade when his father was diagnosed with cancer, Mike Beaty says he wasn't prepared to step in as his dad's primary caregiver. But left with little choice after his mother had a massive heart attack and suddenly died, he stepped in to help his father, who at times was left nearly helpless from the devastating effects of chemotherapy.
One of the most unpleasant responsibilities Beaty faced as a family caregiver was changing his father's diapers. As a professional care provider, he says it wasn't unusual for him to handle such tasks, "but when it's your parent, when it's your father, when it's someone that you looked up to, that you respected... to reverse that and allow them to become the child and take care of the most intimate needs they have, it's difficult to do that."
Now the vice president of provider relations at StoneGate Senior Living, Beaty says he tries to impart some of his experience being a personal caregiver to the physicians he oversees, a perspective he says he lacked until going through it himself.
As a post-acute care provider, Beaty had an advantage when he stepped into the role of family caregiver, and was able to offer assistance in coordinating things like his father's medications. (After a round of chemotherapy, his father might come out of the hospital with as many as 35 prescriptions). But many male caregivers are thrust into a role that can challenge their notions of masculinity and push their emotional boundaries to the breaking point with little knowledge of how to proceed or seek help.
SEE ALSO: Find In-Home Care Help Near You
According to a 2015 survey by the American Association of Retired Persons (AARP), there are 16 million men acting as caregivers in the U.S., 40 percent of all caregivers. These men are the target of a new campaign to provide recognition and resources as many of them may face steeper emotional challenges than women, struggling with the most intimate aspects of caregiving and facing a stigma that might stop them from seeking help.
The AARP campaign features a video public service announcement featuring "Breaking Bad" star Danny Trejo imparting the story of a "warrior" caregiver providing for his ailing father using the tagline, "Caregiving is tougher than tough." The AARP has set up a resource page for caregivers seeking help at aarp.org/caregiving
Jean Accius, an AARP policy expert in caregiving, authored a report published in March to draw attention to male and to dispute stereotypes about them. One of the biggest misconceptions about male family caregivers is that they're only taking on tasks like financial assistance, household chores and shopping, according to Accius.
But he says that, like Beaty, they are often taking on the most personal tasks of caregiving, helping patients with eating, bathing and dressing, and even handling nursing tasks like giving injections, tube feedings or wound care.
SEE ALSO: Find In-Home Care Help Near You
It's these deeply personal tasks that men tend to struggle more with than women, Accius says. Many men the AARP surveyed said they felt unprepared or uncomfortable doing those types of tasks.
Complicating matters, men are also less likely to seek help and talk about the emotional challenges they face with caregiving. Accius says he's heard from men from throughout the U.S. that they tend to "suck it up" rather than seek help. But by not expressing their experiences, these men are at greater risk of anxiety, isolation and depression.
"Most of the male family caregivers agree that caregiving is stressful, but very few reached out for help," Accius notes.
Recognizing that issue, Beaty helped establish a support group for men acting as caregivers at his church in the Dallas, Texas, area. He says he's found other men going through similar circumstances there and together they've managed to have more frank, candid discussions about their experiences.
For some men like Stephen Chee, now the director of wellness at Lifetime Wellness, serving as a personal caregiver can even foster a lifelong passion for helping people in similar situations. After becoming his father's primary caregiver, Chee left the business world and now works directly with professional caregivers to help them maintain their energy and compassion.
Caregiver burnout is a big risk -- caregivers often give too much of themselves while not taking care of their own needs in turn. Chee says a lack of sleep, improper nutrition or inattention to any other personal needs can lead to feelings of guilt, withdrawal, or depression. "That can all be defined as the cost of caring," he says.
For anyone suddenly thrown into being a new caregiver, Chee says, "Evaluate your support system, be honest with yourself with your capacity… To do that due diligence is very important, it's going to get tested."
"Setting realistic expectations for ourselves and everyone involved is important," Chee says.
Beaty recommends taking a lighter touch to certain unpleasant tasks, like changing diapers, but not to shy away from talking about important things, as uncomfortable as they may be. For example, another task he helped his father with was end-of-life planning and making sure he took the time to travel and see some of his siblings one last time.
"I wouldn't say it was an awkward conversation, but it wasn't pleasant," he recalls. But after traveling with his father to see his brother whom he hadn't seen in three years, they spent a great couple of hours together. "To be able to give that gift to my father was something I'll never forget," says Chee.
For anyone struggling with the stresses of caregiving for an aging loved one, Beaty says, "Never forget this individual is still the same person... they're still somebody who needs to be loved, to be cherished."
"I think that because I chose to see my father that way, my reflections and remembrances of him will always be positive even though I watched him go through the worst time in his life," he says.