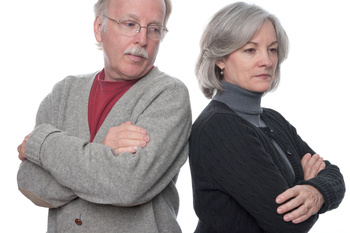 All Rights Reserved
In honor of Valentine's Day -- and all those couples in the caregiving trenches -- Caring.com decided to find out how caregiving affects a caregiver's relationship with a spouse or partner. While we knew that this was a charged issue, we weren't expecting such an extraordinary response.
It turns out that of the 300-plus respondents to the survey, caregivers have strong feelings -- both positive and negative -- about the challenges of balancing the demands of their caregiving role alongside the intimate relationship they have with a spouse or partner. They also weighed in on the toll that caring for an older adult can take on everything from family finances to sexual relations to leisure time.
On the negative side, some respondents say that caregiving pressures had alienated them from their partner, while others said it caused, or at least contributed to, their separation or divorce. But we were reassured to learn that, despite caregiving's pressures and demands, many of you have figured out how to find a balance. Many caregivers expressed deep gratitude and a measure of awe for their spouse's support and understanding; some even said that sharing the experience of caring for older relatives ultimately strengthened their relationship.
Key findings from Caring.com's Marriage Survey:
1. 80 percent of respondents said that caregiving put a strain on their relationship or marriage
As one caregiver summed it up, "Even a strong marriage, like mine, suffers from the imbalance in household and child responsibilities because one of us is caring for a parent. Decreased time together, lack of opportunity for consistent communication, resentment of the needy parent, shift in the use of financial resources, increased fatigue and stress all increase the strain on a marriage."
At the same time, the balance of the respondents said that caregiving has caused no strain on their marriage; some even found that it brought them closer. As one woman confided, "My husband knows that my mother won't be here forever and tells me to do what I feel like I have to do, and I love him dearly for this."
2. Three factors in particular put caregivers at the highest risk for marital strain
They are:
Holding down a job on top of caregiving duties
Providing financial assistance to an aging relative
Caring for an aging relative in the home
Many of those surveyed are members of the "sandwich generation," managing kids and work as well as caregiving duties. As one harried caregiver explained, "My husband and children always have to work around the current emergency that arises with my mother. It makes you tired physically and mentally to care for someone who's sick all the time, and it drains your energy in all aspects of your life."
For other caregivers, however, a partner's help provides solace and inspiration: "My spouse has been very supportive of me and my caregiving of my parent. He's my rock," a reader told us.
3. 89 percent of respondents said caregiving caused them to spend more time apart from their spouse
What's more, 48 percent said it was causing them to "drift apart," diminishing their feelings of attachment to their partner. One caregiver wistfully told us, "My husband and I were alone for more than eight years, and now we have my dad. Our pleasant routine is gone. We no longer have a date night and we can never do anything spontaneously. We don't seem to have much private time to just talk, and we both feel the strain on our relationship."
In other cases, however, a partner was able to grow and adapt. As one caregiver explained, "At the beginning of this journey, my husband was resentful of the time I spent caring for my dad. He's a more compassionate person now, and I believe this journey has actually strengthened our marriage."
4. 46 percent of readers said that caregiving had a negative impact on their romantic relationship with their significant other
34 percent said it had a negative impact on their sexual relationship. Many respondents complained of the toll on their own physical and/or mental health. Said one, "I feel like a rat on a wheel most of the time, and I can't get off the wheel."
But other respondents told us that a spouse's support helped them cope: "I've come to appreciate my partner for his assistance in not only dealing with my mom with Alzheimer's but also for being an equal caregiver in my aunt's final days here at home. He has been a wonderful, caring person who rose to the occasion in a fairly new relationship. I feel truly blessed to have him at my side during this difficult journey."
5. 25 percent of respondents reported that caring for an ill or aging relative played a significant role in their divorce or separation
One caregiver wrote, "My husband and I never used to fight. Now we're taking care of my husband's grandparents. We're still married -- but I'm planning on leaving. No breaks and no stress relief really hurt me and have broken my spirit."
At the same time, 56 percent of respondents said that caregiving played no part in their separation and divorce, and some actually credited it with strengthening their marriage: "Caring for my husband's mother, as pancreatic cancer took her from us, brought us closer together -- a deeply shared experience. We did it together out of love for one another and for her," a reader told us.
Clearly, the ways in which couples respond to the challenges of caregiving are as unique as the marriages themselves -- but our findings made us wonder why some marriages do better under the strain of caregiving than others. Are there things couples can do to protect their relationships? To find out what experts suggest for strengthening a relationship, see Marriage and Relationships: How Caregiving Couples Can Make It Work, which contains advice from several Caring.com contributors, including Family Advisor Carol O'Dell and Drs. Charles and Elizabeth Schmitz, authors of the award-winning book Golden Anniversaries: The Seven Secrets of Successful Marriage.