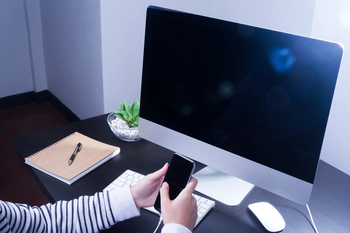 All Rights Reserved
In a past blog post, I talked with three daughters who have all cared for their ailing mothers. The specifics of each situation are unique but one thing the trio has in common: They have all been -- or still are -- long-distance caregivers.
For two years, Barb Silver made a monthly trek to her mother's home on the other side of the country for a five-day visit. She says that period of her life, before her mother died, is a blur because she was sleep deprived and jet lagged much of the time. Judi Kaplan spent 18 months shuttling back and forth between her home in San Francisco and her mother's Santa Monica address before recently relocating her to the Bay Area. Janice Shapiro continues to make regular visits to her frail 93-year-old mother, now in a nursing home on the East Coast.
Providing assistance from afar presents challenges, regardless of whether its motivated by love, duty, guilt, or a combination of all three. Let's start with the obvious: It's time-consuming, costly, and your vacation days vanish in a flash.
There are ways to take some of the stress out of the situation. Here, helpful advice gleaned from these women on how to make the best of distance caregiving.
1. Keep a list of contacts.
Make sure you have all relevant numbers -- including office, cell, and pager -- for the doctors, nurses, and other health workers and caregivers looking after your family member. Likewise, spell out when and where these people can reach you. "Every time my mother was in a new healthcare setting I made sure I knew who all the staff were and that they all knew they could call me 24/7," says Silver.
2. Schedule doctors appointments during your visits.
It's important for doctors to put a face to the person they're mostly dealing with on the phone, and you'll be better informed about your relative's health if you're able to accompany her to the doctor. After her mother's eye surgery, Kaplan went with her to follow-up doctor visits. "We discovered my mother wasn't putting in eye drops for her glaucoma," says Kaplan. "Then we discovered she didn't realize she had glaucoma."
3. Show your gratitude.
Silver spared no expense on thank you gifts such as wine, chocolates, and flowers for the doctors, nurses, office staff, and home caregivers who looked after her mom. "People will go the extra mile for you if they feel their work is valued and appreciated," says Silver, herself a nurse practitioner. Similarly, when Kaplan visited her mom, she'd take her neighbors for dinner to thank them for providing transportation, buying food, or simply checking in on her mother.
4. Ask family members for financial assistance.
Airplane tickets, rental cars, and other travel costs start to add up -- fast. Siblings or other family members, including the person you're caring for, may be willing and able to share the expense.
"Have a frank conversation with your parents if you know they can afford it," says Silver. "You don't want to run up debt caring for someone if you can avoid it."
5. Stay on top of the paperwork.
Copy all healthcare and financial documents when you do visit, so you or another family member can follow up later if necessary. Kaplan wishes she'd had a laptop to bring with her. "Not every older person has a computer and it would have been handy to have access to the Internet -- to do research and take care of bills -- or to print out medication charts or graphs for her caregiver," she says.
6. Find competent caregivers, and take care of them.
Look for a caregiver from a licensed service with experience caring for the elderly. Check references. Do whatever you can to make things as simple as possible for the caregiver.
To help out her mother's caregiver, Barb Silver color-coded medical information, set up graphs for drug dosing, marked up insulin bottles, and created a calendar with an appointment schedule. She also coordinated her visits to her mother to give the caregiver a well-earned and paid break when she was in town.
7. Visit.
You have to show up, says Silver, it's that simple. "If your parent is in a nursing home, she may be ignored if no one comes to visit," she says. "It's important that the staff see that this person is cared for, loved, part of a family. It helps keep them accountable. I was in everybody's face -- but in a nice, friendly, likeable way."
8. Delegate, if you can, among family and friends.
Don't try to manage everything -- you're likely to get overwhelmed and burned out. Kaplan's sister in New York handled Internet research, while Kaplan and her Bay Area-based sister traded off visiting their mother. Likewise, Silver dealt with caregiving and medical matters while her brother sorted out their mom's financial and legal affairs.
9. Make peace with what you can -- and can't -- do.
Caring for a relative can be tricky in the best of times, especially if you don't have the most stellar relationship with the person who needs your help. "Whatever level of involvement you choose or are able to commit to, think about whether you can live with yourself after the person is gone," advises Silver.
10. Take care of yourself.
As hackneyed as it may sound, the truth is, you're no use to anybody if you're exhausted, rundown, or sick. So make time to replenish. Silver found comfort at home by getting enough rest, eating well, and drinking water after those long-haul flights. Exercise, such as yoga and dance, were great stress relievers. "Dance class enabled me to think about my body instead of someone else's for 90 minutes," she says.
Can you offer any other suggestions for long-distance caregivers? We'd love to hear about them.