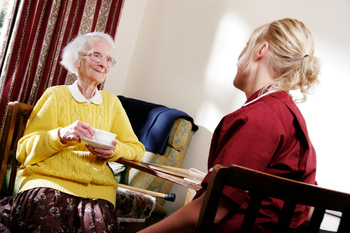 All Rights Reserved
When your aging loved one can no longer stay safely in his or her home alone, that means it's time to make some big decisions about senior care. Your loved one's needs, desires and financial situation all have to be considered.
One option that is becoming increasingly popular is live-in care. As Baby Boomers age, many want to stay in their homes as long as possible, or to "age in place". And using live-in care, while not cheap, can be more affordable than moving into an assisted living community.
Here's what you need to know about paying for live-in care and average live-in caregiver salaries.
Dollars and sense
The costs for any type of senior care vary depending on geographical region and the care recipient's needs, but the average salary for a live-in caregiver is about $24,000 annually, or $2,000 a month, according to Payscale.com, which provides online information about salaries and benefits. Assisted living is more than double that, typically costing around $4,000 monthly; nursing home care in the U.S. typically costs more than $6,500 a month.
But it's not always as simple as paying a flat fee for service. The $2,000 rate is for live-in caregivers who work about eight hours a day, five days a week and can sleep without interruption through the night. Anything more than that can raise the rate pretty quickly.
If, for instance, your loved one needs attention during the night, you may have to pay for round-the-clock assistance. If this is the case, you'll likely need a rotation of more than one caregiver to avoid paying overtime (time and a half). If this happens, you may have to pay a daily rate of anywhere from $250 to $450, said Ann Cason, founder and director of Circles of Care.
With a live-in caregiver, some of the salary may be offset by things like room and board, food, or allowing access to a vehicle for personal use.
It may also be less expensive to hire outside of a licensed agency. Amanda Lambert, author of the upcoming book, "Aging with Care: Your Guide to Hiring and Managing Caregivers at Home," said she sees an increasing number of people turning to friends, neighbors or other acquaintances for live-in help. But she cautions against this, since an agency offers safeguards, like background checks and liability insurance, while hiring someone privately does not.
"More people are doing this because of the cost of live-in care," Lambert said. "But if you are hiring off the street, you are assuming the risk of that person coming into the home."
Salary depends on the services you need
Before hiring a live-in caregiver, you need to determine if he or she will be able to provide the services you need. And that will vary depending on the state regulations for personal care aides or certified nursing assistants.
In some states CNAs can perform a wide range of tasks, but in others, a live-in helper will be there only for companionship and ADLs, or activities of daily living. These include:
bathing
dressing
cooking meals
transportation or running errands
light housekeeping
medication reminders
and sometimes blood pressure checks
In some states, Lambert said, CNAs can take care of things such as administering medication, giving injections, blood sugar checks and emptying catheter bags.
If your aging loved one has needs that align more closely with nursing care and doesn't live in a state where these additional services are allowed, it may make more sense to hire both a live-in caregiver and nurse. This can end up being cost-prohibitive, Lambert says.
Questions to consider:
Is it possible for one person to be both caregiver and housekeeper for my loved one?
Is my loved one able to sleep at night or does she need assistance. If a helper must get up more than once or twice, live-in help may not be the way to proceed.
Does my loved one need help walking or managing her medication?
If you want the live-in helper to move into your loved one's house, how long will it take for her to leave her present home? Where will she go if it does not work out?
If the live-in helper should get sick while she is caring for your loved one,who will take her place?
How many hours a day will my loved one need help? How much time will be spent helping her with personal care? How much time will be spent cooking and serving meals? How much time will be spent shopping and doing laundry?
Does your mother need companionship? How much time will the live-in caregiver be required to spend with your mother? How much time will she be required to be in the house?
Does your loved one want help? Will she be hostile?
Also, consider the need for time off. Will the live-in caregiver receive two days off per week? Who will replace her when she is off work?
Hiring through home care agencies
One way to avoid problems down the line is to do your homework up front. Because there is such high demand for in-home care, including live-in care services, Lambert said new companies are popping up all over. Beware of agencies that haven't been in business for very long or of services that cost well below market value.
"If the pricing is too good to be true, it probably is," she said. "Make sure you know what you are getting for the price."
When you reach out to an agency, be sure to ask for specifics about their financial policies. You should fully understand how they handle billing, services and fees, and if they offer financial assistance such as payment plans.
Caring.com Family Advisors can provide information on different in-home care agencies near your loved one and connect you and your loved one with agencies that might be a good fit. From there, the agency will work with your loved one and his or her family to better understand their care needs and to set up an initial meeting.
---
Most people want to stay home, and if they can afford to do it, they will. But Lambert said it's important to realize that it's going to be a management challenge, especially if you're juggling more than one caregiver at a time. Because the pay is relatively low for caregivers, Lambert said to expect this position to be transitional. People move on to other careers and the rate of turnover is high.
With contributions from Ann Cason, a geriatric care manager based in Portland,Oregon.