Low-Cost Transportation Services
How to Find a Low-Cost Ride for a Senior
100% helpful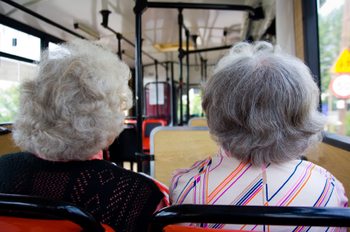 Depending on locale, flexibility in scheduling, and ability to travel independently, many people find their transportation needs met by local mass transit, senior transport programs, or paratransit services. As an added incentive to passengers, many of these services offer discounts to frequent riders, older adults, and those with disabilities.
Here's what to know about these inexpensive transportation options.
Senior transport and rideshare services: Transport services and carpools, vanpools, and ridesharing arrangements operated by local community groups, nonprofits, and private businesses dedicated to older adults are available in many local communities to meet some transportation needs. These services are usually best suited to those who require minimal assistance getting into and out of a vehicle and who have set or predictable transportation needs. Most require a reservation one to several days in advance and don't offer at-need or same-day services.
Costs generally range from a per-ride charge of $5 to $10 within a designated service area to a fee based on miles traveled.
While the services differ according to the locale, most Area Agencies on Aging can provide referrals to or contact information for local senior transit or carpooling services. Find a local office through the Area Agency on Aging Directory.
Local mass transit services: Don't overlook bus and other mass transit services. Fares vary widely by locale, typically ranging from 50¢ to $4 per ride. Frequent riders, adults over a certain age, people with disabilities, and Medicare cardholders often qualify for reduced fares. While most vehicles are equipped with lifts or lowering ramps to accommodate riders in wheelchairs or on scooters and those with limited mobility, the amount and type of additional assistance provided may depend on the particular service provider, or even on the individual driver on duty.
To get started, try these local services:
Also be sure to see these tips:
Paratransit services: These services are generally offered for individuals who are unable to use the regular transit system without help because of a physical or mental impairment. Some services require riders (or their caregivers) to complete a particular form or provide specific medical certification before they'll be accepted. Paratransit services provide cars, vans, or buses to pick up and drop off individuals at their destinations and generally provide door-to-door assistance and wheelchair-accessible vehicles.
Fares vary among communities and providers but are usually equivalent to regular bus services. Some providers offer discounts to frequent riders, and some communities provide free or low-cost passes for disabled or elderly residents.
These resources can help you locate paratransit services:
Also be sure to see these helpful related links: