Home Share Explained
Is a Home Share Right for Your Loved One?
92% helpful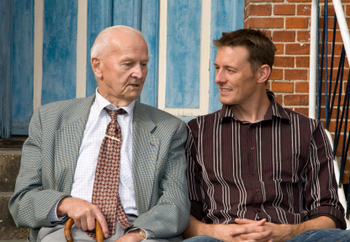 What is a home share, and what are its benefits?
How do you define "home share"? Any arrangement in which nonfamily members live together can be called a home share. If the person you're caring for wants to stay at home but has more house than he can handle or needs money, it may be time to find him a housemate who's short on cash but long on energy.
For many older adults, the most common scenario goes like this: They have plenty of space but have trouble keeping the place up. They rent out a bedroom and bathroom to someone who -- in exchange for reduced rent -- is willing to help out with household chores.

Don't make the mistake of thinking a home share will mean 24/7 care for the older adult. The help a renter provides is typically along the lines of shoveling snow, picking up groceries, and giving him a lift to occasional doctor's appointments.

Home sharing can allow someone to age in place. If it works, your friend or relative gets to remain in his home, and the renter gets an affordable place to live. Grad students, white collar employees in town temporarily, and middle-aged women saving for a nest egg are all common home-share renters. While the arrangement may seem odd to you, it's not a foreign concept to many older adults whose families took in boarders during the Great Depression.
Remaining in their home is the dearest wish of most older adults, and a successful home share can help make it possible. Small obstacles and difficulties that might otherwise push someone into formalized assisted living can be alleviated by a housemate who's handy with repairs or who doesn't mind making a weekly run to the grocery store or occasionally chauffeuring an older adult to doctors' appointments.

Home shares can help keep older adults safe. It's also safer to have another person around the house, someone to notice if the person you're caring for leaves the stove on or a door open when you're not around, and to let you know if he seems ill or depressed. In addition, con artists, burglars, and other opportunists may be deterred by the presence of a younger, more physically able person. And if an older adult likes to travel occasionally, he'll feel more comfortable knowing there's someone watering the plants and keeping an eye on the house while he's away.

A housemate can be good company -- and help financially. For some older adults, having companionship at home is a big part of the appeal of a home share. Someone who has recently lost a spouse may look forward to hearing the front door open or footsteps in the hallway. If you're able to find him a housemate who also enjoys some companionship, the arrangement can be a big boost for both of them.

A home share is often a huge plus financially, too. The cost of institutionalized living for older adults can be crushing. The longer someone stays at home, the better off his budget will be. If his housemate pays some rent, that income can help pay the bills and justify the expense of keeping the house. As the cost of utilities rises, many older adults are choosing to ask for less help from their renters so they can charge more per month to cover their costs.