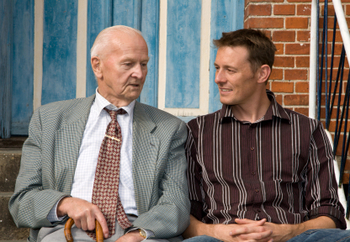 All Rights Reserved
What is a home share, and what are its benefits?
How do you define "home share"? Any arrangement in which nonfamily members live together can be called a home share. If the person you're caring for wants to stay at home but has more house than he can handle or needs money, it may be time to find him a housemate who's short on cash but long on energy.
For many older adults, the most common scenario goes like this: They have plenty of space but have trouble keeping the place up. They rent out a bedroom and bathroom to someone who -- in exchange for reduced rent -- is willing to help out with household chores.

Don't make the mistake of thinking a home share will mean 24/7 care for the older adult. The help a renter provides is typically along the lines of shoveling snow, picking up groceries, and giving him a lift to occasional doctor's appointments.

Home sharing can allow someone to age in place . If it works, your friend or relative gets to remain in his home, and the renter gets an affordable place to live. Grad students, white collar employees in town temporarily, and middle-aged women saving for a nest egg are all common home-share renters. While the arrangement may seem odd to you, it's not a foreign concept to many older adults whose families took in boarders during the Great Depression.
Remaining in their home is the dearest wish of most older adults, and a successful home share can help make it possible. Small obstacles and difficulties that might otherwise push someone into formalized assisted living can be alleviated by a housemate who's handy with repairs or who doesn't mind making a weekly run to the grocery store or occasionally chauffeuring an older adult to doctors' appointments.

Home shares can help keep older adults safe. It's also safer to have another person around the house, someone to notice if the person you're caring for leaves the stove on or a door open when you're not around, and to let you know if he seems ill or depressed. In addition, con artists, burglars, and other opportunists may be deterred by the presence of a younger, more physically able person. And if an older adult likes to travel occasionally, he'll feel more comfortable knowing there's someone watering the plants and keeping an eye on the house while he's away.

A housemate can be good company -- and help financially. For some older adults, having companionship at home is a big part of the appeal of a home share. Someone who has recently lost a spouse may look forward to hearing the front door open or footsteps in the hallway. If you're able to find him a housemate who also enjoys some companionship, the arrangement can be a big boost for both of them.

A home share is often a huge plus financially, too. The cost of institutionalized living for older adults can be crushing. The longer someone stays at home, the better off his budget will be. If his housemate pays some rent, that income can help pay the bills and justify the expense of keeping the house. As the cost of utilities rises, many older adults are choosing to ask for less help from their renters so they can charge more per month to cover their costs.
What are the downsides of a home share, and how can they be minimized?
Getting used to a housemate can be tricky.  Sharing a home with a stranger can be a difficult adjustment -- especially for older adults who may not have lived with anyone other than a spouse for many decades. Your friend or relative may balk at the idea of giving up his privacy, at having to clear out space for someone else's food in the fridge, or at hearing someone else's favorite TV show in the living room.

A renter's values and habits may clash. The risk of a culture clash runs particularly high when you factor in the generation gap that may exist between your friend or relative and a potential housemate. Their ideas about what constitute "civilized" hours, a comfortable inside temperature, acceptable noise levels, or responsible spending habits could be wildly incompatible. Unless he finds someone he's comfortable around and can communicate openly with, he may feel that his home and daily routines have been hijacked by this interloper.

Put expectations in writing. The relationship between the older adult and his housemate is one that will require some maintenance. He (or you) will need to be very clear about what exactly is expected from the housemate, preferably in writing, and what will be provided in exchange, or he may find himself hosting someone who isn't contributing much -- financially or otherwise.

Protect the older adult's finances. There's always the possibility that a dishonest housemate could use her cozy position in the house to take advantage of your friend or relative. Most elder abuse is financial in nature. In addition to carefully screening candidates, suggest that your friend or relative keep important documents and cash locked away or located somewhere other than his house.

Stay flexible about the arrangement. Keep in mind, too, that even if he finds a terrific match, home sharing may not be a long-term solution. Many renters use a home share as a temporary setup when they move to a new city or take a temporary job and are loath to sign a lease for a year.

Even if an older adult finds a renter who's looking for a long-term arrangement, as he ages, his housemate's help may no longer be adequate, or the person may begin to balk at what's required. At this point you may need to turn to some professional help, either in his home or in a more structured setting.
Is an older adult a good candidate for a home share? If so, what's the first step?
Who's suited to sharing a home? A home share isn't for everyone, notes Jacqueline Grossmann, copresident of the National Shared Housing Network, who helps set up home shares in Chicago. It requires flexibility and a willingness to deal with problems openly and calmly.

Before raising the idea with the person you're caring for, try to consider him objectively: Has he enjoyed having houseguests? Is he assertive enough to make his needs known? Is he able to compromise? Does he easily communicate his thoughts? If the answer to any of these is no, consider other options, such as whether your friend or relative could get a reverse mortgate or hire some help instead.

That said, many people do make good home sharers -- and they're not all alike. Some are tired of living alone and want company. They look forward to developing a friendship with a housemate. Others want a more businesslike arrangement. They prefer very little personal interaction and would live alone if they could afford it. Both kinds of people can successfully share a home.

If you think home sharing might be a good idea for your friend or relative, run through the pros and cons with him. Ask him: In what ways would home sharing be better than your present living situation? In what ways would it be worse? Give him some time to mull over the idea before asking whether he wants to move ahead with it.
What's the first step toward setting up a home share? If your older friend or relative is open to the idea, check with the city planning board to see whether there are any zoning restrictions regarding home sharing. Some towns restrict the number of unrelated people living in the same house.

Then it's time for a series of conversations with him to hammer out the details. What would he most need help with from a housemate? Take a walk around the house -- what's being neglected? What kind of rent would he need to balance out his bottom line? What amount is reasonable to charge for the room itself, and what amount should that rent be reduced in exchange for the housemate's help? Would more rent money or more assistance be better for them? Sketch out a plan of what he would ideally like to get from the match.

You'll then need to decide whether you'd like to help him find a housemate on your own or work through a matching service. You can find a state-by-state directory of organizations that help set up home shares at nationalsharedhousing.org . If you choose to go it alone, you can post a listing in your local newspaper or online classifieds like Craigslist .
Also check out our step-by-step guide to setting up a homeshare and our interview questions for prospective housemates .