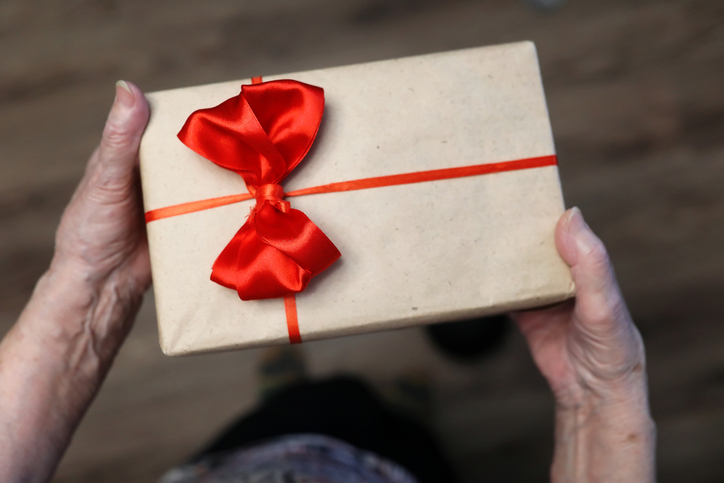 Forget fighting the traffic, battling blowing snow and long lines at the register in search of the perfect holiday gift. This year, your mother, uncle, grandmother or beloved older neighbor is sure to delight in finding any of these gifts under the tree.
We've compiled some of the year's cutest, warmest and senior-friendly gifts in a variety of prices sure to make this holiday season merry and bright for all of the older adults on your list.
$25 and Under
10th Avenue Tea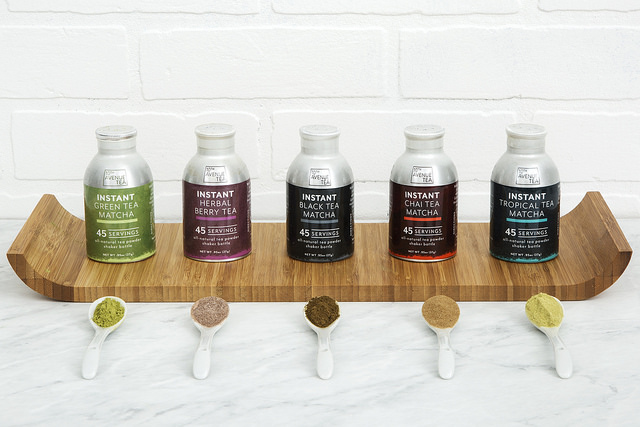 10th Avenue Tea is shaking up the way we enjoy a cup of comfort. Taking away the need for pods and drippy tea bags, your loved one can use all-natural tea powder to instantly enjoy a cup or glass or hot or cold tea without any fuss. Available matcha Green, Black, Chai and Tropical—plus Herbal Berry sold in handy shaker bottles and half-pound resealable pouches.
Cost: $10.99 for a 45-serving shaker bottle

To order: 10th Avenue Tea
Olbas Aromatherapy Oil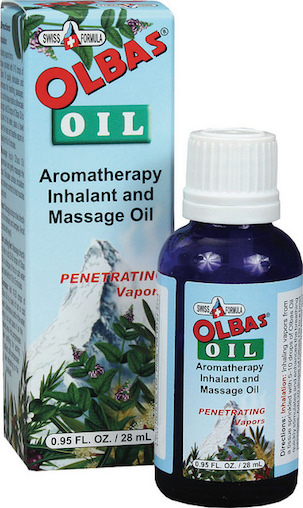 Whether Dad needs to massage away golfer's elbow or mom needs to soothe her stuffed sinuses, seniors will enjoy the benefits packed into a few drops of Olbas Aromatherapy Oil. It can be dabbed on a tissue tucked in a pillowcase, used in an indulgent, relaxing bath or rubbed directly onto an achy joint.
The essential oils in Olbas are extracted from the traditional medicinal plants of peppermint, eucalyptus, cajuput, wintergreen, juniper berry and clove to provide a natural and aromatic boost of relief.
Cost: $19.95 for .95 oz bottle

To order: Olbas.com
HandsOn Gloves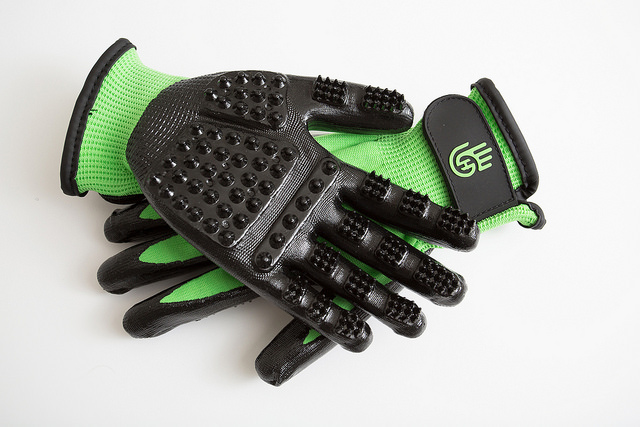 Chilly winter temperatures and cranked up furnaces that leave hands feeling dry, brittle and cracked make it tough to bathe a furry friend. Your pet-loving loved one will appreciate Hands On Gloves that make bathing and grooming easier. Made of hypo-allergenic, bio-friendly material, the gloves let pet owners and their animals to become closer and bond through gentle massage thanks to the nodules on the gloves. Available in green, black and purple.
Cost: $24.99

To order: handsongloves.com
Lively Mobile by GreatCall (Sponsored)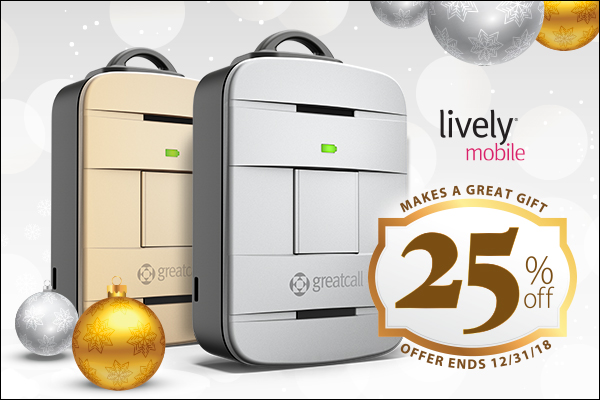 Give the gift of safety and peace of mind this Holiday and save 25 percent on the Lively Mobile from GreatCall. The mobile medical alert device with 5Star Service, in any uncertain or unsafe situation, simply press the 5Star button to speak immediately to a highly trained Urgent Response Agent. The agent will confirm the location, evaluate the situation and send help, 24/7. Buy now and save on the Lively Mobile.
Cost: $24.99 (plus monthly plan and activation fee)

To order: GreatCall.com
Life is Good T-Shirts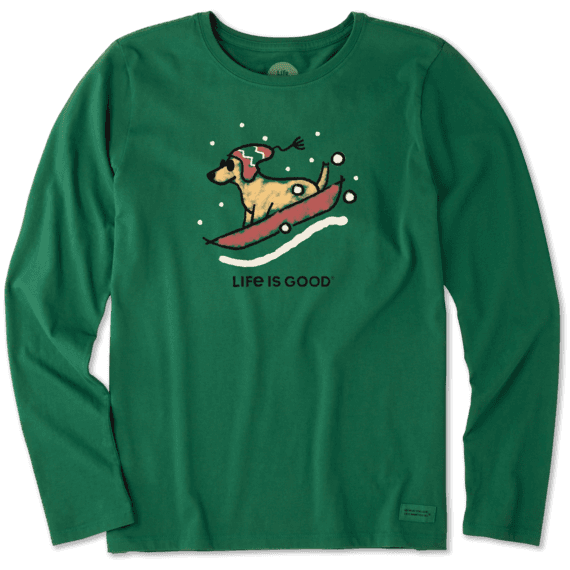 Boost spirts or enhance an already sunny disposition with Life is Good's positive message shirts. Available in a wide variety of colors and images, each shirt boosts the company's namesake slogan Life is good" to remind the wearer and those who see the shirts to look on the bright side. A portion of proceeds actually goes to the Life is Good Kids Foundation, which supports caregivers in the lives of children facing traumatic experiences
Cost: $30 and up

To order: LifeisGood.com
Nom Nom Now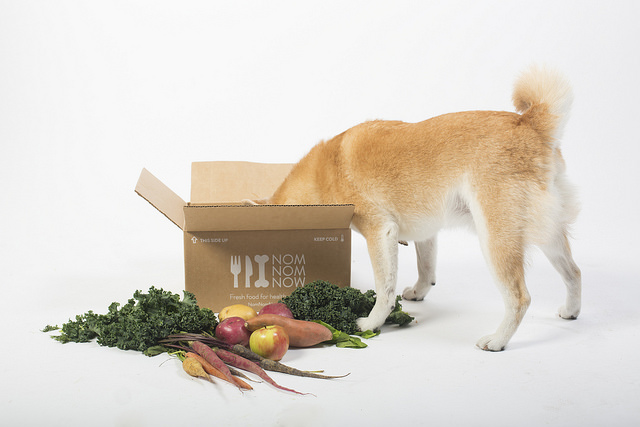 Help older pet owners provide optimum care for their furry companion with take-out that's -delivered fresh to their door. Nom Nom Now provides 2 natural and gluten-free meals a day in one-, two- or four-week shipments. Meals are available for dogs and cats in a variety of flavors including chicken, turkey and fish (for cats) mixed with vegetables and are portioned based on the pet's current weight and health and weight goals.
Cost: $32 (depending on pet's weight and protein selected) for 2 weeks of food for dogs and $28 for cats

To order: NomNomNow
Treats by Chocolate Pizza Company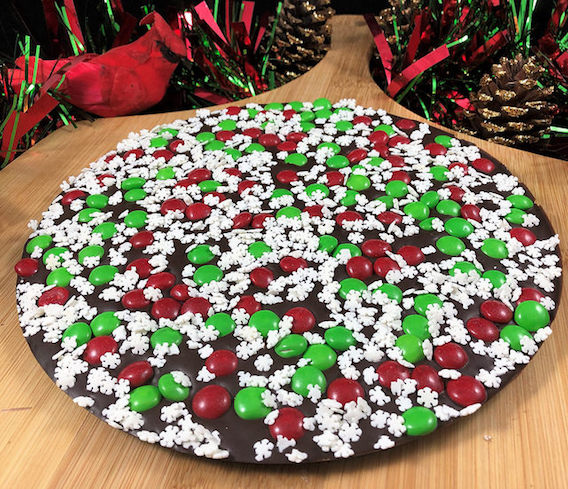 Gourmet chocolate from Chocolate Pizza Company has universal appeal for any sweet tooth. Handcrafted from the highest quality Swiss-style chocolate that's blended with homemade English toffee and topped with candies or nuts, pizza (available by the slice or as a whole pie), along with peanut butter wings (crisp, rippled potato chips covered in creamy peanut butter and drenched in chocolate) are the perfect combo for any holiday gathering or under chocolate lover's tree. Gift baskets and chocolate towers also available.
Cost: $36.90 for Pizza & Peanut Butter Wings Combo (prices vary for other items)

To order: Chocolate Pizza Company
$50 - $100
Carr Valley Cheese Gift Box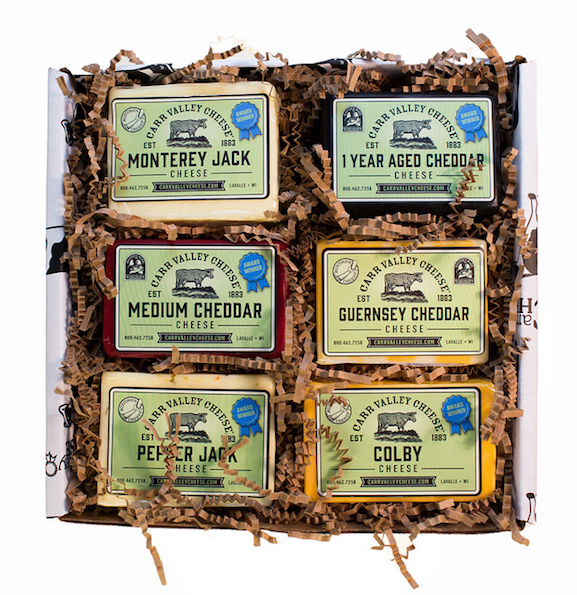 Delight any cheese lover on your list with Wisconsin's Carr Valley Cheese "Life of the Party" Gift Box. Packed in a cow box, the six 7 oz. pieces of Carr Valley's award- winning cheddars and jacks are sure to liven up any football bowl game, make a great snack or spice up a holiday meal. The box includes Hot Pepper Jack, Guernsey, Medium Cheddar, Colby, Monterey Jack and Sharp 1 Year Cheddar, so there's something for every palate and taste bud.
Cost: $69

To order: Carr Valley Cheese Company
Kodak Printomatic Instant Print Camera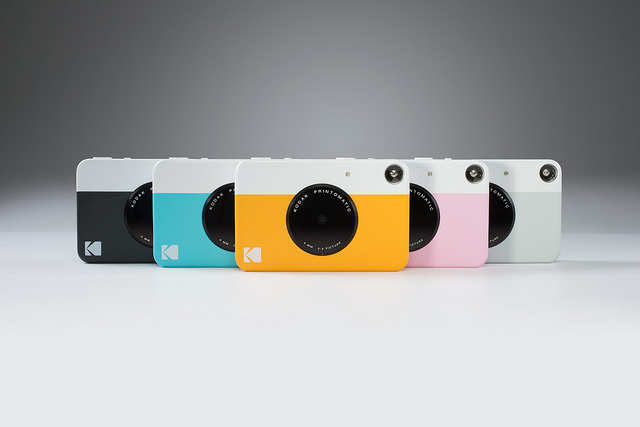 Infuse a bit of nostalgia with the Kodak Printomatic Instant Print Camera. The simple to use point and shoot action camera makes it super easy to use for seniors; they just press the button to capture a memory with loved ones. Then using the camera's instant print technology, in seconds they have a color or black and white photo much like the "old days" of using instant cameras. Only now, there's no waving the photo in the air waiting for the image to appear. The photos are adhesive-backed, making them easy to hang anywhere around the house.
Cost: $69.00

To order: Amazon
Customized Photo Prints by CanvasPop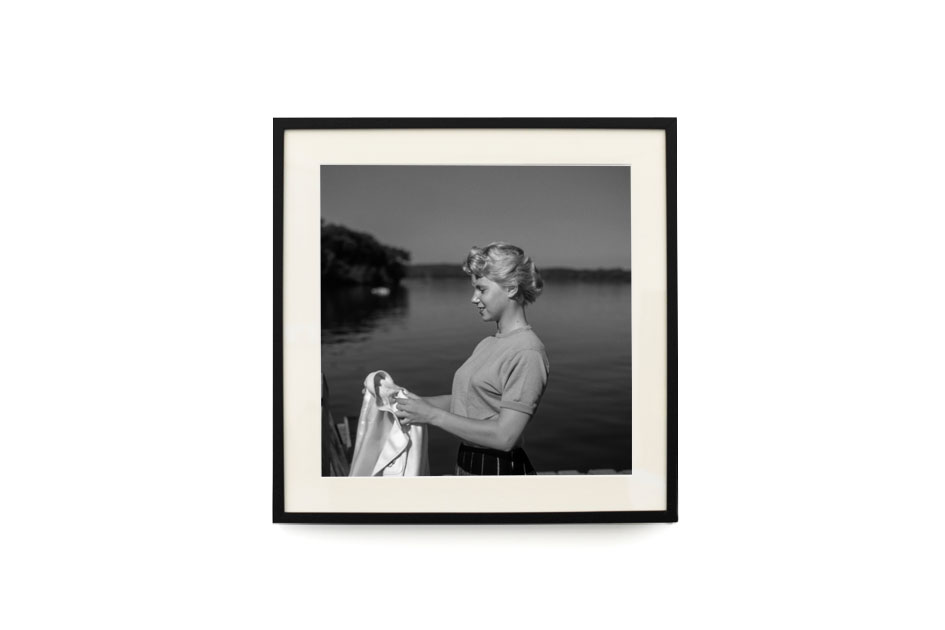 Turn a grandparent's favorite memories into American made canvas photo prints, framed photo prints, and photo pillows with CanvasPop. These make a great gift for your elderly parents because you can print their favorite photo that is heartfelt and timeless. This is the perfect reminder of how much they are loved and cared for. I did a little research and I saw on your Twitter account that a special someone graduated this year. Now imagine having that framed and hung up in your house and the love that would make you feel each day.
Cost: Framed prints start at $79

To order: Canvaspop.com
American Wagyu Staples Gift Box by Snake River Farms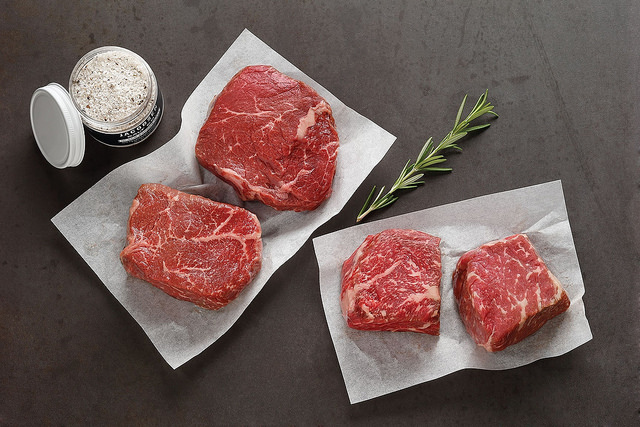 Turn your loved one's kitchen into a gourmet steak house with the American Wagyu Staples gift box from Snake River Farms. The package includes four classic cut steaks, two 8oz American Wagyu Black Grade Top Sirloins and two 6oz American Wagyu Ribeye Filets, in addition to Jacobsen Black Pepper Infused Salt and a SRF Thermal Bag. Each steak is hand cut and selected by a master butcher. Additionally, each cut is wet-aged 21+ days for improved flavor and texture.
Cost:$99

To order: Snake River Farms
Vionic Walking Shoes
Give a morning walk a lift with the Walker Classic walking shoe by Vionic. Great for leisurely strolls or power walking it has advanced motion system technology that combines podiatrist-designed technology with a flexible, cushioned outsole and a lightweight, breathable upper. With arch and heel support, it's ideal for workouts that put pressure on the feet such as power walking.
Cost: $99.95

To order: Vionic
Over $100
Leon and George Houseplants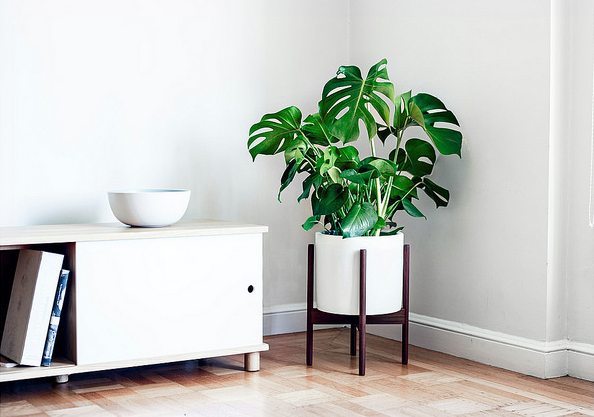 Studies show green spaces can help ease anxiety and Léon & George's swoon-worthy living houseplants are the perfect way to bring a little outdoors inside—especially during the winter. Pre-potted in custom ceramic pots and delivered to your family member's door, the plants are pruned and comes with a lifetime plant doc support if recipients are black thumb prone. As an added bonus, a tree is planted in a U.S. National Forest every time a plant is sold.
Cost: Starting at $109

To order: Leon&George
Teak & Twine Gift Boxes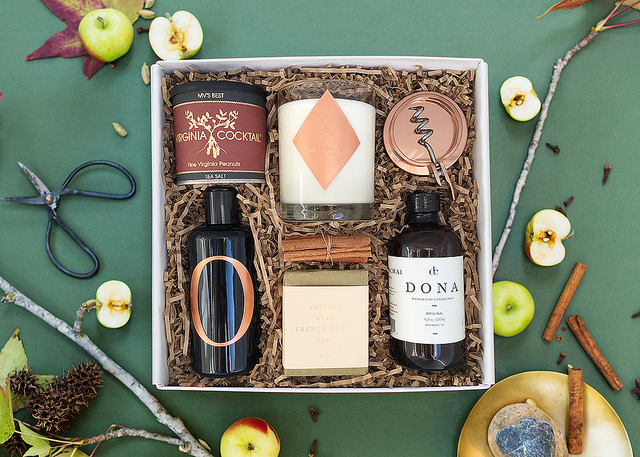 Give your mother, aunt or beloved neighbor the gift of a spa-like setting at home with Teak & Twine gift boxes. Packed with locally sourced goods from makers around the country, the boxes help create calming scenarios with a combination of teas, soaps and lotions, bath salts, lip balms and other accessories that indulge the senses. The Claw Foot Tub is great for restorative bath time rituals and t\The Woods is great for outdoor enthusiasts who enjoy a quiet night inside, with juniper incense and tea.
Cost: Starts at $114

To order: Teak&Twine
My Calm Blanket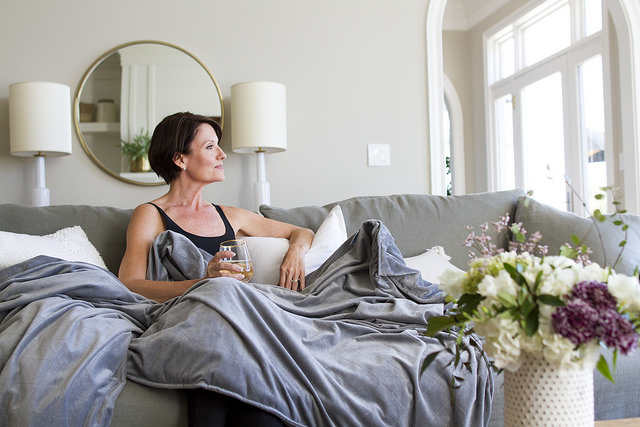 Insomnia and anxiety common in those with dementia doesn't have to leave your family member tossing and turning all night. The My Calm Blanket provides comfort needed for a calm state that minimizes the need to move or fidget during sleep. The weighted blankets are customized by body weight (recommendations are for the blanket to be 7 to 12% of the person's body weight) that when used, simulates the feeling of being hugged or cuddled. The deep touch pressure stimulation promotes the production of serotonin and melatonin, natural chemicals in the body that regulate our mood and overall sense of calm.
Cost: $169.99

To order: mycalmblanket.com