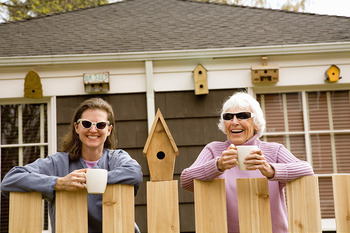 All Rights Reserved
Many people working through estate planning and weighing health care options for an aging parent or other loved one find themselves in an awkward in-between stage in which the would-be patient is still independent enough to stay in their own home, but whose physical condition is not at 100 percent.
Additionally, finding reliable home care is a daunting task, whether your parents need highly skilled care or someone to just help out around the house. Here's what you need to know about choosing the right care provider for your unique situation.
When leaving home isn't considered an option
A 2011 AARP study found that over 89 percent of U.S. residents say they want to stay in their own home for as long as possible, even if they will need assistance. (The number rises to 95 percent for people over age 75.) That study, along with data from the Center for Retirement Research at Boston College, shows that most retirees don't move away from home — they tend to stay within 20 miles to remain close to family and friends.
Is aging in place realistic for your parents?
Art Koff, founder of Retired Brains in Chicago, describes "aging in place" as helping your parents get the care they want in the place they want it. And that starts by asking some tough questions.
Do physical or mental limitations affect your parents' ability to live at home? Can their health needs be met at home?
Do they have family, friends, or organizations like church groups who will provide non-paid care for you? And are these informal caregivers able to provide the care your parents may require?
Do you or your parents have the financial means – primarily savings and/or health and long-term care insurance – to cover in-home services? Medicare will cover some home health services, but it won't pay for 24/7 care in the home, nor will it, in most cases, cover meals delivered to the home, homemaker services (such as cleaning and cooking), or personal care services (such as bathing and dressing).
Is the layout of your parent's home conducive to aging in place? Will stairs or the lack of a bathroom on the main floor affect your parents' ability to remain in the home?
Can your parents afford the home modifications necessary to be able to move about their home as aging affects their physical abilities?
What kinds of community services are offered in the area? Are they affordable?
Are transportation services available?
Is there a senior center nearby?
Preparing the home for aging in place
There are other considerations, too, particularly regarding the home's appropriateness for your parents. Koff encourages children of aging homeowners to consider the following in preparing their parents' home for retirement years:
Check door widths to allow for wheelchairs
Remove thresholds
Make showers and tubs easily accessible; install grab bars and grips
Remove throw rugs, especially in the bathroom and at the top or bottom of stairs
Add or secure sturdy handrails on both sides of steps and staircases
Install adequate lighting, both indoors and outdoors
The National Association of Home Builders (NAHB) provides a training program for home remodelers who want to serve the aging-in-place market; those who complete the program are designated as Certified Aging in Place Specialists (CAPS). You can find CAPS in your area on the NAHB website.
Helping Mom and Dad remain at home
Once the home has been sufficiently "age-proofed," the business of finding an in-home caregiver can start.
"There are numerous options for seniors that aren't 100 percent independent but not ready for admission into a facility," says Alicia Sheerin of Amada Senior Care in Greater Philadelphia, who details the top for ways to keep seniors in their own homes with dignity and safety:
Community support. Nearly every county in the United States has a network of services that allow seniors to stay in their home longer. Traditional services include delivered meals, visiting nurses, senior centers that offer outings, social engagement, enrichment classes, transportation services, and a hot meal at lunchtime at a nominal cost.
"Most of these services are available to any senior, regardless of income or assets," says Sheerin.
In Sheerin's community, a new grant-funded initiative organized a network of service providers — handymen, landscapers, house cleaners, dog walkers, etc. — that provide services at lower-than-market prices.
Technology. Life Alert ("I've fallen, and I can't get up!") was one of the first devices to help at-home seniors, and new technology is evolving daily to help even more. Unfortunately, most seniors are unaware of technologies, such as medication reminders, home activity sensors, and fall detection devices, which would help them remain healthy and safe at home.
Medicaid waivers. "When a low-income senior qualifies for a skilled nursing facility (i.e., a nursing home) but wants services provided at home, they can be eligible for several programs that can help," says Sheerin. These programs go by different titles in each state, but they are all part of what's known as "1915(c) Home and Community-Based Services Waivers."
Recipients can use the allotted funds to bring in a home care agency to help with activities of daily living (ADLs), such as toileting, dressing, washing, housekeeping, and meal preparation. As with all Medicaid benefits, 1915 waivers are contingent on income and assets.
Home Care Agencies. "Many seniors have the means or long-term care insurance that will pay for the services listed above, as well as skilled nursing, medical equipment, and specialists," says Sheerin. Home health care services assist seniors who need support to remain safely at home.
---
Bottom line: Helping your parents age in place requires planning, honesty, and the willingness to reach out to the services and agencies that are available to help. If it's important to Mom and Dad to remain at home, then it's worth the effort to start preparing now.