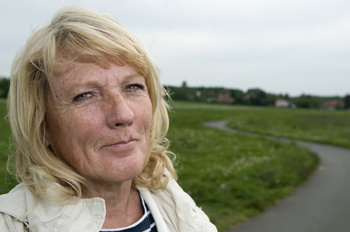 All Rights Reserved
If you're a former caregiver who's looking for meaningful work, or a current caregiver wondering what's next, you may be asking: How can I craft a post-caregiving life that's both personally rewarding and financially enriching?
1. Start by giving yourself credit.
"Don't discount your time away from the workforce. They are years that were chockablock with skill building," says career and retirement expert Kerry Hannon, author of What's Next? Updated: Finding Your Passion and Your Dream Job in Your Forties, Fifties, and Beyond and Great Jobs for Everyone 50+: Finding Work That Keeps You Happy and Healthy . . . and Pays the Bills.
Next: Aging and Purpose
The marketplace increasingly holds the potential for roles (paid as well as volunteer) that recognize the value of older adults, says Linda Fried, MD, director of Columbia University's Mailman School of Public Health. At the same time, the aging population is opening new work opportunities in areas caregivers know well.
Nor will you seem unusual as an older job candidate. Adults 55 and up are the fastest-growing segment of the workforce -- and almost half of those over 50 have been caregivers. Federal data shows that women spend an average 11 years out of the workforce caring for children and/or an aging relative or friend.
2. Assess your skills.
"Your mission as a job seeker is to drill down to the business side of caregiving," Hannon says.
Dissect the role of caregiver into business terms. "No doubt you were a project manager and you managed a team of other caregivers, from nurses to doctors and physical therapists. You did research and did fact-finding to help track down the best doctors and medical care, insurance, and so on," Hannon says. Translate these tasks into strong action verbs: directed, enabled, facilitated, hired, supervised, controlled, coordinated, executed, organized, planned, implemented, spearheaded.
"And you were a problem solver," Hannon adds. "You navigated, negotiated, secured, and resolved eldercare issues. Then too, you probably had to deal with all kinds of medical bills and insurance forms. So you had to analyze, assess, calculate, track, and itemize."
3. Hone your resume accordingly.
Use your skill inventory and action words to promote yourself. "Experience doesn't get you a job. Skills do," Hannon says. "That's what you need to sell hard and shamelessly."
Your resume should tell a compelling story about the skills you've been using during your years as a caregiver. Think of a problem, how you solved it, and show the result and how it translates to the job you're applying for. For example, maybe you found a way to save 20 percent on medical bills.
Employers don't care that you did an amazing project 15 years ago, she says. "They want to know that your skills are up to date and you can step in and solve their problem today, no hand-holding necessary."
Keep your resume simple and under two pages. The average resume gets read in less than ten seconds, Hannon says.
4. Boost your odds with extra learning.
"I generally advise people who have been out of the workplace, for whatever the reason, to invest in additional education and training," Hannon says. You'll gain new skills, be eligible for more jobs, and appear more with-it to employers.
First, research the skills or certifications required for your new venture. Certain fields -- such as healthcare, counseling, and technology -- often require advanced training for specific jobs.
But you don't necessarily need a full-blown degree. Community colleges offer many certificate programs for adults in specialized fields of study. Check them out beforehand by talking to program graduates. Some programs offer graduate-level courses that you can use as a start toward a master's degree if you have the time, desire, and funds.
5. Ride the age wave in your search.
The 65-plus population will more than double by 2050, according to the Pew Research Center, to 86 million from 41 million in 2010. "This aging population is spurring new fields and job openings for those in their 50s to 70s to care for those who are 80 and older," Hannon says.
Hot fields tend to their needs: Think physical therapy, home renovation, senior fitness training, nutrition counseling and services, music therapy, healthcare and financial planning, medical record transcription and coding with medical offices and insurance companies, senior massage therapy, geriatric care management, and patient advocacy.
Hannon points to these growth industries:
Health care. Related industries are forecast to add 5 million jobs between 2012 and 2022, according to the U.S. Bureau of Labor Statistics. Look for jobs at public and private hospitals, nursing and residential care facilities, hospice programs, and individual and family services.

Finance. Aging boomers are increasingly seeking help with managing their money, whether it's bill paying or estate planning or choosing the right insurance policy. Jobs to explore in the sector include accountant, personal financial adviser and planner, insurance broker, retirement coach, bookkeeper, financial manager, and tax preparer.

Nonprofit work. Forty-five percent of nonprofit groups plan to hire more workers this year, up from one-third three years ago, according to a survey of more than 400 organizations by Nonprofit HR. Jobs in demand include finance, fund-raising, management, and marketing, according to the report.
Three nonprofit umbrella sites to know: The Bridgespan Group (bridgespan.org) runs the online Nonprofit Jobs Center; Commongood Careers (cgcareers.org), and Philanthropy.com.
Caregivers are often suited to office manager positions. Small companies are often looking for people who have management experience and can juggle multiple roles, including bookkeeper, office supply manager, sales, or HR work.
6. Consider hanging out your own shingle.
Working for yourself as a freelancer, contractor, consultant, or small-business owner can be a low-overhead way to craft a job you care about. Among the jobs gaining traction now: home modification contractor; handyman (or woman); senior fitness trainer; music or art therapist; senior financial planner; driver; caterer for meal home delivery; patient advocate; senior move manager; personal assistant to run errands, drive to appointments, grocery shop, and keep track of schedules.
7. Stay connected.
The isolation that often goes with caregiving can undermine a job search. When job-hunting, it's important to tell your contacts about your interests and skills. You never know who might know something. Use social media and job sites such as LinkedIn (where you can join networking groups based on your experience or interest) or Encore.org (for anyone interested in starting an encore career with social purpose). Idealist.org runs an extensive jobs board.
Volunteering for a nonprofit organization or doing pro-bono work is another way to transition to paid work while updating skills. "It will allow you to network and potentially get your foot in the door with a future employer. It also fills in gaps in your résumé," Hannon says. "Moreover, you might meet someone who will lead you to a job opening elsewhere."
Health Benefits of Having Purpose | Next: Aging and Purpose