Family Conflict
Caring for Elderly Relatives: How to Handle Family Conflicts
90% helpful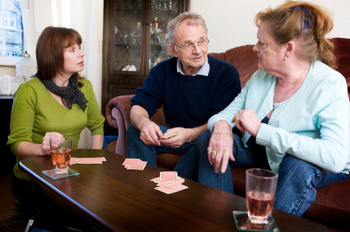 Common Causes of Family Tensions and Disagreements
It shouldn't surprise anyone that sensitive family dynamics can be one of the most challenging aspects of caregiving for an elder, given the tremendous financial, physical, and emotional demands involved. This doesn't mean that family squabbles are inevitable. In fact, if managed well, the experience of caring for an older family member has the potential to bring relatives closer as you help this person through this final stage of life. Here's how to avoid conflicts with family members and work through them when they occur.
Typically, disagreements arise because of:
Roles and rivalries dating back to childhood. Mature adults often find that they're back in the sandbox when their family gets together. This tendency can grow even more pronounced under the strain of caregiving.

If your sister was the favored child, for example, you may find that -- no matter how successful and capable you are now -- in your parents' or relatives' home you become a jealous, powerless little girl again.

Disagreements over an elder's condition and capabilities. It's common for family members to have very different ideas about what's wrong with a loved one and what should be done about it. You may be convinced that your family member is no longer capable of driving, while your brothers argue that he needs to maintain his independence.
Disagreements over financial matters and other practical issues. How to pay for a family member's care is often a huge cause of tension. Financial concerns can influence decisions about where the person should live, whether or not a particular medical intervention is needed, and whether he can afford a housekeeper. These conflicts are often fueled by ongoing resentment over income disparities and perceived inequities in the distribution of the family estate.
Burden of care. Experts say the most common source of discord among family members occurs when the burden of caring for an elder isn't distributed equally. "Usually one of the adult children in the family takes on most of the care-giving tasks," says Donna Schempp, program director at the Family Caregivers Alliance, a national nonprofit organization that provides information and support to caregivers.

The primary caregiver might assume this role because he lives near the family member, is perceived to have the fewest obligations, or has the closest relationship with the person. Whatever the reasons, the situation is likely to make him resentful.