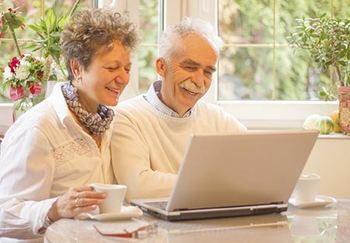 All Rights Reserved
Though most of us are loathe to discuss our own mortality, it is vitally important to plan for. No one wants to leave their loved ones behind unprepared, so you may have started to make arrangements well in advance. In the process, you've gathered essential documents, spoken with a lawyer, and created a last will and testament. But have you planned for your digital assets?
Digital assets are the profiles and accounts you've created online. They're an extension of you that includes personal information, possible debts, passwords, and related sensitive material. If left unprotected, they could leave your family at the mercy of creditors, hackers, and all the other "bad guys." No matter the number of online accounts, or their importance to you, they need safekeeping.
And your online assets might be valuable -- in a 2011 survey by McAfee, U.S. respondents said their digital assets were worth an average of $54,722. Those assets include personal records, career information, entertainment files, and more.
We know assets are worth protecting: In a recent BMO Retirement Institute survey, more than half of the participants who were aged 45 and older and held digital property said that they believe it's important to implement plans for their online assets. Yet 57 percent of those respondents have not taken steps to do so.
According to the National Association of Unclaimed Property Administrators, state treasurers currently hold $32.9 billion in unclaimed bank accounts and other assets. If you want to prevent your digital assets from going into this no-man's-land, take time now to make a plan.
To ensure that your digital/online assets are dealt with properly, be sure to:
Take inventory.
Create a reference guide of your online accounts, passwords, and security questions and answers. Store this information in a safe place and restrict access only to someone you trust. Below is a sample of accounts to consider in your digital estate planning:
Social media accounts such as Facebook, Twitter, LinkedIn, and Google+

Bank accounts, credit cards, and PayPal

Retirement accounts

Entertainment accounts such as Netflix and Pandora

Bill-pay accounts for cell phones, utilities, gym memberships, car insurance, etc.

Shopping accounts such as Zappos, eBay, and Amazon
Designate a "digital executor."
This is the person you appoint to carry out your digital estate plan upon your death. Your digital executor should be someone who is trustworthy and reliable. It can be the same person you put in charge of the rest of your estate, or someone who is more tech-savvy.
Be specific with the instructions that you provide to your digital executor.
For example, let him or her know if you want your Facebook account deactivated or if you would prefer it to be placed in a memorial state.
Understand terms of agreements.
Remember all of those times you skimmed through the fine print and simply clicked "yes" to gain access to new accounts? Unfortunately, this can work against you and your loved ones during the estate planning process. Many terms and conditions do not allow the transfer of accounts, and most sites value user privacy and will not grant anyone access to your accounts, including your parents or spouse. In such cases, family photos that are kept on photo-sharing websites could be lost or inaccessible forever; your unused airline miles could be trapped in a vault.
Explore websites that exist to keep your information safe.
Following a surge of lawsuits that were brought against e-mail providers to gain access to usernames, passwords, and accounts, companies like LegacyLocker and SecureSafe sprouted up to keep users' information safe. Such sites allow customers to keep all of their digital account information in one place and to assign beneficiaries to different online assets. For example, you may want your significant other to have access to your personal accounts, while your business partner may be better fit to handle your finance-related assets.