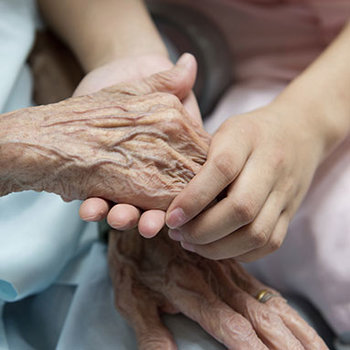 All Rights Reserved
When Kay Olson checked her husband, John, age 66, into Lakeview Ranch in Dassel, Minnesota, caregivers greeted both of them with a hug. They immediately helped John into the bathroom, washing him gently. He came out crying what he told Kay were "happy tears." John, who suffers from dementia, was kicked out of his previous facility for aggressive behavior. He would strike out at staff members, especially if someone tried to back him into a corner to force him to take medicine. That doesn't happen at Lakeview, where caregivers sit with residents, holding their hands or tucking them into bed at night. Since John's eyes are often closed and he rarely talks, touch "comforts him and makes him know he's not alone," Kay says.
Judy Berry, founder of Lakeview Ranch, says touch is an integral component of her care. She believes it combats the loneliness that is often a cause of depression among the elderly. Berry is one of many who have seen the positive impacts of touch. A growing body of research is demonstrating the merits of this basic approach.
Next Up: Sometimes I Hate My Mother -- But I Care for Her Anyway
We're Wired to Give and Receive Touch
Dacher Keltner, founder of the Greater Good Science Center, a professor of psychology at the University of California at Berkeley, and author of Born to Be Good: The Science of a Meaningful Life
, which explores the science of touch in one of its chapters, says, as a species, humans have evolved to be caring and compassionate. We're hardwired to give and receive touch and to benefit from it, he says. His book discusses how touch triggers activation of the orbitofrontal cortex and the release of oxytocin and endorphins, the "biological platforms of social connection." He points to studies that show that massage has the same impact as the antidepressant Prozac, increasing levels of the neurotransmitter serotonin while reducing stress hormone levels.
Touch Can Reduce Signs and Symptoms of Illness
Tiffany Field, director of the Touch Research Institute in the Department of Pediatrics at the University of Miami School of Medicine, says studies show that touch reduces pain, especially following strokes, and lowers blood pressure. A study she conducted evaluating the effectiveness of massage found significant decreases in Parkinson's tremors. Massage therapy also decreased pacing, wandering, and combative behavior, symptoms associated with Alzheimer's disease. Field says that many elderly patients are deprived of touch, having lost spouses, and "a lot of illnesses of the elderly may relate to their being touch deprived," she says. Massages were given routinely in nursing homes to prevent bedsores in the 1950s, but they fell out of favor when the "massage parlor reputation" surfaced, Field says. "It's only slowly coming back into hospital care, even though there's a huge body of research accumulating on its role in reducing pain."
A 2012 study in Supportive Care in Cancer showed that cancer patients, after being given a massage by their caregivers, reported reductions in pain, stress, nausea, fatigue, anxiety, and depression. The caregivers learned how to perform massage by watching an instructional video produced by the National Cancer Institute. "When you reduce stress and provide relaxation, all the symptoms are reduced," says William Collinge, an author of the study. The study wasn't the first to document massage's benefits; one published in 2004 from the Sloan-Kettering Cancer Center found massages reduced symptoms in cancer patients by 50 percent. Massages also empower caregivers by providing them with a concrete way to help their loved ones, says Collinge. He says his is the first completely online caregiver education program of its kind and allows anyone to be easily trained to give an effective massage.
Fears and Risks Discourage Touch in Some Cultures
Meika Loe, an associate professor of sociology at Colgate University, saw the upside of touch among the older Americans she studied for her book Aging Our Way: Lessons for Living from 85 and Beyond
. She says social forces such as fear of sexual abuse, as well as a risk-averse culture, conspire against the use of expressive touch and affection in everyday life. Encouraged by one of her book's subjects, she agreed to provide free hugs at a fair for senior citizens at a mall. "We had the longest line," full of older Americans lining up for hugs, she says.
Respectful and Well-Done Touch Can Help People With Dementia
"I think touch done with respect and done well is very easy. Everyone can do it, and it can certainly have a huge impact," says Ruth Drew, director of Family and Information Services at the National Office of the Alzheimer's Association. She says touch is a particularly important part of connecting for those suffering from Alzheimer's, who have difficulty with communication.
How to Provide the Best Use of Touch When Caregiving
Touch can be more difficult when adult children need to parent their parents, assisting with dressing them or taking them to the bathroom. Lakeview Ranch's Judy Berry suggests validating emotions on both ends, saying something like, "I know this is uncomfortable for you, and it is for me, but we'll get through this together." Ruth Drew says it's important to recognize that not everybody is up for these tasks, and adult children should ask for help when it becomes insurmountable.
Ask permission. Say, "Can I give you a hug?" That gives patients a sense of control and doesn't violate their personal space, says Berry. Then, read their body language along the way to make sure they're enjoying the experience.
Assess a patient's nature. Some are more receptive to touch than others. Look for signs. If they recoil when you reach for their hand, don't be insistent.
Keep it simple. The act of touch need not involve a professional-caliber massage. It can be as basic as giving a hand massage with scented lotion, says Drew.
Be passive, not aggressive. Drew suggests extending your hand and letting them take it, instead of grabbing theirs. Look them in the eye. Approach them from the front instead of behind. "All of those things help to respect the other person and let them know that they're going to be encountering you," she says.