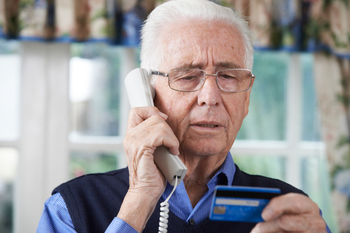 All Rights Reserved
Anyone can fall prey to abuse, but the elderly are particularly at risk. In a given year, one in 10 older Americans experience abuse, according to the Administration for Community Living.
This abuse can include physical, sexual, or emotional, as well as financial exploitation, neglect, abandonment, and/or self-neglect. Elder abuse crosses all demographic and socioeconomic lines, happening to women and men of all races and economic status in all parts of the country, and awareness of the issue appears to be growing.
"The good news is that we've seen a real national, and even global, movement emerging to fight for elder justice and against elder abuse," says Edwin Walker, deputy assistant secretary for aging at the Administration for Community Living. "From the passage of the Elder Justice Act in 2010, to the creation of the Elder Justice Coordinating Committee to bring federal agencies together, to the first federal funding for state Adult Protective Services systems, every step we take towards fighting elder abuse is important."
One of the latest strides in this effort is the Elder Abuse Prevention and Prosecution Act, which President Donald Trump signed into law in October.
What is covered by The Elder Abuse Prevention and Prosecution Act
The Elder Abuse Prevention and Prosecution Act establishes certain requirements for the Department of Justice with respect to investigating and prosecuting elder abuse crimes, including health care fraud. The Act aims to do the following:
Ensure prosecution of those perpetrating scams and enhanced penalties, including mandatory forfeiture
Improve data collection to understand the extent of abuse
Provide enhanced prevention programs and activities to avert future victimization
Require that Federal Trade Commission's Bureau of Consumer Protection and the Justice Department each have an elder justice coordinator
Require that at least one assistant U.S. attorney per judicial district be assigned to the prosecution of elder abuse cases, as well as tasked with providing community outreach
Raise public awareness about elder abuse through outreach efforts
Cracking down on telemarketing fraud
The legislation also amends the federal criminal code to expand prohibited telemarketing fraud to include "telemarketing or email marketing" fraud. And it revises the definition of telemarketing or email marketing to include measures to induce investment for financial profit, participation in a business opportunity or commitment to a loan.
The bill states: "A defendant convicted of telemarketing or email marketing fraud that targets or victimizes a person over age 55 is subject to an enhanced criminal penalty and mandatory forfeiture."
This is especially relevant, since many elders are targeted by scammers via phone. In fact, a survey of over 1,000 Americans conducted by the Cooperative Credit Union Association (CCUA), a trade group representing not-for-profit credit unions, found that 67 percent of people who identify themselves as a caretaker said an elderly adult they knew had been the victim of fraud, and that more than 50 percent of those elders were contacted by email while 49 percent were contacted by telephone.
"Elders are more apt to speak over the phone and talk. They tend to be more trusting over the phone or look at the phone as a way to engage with people," says Paul Gentile, president and CEO of CCUA. "[Scammers] are pretty savvy with Medicare and Medicaid information and often use that to get elders to talk since that's what they care about."
Still, Gentile notes that it's not just strangers or telemarketers who target elderly – it's often one of the elder's own family members who is behind the fraud. Credit union leaders have witnessed these cases all too often, he says.
"They'll see family or friends who walk the elder into the branch and withdraw money. Any joint account holder or someone who has right to survivorship and is on their account can do this," Gentile says. "The elder may agree to this because the person says they want to help pay their bills or manage their money, but actually [they intend to conduct] financial abuse all within the law."
He notes that elderly people often report the abuse to unions about after it happens, and that unfortunately, there isn't much financial institutions can do to help.
"The problem for financial institutions is they have to be careful how they engage if they suspect elder abuse because if they're wrong, there's no safe harbor," says Gentile. "Financial institutions can get sued and often they are just trying to help."
While he agrees that more and more legislative measures are in place to help with elder abuse, Gentile believes there needs to be regulatory legislative change to ensure institutions are not held liable if they are wrong about suspected financial elder abuse.
"The Elder Abuse Prevention and Prosecution Act is mostly based on fines. I think we could have went a little further. There's more we can do protect elders," he says.
What caregivers and elderly adults can do to prevent abuse
Experts say that the most important thing is for everyone to recognize that elders are vulnerable to financial abuse.
A quarter of respondents in the CCUA survey reported that they had not discussed financial abuse with their elder relative or friend, and more than one third characterized the elder they assist as "not at all" or only "somewhat" financially literate. Additionally, about half of they caregivers surveyed said their elders had no response plan in place in case of a fraud or identity theft incident.
"We talk about financial literacy for young people, which is vital, but we should also talk about financial literacy for elders," Gentile says. "Not only the scam side, but also things like why getting an annuity or term life insurance when you're 75 years old isn't a good idea or whether or not a reverse mortgage makes sense for older adults."
Walker also emphasizes the importance of planning ahead in preventing elder abuse.
"Adults of all ages are encouraged to talk with their family, their physician and others about preferences if they should ever need care. In addition, getting an estate plan in place can help ensure that legal power is invested in trustworthy individuals and bring peace of mind," says Walker.
He also says being alert to signs of elder abuse is key, especially since victims often suffer abuse in silence, with only 1 in 23 cases ever being reported to agencies that can help.
Signs of elder abuse may include the following:
Unexplained bruises, cuts or marks, especially in unusual physical locations such as the face, neck, backs of arms, or soles of the feet
Denying or minimizing injuries, or being hesitant to discuss them
Bedsores, dehydration and low weight
Acting scared when in the presence of specific individuals or giving coded answers, like, "my daughter has a temper"
Abrupt changes to wills, powers of attorney or beneficiaries on insurance accounts, particularly without the knowledge of people previously involved
The presence of a new "friend" willing to care for the older person for little or no cost
Lacking knowledge of their financial status, or a sudden reluctance to discuss financial matters
Sudden changes in banking practices, including withdrawing large amounts of money, or closing accounts without regard to penalties
Addition of new co-signers on bank account
Sudden disappearance of valuable items or assets
"Remember, it is not your role to verify that abuse is occurring, only to alert others of your suspicions," notes Walker. "Elder justice can be a daily practice of looking out for our older family, friends, and neighbors--no act is too small to make a difference."
He suggests dropping by a neighbor's house to ask how they're doing, delivering a meal to a homebound elder, volunteering to drive someone to a medical appointment or serving as a Long-term Care Ombudsman.
If you suspect elder abuse, you can report it to Adult Protective Services in the state where the older adult lives. If they live in a long-term care facility, you can call the state's Long-term Care Ombudsman. For local contact information, visit eldercare.gov or call 1-800-677-1116.
In suspected cases of financial abuse, Gentile suggests calling the Consumer Financial Protection Bureau in the elder's state. You can also file a complaint on their website at consumerfinance.gov.
"Elder justice is really about basic human rights," Walker notes. "It's about recognizing that people have a right to live their lives with dignity and respect, free from abuse of any kind, and that basic human right does not diminish as people get older."