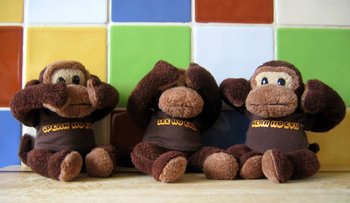 All Rights Reserved
Does the relative you look after accept the reality of his or her situation? What about the other family members in the orbit of concern? Do they realistically get what's what – or are they in the throes of denial ?
Dealing with denial ranks among the more stressful frustrations for caregivers:
Denial can prevent someone from getting effective care. I'm thinking of the family who make excuses for a grandparent's memory loss and confusion ("It's not that bad") -- right up until the day he's found lost on the highway, having driven two states away.
Denial can make everyday life harder on primary caregivers, hastening burnout. Here I'm thinking of the sibling who insisted Dad was up to a big family vacation to his hometown, even though at the care facility where he lives, it takes 24/7 care to help him use the bathroom or eat. (And she wasn't planning on hiring any help because "everybody can pitch in.")
Denial can strain relationships. It's stressful when two people don't see eye-to-eye about a remedy ("What kind of assisted living would help Mom best?") because one isn't even seeing the problem ("Mom is fine!"). That stress can even devolve to severed family ties.
Denial can interfere with quality of life. A friend recently told me how her family forbade the word "hospice" to be spoken, even as the latest scans indicated their father's tumors had spread throughout his body and the doctors were recommending palliative care – again. His final days were spent not in peace and drawing together, but in a whirl of last-ditch treatments and pain.
Anyone within a care circle is subject to denial: the sick or aging person, his or her primary caregiver(s), other family members. No matter where it starts, it sends out dangerous ripples. What to do about it?
Three Things You Can Do to Deal With Denial
1. Be patient.
Denial is, at best, a coping mechanism. Willfully ignoring facts helps some people maintain sanity in insane situations; for others, it postpones the need to deal with them. Call it a shock absorber for the soul. Some people need more time than others to face the realities of a given situation. Vexing for you, but necessary for them.
2. Distinguish denial from lack of knowledge.
Ignorance can be remedied by gathering information that allows you to make better decisions; denial is refusing to acknowledge the facts. So make sure, at least, that the person having a hard time accepting a situation understands the options, symptoms, treatments, what to expect. Share articles. Encourage conversations wit h experts, or with others who've been in similar circumstances.
3. Calmly repeat the facts.
Without sounding judgmental , calmly present the facts that led you to your own conclusions: "Mom, Dad is repeating himself every five minutes. You told me yourself he made big errors with the checkbook for the past three months in a row. He got lost driving to the grocery last week. I think the doctor should hear about these changes and check them out."
Write them down, if that helps. Repeat. And repeat again, as necessary.
More on Dealing With Denial
4. Disentangle your own ego.
When denial leads a family member to criticize your choices ("you're overreacting!" "you're enabling!"), try not to take it personally. Many caregivers report a satisfaction and strength that comes from knowing their decisions are rooted in careful eyes-wide-open consideration.
5. Encourage talk about the very things being avoided.
Tricky though this may be, gentle questions can help the person explore what they're running from: "Why do you think Mom will be able to live on her own again after the doctor said she'll never walk?" "What would be the worst that would happen if we talked to the hospice worker, just to learn more about it?"
6. Don't confuse denial with giving up hope.
Denial means avoiding the factual realities because they are simply too painful to behold, and to the extent that in doing so you also deny help (stronger pain meds, the comfort of an assisted living situation, palliative care ).
Hope, in contrast, means moving forward based on a clear grasp of factual realities, the dire as well as the unknowable, that's seasoned with faith. Hope is a commodity most people feel is a help, not a hindrance, and one that shouldn't be abandoned in any situation.