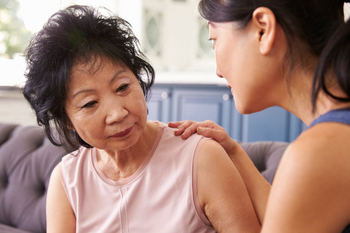 All Rights Reserved
As you start down the sometimes difficult road of caring for your parents, you'll confront a range of challenges from the profound to the practical. You'll find it's a life-changing experience -- one that's often as inspiring as it is painful. To get you started, here's a list of the important life issues you'll face in the months and years to come:
1. Understanding your parents' life stage
As the actress Bette Davis used to say, "Getting old is not for sissies." Your elderly parents are facing a staggering number of losses -- of their health, their independence, and their dearest friends. You'll find that caring for the elderly isn't for sissies either. Getting through this new chapter of life requires courage, resourcefulness, and good humor -- on the part of you and your parents.
Geriatric experts are learning more about aging every day -- insights that may shed light on what your parents are going through. For example, psychiatrists explain that elderly people often react to the many losses they face by attempting to rigidly control the areas of life over which they still have some hold. This may help you understand why your mother refuses to leave her home, for instance, even though she's isolated and vulnerable there.
Recognizing the impulses that underlie your parents' behavior may not make the situation any less frustrating, but it could help you sidestep a power struggle and work together to find a solution. For more about navigating this new terrain, read Demystifying Your Aging Parents' New Stage of Life.
SEE ALSO: Find In-Home Care Help Near You
2. Talking about tough issues -- from assisted living to adult diapers
Caring for elderly parents inevitably involves dealing with difficult topics, from where they should live to how to manage incontinence. The way you approach these tough issues is as important as what you say.
It's best to put aside results-oriented thinking for a few hours -- along with your cell phone and pager -- when raising a difficult topic with your parents. You might want your mother to move into an assisted living facility right away, for example, so you can check it off your to-do list. But for your mother, this is an extremely loaded decision, and insisting that she do the "logical thing" will likely only make her more resistant. She'll need time -- and probably a number of conversations -- to make up her mind.
For more about this challenge to your communication skills, read Talking to Your Elderly Parents.
3. Family disagreements
You and your sister disagree about where your father should live. Your brother never seems to have time to visit Mom. The decline and growing dependence of elderly parents often creates stress and discord between siblings and other family members, bringing old arguments to the surface and triggering new ones.
SEE ALSO: Find In-Home Care Help Near You
Instead of getting mad, get together. If you're sharing care-giving duties for your parents, you and your siblings should have regular family meetings to air disagreements, divide up tasks, and -- with luck -- connect and share a few laughs.
If you and your siblings can't resolve your problems, consider a few sessions with a mediator to defuse tensions before they turn into blowups. For more about managing family dynamics, read Caring for Elderly Relatives: How to Handle Family Conflicts.
4. Having the "car talk"
Not being able to drive can limit everything from your parents' social life to their ability to see their doctor, not to mention their sense of autonomy and self-sufficiency. It's no wonder that many adult children say that taking away their parents' car keys was the hardest thing they ever had to do.
There are some simple steps you can take to keep your parents safely on the road as long as possible, such as encouraging them to take a refresher driving course or see a low-vision specialist. And to ease the transition when it's time to park the car for good, a growing number of communities are developing alternative transportation options for seniors.
Here are some additional resources on this sensitive subject:
5. Sex, drugs and alcohol
You might assume that your parents are past all that, but chances are, they're still having sex (whether they're still married or not). And recent research has found that alcohol and drug abuse are common but undiagnosed problems among older adults.
If you're worried about your parents' health and safety, be direct about your concerns. If you approach them with information and support and without accusation or judgment, they'll probably appreciate your concern -- whether they accept your advice or not.
6. Work-life balance
Caring for your parents, your family, and your job without losing your sanity is no easy task. You may find yourself fielding calls from your parents at work, using sick days to take them to their medical appointments, or spending your vacations sorting through their bills.
Even if you're used to doing it all, you'll likely need help. Start by asking your partner to take over the monthly bill-paying duties. Get your sister who lives across the country to come out for a week to stay with your parents so you and your husband can take a break. See if colleagues can pick up one or two of your tasks at work, and talk to your boss about a temporary leave of absence. Like child rearing, caring for the elderly takes a village -- you don't have to do it all alone.
7. Estate planning
If your parents are elderly, chances are, they already have essential estate planning documents in place such as a will. However, this is far from a given -- in fact, a recent Caring.com study revealed that some 40 percent of U.S. adults between the ages of 53 and 75 still don't have a will.
And even if they do have a will, that's only the bare minimum step to ensuring that your parents' financial and health care wishes are documented, says Mark Gilfix, elderlaw attorney with Gilfix & La Poll Associates. He says every adult should also have a revocable living trust (which takes the place of a will), a durable power of attorney (POA) to accompany the trust and an advanced healthcare directive.
"A will doesn't do anything for you while you're alive - if you become incapacitated or sick, the executor you name in your will has no power to help you out," Gilfix says. "In a trust, you name a successor trustee, and this person can step in while you're alive to help you if you need it." Having an advanced healthcare directive in place, he notes, "ensures that people you love and who know you can make these decisions instead of some random person or a court."
Plus, laying out your wishes for end-of-life care in the directive alleviates the burden your loved ones could face if they had to make decisions on your behalf without knowing for certain what you would choose.
8. Death and dying
It's tempting to ignore a parent's impending death amid the tasks of day-to-day caretaking. But as hard as it is, facing your parents' death and celebrating their lives can help ease the transition for everyone involved. Surgeon and writer Sherwin Nuland observed that "the dignity to be sought in death is the appreciation by others of what one has been in life."
There are many things you can do to help your parents create a legacy that will make their final days more satisfying and give you comfort after they're gone. One place to start: While they're still in relatively good health, help your parents create an oral history or a photo journal that documents their life together.
For some more inspiring ideas, read How to Help an Older Adult Create a Lasting Legacy.