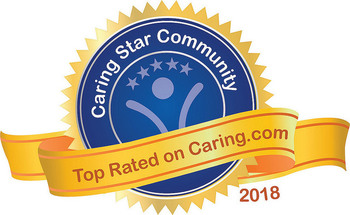 All Rights Reserved
If you or your aging loved one is searching for the right senior living community to call home, you probably have lots of questions. For starters -- What type of community will provide the care my loved one needs? What types of options are available in my area? How do I decide which ones to visit?
Since Caring.com was founded a decade ago, we've strived to provide answers to those questions for millions of family caregivers and older adults across the U.S. Now, we're harnessing the latest of the more than 150,000 reviews from senior living residents and their loved ones to bring you the Caring Stars of 2018 -- our annual list of the top-rated senior living communities in the nation.
This year, more than 260 different senior living communities in 40 states made the cut. We hope the list below helps you in your search for the best senior care community for you and your family.
Best Senior Living By State
Click the state links below to see which home care agencies earned the Caring Stars distinction in your state this year.
| 1. Alabama 2. Arizona 3. Arkansas 4. California 5. Colorado 6. Delaware 7. Florida 8. Georgia 9. Idaho 10. Illinois 11. Indiana 12. Iowa 13. Kansas 14. Kentucky | 1. Louisiana 2. Maryland 3. Massachusetts 4. Michigan 5. Minnesota 6. Mississippi 7. Missouri 8. Montana 9. Nebraska 10. Nevada 11. New Jersey 12. New Mexico 13. New York 14. North Carolina | 1. Ohio 2. Oklahoma 3. Oregon 4. Pennsylvania 5. Rhode Island 6. South Carolina 7. Tennessee 8. Texas 9. Utah 10. Virginia 11. Washington 12. Wisconsin |
Looking for top in-home care agencies? See our list of home care agency winners.
---
Best Senior Living in Alabama -- 2 Caring Stars of 2018
Best Senior Living in Arizona -- 16 Caring Stars of 2018
Best Senior Living in Arkansas -- 1 Caring Star of 2018
Best Senior Living in California -- 65 Caring Stars of 2018
Best Senior Living in Colorado -- 6 Caring Stars of 2018
Best Senior Living in Delaware -- 1 Caring Star of 2018
Best Senior Living in Florida -- 27 Caring Stars of 2018
Best Senior Living in Georgia -- 7 Caring Stars of 2018
Best Senior Living in Idaho -- 2 Caring Stars of 2018
Best Senior Living in Illinois -- 10 Caring Stars of 2018
Best Senior Living in Indiana -- 2 Caring Stars of 2018
Best Senior Living in Iowa -- 3 Caring Stars of 2018
Best Senior Living in Kansas -- 2 Caring Stars of 2018
Best Senior Living in Kentucky -- 2 Caring Stars of 2018
Best Senior Living in Louisiana -- 3 Caring Stars of 2018
Best Senior Living in Maryland -- 1 Caring Star of 2018
Best Senior Living in Massachusetts -- 7 Caring Stars of 2018
Best Senior Living in Michigan -- 7 Caring Stars of 2018
Best Senior Living in Minnesota -- 1 Caring Star of 2018
Best Senior Living in Mississippi -- 1 Caring Star of 2018
Best Senior Living in Missouri -- 3 Caring Stars of 2018
Best Senior Living in Montana -- 1 Caring Star of 2018
Best Senior Living in Nebraska -- 1 Caring Star of 2018
Best Senior Living in Nevada -- 4 Caring Stars of 2018
Best Senior Living in New Jersey -- 8 Caring Stars of 2018
Best Senior Living in New Mexico -- 2 Caring Stars of 2018
Best Senior Living in New York -- 5 Caring Stars of 2018
Best Senior Living in North Carolina -- 1 Caring Star of 2018
Best Senior Living in Ohio -- 6 Caring Stars of 2018
Best Senior Living in Oklahoma -- 2 Caring Stars of 2018
Best Senior Living in Oregon -- 2 Caring Stars of 2018
Best Senior Living in Pennsylvania -- 10 Caring Stars of 2018
Best Senior Living in Rhode Island -- 1 Caring Star of 2018
Best Senior Living in South Carolina -- 8 Caring Stars of 2018
Best Senior Living in Tennessee -- 4 Caring Stars of 2018
Best Senior Living in Texas -- 24 Caring Stars of 2018
Best Senior Living in Utah -- 6 Caring Stars of 2018
Best Senior Living in Virginia -- 3 Caring Stars of 2018
Best Senior Living in Washington -- 7 Caring Stars of 2018
Best Senior Living in Wisconsin -- 3 Caring Stars of 2018