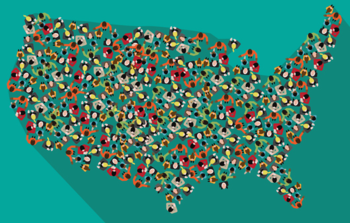 All Rights Reserved
It's no surprise that the state where you live can have a big effect on your quality of life. But for the estimated 34 million Americans providing unpaid care to an older adult, the state you call home can also be a major factor in your ability to take on the role of family caregiver.
The 50 states vary widely in the availability of supports and services for family caregivers -- from laws that make it easier for working caregivers to take time off to care for an aging loved one to the number of high quality senior care providers in a given state.
Read on to learn about some of the states that are doing a good job — not only by easing the financial burden on caregivers of seniors but also by providing mental, emotional and physical support.
1. Oregon
Oregon is the No. One state for family caregivers, according to our findings. The Pacific Northwestern state has consistently ranked among the top three in AARP's Long-Term Services and Support State Scorecards, which assess the supportive programs and services available in each state for older adults, the disabled and family caregivers.
The state's Department of Human Services runs a Family Caregiver Support Program that, among other things, provides individual counseling, caregiver training, support groups, respite care and referrals to community resources. In addition, Oregon offers workers paid sick days.
2. Colorado
Colorado ranked well on the state supports and services scorecard thanks to a few key programs. The state gets high marks for providing what's known as "nurse delegation," which allows nurses to delegate health maintenance tasks to paid direct-care workers in a patient's home. In states where this isn't allowed, family caregivers who work often have to take time off to perform those tasks themselves. It's also notable because of the Colorado Respite Coalition, a far-reaching caregiver advocacy organization that helps family caregivers throughout the state find respite care services and resources.
3. California
Although it can be tougher for caregivers to find an affordable home here, the Golden State is a standout when it comes to other types of caregiver support. California offers paid sick days, and it's a leader in the area of transportation policies.
For example, the state's Older Californians Act offers vouchers for reduced rates on public transit and funds assisted transportation for care recipients who can't use public transit. California is also home to several statewide caregiver coalitions, which Whiting says "have done a good job of raising the issue of caregiving."
4. Washington
Like its neighbors to the south, Washington is another state that takes supporting family caregivers very seriously. The Evergreen State's Aging and Long-Term Support Administration provides family caregivers with needs assessments, information, training and counseling. The state-run organization also offers respite care, support groups and referrals to physical, mental health and wellness programs.
5. Utah
This state took the top spot in Caring.com's 2017 list of Best States to Grow Old due in part to the availability of affordable, high quality senior care. But Utah also earned high marks from the AARP's 2017 Long-Term Services and Supports Scorecard for its supportive policies for working caregivers and for transportation policies that help both family caregivers and the elderly adults in their charge, among other factors.
6. Hawaii
Hawaii is not only a sought-after spot to live and vacation, it's also home to a well of support and advocacy for the state's family caregivers. Hawaii residents caring for aging loved ones benefit from something called the Kupuna Caucus of the Democratic Party. It advocates for Hawaii's seniors and their family members, including caregivers. The organization pushes for progressive legislation at the state level.
7. Wisconsin
Wisconsin's senior care options can be pricey, but the state's robust array of supportive programs and policies makes it a great place for caregivers of aging loved ones. The state ranked 13th in the nation in the category of Support for Family Caregivers on AARP's 2017 Scorecard.
It earns high marks for its programs for working family caregivers of loved ones with dementia as well as state partnerships with community organizations that helps educate and support caregivers. The Badger State is also home to a high number of top-rated senior care providers relative to its elderly population.
8. Minnesota
Minnesota is one of the best states for working caregivers. It's one of the few states with a law that makes "family responsibility" a protected classification from discrimination. That means employers cannot discriminate against workers who need to take time off to care for their loved ones.
In addition, the Minnesota Board on Aging offers a wealth of informational resources for family caregivers — such as a brochure on holding a family meeting to discuss the care of an elderly loved one and a fact sheet on caregiver self-care.
9. New Jersey
The Garden State has a lot to recommend it to family caregivers looking for support. It is one of a handful of states that offer paid family medical leave, which allows caregivers to take time off from work to care for loved ones.
Additionally, New Jersey is home to a "robust network of caregiving advocates through United Way and others," Whiting says. The state's United Way Caregivers Coalition offers education and support to family caregivers and also connects them with resources in their local areas.
10. Alaska
While it's among the more expensive states in the nation for assisted living and nursing home costs, Alaska boasts some invaluable programs meant to help family caregivers with an aging loved one living at home. Like Colorado, the state is also a standout when it comes to nurse delegation.
See rankings for all 50 states: 2018's Best and Worst States for Family Caregivers
For more information about this study:
Laura Dixon
Caring.com Editorial Manager
ldixon@caring.com