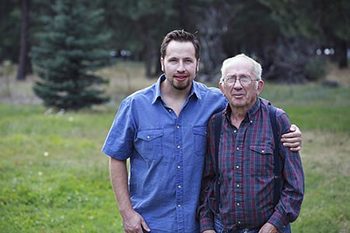 Being a caregiver can feel a lot like being a lone ranger. We know other caregivers are "out there," but our day-to-day lives don't allow us to meet with others who are facing the same challenges we face. Many caregivers go online to search for other caregivers to light their path. Blogs, vlogs (video logs), and phlogs (photo-journals) allow us a window into other caregivers' lives. They provide a place to vent, to find humor, to ask questions, and to chronicle our days. We find comfort in knowing we're not the only ones whose spouses make excuses about why they don't need to go to physical therapy; we find real relief in admitting that there really is such a thing as "caregiver's spread" (that's when you're stress-eating the same snacks your care buddy is eating -- and then some).
Here at Caring.com, we're passionate about stories -- we know they're an important way to help families navigate the difficult challenges of caregiving. Back in 2010, Caring.com launched a blog called Dad Has Dementia, which won an online journalism award that year. I've also chronicled my own family caregiving story in my blog, Mothering Mother.
What do the best blogs have in common? They remind us we're not alone. They give us a mirror, and place to go to, a pal who has dealt with some of the same fears and frustrations we have. The best blogs remind us why we do what we do. They remind us to take a minute. That it's OK, we're OK. The best blogs invite us to tag along.
Days With My Father
Days With My Father is a photo journal taken by Phillip Toledano of his experience caring for his 98-year-old father. In a series of powerful photos of quiet moments, we see Phillip's father just as he sees him -- the back of his head, reading the paper, standing by the window, holding hands with Phillip's wife. We see his father's boyish charm and the anguish and confusion that come with memory loss.
Phillip's photos are accompanied by just a few words. We learn that his dad has short-term memory loss (not Alzheimer's). He keeps asking again and again where his wife is. It's so painful to relive the fact that his mom has died that Phillip finally tells his dad that she's gone to Paris to take care of her brother, that she's still in Paris. Forever in Paris.
Phillip shares that his dad has become a bit of a dirty old man. He compliments his daughter-in-law on her figure and enjoys when she wears a short skirt. She's a good sport about it and even suggests they ask a Hooter's waitress to come in once a week and read the newspaper to him. There's another photo where he's placed two small cookies on his chest and made a racy comment. There's no way you can smother a smile.
What is so beautiful about this photo blog is that it captures the everyday love of family. It captures the sweetness and the deep ache that come with walking those last years and weeks and days with our elders, and it does this while giving us space we need. Space to smile at his dad's antics. Space to think and feel and process -- and space that allows the release that only tears offer. Photos can sometimes go where words can't follow, and Phillip Toledano has given all of us a powerful and poignant gift. (Days With My Father is now available in book form on Amazon).
See it now: Days With My Father
More Great Caregiver Stories
The Battle We Didn't Choose: My Wife's Fight With Breast Cancer
Under My Wing
Upside to Dementia?
The Squashed Bologna: A Slice of Life in the Sandwich Generation
Saying Goodbye
Elaine Mansfield's Blog
Alzheimer's Through the Eyes of a Caregiver
Gladys Wilson and Naomi Feil's Story
The Sandwich Generation
Random Thoughts
Caring for Walter
Mom's Brain
The Dopamine Diaries
Evelyn, a Love Story
It Took 3 Years and 13 Dumpsters to Clean up After Lewy Body Dementia
Shake, Rattle, and Roll
Mama's Keeper
The Battle We Didn't Choose: My Wife's Fight With Breast Cancer
The Battle We Didn't Choose: My Wife's Fight With Breast Cancer is both a blog and a photo journal, and it shares one young couple's experience with cancer. Through black-and-white photos, Jennifer's husband, Angelo, lets us into their world. He presents the story in interview form. As a man, as a spouse, he reminds us what it's like to try to be there for those we love, and what it's like to try to meet their needs even when they can't express them. Angelo writes, "My main role was whatever Jen needed. If Jen needed to laugh, I was a comedian. If Jen needed quiet, I didn't talk. If Jen needed love, my arms were open. I don't think there is any set way to be or road to follow, but what helped me was listening to Jen and trying to stay a step ahead of her."
Angelo writes that it was difficult for family and friends who were not in their day-to-day lives to comprehend what they were going through, but the photos opened their awareness. We see Jennifer's ravaged body. We see tubes and prescription bottle and hospital beds, and yes, it is painful to take in, but Angelo offers much more. We see two people fighting to live each day, to make new memories. We see what they see. We see Jennifer with and without hair. We see her putting on mascara even though her head is bald. We see her floating in a sea. We see the exhaustion and the frustration in a way words could never convey. And we see the two of them side by side with clown noses. We see the whole of their lives, and even though Jennifer lost her fight with cancer, we still get to keep her, keep them -- and that's pretty amazing.
See it now: The Battle We Didn't Choose: My Wife's Fight With Breast Cancer
Under My Wing
One of Lesley Austin's many blogs is her account of living, loving, and caring for her mother with dementia. Under My Wing is part art, part photo journal, and beautiful in every way. Lesley is an artist and writer, photographer and gardener. This is an important example to other caregivers -- that continuing to nurture our own interests actually adds depth and sweetness to the caregiving experience. There's a tenderness and grace to this blog. Even the white space and the font lend themselves to an airiness that feels fresh and inviting. We visit her Virginia homestead. We get to know her and her mother through vignettes of their life (we also meet her husband, her kitty, and her goats). We're treated to delectable photos of both the vintage and nature varieties. It truly feels like a garden on the page.
It's not that Lesley offers hundreds of posts, it's more about the quality, beauty, and thoughtfulness found in her blog. We also find heartrending honesty. "This is so hard," stands alone on one line. There's not a caregiver out there that doesn't feel these words echo into their own lives. Her mother, Lois Hooker Padgett, passed in November of 2012, but Lesley's words and their journey will continue to comfort and guide readers.
See it now: Under My Wing
Upside to Dementia?
The Upside to Dementia? is a daughter(s)-dad blog through the ups and downs of Alzheimer's. Daughters Kristen and Megan and their dad, Melvin Brandt, let us into their lives and reveal their struggles. Dad wasn't (and isn't) perfect, but he has daughters who continue to care for him, to be his advocate, and this blog shares the day-to-day hilarities and frustrations that come with caregiving. This is a story many families will relate to.
Their caregiving journey includes the rough patches -- a stay at the geriatric psych unit, having to move him from a less-than-adequate care facility, severe staph infections, and issues with medication. They also share the sweet times: photos that show us just how strong the family bond is. One important aspect of this blog is the journey these daughters take as they search for the proper care facility for someone with memory loss.
Kristen is a young caregiver, a mom and an actress who lives in Los Angeles. She and Alexis, a friend and actress, are the Sassy Songbirds, a performing duo who take their talents in joy and entertainment into care communities. They sing and dance into the hearts of residents and staff, brightening their days and bringing smiles. The Upside to Dementia? blog shows the whole picture, and yet it exudes the joy and determination the caregiving community needs.
See it now: The Upside to Dementia?
Squashed Bologna
Meet Varda, blogger, wife, mom, and daughter behind The Squashed Bologna: A Slice of Life in the Sandwich Generation. She's a true sandwich-generation woman who writes about "birth, death, and all the messy parts in between." Her mom recently passed (January 2013), and her journey will touch your heart. She has plenty on her crowded plate -- raising twins, one with autism spectrum and the other with ADD (she has ADD as well, which is probably why her posts are so interesting and multidirectional!).
Varda lives the title of her blog, and she's doing it with humor and grace. I love her "25 Random Things About Me." We find out she used to be in media/producing, was originally from British Columbia, traveled around the world, and is now "grateful just to get out of my neighborhood." Her blog shares the loss of her dad, watching her mom decline, the chaos and mayhem of motherhood. The Squashed Bologna gives you plenty to laugh about, but it also gives you something to think about. "[W]hat happens when memory is gone?" Varda writes about her mother in her blog titled "Groundhog Day." "When the ability to lay down new memories erodes, and the mind sieves everything out every few hours so that all that remains is dust and ghosts. . . . This is the state my mother finds herself in, and it is breaking my heart."
This passage reflects her caregiving journey and is something other caregivers know oh, so well.
See it now: The Squashed Bologna
Saying Goodbye
Photographer and blogger Ingrid Damiani chooses to devote much of her time to photographing families just as they are -- little ones with birth defects, those who are in hospice -- and she finds beauty where others might look away. In her documentary series, Saying Goodbye, Ingrid photographs the last days of Ivy's life. Ivy's granddaughter, Theresa, invited Ingrid to capture this poignant time and opened Ivy's beach home to the photographer. We see Ivy in her last days. Quiet. Serene.
The photo blog shares the sweetest of days -- Theresa by her grandmother's bed, a puppy noticing the camera. We see a care aid's gentle hands and generous smile. We see wrinkled, fragile hands held by stronger ones. We see a woman surrounded by family in her beloved beach home. We see Ivy being wheeled to the beach, escorted by grandchildren and great-grandchildren -- all with the black-and-white clarity and honesty Ingrid's photos reveal. We see the whole of Ivy's life. We witness as the love she so freely gave now comes full circle. Theresa says, "We were the center of her life, and now she's the center of ours."
Ingrid's work is thoughtful and deep. She captures the dignity of caring for those we love, of aging and, yes, dying. The last days of Ivy's life will linger as a sweet memorial to a life well lived.
See it now: Saying Goodbye
Elaine Mansfield's Blog
One of the biggest fears of caregiving is that as overwhelming, exhausting, and frustrating as it is, it will end. We think our story (or blog) ends when caregiving ends, but it doesn't. Elaine is a storyteller, and she shares her journey as caregiver to her husband, and the loss of her husband, in her blog Elaine Mansfield. Since 2008, Elaine has continued to blog, to open our hearts and minds to what it means to walk through and beyond caregiving.
Elaine draws on her extensive background in nutrition, palliative care, and bereavement counseling. Her writing reflects her 40 years as a student of Jungian psychology, mythology, philosophy, and meditation. As a teacher and mentor, Elaine facilitates a support group called Continuing Bonds at Hospicare of Ithaca for women who have lost their partners and spouses. She also writes for the Hospicare and Palliative Care of Tompkins County newsletter and website in upstate New York, where she retired from her work as a nutritionist, exercise trainer, and women's health counselor in 2011.
Elaine's blog reflects the day-to-day questions and insights of what it means to "go on," to find new purpose and to hold dear the memories of those we've lost. We get to know this intelligent, brave woman on days when she doesn't feel so brave. On days when she's contemplative, searching for comfort, and finding new guides as she walks us through the tentative paths of grief and loss.
See it now: Elaine Mansfield's Blog
Alzheimer's Through the Eyes of a Caregiver
Sabina Shalom shares this video, Alzheimer's Through the Eyes of a Caregiver, as the story of her life with her husband, Marc. Sabina offers a tender and candid story of a couple's struggle and undying love, even through Alzheimer's. She recounts the time when she knew something wasn't right -- misplaced papers, unpaid bills, bills being paid twice. Then came the diagnosis of Alzheimer's. "I was devastated," she says. "I didn't know a lot about the disease." She shares the ongoing grief of realizing that the husband she knew and loved so well couldn't be reached, but she leaves the viewer with a message of steadfast love.
Why is this video important? Because it shows a lifetime of love. Because it's important to remember. "We met in the summer of 1949," Sabrina says. "He was handsome and tanned and kind . . . and his name was Shalom! I told him I'd been searching for peace all my life!" We see Marc and Sabrina as a young couple on the day of their wedding, and later in their home as they age. We're reminded that our loved ones with Alzheimer's aren't just a disease. Their story, our story, all they've ever been, is something we must now remember and share. This video says what words might not be able to convey -- we see her love and her worry. We see how important it is for a caregiver give voice to her story.
See it now (presented by PhRMA Press): Alzheimer's Through the Eyes of a Caregiver
Memory Bridge
This YouTube vlog portrays Naomi Feil, founder of Validation Therapy, who reminds us that everyone, everyone, longs to be touched. Gladys Wilson and Naomi Feil's Story, presented by Memory Bridge, is, at first, difficult to watch. But as we see Gladys Wilson -- a woman with advanced dementia who is no longer able to speak -- open up, we see inside her world in a way that gives hope to those who are caregivers to loved ones with dementia. Naomi is quiet and patient in her approach. She pays attention to Gladys's repetitive movements. She learns that Gladys loves church songs and she begins to sing to her, stroking her face in the same gesture that mothers use to touch a baby's face. Gladys begins to respond. She looks into Naomi's face and even claps to the rhythm of the song. Naomi follows Gladys and allows Gladys to guide her.
"He's got the whole world in His hands," Naomi sings a song Gladys knows from childhood. She mimics Gladys's beat on the arm of the chair, and before long Gladys -- who no longer talks -- begins to fill in the lines, "in His hands," in perfect timing. The two of them even breathe in tandem, and when this happens we see the window into Gladys's soul open. By the end of this video, I promise you'll be smiling. It's life-affirming and gives hope to families who feel they've lost those they love to this devastating disease.
Naomi Feil's patience, kindness, and persistence allow her to break through the confines of dementia and reach the hearts and minds of the people she is with. She reminds us to slow down. To be present. To pay attention to who they are, who they've been, what they love, and in that way find that maybe, just maybe, we can reach them. Memory Bridge is dedicated to teaching us how to connect to those who struggle to remember, and to honor them just as they are.
See it now: Gladys Wilson and Naomi Feil's Story
Learn more about Memory Bridge.
Sandwich Generation Video Blog
Susan Colley-Monk is a sandwich-generation woman who cares for her children, her nephew (who lives with her family), her dad (who is recovering from quadruple bypass heart surgery), and her sister (who is recovering from cancer). We meet Susan in The Sandwich Generation through a series of photos as she narrates. The first photo is predawn. She's in the kitchen holding a photo board of her loved ones. As she narrates her day, we hear and see how she's torn in many directions. We follow her through a typical day as she reprioritizes her life in order to be there for those she loves -- and she's not alone. Caregivers will relate to her day: stopping by to drop off lunch for her sister, making doctor's appointments for her dad, and helping her children with homework.
Susan reminds us that our sweetest gift is the gift of time. That being there for our loved ones when they need us most will consume us at times, and we'll need all our strength and faith to get through. This is a caregiving story of one woman's life, of what it means to be a full-time caregiver -- for not just one person but for many. What's so beautiful is that she reminds us to be grateful to have our loved ones with us.
See it now (presented by the Sacramento Bee): The Sandwich Generation
Random Thoughts Blog
Mary Ellington has been nurturing her blog, Random Thoughts, since 2007. Mary has cared for two elderly parents for a total of 15 years. Her blog is spiritual without being preachy, hilarious without being disrespectful. She has a quiet sense of humor that, at times, will sneak up on the reader. Before you can catch your breath, she writes another post that gives you pause and asks you to reexamine an outgrown belief.
Random Thoughts is more than just a caregiving blog, and there's nothing random about how insightful and poignant it is. We get to know her dad, a retired navy officer and father of five girls who's got more crust than dry toast. We feel her frustration. She even shows us the importance of a supportive significant other as she falls in love with her "Sweetie" -- the man who steals her heart and gives her a steady hand.
Mary offers many wonderful posts about what it's like to be a grown adult living back home and caring for someone who will forever (in his mind, at least) be "in charge." We get to walk with her and her dad through hospice and through those last tender good-byes. Her dad passed a little over a year ago, and she continues to blog through and out the other side of grief. Mary and Random Thoughts -- what a gift to the caregiving community.
See it now: Random Thoughts
Caring for Walter
Marge and Walter's video blog Caring for Walter< is part of a series that shares the story of a spouse caring for her husband who has suffered a stroke. They invite us into their home and we witness what it's like to be a 71-year-old wife and full-time caregiver.
Marge shares snippets of her life before caregiving, and what life is like now for both of them. She talks about Walter's struggle with depression, how she wished she had asked for more help, and how joining a support group was her lifeline. Their story reflects the caregiving-spouse experience. They don't face just one issue but many. Walter has a heart attack and the doctors suspect cancer -- and the medical bills roll in. We worry with Marge and cheer her and Walter on. It's the simple joys and everyday struggles portrayed in this video series that are so touching. Marge fights for her husband and demonstrates the importance of grabbing every ounce of joy along the way. Caregivers will no doubt see a bit of themselves in Marge's story. Be sure to check out the whole series.
Mom's Brain
Over the past four years, the blog Mom's Brain has chronicled the journey of Emily as she cares for her mother who is slowly succumbing to the ravages of Alzheimer's. Mom is now in a memory unit, which allows Emily to once again assume her old role as daughter, instead of caregiver.
Emily began blogging as a way to let off some of the pressure that comes with caregiving. "For Mom's sake, and for my own, I'm so relieved that I was able to look at and consider the bigger picture, thanks to the blog," she writes. At first Emily wanted to write an anonymous blog, but she soon realized that she needed to share their story, and she wanted to break the silence and erase the stigma that can surround dementia.
Like so many, Emily is a working caregiver, and she finds that delicate balance between work and home, caring for her own needs and making sure that her mother receives the best care. It isn't easy. She missed her mom's Christmas gathering because of work. At times, her mother pulls away from her, confused. "As I signed out at the front desk, I told the receptionist, 'Mom doesn't seem to like me anymore.' And she said, 'She doesn't really like anyone. But she's happy.'" Only another caregiver can fully understand how these words bring relief and laughter, and at the same time they portray the ongoing, bittersweet experiences that come with dementia.
This blog is important to the care community because it's easy to feel pushed aside after your loved one enters a care facility, as if you've somehow failed them or are no longer an integral part of their lives. Emily shows that we can and must continue to stand vigil over our loved ones and that, even in a care home -- especially in a care home -- you can still make memories every single day.
See it now: Mom's Brain
The Dopamine Diaries
The Dopamine Diaries is written by Meg, a woman who chooses remain mostly private so that she can convey her thoughts and "vent" without compromise. She's a young(ish) caregiver who promotes the idea and practice of holistic aging and community-based holistic elder care. That's a fancy way of saying that she's a down-to-earth gal and you can most likely find her -- and, before she passed, her mother, who suffered with Lewy body dementia -- in the garden, a place beloved by them both. Her blog fantasy is to "create better models of residential and community care for elders and ultimately ourselves."
Like most caregivers, this blogger finds the realities of caregiving smacking her square in the face. She moves her mom into an assisted living facility and, later, to a memory care unit. We tag along as Meg visits her mom. "It's like witnessing a very young child grow, but in reverse; people with dementia at certain stages change extremely rapidly in personality and abilities from week to week -- even day to day. I don't want to miss any of her last steps, words, or jokes," she writes.
Meg's mother passed away surrounded by her daughter and loved ones as they sang her favorite song, "In the Garden." Meg sprinkled her mom's ashes in her beloved garden and hung her gardening hat on a nearby post. This is the kind of tenderness and sensibility you'll find in this delightful blog.
See it now: The Dopamine Diaries
Evelyn, a Love Story
Evelyn, a Love Story is a video account of Fred, a husband caring for his wife, who has Alzheimer's. So many men -- husbands, sons, and brothers -- find themselves at the center of caring for those they love. Set to the music of "Blue Velvet," sung by Bobby Vinton, we see a husband's patience and thoughtfulness -- even in the way he brings her coffee.
Fred shares how, on a trip abroad, someone commented that his wife was forgetting, and that forgetting was more than having a "senior moment," and he recognized that he been avoiding or denying the possibility for quite some time.
Fred also talks about something so many couples are facing today. They're childless, and he worries about what will happen to Evelyn if something should happen to him. We watch them dance and sing, and we see how hard he tries. "I live for her, she lives for me," he says. "I hope she has a good life." He's let go of some of the hurts that come with dementia. She no longer calls him by name, but this husband is steadfast: "I can't stand to be without her too long," he says. "Love floats around, doesn't it? I don't think it'll ever go away."
This is a wonderful example of caregiving from the male spouse perspective.
See it now: Evelyn, a Love Story
It Took 3 Years and 13 Dumpsters
Joy Walker writes a great blog entitled It Took 3 Years and 13 Dumpsters to Clean up After Lewy Body Dementia. Joy's dad has Lewy body dementia, a type of dementia related to Parkinson's that's known for its drastic mood swings and sometimes violent and erratic behavior. This is an important subject, and spreading the message is Joy's mission. Joy shares the resources she's found along the way, particularly for those who live in or near Seattle. She brings insight to what it's like to be a young caregiver -- she started in her early thirties -- at a time in her life when she wasn't expecting to become responsible for her dad's needs.
Like most caregivers, Joy has to juggle many roles. During the stress of the holidays, she writes, "I made Dad's favorite cookies and took part of the day last week to bring them over to him. I also had some gift cards for his caregivers to thank them for all their hard work and care of Dad. . . . Surprisingly, I spent a calm half-hour with Dad . . . it was nice to sit there quietly, with no Christmas carols blaring, no pile of things needing finishing at home, and nowhere to be but just sitting with my Dad."
Entries like this show how very important blogs are. They shine the light on the small moments that make it all worthwhile.
See it now: It Took 3 Years and 13 Dumpsters to Clean up After Lewy Body Dementia
Joy's book on Amazon.com: Three Years and Thirteen Dumpsters
Shake, Rattle, and Roll
Shake, Rattle, and Roll, a blog by Kate Kelsall, shares the journey of Parkinson's and DBS (deep brain stimulation), written from the perspective of the person who's being cared for. It's filled with fact and fun as she lets us in on what it's like to be on the other side of care. Kate experienced early-onset Parkinson's (at the age of 46 -- 17 years ago) and offers her blog to the caregiving community. Few of those receiving care write about their experience, and Kate opens up about her life, her marriage, and her treatment with incredible resiliency and a wicked sense of humor.
In one blog titled "Why Me," she asks the questions we all ask:
"Why not me?"
"Why her or him?"
"Why not her or him?"
"Why this?"
"Why now?"
She bemoans the loss of her "real" (e.g., paid) job and professional career. She whines about losing her voice, the extreme movements (or the lack of movement) caused by Parkinson's. Yet what is so amazing is that she never seems to lose sight (not for long, anyway) of her blessings, and just when the subject gets "heavy," she lightens it with something snarky -- a joke, a quip -- that reminds us all to pick up whatever life throws at us and throw it right back.
See it now: Shake, Rattle, and Roll
Mama's Keeper
Mama's Keeper is written by Annie, a granddaughter who's also a caregiver. She comes from a long line of caregivers, and she stepped into this solo role seven and a half years ago after her mom passed. As a Gen-Xer, Annie blogs and tweets, and none of Annie's posts are long, which is a fresh take on the caregiving experience.
Part inspiration and part journal, her blog reminds us to find (or make) our own joy and purpose every day. Annie also reminds us that one of the best ways to achieve that goal is to turn to those who have dedicated their lives to nurturing others. Drawing from Oprah to Deepak Chopra, Annie tweets helpful quotes and bite-size nuggets of wit and wisdom that are perfect for lifting a caregiver's heart. She talks about being a woman, specifically an African-American woman. She shares insights about everything from hair and politics to health issues and friendship. She spent the whole month of November listing what she's grateful for, and that opened the door for others to speak up and share their own gratitude lists.
Caregivers don't always have a lot of time, and it's great to get a tweet or read a post that makes you think or laugh in just a few words. Annie's blog "Five Topics to Avoid at Thanksgiving" accomplished both. If you're a harried caregiver or just don't like hanging out in front of your computer screen for hours on end, then check out Mama's Keeper for a quick pick-me-up.
See it now: Mama's Keeper blog and Mama's Keeper on Twitter