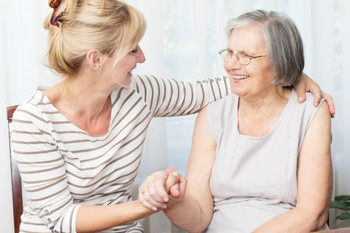 All Rights Reserved
Caring for an aging or disabled loved one comes with an array of challenges, and can be incredibly taxing, physically, emotionally and financially. This is especially true for those who are full-time caregivers for their loved one.
"With over 43.5 million people having provided unpaid caregiving within a 12-month period, it is clear this is a responsibility that will fall to many of us at some point in our lives," says Angela Norris, Senior Vice President for StoneGate Senior Living LLC.
Norris strongly recommends acknowledging both the emotional and logistical challenges of caregiving, as well as the opportunity to expand your emotional and spiritual understanding of your relationships with family.
Despite the challenges, about half of family caregivers who live with the person they're caring for said they were happy to give back to someone who has given them so much, and about 40 percent said they believe families should take care of one another no matter what, according to the results of a 2016 Caring.com survey.
Those findings are a good starting point for understanding the benefits of being a caregiver. You might be surprised to know that as a group, family caregivers live longer and are healthier than their peers, according to research conducted by Lisa Fredman, Ph.D., a professor in the department of epidemiology at Boston University's School of Public Health.
Fredman and her sister spent 13 years caring for their father, who lived in an independent living facility for most of that time. She admits that their caregiving journey wasn't always smooth, but says her research into caregiver experiences, plus her own caregiving experience, revealed more positives than she expected.
1. Caregivers may be healthier and live longer than their peers
"The scale I was using in my research helped me isolate and separate caregiving from stress. Once I was able to do that, we noticed that the caregivers were having lower rates of mortality than the non-caregivers," Fredman says.
She double-checked her results, because at first she didn't believe them. "I just kept finding our caregivers walked faster, they walked more, and they had better cognitive functioning, especially on cognitive performance measures."
Fredman says that these results helped her develop a richer view of her own role as a caregiver, enabling her to see that caring for her father also helped her.
2. Caregivers feel purposeful
Fredman also looked at some of the ideas about aging found in psychological literature – which suggests that as people age, they begin to focus on what makes them feel useful and how they can leave a legacy for future generations. For many caregivers, the caregiving role helps them find that meaning and purpose.
"It doesn't mean that it's making you happy," Fredman clarifies. Caregiving has its ups and downs, she says, but that sense of purpose can be a common thread throughout all those experiences.
3. Caregivers give back
"Being a family caregiver is a way of giving back to the person who has given so much to you," says Eddie Chu, Owner of Qualicare Ottawa. "It is a tangible way of showing your love for that person and brings a feeling of satisfaction knowing you are doing your best to care for them."
Plus, he points out, if your aging parent's first language is not English, you also might be able to bring them comfort that others are unable to provide if you can speak to them in their mother tongue.
4. Caregivers build self-confidence
Caryn J. Golden, who authored the caregiving memoir "One Pedal at a Time," says that her experience of caring for her husband after a series of cancer-related strokes broadened her awareness of her capacity to be there for him.
The 73-year-old says she found herself actively researching her husband's care needs and advocating for him – for example, by making it possible for him to successfully rehabilitate at home even when many in his medical team advised against it.
"I wasn't perfect by any means, but I was strong, because I pulled myself together and I allowed my friends to help me," she says. Her 69-year-old husband, who completed two cross-country cycling trips prior to the strokes, is planning on a third trip in September 2018, albeit on a recumbent bike.
5. Caregivers are role models for their families
"Your loving care can be a model for the rest of your family—your children especially—and can bring the whole clan together," says Chu.
Golden reported that being able to care for her husband Joe at home allowed their adult children and their grandchildren to feel more connected to him, despite the hospital bed and the wheelchair.
6. Caregivers get to know aging parents better
Rick Lauber, a former caregiver for his aging parents and author of "The Successful Caregiver's Guide" and "Caregiver's Guide for Canadians," cites a deepened relationship with his parents as one of the main benefits of caregiving.
"I had always found both my mother and father quite private people who did not always speak openly about their lives, their likes and dislikes, their own parents, their beliefs, and so on," he says. "At first, I felt resentment, but came to learn that my parents were the best parents they could be - given what they were given in life."
7. Caregiving builds empathy
Since becoming a caregiver, Golden says she now has a much deeper understanding of family caregivers, and of the ways in which people react. She recommends being forgiving of yourself and others if responses are not what you would have hoped – people typically don't know what caregiving for a spouse or aging parent entails until they do it themselves.
8. Caregivers can get closure (sometimes)
Let's be frank – families are messy. Fredman points out that caregivers may find that their new role, even when shared with others, can bring up unresolved difficulties from the past. If your caregiving role is triggering old emotions and worries, talk to a counselor or mental health professional about how to proceed. These unpleasant emotions could lead to growth and closure later on.
9. Caregivers can make a plan
Golden says she became a caregiver in the way many people do – without any forewarning or training, and without her husband's input, since the strokes made it temporarily impossible for him to communicate.
And while this is a common experience, Fredman argues that there are lessons you can draw from that feeling of being unprepared. The most important one, she says, is to use what you have learned to document your own wishes for care so that your loved ones will have guidance if they need to make decisions for you.
You may not see the positives of caregiving every day, but you can get there. If you're struggling, consider joining a support group, journaling or expressing yourself in some other creative way, and making time for your own relaxation and respite.