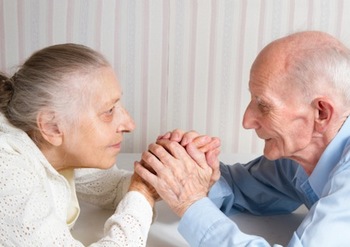 All Rights Reserved
The need for love doesn't come with an expiration date. Nor does it end when you move into a senior retirement community.
These are good reminders any time, but they hit home especially hard around Valentine's Day, when red hearts and chocolate candies float in the air and our thoughts turn to romance.
My adorable 85-year-old mom married a man four years her senior a decade ago, so perhaps I have a bias toward celebrating later-life love. Our cultural mind-set should be that older people need companionship and intimacy as much as anyone.
With so many living longer in assisted living and nursing homes, how can we make sure that need is respected and encouraged? After speaking with a few experts recently, it was heartening to discover that senior living offers more opportunities for Cupid to shoot his arrows than you might realize.
"It is not uncommon for senior residents to find companionship and sometimes true love," says Nancy Watkins, certified senior advisor with Assisted Living Options. "Frequently, someone will move to an assisted living community after a spouse has passed away and they need some light help. The isolation and loneliness they've experienced at home becomes depressing, and they begin to fail in more ways than one. Assisted living offers services that draw them out of the privacy of their apartment, especially at meal times and for a variety of activities. And when they begin to meet others living in the community, they develop new friendships, and sometimes those sparks fly!"
Of course, given the complications associated with poor health and diminished cognitive functioning, it's not possible for all senior living accommodations -- especially nursing homes -- to encourage romance among their residents.
But for the healthy, able, and willing, why not help ensure that assisted living means assisted loving and companionship, too? Here, eight ways that senior living communities can put a little love and companionship into their residents' everyday lives.
1. They bring out the welcome wagon.
"Most assisted living communities include a special welcome to new residents in their monthly newsletters and include a photo and a little bit of info on the person's background," says Watkins. "Welcome committees are often formed to help introduce a new resident to others and to invite and encourage the new resident to participate in the activities." Good leaders will also ask lots of questions about a new resident's background and interests and try to introduce him or her to others with similar interests.
2. They make mealtimes count.
"Meals are a great opportunity for people to connect," says Katie Miller, director of Resident Services for Roland Park Place, a continuing care retirement community in Baltimore, Maryland. "Having lunch or dinner with someone is already a socially acceptable way of meeting others or getting to know someone, a natural experience that fosters companionship and love in a setting that is comfortable and familiar. I've witnessed two couples recently find new love within Roland Park Place, and the stories are very similar. It began when two residents started having meals together in the dining room, slowly got to know each other, and then would visit each other's apartments to watch TV or talk. The relationship really evolves on its own."
3. Group activities are designed to be enjoyable and relaxed.
"If single adults want to mingle, often they're intimidated by the fact that the pressure is on to look good and act a certain way," says Carol Marak, marketer for assisted living communities. (Author's note: That's a universal worry shared by daters of all ages, if there ever was one.) "So, design group activities that are fun and low pressure. Activity directors can set up meet-and-greet events like a short charity walkathon to raise money, or sports events or a big TV event in the facility's theater room, or they can host a movie night." Particularly when there are regular events, such as a monthly movie night, bonds form and relationships develop.
4. Events and mixers are all-inclusive.
I have heard of some facilities that hold mixers, "senior proms," and even speed dating. It can be risky, since organizers don't want to leave anyone out. There's a better chance of good participation and fun for everyone if inclusion is the goal. If community organizers host a speed-dating event, for example, they could call it "speed mingling" to take the pressure off and make the focus on residents' getting to know one another better. Some organizers give prizes to those who learn the most about another person.
5. There are many activity options to help the like-minded connect.
"We encourage residents to attend activities together and find other residents with common interests who might be compatible," says Miller. "We try to offer a wide array of activities for every hobby and interest so that residents have every opportunity to meet others in the community. Sometimes love and companionship are built on a foundation of friendship based on similar interests first."
6. Residents start talking and sharing.
"We may feel like 'small talk' is the safest choice, but it can be wonderful to hear love stories from earlier generations," says Watkins. "Asking seniors about their most exciting travel adventures with their spouses, or learning about the most romantic gifts they ever gave or received, can bring a new layer of understanding." If activity directors and workers can help to occasionally veer conversations toward love, feelings, and sweet memories, they will get everyone talking and sharing. You don't need a love guru to tell you that sharing is perhaps the quickest way to help residents form close new relationships with each other.
7. Senior living fosters privacy and respect.
"In order to make love and companionship a real possibility for residents in senior living environments, the community and staff must work to combat the obstacles," says Miller. "For example, staff should respect not only the residents but the residents' relationships. This means not saying things like, 'Oh, aren't they cute,' which can sound diminishing and disrespectful. To foster new love and companionship within a senior living environment, the staff holds a lot of responsibility in their attitudes toward the residents and the couples." Privacy must be respected and fostered as well. "Yes, there are social opportunities in a well-run facility for companions to meet," says Regina Dreyer Thomas, author of Love and Successful Aging When You're 70+ and Single. "But where can they go to be alone?"
8. Families are guided and educated to understand.
Assisted living facilities may face more questions about resident romances from families than from the residents themselves. "One obstacle I hear about is a concern from their adult children," says Watkins. "There's a fear of Mom or Dad being taken advantage of." Residence administrators can help "normalize" residents' relationships by showing their support and speaking to families in an effort to help them understand and appreciate the benefits companionship brings to their loved one.
The case for assisted loving seems pretty strong, doesn't it? A romantic connection tends to lift the spirits of residents who find it. It makes them feel better about their living situations. It warms up the entire room. Who knows? It might even be contagious, making others feel like it's possible for them, too.