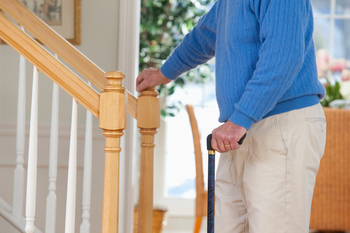 Many people these days are contemplating where they will be living as they grow older. While some people choose senior living communities, a significant majority of people want to remain right where they are.
This trend, often called aging in place, is growing in popularity for several reasons. First and foremost, people are most relaxed and at ease in the comfort of their own homes. Secondly, the cost of care at home is often lower than the cost of care in a facility. And perhaps most importantly, seniors who age in place continue to play a part in the communities they've long called home, and those around them do not lose the benefit of the wisdom of these elders.
Personally, I began to get involved in home remodeling & modifications to facilitate aging in place when my mother had a stroke and could no longer get in and out of her home and safely use the bathroom. Her home, like most existing homes, was what we sometimes describe as "Peter Pan housing" that is, housing built for people who never grow old.
Having been involved in construction since 1986 and after performing some home modifications for my mother, I quickly realized that many of the other 10,000 Baby Boomers turning 65 each day would likely need home modifications, too.
I'm also an instructor for the Certified Aging in Place Specialist (CAPS) certification offered by the National Association of Home Builders (NAHB) as well as holding an Executive Certificate in Home Modification from the University of Southern California. I have been writing articles on aging in place, home modification, and Universal Design for over eight years.
Why are home modifications so important for anyone who's planning to age in place? As I mentioned above, most of us live in "Peter Pan housing". These homes are not well suited to the mobility impairments that many of us face as we age. There are usually too many stairs, the doorways and hallways are too narrow, the floors are too slippery and the bathrooms too small. All of these conditions can be inconvenient at best and hazardous at worst, leading to falls or other serious injuries.
When putting together a plan for aging in place, I strongly recommend that you consider making needed home modifications sooner rather than later. I often hear, "I'm not ready for that yet!" from people I talk to about home modifications – but that's exactly when you want to get these changes made!
If you wait until you're ready for them, it will often be too late. Unfortunately, for too many people, the big sign that they need home modifications is often a fall or other serious injury. Remember, an ounce of prevention is worth a pound of cure.
Below, I answer a couple of frequently asked questions I've heard over the years about aging in place.
1. How do I keep my elderly parent from falling on the way to the bathroom?
This is of particular concern during the night when he or she is unlikely to be fully awake. First, make sure there are no trip hazards in the walkway. Loose throw rugs and trailing extension cords are some of the worst offenders. Second, make sure that there are securely mounted grab bars or handholds along the way from bedroom to bathroom.
One great way to ensure there are continuous handrails in the home is by using Promenaid handrails, which are modular and can be installed throughout the house as needed. Third, make sure there's sufficient lighting so your parent can see the way clearly, without being so bright that it creates glare.
Installing low-level light at the baseboard or in toe kicks controlled by motion sensors is a great way to accomplish this. Last but not least, choose non-slip materials for flooring, particularly in the bathroom where the floor is often wet and is typically the most hazardous place in the home for falls.
2. Is there a tax break for home modifications?
If you get a prescription from your doctor for the home modification, you may be able to deduct it from your taxes as a medical expense. Some states, such as Virginia, where I live, offer state tax credits for home modifications or for new homes built with accessibility features.
Perhaps the most significant potential tax break is HR 1780, the Senior Accessible Housing Act. Introduced in Congress in March of 2017, the bill has been referred to the House Committee on Ways and Means. If enacted, the bill would provide a nonrefundable personal tax credit for senior citizens who modify their homes to enhance their ability to remain safely, independently, and comfortably in their residences. If you're interested in supporting this bill, you can visit HomesRenewed Lobbying HR 1780 here.
Have other questions about home modifications for aging adults, or aging in place? Send them to cmoore@solidrockenterprises.com. We may publish your question on Caring.com.