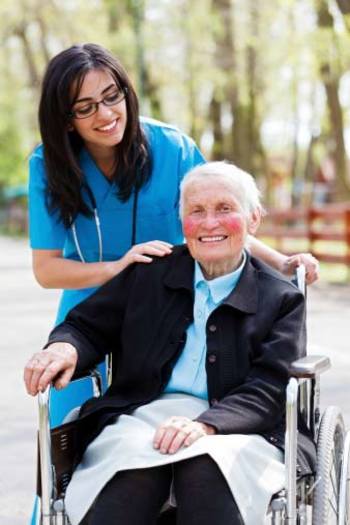 All Rights Reserved
For most seniors, Medicare will not cover long-term care, and in the past only very poor older Americans or people with disabilities qualified for payment assistance through Medicaid. This is a serious issue for the more than 12 million seniors who rely on long-term services and supports (LTSS) to survive. Paying for this care presents a serious financial burden, and family caretakers know that the responsibility of providing care is more than a full-time job. The AARP estimates the yearly value of unpaid long-term care provided by 42 million caregivers to be $450 billion dollars.
The Affordable Care Act seeks to ease this burden by creating more LTSS programs in Medicaid, and by making it easier to become a Medicaid beneficiary. In the states that participate, this will expand Medicaid eligibility levels, terminate many restrictions, and increase the number of services available to those who qualify, meaning more people will benefit from some sort of assistance.
What Are Long-Term Care Services and Supports (LTSS)?
Long-term care is a range of services and supports someone needs to meet personal care needs. Most long-term care is not medical care, but help with basic personal tasks, sometimes called activities of daily living (ADLs):
Bathing
Dressing
Bathroom use
Transferring to or from bed or chair
Eating
Other common long-term care services and supports take place in the home and help with everyday tasks, sometimes called instrumental activities of daily living (IADLs):
Housework
Money management
Medication
Meal preparation
Shopping (groceries or clothes)
Communication (telephone, computer)
Pet care
Emergency/alarm response
Can You Get Help to Pay for LTSS?
Currently, Medicaid helps pay for long-term care services in different ways and settings, including home health. But to qualify, a person's income must be below a certain level and they must meet minimum state eligibility requirements.
Medicaid will also help pay for some institutional benefits. The word "institutional" has several meanings, but in Medicaid coverage, "institutional services" refers to specific benefits authorized by the Social Security Act. For seniors, these are hospital services, skilled nursing facilities (SNF), and services for individuals age 65 or older in an institution for mental diseases.
Medicare helps pay for some home health services if the patient requires skilled home health or other skilled in-home services. However, services are provided only for a short period of time. The patient is responsible for long-term care services that are not covered by a public or private insurance program.
Medicare only pays for long-term care if you require skilled services or rehabilitative care; it does not pay for non-skilled assistance with activities of daily living (ADLs), which is the type of care most often needed by seniors. It does help pay for a nursing home for up to 100 days, but the average approved Medicare stay is much shorter (22 days). Unless the patient also qualifies for Medicaid, he or she is responsible for coinsurance, which can run up to $100 per day.
Other federal programs, such as the Older Americans Act and the Department of Veterans Affairs, pay for long-term care services, but only for specific populations and in certain circumstances.
How Does the Affordable Care Act Affect LTSS?
Every state Medicaid program will opt in to at least one of the LTSS programs below:
1. Money Follows the Person (MFP)
This program provides individuals with LTSS that enables them to move out of an institution and into their own homes or community-based settings. This program was set to expire in 2011, but the ACA extended it for five years.
2. Financial alignment demonstrations for dual eligible beneficiaries
A person who qualifies for both Medicaid and Medicare is a dual eligible beneficiary. The cost of caring for "dual eligibles" is high, and the lack of coordination between Medicare and Medicaid means that care quality may suffer. This new program will fully integrate care and payment for dual eligibles, and it creates the CMS Medicare-Medicaid Coordination Office (MMCO), which is charged with improving Medicare and Medicaid benefits for this population.
3. Health Home State Plan Option
"Health homes" fall within a health care model that is patient-centered and provides care management and coordination services. This program is specifically for those with chronic conditions. It expands on traditional Medicaid programs by coordinating every aspect of a person's care and offers referrals to community-based social services. To encourage states to take this option, the ACA authorizes a 90 percent enhanced federal medical assistance rate for the first two years that the state puts this program in effect. The program includes a range of "health home" services:
Comprehensive care management
Care coordination and health promotion
Transition care from inpatient to other settings
Individual and family support
Referral to community and social services
Use of health information technology
4. Community First Option (CFO)
This program offers home and community-based caregiver services and supports to seniors who would otherwise be in an institution. States that use this option receive a 6 percent increase in the federal Medicaid match rate. In addition to attendant services to assist in activities of daily living, states may provide services to transition an individual into the community, such as utility deposits and basic supplies.
5. Balancing Incentive Program (BIP)
This is a financial incentive program to increase access to home and community-based services (HCBS) as an alternative to institutional care. Elements include:
No wrong-door/single entry-point system for all LTSS
Conflict-free case management services
Standardized assessment instrument for determining eligibility
6. Home and Community-Based Services (HCBS) State Plan Option
This offers HCBS to those who meet needs-based criteria that are less strict than the state's institutional level of care criteria. This allows states to establish services for individuals not otherwise eligible for full Medicaid benefits but who receive state plan HCBS. It also expands the services that states may cover. Prior to the ACA, states could receive federal Medicaid matching funds for HCBS only through waiver or demonstration projects.
Long-term services and supports are a major pain point for families with loved ones in need of care, as well as for those who need to find it for themselves. While none of these options is the perfect solution, chances are your state is taking action to improve financial help to move people from an institution to home-based care.
To find out, go to www.healthcare.gov and choose your state from the drop-down menu, make an appointment to meet with your local Medicaid office, or call to find out what options exist for you or your loved one.