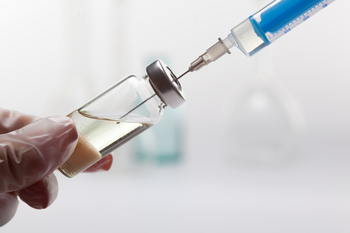 All Rights Reserved
When caring for an elderly or sick loved one, you want to do everything you can to protect them; and this includes protecting your own health as well. Caring for a loved one can be a time-consuming endeavor that leaves little time to rest and relax. When this happens, caregiving can take an outsized toll on a caregiver's mental and physical health. In fact, caregivers have 23% higher levels of stress hormones and 15% lower antibody response than non-caregivers, according to a study by the American Psychological Association. High levels of stress and poor immune response can make you more susceptible to infection, putting your health and the health of your loved one in danger.
Making sure you are up-to-date on your immunizations can help you protect yourself and your loved one from a number of diseases. Here is a list of some of the most common vaccinations caregivers may want to consider:
Flu
The Centers for Disease Control and Prevention (CDC) recommend that all people older than six months receive an annual flu vaccination, with rare exception. Vaccination is particularly important to protect the elderly population. While as many as 20% of American adults get the flu each year, the CDC estimates that up to 90% of flu-related deaths occur in adults 65 and older.
Influenza and pneumonia, which often occurs in conjunction with the flu, are two of the leading causes of death in the United States. Therefore, it's best to get the pneumococcal vaccine in addition to the flu vaccine to protect yourself and your loved one.
Pneumococcal disease
All adults age 65 and older should get the two types of pneumococcal vaccine (the PCV13 and PPSV23), according to the CDC. Caregivers working with older adults or adults with compromised immune systems should also consider being immunized. The pneumococcal vaccine protects against the bacteria that cause a host of illnesses, including pneumonia, meningitis, ear and sinus infections, and blood poisoning, or sepsis.
Tdap
Caregivers who have never received the Tdap vaccine should get it to protect against tetanus, diphtheria, and pertussis, or whooping cough. While tetanus and diphtheria have been nearly eliminated in the United States, there's been a resurgence of whooping cough in recent years. The disease is extremely contagious and can lead to severe respiratory problems.
Shingles
The same virus that causes chicken pox in children can reactivate, causing the condition known as shingles in adults. Almost one in three people in the United States will develop shingles, according to the CDC, and your risk increases as you get older or if you have a weakened immune system. Shingles cannot be passed from one person to another but the virus that causes shingles, known as varicella zoster, can be passed to someone who has never had chicken pox. Vaccination reduces the risk of developing shingles, and the CDC recommends all adults over age 60 be vaccinated.
Additional Vaccines for Healthcare Workers
If you're a healthcare worker, the CDC recommends additional vaccines. In addition to the influenza, Tdap, and shingles vaccines described above, recommends that healthcare workers also receive the hepatitis B vaccine series and the measles, mumps, and rubella (MMR) vaccine. The MMR recommendation applies to adults born after 1957 who have not already received the vaccine.
Talk to your doctor to decide which vaccines are most appropriate for your situation and that of the loved one you care for. Remember to practice preventive measures in addition to getting vaccinated, including washing hands, covering your nose and mouth while coughing or sneezing, drinking lots of water, eating healthily, and getting plenty of rest.