A Guide To Caregiving and Senior Living Options for Seniors with Obesity
As people age, the risk for health conditions increases. Many of the health issues connected with age, including arthritis, heart disease and type 2 diabetes, can make the older years of life more challenging. During retirement, many people also become less active. They may lack the ability to cook healthy foods, which can contribute to obesity — another disease that often affects the elderly. In turn, obesity can exacerbate other health issues and create additional challenges for family members taking on the role of caretaker.
In 1999, the Centers for Disease Control and Prevention (CDC) recognized adult obesity as an epidemic. The rate has increased since that time and by 2020, the adult obesity rate was 42.4%. Seniors fall just below this average, which means obesity is a serious concern for older adults. According to the CDC, obesity affects 41.5% of the population aged 60 and older. Having this medical condition increases the risk for other serious health issues, such as type 2 diabetes, heart disease and stroke. Obesity also increases a senior's risk of falling.
Yet health risks are not the only concern for overweight seniors. Obesity can pose challenges for caregivers, including difficulty helping with transfers or assisting an older loved one manage their nutritional needs. Seniors who are overweight also need more help with activities of daily living, such as dressing and bathing.
Whether you are an older adult dealing with obesity or a caregiver who is helping an older adult with this medical condition, this guide offers tips on how to manage the disease during retirement. It also highlights the benefits of senior living communities to help, while providing resources caregivers and seniors can use to improve their health and well-being.
How Senior Living Communities Can Help Residents Manage Obesity
Obesity creates challenges for families caring for seniors, and senior living facilities can help. Through specific nutrition and recreation programs, communities can enable seniors to manage their weight while also providing important support in terms of care and weight-related health conditions. Here are specific ways a senior living community can help.
1. Meal Plans
Meal planning and nutritious cooking are hard for some older adults. However, reliance on convenience food can lead to less nutritional value and too many empty calories in the senior's diet. Food served at assisted living facilities must meet state regulations, while long-term care facilities such as nursing homes must meet the dietary requirements set forth by the Centers for Medicare and Medicaid Services. Plans that meet these requirements are nutritious and provide the right calorie content for a senior's needs. Seniors won't have to spend time and energy planning and preparing meals, which increases the likelihood that they'll consume the healthy food prepared by the community. Meal planning can reduce the risk of eating too much, simultaneously increasing control over weight gain.
2. Health Monitoring
Because seniors who are overweight are more prone to additional health problems, having regular health monitoring in an assisted living community is important. Through daily or weekly health and wellness checks, the staff can catch these health problems early and provide support before they get worse. If your loved one has developed diabetes, high blood pressure or some other health concern, you can be assured that they aren't overlooked or struggling without proper medical care. Health monitoring services usually include medication management and supervision, so you'll know your loved one is taking their medications.
3. Fitness Centers and Classes
Getting an older adult to visit the community gym is challenging. You may face transportation concerns, and gyms are not always accessible to older adults with limited mobility. Exercise classes may not be senior-friendly, and seniors who are overweight may feel embarrassed to exercise around younger people who are more fit or able. Senior living communities often host exercise classes and may have amenities, such as fitness centers, swimming pools or access to local YMCAs or similar clubs, to encourage more activity in daily life. Residents exercise on equipment designed for seniors and surrounded by friends who support them in their goal to become more active.
4. Help With Activities of Daily Living
One of the challenges of caretaking for an older adult who is overweight is the need to help with transferring, which may require more than one person. Moving from the bed to the wheelchair, for instance, is difficult when an individual is on the heavier side but needs some support with this movement. When your loved one is a resident of a senior living community, they will be assessed to ensure that their activity of daily living needs are met and safe transfers are part of the care plan.
5. Social Wellness Programs
Senior living facilities often take a holistic approach to wellness. They encourage social activities in addition to nutrition and fitness programs. When a senior is engaged in their community, they can make friends and become engaged in activities to help mood and improve overall well-being. Even if it's not fitness related, daily activity reduces the risk of becoming sedentary in retirement, which reduces the risk of continued weight gain in turn.
6. Accessibility
Because assisted living communities have features for wheelchair and walker users, these buildings are typically more accessible for obese seniors as well. Even if your senior loved one doesn't need a mobility device, the larger doorways, handicapped-accessible bathrooms and wide hallways will make navigating the community easier.
Advocating for Seniors Living With Obesity
Seniors who are obese need strong advocates on their side to help them get the best possible care. As a caregiver, you can be that advocate. Here are some strategies you can use to fill this role:
Recognize obesity as a disease rather than a lifestyle choice
Address weight bias to ensure adequate care
Take a nonjudgmental and holistic approach to health
Recognize Obesity as a Disease
One of the first things you must do as a caregiver of someone living with obesity is to recognize that the problem is not a choice, but rather a chronic disease. While lifestyle changes can help manage it, obesity is a real health condition with serious implications. Accepting that it's a disease and treating it as such will help caregivers provide more compassionate care to the overweight older adults in their lives.
Address Weight Bias
People holding extra weight may suffer discrimination. In one study of Obesity Action Coalition members, 91% of respondents reported teasing, unfair treatment or discrimination because of their weight. This problem is called weight bias.
Weight bias can be a serious issue during visits to the doctor as it can cause medical professionals to discriminate against the senior in overt and covert ways. For example, a doctor may write off a patient's complaint about arthritis pain by indicating that they simply need to lose weight to ease pressure on their joints. While weight control can help joint pain, that patient deserves to be treated with dignity and provided access to pain relief for their real medical condition.
Caregivers must be proactive to ensure their loved one's health care providers deliver adequate individualized care without making biased assumptions. By recognizing weight bias, you can push for an accurate diagnosis and treatment for your loved one. You can also choose a different provider for your loved one if a doctor or practice is extremely biased against people who are overweight.
Take a Nonjudgmental Approach to Health
As a caregiver, you might feel strongly about helping your loved one get healthier and weight can be a significant part of health. You can take an active role in encouraging healthy living and strategies to use lifestyle to manage weight, but be careful not to become judgmental. Below are a few tips:
Instead of talking about "weight loss" or "weight control," focus on lifestyle changes that promote better health as a whole.
Instead of criticizing your loved one for their food choices, consider cooking together and encouraging the use of more fresh produce.
Rather than nag your loved one about getting exercise, invite them to go for a short walk with you.
These types of actions can help you create a community of support around the individual as you encourage healthier habits that can address this serious disease.
What to Look for in a Senior Living Community for Someone With Obesity
While a senior living community can be a great tool in helping you support your senior loved one who is struggling with obesity, you need to look for some specific features in a community. Below is a chart that shows what features indicate a community is not only going to help an older adult dealing with obesity, but also provide a warm and welcoming environment for them to enjoy retirement free from weight bias and stigma.
Senior Living Facilities That Offer Obesity Management and Care
Several senior living facilities throughout the country have specific programs aimed at helping seniors struggling with their weight. If you live near one of these, consider reaching out to see if they can assist you.
To learn more about these and other communities that support seniors who are struggling with their weight, reach out to a family advisor. Call (800) 973-1540 for help.
Resources for Seniors Struggling With Weight Issues and Their Caregivers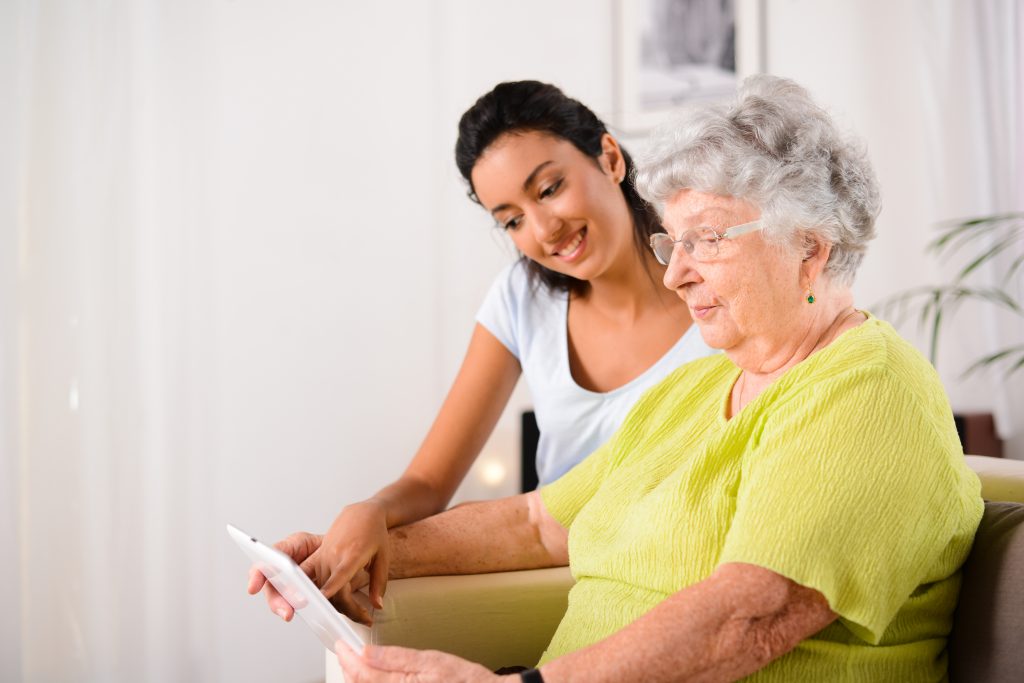 Being a caretaker for an older adult is rewarding but challenging work. If that older adult has a health condition like obesity, you may find that you need some extra support and help. Whether you're looking for additional information about obesity and its risks or are in need of help caring for an overweight senior, these resources can help.