7 Surprising Reasons You Wake Up Tired
96% helpful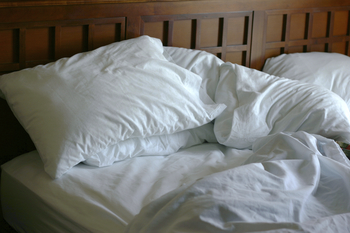 When you can't sleep, you know it. But what about when you can, yet you wake up feeling tired and achy or you're groggy again a few hours later? What's that about? All too often, it turns out, the problem is one that doesn't keep you awake but does sabotage your sleep in more subtle ways, so the hours you spend in bed don't refresh and revitalize you the way they should. Here are seven signs that you have a sleep problem that's secretly stealing your rest.
1. You sleep poorly and wake with a bad taste in your mouth.
What it's a symptom of: "Morning mouth" can be a signal of gastroesophageal reflux disease (GERD) or asymptomatic heartburn. Recent sleep studies have shown that up to 25 percent of people who report sleeping poorly without a diagnosed cause have sleep-related acid reflux. But because they don't have obvious heartburn symptoms, they're unaware of the condition.
How it interrupts sleep: Acid reflux causes the body to partially awaken from sleep, even when there are no symptoms of heartburn. The result of this "silent reflux" is fitful, uneven sleep, but when you wake up digestion is complete and you can't tell why you slept poorly.
What to do: Follow treatment suggestions for heartburn, even though you aren't experiencing classic heartburn symptoms: Don't eat for at least two hours before hitting the sack, and avoid acid-causing foods in your evening meals. (Alcohol, chocolate, heavy sauces, fatty meats, spicy foods, citrus fruits, and tomatoes all contribute to heartburn and acid reflux.) Some doctors also recommend chewing gum before bed, because it boosts the production of saliva, which neutralizes stomach acid.
Certain medications, particularly aspirin and other painkillers, are hard on the stomach and esophageal lining, so don't take them just before bed.
Sleep studies have shown that sleeping on the left side reduces symptoms, and sleeping on the right side causes them to worsen because acid takes longer to clear out of the esophagus when you're on your right side. If you prefer to sleep on your back -- a position that can increase reflux -- elevating your head and shoulders can help.
Losing weight can do wonders to banish heartburn and acid reflux. And if all else fails, try taking an over-the-counter antacid.