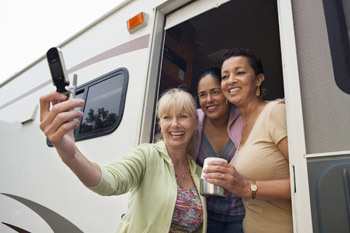 All Rights Reserved
"Purpose Drives Communities." I saw this recent news headline sprawl across my television.
Isn't it the other way around, I wondered? Don't communities drive purpose? Without a sense of belonging, how do you feel connected to something bigger than yourself?
These are especially important questions for seniors and the communities -- assisted living homes and adult daycare centers, to name two types -- where millions of older adults spend their later years.
Find Assisted Living Near You -> Search Here.
Nothing is sadder than seeing once-vital loved ones lose all interest in the world around them. In his later years, my father moved from Washington, D.C., where he was king of the hill with friends nearby, to rural Virginia, where he loved the scenery but was isolated. My siblings and I tried to keep him purposeful by engaging him in his interests, our lives, his grandkids, and visits to the nearest town. It was far from bustling, but at least it offered him contact with his local community. His mood and interest in life always picked up when he interacted with neighbors and shopkeepers.
Next: On Prayer, Meditation, and Purpose
New Research Suggests Purpose Plays a Role in Longevity
I saw then how creating a sense of community might be the surest way to help older adults find -- or maybe rediscover is a more apt term in most cases -- purpose. According to a recently published research study in the Association for Psychological Science journal Psychological Science, having a sense of purpose may add years to your life, too.
"Evidence suggests that maintaining a purpose in life and setting overarching goals can be protective against ill health, progression of Alzheimer's disease, and even earlier mortality," says Dr. Nicholas A. Turiano (PhD), assistant professor in Life-Span Developmental Psychology at West Virginia University and coauthor of the study. "These findings seem to hold even in studies of adults well into their 80s."
While other research has suggested that having goals and a purpose may increase longevity, this is the first study to demonstrate how the benefits of having a purpose extend well into later life.
The Need for Purpose Is Ageless
We all need to make a difference, do something of value, and find meaning in our lives. That doesn't diminish with age even if our circumstances change, our social networks shrink, and our health deteriorates.
"You and I may not think about what our 'purpose' is as much as an older adult because our roles in life as mothers, fathers, employees, caregivers, etc., dictate what our purpose is," says Katie Miller, director of Resident Services for Roland Park Place, a continuing care retirement community in Baltimore, Maryland. "However, as we get older, our [conventional] life roles progressively lessen."
This puts many seniors at a crossroads. Do we find new roles and communities, or fade away? How can senior communities help with those choices and transitions?
"I worked as an activities coordinator in two different continuing care retirement communities (CCRCs) in rural Pennsylvania, where fostering a sense of community among residents was the number-one priority," says Turiano. "One person was responsible for planning and running the daily activities of residents in assisted living and nursing care units. Without these daily activities, the residents would often stay in their rooms, socially isolated. With activities, there was an almost immediate change in the residents' happiness, purpose, and sense of community."
5 Ways Senior Living Communities Can Help Foster Purpose
Recently I spoke with several experts to share smart ways for senior living communities to help older adults find or rediscover a sense of purpose:
1. Connect People to Their Environment
Fostering a sense of engagement with the environment -- including other residents, staff workers, surrounding community, and individuals' families -- connects older people to purpose.
"At our assisted living home, we have the Ambassador Program, which is led by residents and is more than just a welcoming club," says Laurie Henley, executive director of Sunrise Assisted Living of Hunter Mill, located in northern Virginia. "Seven volunteers help establish community for newcomers, akin to a college dorm experience where you quickly form a family. They meet every new person with the purposeful message: 'This is our home and we are proud of where we live. Let's make it wonderful for each other.'"
By reaching out, they create and model purpose for the other residents.
2. Set up Daily Activities
Senior living communities come alive when they schedule daily activities that stimulate the mind and body, celebrate holidays and special occasions, and create opportunities for social connections.
"We encourage meal sharing, gardening clubs, and fostering relationships through common goals and interests, like faith, gardening, and games, to name a few," says Henley.
3. Look for Opportunities to Get Involved in the Local Community
Don't just focus your efforts inside the senior living community. Look outside the four walls into local neighborhoods and you'll discover opportunities to foster purpose on every corner.
"It's been a boon for us to partner with organizations outside our 'bricks and mortar' with elementary schools and churches," says Henley. "We have created a great deal of tutoring, teaching, and intergenerational mentoring that has given our residents a sense of worth and the good feeling that comes from giving back."
Matching residents with common interests and getting them involved with a community goal is another way to renew their purpose. "Our residents and staff recently rallied together for the Maryland SPCA's annual March for the Animals," says Miller. "They walked 1.5 miles together after raising money for the cause via sponsorship donations."
4. Help the Residents Lead
One surefire way to dampen purpose is by taking away an older adult's autonomy and opportunity to lead. Consider ways to place older adults in leadership roles with responsibilities.
"We have more than 15 different resident committees to assist in decision making throughout the community, from interior design and grounds keeping to activities and dining," says Miller. "Serving on a committee has helped several residents get involved with their community and even find a greater purpose through serving a greater cause than themselves."
5. Remember That One Size Does Not Fit All
Fostering togetherness builds community, but the most important factor in driving purpose is unique to each individual.
What ignites passion and connection in one may do nothing for another. As much as possible, provide lots of options for groups, events, and social interactions so that residents can tailor their purpose based on what works for them.
"For one person, religious services might be crucial to developing purpose," says Turiano. "For others, it may be sharing meals with other residents as they were accustomed to doing throughout their adult lives."
Providing options provides a sense of autonomy. They should choose the activity, when they want to eat, how they want to participate. Especially in a new setting that might feel restrictive at times, compared to living on your own, making choices fosters purpose.
Find Assisted Living Near You -> Search Here.
Psychology Today notes that a recently accumulating body of research (more than 70 studies) regarding purpose across the lifespan confirms what many of us have long suspected: Your sense of purpose in life tends to peak during young adulthood and drop sharply through late adulthood.
With increases both in our longevity and in the number of older adults in long-term care communities, we need to keep looking at smart ways to help older adults thrive in senior living environments.
That might be the best example yet of community driving purpose.
Aging and Purpose | Next: On Prayer, Meditation, and Purpose