5 Surprising Ways to Make a Bathroom Safer
100% helpful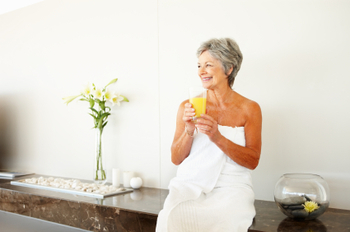 How ironic: The bathroom is the room for personal hygiene and, therefore, promotes good health. But along with the kitchen, it's the most dangerous room in the house. The top causes of bathroom accidents (some 200,000 a year): slips, falls, and scaldings.
Find out five safety basics -- and where people often go wrong.
1. Get a grip -- but not just any grip.
Installing grab bars next to the toilet and near or in the bathtub and shower is an easy and relatively inexpensive way to give anyone added support.
But avoid this common mistake: Assuming that any visible bar is a good grab bar.
A slipping adult who reaches for a bar on the wall is going to exert a lot of body weight on that bar. If it's poorly anchored to the wall -- as are many bars intended only to hold the weight of towels -- the person will continue to fall and possibly injure an arm, too. The grab bars should be solidly connected to the structure of the walls (and they can double as towel bars). Skip diagonally placed grab bars because if the grabber's hand slips, a fall is more likely.
2. Simplify the shower/tub entry.
Many new homes feature walk-in shower areas that don't require climbing into a tub, and/or sunken tubs that can be stepped down into, more like entering a swimming pool. Both of these innovations eliminate that precarious wobble over the rim of a tub.
But avoid this common mistake: Overdoing the fanciness of the design so that there are steps leading up to a shower or bath area. Steps are a slipping hazard. A level platform area around the shower or tub is better. It's also wise to avoid a curb at the point of the walk-in entrance. That way you prevent accidental trips and, if necessary, the design can accommodate a wheelchair.