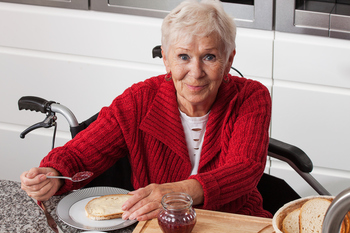 All Rights Reserved
Home-delivered meals may seem like a small thing, but they can be invaluable for older adults living alone. Meals delivered to elderly adults' doorsteps provide both nutrition and comfort to a vulnerable population – and they're a cost-effective way to keep aging adults in their own home longer, research shows.
The benefits of meal services go beyond continuing to live in your own home as you age – programs such as Meals on Wheels, which follows a "more than a meal" philosophy, can reduce loneliness and increase safety.
"We've known for a long time, anecdotally, that having more eyes on a homebound individual is valuable," says Linda Netterville, vice president of Program Development and Impact at the Meals on Wheels national headquarters. Netterville explains that Meals on Wheels is undertaking several nationwide research projects to figure out how to maximize their existing "eyes on the ground" power to get a better awareness of their meal recipients' health statuses.
Meals on Wheels' "more than a meal" ethos means that volunteers not only greet meal recipients and get to know them, but pay attention to their wellbeing and the condition of their home and neighborhood. "For so many of these clients, the Meals on Wheels driver is the only one they see during the day. Meals on Wheels provides peace of mind for older individuals who need some level of support. The benefits are many," says health services researcher Kali Thomas, PhD, assistant professor of health services at Brown University. Her grandmother was a Meals on Wheels recipient, and Thomas herself has volunteered with Meals on Wheels programs in communities where she lived. Thomas and her colleagues research the impact of programs like Meals on Wheels for recipients and volunteers.
As part of her research, Thomas and her team compared seniors who received meals with those who were waitlisted for the program to see whether home-delivered meals made a difference. Through that study and related research, Thomas learned the following.
1. Meal delivery services reduce loneliness.
"Older adults who received home-delivered meals, regardless of the type, were more likely to report improvements in loneliness," explains Thomas. These findings appeared last November in the Journal of Gerontology.
2. Meal recipients feel more confident about staying at home.
Meal delivery services ease the burden of shopping and meal preparation, and Thomas says the meal recipients her team has interviewed say they feel safer at home knowing that meal delivery volunteers will be coming regularly.
3. Meal delivery services lower the rate of falls.
"Individuals who daily were greeting a delivery driver had reduced rates of falls," says Thomas. The risk of falling depends on a number of different factors for older adults, including the safety of their home, taking medications correctly, and nutrition. The "more than a meal" model can touch on any of these aspects of a client's life, reducing their fall risk.
4. Staying at home can save everyone money.
Home-delivered meals keep people who do not yet need expensive nursing home care at home longer, thereby reducing overall costs, says Thomas. Her research, published in a 2013 issue of Health Services Research, showed that of all the social services for seniors in which states invest, meal delivery services are the only one correlated with later nursing home entry.
"The average cost of nursing homes is between $70,000 and $90,000, whereas the average daily contribution for home-delivered meals ranges from $5 to $9," says Thomas. "Federal and state government really gets a good deal by having older adults receive this intervention in their homes. Nursing homes are really intended for frail and sick older adults who need around-the-clock care."
5. Meal delivery volunteers keep an eye on recipients.
"What we have found and interviews we have done with drivers [show] that drivers know they are to call the office if there is an unanswered delivery," Thomas says. "The office will then call the client, check the records, and if unable to reach the client, they follow up with next of kin."
Although each program office may train volunteers somewhat differently, this procedure is consistent nationwide and is part of what Meals on Wheels hopes is a larger community of caring created by home delivered meals. Netterville emphasizes that volunteers also know when to call 9-1-1 for emergency assistance.
Meal Delivery Benefits Volunteers, Too
"The majority of our volunteers are over 60, post-retirement, want to give back, and appreciate the challenges of living at home as you age," explains Netterville. Their connection to the meal recipients on their routes can deepen over time, with repeated visits. "It's not unusual to have volunteers into their 80s who are delivering meals. There are people who have delivered for 30 to 40 years out there." Not every recipient will want to spend time chatting with the folks who deliver their meals, says Thomas, but many do, and those interactions are good for everyone.
"Drivers gain as much benefit from being part of this program as the clients do," says Thomas. "Drivers report a sense of satisfaction and feelings of contribution by volunteering and providing this essential basic need to older adults." She adds that although her team's research has been done with Meals on Wheels, the same benefits could be found with any program using the "more than a meal" model to deliver daily meals to homebound clients.
Tom and Mary Ann Head are clear examples of how volunteers can benefit from the program. The couple volunteers together twice a week, delivering meals to up to 20 people through the Meals on Wheels program in Ypsilanti, Michigan. Both retired and in their 60s, they see volunteering as a way to build their relationship and connect with their community.
"Some of the people we take meals to have nobody. They look forward to seeing you and talking to you. When you take the time and share the interest, then a lot of them develop a relationship," says Mary Ann Head, who celebrates the birthdays of people on her routes with small treats.
She also applauds the commitment of the local Meals on Wheels program to help with non-food needs such as building ramps or installing doors in the homes of vulnerable meal recipients. "There's a demonstrated need that we weren't aware of. I don't think most people are, really."