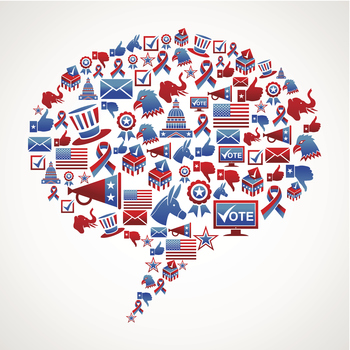 All Rights Reserved
Well, there's a first.
That's what I thought as I watched CNN's recent Democratic Town Hall with Hillary Clinton and Bernie Sanders in New Hampshire. An 81-year-old cancer patient named Jim rose from his seat to ask the former Secretary of State a question.
"I'm walking with colon cancer with the word terminal very much in my vocabulary, comfortably and spiritually," he said. "I wonder what leadership you could offer within an executive role that might help advance the respectful conversation that is needed around this personal choice that people may make, as we age and deal with health issues or be the caregivers of those people, to help enhance and [face] their end of life with dignity?"
"I really appreciate your asking the question," Clinton responded. "And I have to tell you, this is the first time I've been asked that question."
She didn't have a pat, ready-made answer for him, which wasn't shocking. Caregiving and "right to die" issues are complex. But the fact that this was the first time she – or any 2016 presidential candidate – fielded a nationally televised question related to caregiving took me aback.
After watching this exchange I wondered: We all know caregiving is personal. But isn't it also political?
Political Power in Numbers
The Washington Post recently reported that while not a "hot-button campaign topic like immigration or national security," a "huge shortage of caregivers looms for baby boomers."
According to the report, "In 2010, there were seven potential caregivers available for each person 80 or older; by 2030 there will be only four, and by 2050, when baby boomers are between 86 and 104, there will be fewer than three — not enough to provide the kind of care that previous generations have relied on."
If that's not a crisis in the offing, I don't know what is.
According to the AARP, there are 42 million caregivers in this country, and the number of "carees" is expected to double by 2050. The estimated value of the care they'll need approaches the jaw-dropping annual sum of $500 billion.
A recent AARP poll found that 77 percent of registered voters want Congress to improve family caregiving resources. Sixty-eight percent said they'd be more favorable to congress members who worked to improve those resources.
The fact that there's political power in numbers makes caregiving's lack of visibility in the current presidential campaign downright puzzling. Don't politicians pay attention when the emotional and financial stakes are so high and their popularity is at stake?
Where Do the Candidates Stand?
Based on what I've discovered, Hillary Clinton has pledged more support for caregivers than other candidates. Last year, she backed a tax credit worth up to $1,200 per year for individuals caring for parents and grandparents. She also supports changing Social Security rules so an unpaid caregiver gets retirement benefits for caregiving, and wants to invest a significant amount of money for Alzheimer's disease research toward prevention, treatment and a possible cure by 2025.
Fellow Democratic candidate Bernie Sanders is a vocal supporter and legislative leader when it comes to military veteran benefits, which certainly includes caregiving. As former Chairman of the Senate Veterans' Affairs Committee, he received the 2015 Congressional Award from the Veterans of Foreign Wars (VFW). While he hasn't announced specific caregiving proposals, his campaign said in a news release that the candidate recently held caregiver roundtable discussions in Iowa. On the other side of the aisle, Republican Senator Marco Rubio has proposed his own paid family leave policy, which would include caregivers of an aging parent in declining health. Specifically, his plan proposes a 25 percent tax credit to businesses offering four to 12 weeks of paid family leave.
Last year, former Florida Gov. Jeb Bush shared his mother-in-law's personal battle with Alzheimer's and vowed to help fight the disease. The candidate voiced support for more funding toward a cure, according to The New York Times.
"We need to reform F.D.A. [regulations] to accelerate the approval process for drug and device approval at a much lower cost," he is quoted as saying. "We need to find more community based solutions for care."
In 2014, New Jersey Gov. Chris Christie signed a new law, the Caregiver Advise, Record, Enable (CARE) Act, which supports caregivers by, among other things, making sure they have the necessary access and authority to care for their loved ones.
Other caregiving proposals include: • The bipartisan Recognize, Assist, Include, Support, and Engage, or RAISE Family Caregivers Act, which was recently passed by the U.S. Senate and focuses on how government, businesses and communities can support family caregivers • The Assisting Caregivers Today (ACT) Caucus, a bipartisan effort aimed at providing caregiving solutions
More Focus on Caregiving
While it's encouraging to see some proposals and efforts underway, I still wonder why, given the high numbers of those affected, there's not more focus on caregiving.
"Caregivers in general are overstretched, overwrought and feel downtrodden and largely voiceless," said Dr. Ira Byock, Executive Director and Chief Medical Officer for the Institute for Human Caring of Providence Health and Services and author of "The Best Care Possible: A Physician's Quest to Transform Care Through the End of Life."
"Many feel almost embarrassed about the quality of care they are able to give their mothers or fathers or frail spouses. They don't feel that they are doing it right. That doesn't make for a strong activist stance," Dr. Byock said.
That makes sense. I know how exhausted I feel as a part-time caregiver and can only imagine how much wearier full-time caregivers are. How can you be a vocal, ardent advocate when you feel too tired and unsupported to fight?
5 Ways to Support Caregivers This Political Season
Hopefully there'll be even more efforts to support caregivers and imbed caregiving into the minds and hearts – and onto the political platforms – of the upcoming general election in November 2016. Here are five ways you can support caregiving as the presidential primaries get under way and the general election approaches:
Get informed. Learn which candidates are backing caregiving issues so you can support them.
Share your experience. Make sure your friends and family know your caregiving issues and concerns, so they can be allies.
Speak up. Make this issue visible on the political landscape during this election cycle by speaking up when asked. If you're polled about important issues, mention caregivers' concerns.
Write, call or email your state and local representatives, and encourage others to do the same. Numbers count in politics and the old adage is spot-on: the squeaky wheel gets the grease.
"Caregiving issues remain unheard by the body politic since there's no organized citizen movement demanding it," said Byock.
VOTE. Don't let anything come between you and the ballot box this year.