The Watermark At Logan Square
2 Franklin Square, Philadelphia, PA, 19103
Talk to a Family Advisor: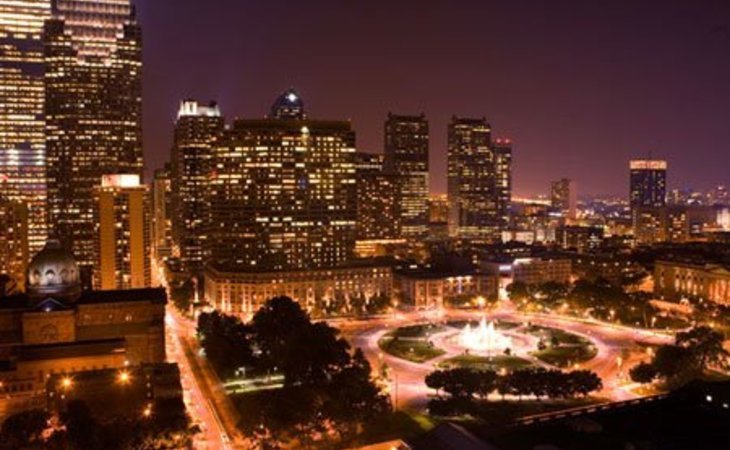 Top nearby Assisted Living Facilities
Reviews of The Watermark At Logan Square
---
Powers
April 12, 2017
I am a friend or relative of a current/past resident
My 82 year old mother was on the 2nd floor rehab on her first visit to Watermark rehab and it was not a good experience at all. Her 2nd trip after she broke her hip and I requested the 3rd floor rehab, has been an absolute pleasure. Cory, Ellen, Jasmine the nurses and the CNA's Debbie, Cynthia and Michael have been superb and have given my mom excellent care. The Long Term facility and Memory Care Unit are also on the 3rd floor and it is very clean, the staff are very good to the residents and the activities are just awesome. Alex was a pleasure in dealing with when we were going to move my mother into Independant/Assisted living. However, my mother's medical needs have become more since then which has brought the family to Long Term Care. Martha the social worker is top notch and very helpful and patient. I am very grateful for the care my mother is receiving. I am there everyday and every night and I see alot of management changes taking place to improve the Watermark for the better.
Provider Response
Thank you for your review; I'm glad to hear you are satisfied with the experience. I will share your review with every associate you so kindly mentioned and to our entire team to thank them for a job well done. I wish you and your mother all the very best. Sincerely, Jennifer Tapner, Executive Director
---
Caring_2646342
August 14, 2016
I am/was a resident of this facility
We moved into the independent living section just 10 months ago. And, it felt like home immediately. The apartment was customized and decorated to meet our needs and taste. The staff is professional and kind. And, the residents are extremely friendly and welcoming. We enjoy the dining experience, planned activities, and casual socializing. There's no better place to be at this stage in our lives.
Provider Response
Thank you for choosing The Watermark at Logan Square. It's our privilege to ensure you're thriving. Please stay in close contact and let us know if there is anything else we can do to make life great. Sincerely, Jennifer Tapner, Executive Director
---
Gary638645
July 31, 2016
I visited this facility
The Watermark at Logan Square had small apartments. It was in a bad location with no parking. It's in Center City, Philadelphia. My parents had friends who live there who rave about the place, and that the staff is excellent. Everyone seemed to be comfortable. They gave us a meal and the food was pretty good. The ambiance in the dining area is very nice. It's close to shopping, theaters, and restaurants. If you're a visitor, it's very hard to find parking around there. You literally have to park on an off-street garage.
Provider Response
I'm happy to inform you that as of mid-July, we now have ample parking for families and guests. Living in the heart of it all in Center City has amazing benefits including being walking distance to shops, restaurants, museums galleries and more. It also means scarce parking - which is why we're so excited about this recent improvement. Of course, most residents prefer to hop on our Center City loop bus and avoid the hassles of driving and parking all together. Thank you for taking the time to visit and again, for sharing your review. Sincerely, Jennifer Tapner, Executive Director
---
Anonymous114445950
October 28, 2015
I visited this facility
I liked everything in the Watermark, except the elevators. I had a wonderful meal there, the people were lovely, and dining area was nice. The one-bedroom was small, but it was what I could afford.
---
Alfredo2
June 10, 2015
I am a friend or relative of a resident
My friend has been in the "Memory Gardens" unit, which is the only locked area in the building. He has a wonderful, caring staff who learned his "ways" and work to help him to integrate with the other residents. His unit (a very large, private room) is kept clean by staff, even though he tends to be a packrat. The staff works with the residents to keep residents occupied and involved. During my visits, I stop by to speak with the full-charge nurse 2x week. We discuss what she sees and what might need intervention. Care and knowledge of my friend's needs and behavior is important to me. She is on top of that and its clear to me that her dedication is an important part of who she is and how she runs the area. Footnote: many members of the area's staff have been there 6,7 10 years at Watermark. That suggests that Watermark does what it can to prevent "burnout" and treats their staff well. I'm glad my friend is at Watermark.
---
compassion1st
May 29, 2015
I am a friend or relative of resident
My mother has been in this facility for only 2 days after a nasty fall in which she had major surgery. The next process is a rehabilitation facility to administer physical therapy. We chose Watermark. When we arrive at Watermark the staff was not welcoming and made her feel uncomfortable, did I mention she also suffers from dementia. What really has me ANGRY is she had go to the bathroom and when she calls for assistance there is no response and no one to be found on the floor. She was screaming for help, and finally couldn't hold it anymore. She laid in piss for 30 minutes. When a family member went to the desk and asked the Aide for help, response from the Aide was "I'M ON BREAK." Family member: OK well who is covering? Aide: "I DON'T KNOW." The Aide was very nasty, inconsiderate and not compassionate. The Supervisor was no where to be found. The staff hides and does not want to work. You get the impression that all they are there for is to collect a paycheck for doing as little as possible. I am looking to move my mother. You only have one mother, enough said.
Provider Response
First and foremost I want to apologize that your experience at The Watermark has not been thoroughly positive. Since we received your feedback, I looked at all of our response time logs for your mother and did discover that there were two instances when the response time exceeded our goal time. I have spoken to the entire care team about our expectations that call bells be answered more quickly and reviewed with them that we take this commitment seriously. I have also spoken with your mother and other family members to see what we can do to make her more comfortable and satisfied. We had a productive and positive talk. I want to thank you again for letting us know about your experiences. Feedback from our residents, their family and friends helps us continually improve! If you would like to discuss your concerns further or be updated of our progress in addressing your concerns, please contact me at 215-563-1800. Best regards,

Jennifer Tapner, Executive Director, The Watermark at Logan Square

Posted on behalf of Jennifer Tapner, Executive Director, The Watermark at Logan Square
---
BethK
May 11, 2015
I am a friend or relative of resident
Be careful. My parents moved in to independent living March 2015. 1. No security 2. No contract filled out 3. Closets fell off the wall on the movers; no one injured luckily 4. No lights in master bedroom 5. Kitchen sink doesn't work; all pipes replaced on day two 6. Toilets making jack hammer noises 7. Painting done badly and incompletely 8. Cute little mice, yes mice, didn't show up until the fifth day after the move; their nest was behind the kitchen oven 9. Master bedroom window flooding; promised repairs within one year? Mold issues? 10. The Watermark manual was provided after move so almost everything was an experiment with little/no help. 11. The resident welcome coordinator was great; it's her volunteer job and she gave us far more information than all the staff members together.
I spoke with property the Executive Director of the Watermark at Logan Square and corporate personal. No explanation, responses or apology.
If all these things are OK with you, it's a go. If they're problems, be aware.
The dining room experience is fine. The apartments are very nice, when they're without mice and with working appliances and plumbing, and the activities are very good. The location is great. Whole Foods, museums, downtown a short walk. And Sabrina's Cafe a couple of steps outside the back door.
But service issues are a major problem.
---
EmilykL
May 10, 2015
I am a friend or relative of resident
My grandmother has been here for less than a week, and she has had the most negligent care from all staff. Each staff blames another person for inadequacies, and after repeated requests we have not been able to contact the director to express our concerns. They have messed up her medications, brought the wrong food, left the food in the room when she's unable to feed herself, have waited an hour to clean her after requesting it, and are clothing her in ratty, worn down dressings. Can't disapprove of this facility more at this point.
Provider Response
As Executive Director, I'm very concerned to hear of the dissatisfaction that you and your family have experienced. I'm personally committed to ensuring your issues are quickly resolved to your satisfaction. We are committed to providing outstanding service for residents and their family members and work hard to maintain our high CMS (Centers for Medicare and Medicaid Services) rating. Please call me directly at 215-563-1800 to further discuss your observations. We will then stay in communication through the resolution process. Thank you. Sincerely, Jennifer Tapner, Executive Director
---
Caring104812550
April 30, 2015
I visited this facility
We visited The Watermark recently and the place was fine except the bathrooms were too small. My power chair doesn't fit into the bathroom. The staff seemed very attentive to our needs during our visit.
---
Caring96265150
December 14, 2014
I am a friend or relative of a resident
My aunt was in hospice at Watermark. It made her last days very comfortable. The rooms were adequate. The facility was clean, and the staff was attentive.
---
Shelby5
November 18, 2014
I visited this facility
I liked Watermarks better, and it is also in town. It seemed friendlier, more amenable, and a nice place in general. There seemed to be a lot of activities. It seems really pretty, clean, and they had a shuttle. It is a very nice place; they had a nice library, they had offered courses -- like you could take French-- and seemed a little more expensive. It is very attractive and well-maintained. I think there was a special lunch, and they invited us to come.
---
Caring95553550
November 07, 2014
I am a friend or relative of a resident
We found The Watermark (The Watermark at Logan Square) for my father. It is a beautiful place. The staff is great. They're excellent. Regarding the room, it is clean. They re-did everything. They re-did the closet and re-painted the wall. It looked like brand new. Food is delicious. With regards to activities, they have trips. They have a bus that goes around the city. They have Bible studies and church. They have a whole lot of different things -- more than bingo. As far as security, they're secured. They have security there. One thing they could improve on is their elevators.
---
George89480450
October 16, 2014
I visited this facility
The staff at The Watermark at Logan Square was very sociable and very friendly. The people appeared to be social as well. There weren't that many wheelchair residents. The problem I had was parking. I have a large family, and I would want -- whatever decision I make -- my children to be able to visit my wife and I without having parking problems.
Provider Response
Hello and thank you for your feedback. It's true, we are a very sociable community! Also true is your statement that city living usually comes with the challenge of parking. That being said, we are fortunate to have a parking garage. We do offer parking in our garage for guests and spaces are based on availability. If you have any questions please don't hesitate to contact me and again, thank you for your feedback. Jennifer Tapner, Executive Director
---
Caring0521
September 23, 2014
I visited this facility
I took a short tour at Watermark, but it was a nice facility. They have one with a little kitchenette and two bedrooms that I really liked. It's a nice neighborhood, and they have shuttles that will take you into town where you can reach hospitals and shopping centers. The people that were showing us around were very informative. We were invited to a nice lunch, and the food was very good with lots of variety in the menu. They have instructors for computer classes and a library as part of their activities.
---
daugtherlee
July 08, 2014
I am a friend or relative of resident
My 81 year old father is currently a resident in the skilled nursing unit. He also had a 6 week stay at Watermark in subacute rehab about 4 years ago after a fall/broken hip. The physical location is convenient to public transportation and public parking is available for 5.00 just around the corner just north of 17th and Callowhill (the lot is on 17th street and says "PUBLIC PARKING". The physical facility is quite nice, decorated in hardwood floor/oriental rug/traditional furniture kind of way. OUr case worker at Jefferson Hospital told us it is the nicest subacute rehab and/or skilled nursing in the Center City area. However, my biggest reservation is that the staff/patient ratio seems insufficient to adequately take care of the patients who are bedridden or need a higher level of care. The place may be great for those who only need assisted living, but my father for example is paralyzed from the chest down and incontinent. When his diaper needs to be changed due to a bowel movement, we have waited up to 50 minutes after ringing the bell for someone to finally come. Some tasks require 2 people to move him, and it is virtually impossible to find TWO people. Speaking to other family members of residents and staff members, it seems there were significant cuts made in March to an already lean staff and as a result, morale is low and the staff are frustrated because one person cannot handle the work that used to be done by 1.5-2 people prior to March 2014. Looking at the Medicare.gov/nursinghomecompare page, it looks like the five star ratings were done during the last inspection, which was prior to this change in staffing. So if you have a pretty independent resident who does not need a high level of care, who wants nice carpet, wallpaper, etc and a convenient location, this is for you. If you have a fragile, relatively disabled loved one, you are in trouble unless you want to sit by their side 24/7 and advocate for them.
Provider Response
At The Watermark at Logan Square, we want our residents to have an extraordinary experience in all aspects of their stay. We appreciate that you commended us on the areas you felt we were exemplary and commented on the areas you felt we needed to improve. As the administrator, I can assure you we have not experienced any major staffing changes and our staff to patient ratio is well above the required state minimum. I apologize that your stay did not meet or exceed your expectations in every way and again, thank you for your comments. We hope we can serve you again and if you have any issues at all, please bring them to the immediate attention of the nursing supervisor or myself.

Sincere thanks, Jennifer Tapner, Executive Director
---
Caring83573950
June 18, 2014
I visited this facility
The Watermark at Logan Square is very nice and very upscale. The rooms are very nice. The person that gave me the tour was courteous. There are a lot of activities that they do there. I know they have recreational activities, and they have an exercise room. Overall, they seem to have everything pretty much covered.
---
Jean48
May 30, 2014
I visited this facility
I have a brother-in-law at The Watermark and a couple of friends. They're happy that they're there. It's very posh. It's very expensive. I've had meals there. The food is absolutely top shelf, and the accommodations, depending on what you're paying for, can be deluxe. It's definitely the nicest place.
Their dining room is super. As far as the accommodations, I guess it's what you're willing to pay. My brother-in-law has a very nice 1-bedroom. He has a living room, bedroom, bathroom, and plenty of storage space, and he has help coming in. As far as I know, he's fine and as happy as he can be. There are programs all over the place. They have a barber shop and a beauty parlor. It's like a high class hotel and a beautiful building in the downtown area, and they have a bus that takes you farther downtown to the shopping center. It's very convenient. If you don't want to take a bus, or if you've missed the bus, there are always cabs around to get. It has every amenity you can think of, but that's why it's so expensive.
---
Myrna Bloom Marcus
May 21, 2014
I am/was a resident of this facility
Our love affair began a few weeks ago when the dream of living in center city Philadelphia became a possibility. Now a reality for me and my husband for one week, The Watermark feels like a luxury hotel, and like home at the same time. An extraor-dinarily friendly and helpful staff, fine restaurant eager to please, daily activities exercising both body and mind - all are already evident. Stimulating conversations with real people sharing interests and life stories are easily engaged in, views of the city are spectacular. In love, yes. Hoping to live here for a long time, yes. No place could be a happier one.
---
mise13
December 22, 2013
I am a friend or relative of resident
Lovely building. Very pleasant and helpful staff. But Mom has waited over 45 minutes for an aid to come when she rings- a real problem for a bedridden patient.
---
Toniblain
December 10, 2013
I visited this facility
The community is beautiful and the few times I have visited, I just absolutely love it. The building is clean, the employees are wonderfully friendly and most certainly the food is great. I would highly recommend seniors to consider moving in.
---
babraid
September 08, 2013
I am a friend or relative of resident
My mom and dad both lived there (mom in asst living. dad in the alzheimer's unit), and for the price it was an ok place. A few things to note before moving there: 1. Parking is extremely limited. 2. The apts have a shower in the tub, and some tubs still have the regular high sides. You will be asked to pay about $800 (I forget exact amount) if you need the side cut down to make entry easier. 3. Staffing is EXTREMELY lean. Average wait time for call-bell response is 1/2 hour, on assisted living and in rehab. I timed this on 5 occasions in both rehab and assisted living b/c mom wouldn't ring for help to get to the bathroom, saying there was no point in ringing. 4. The elevators are really slow, even tho I see a response from someone about elevator upgrades, they are still super-slow. 5. After living there for a while both mom and dad were required by the Watermark to have personal aides. Be sure to understand how and when this mandate may go into effect for your loved one. It's very expensive, and altho sometimes necessary, this wasn't something the marketing people brought up--what will happen when they don't have the staff to take care of your parent. All that being said, there are some genuinely caring people there. When dad died the staff did everything they could to make that time easier for mom.
---
Arnold3
August 15, 2013
I am a friend or relative of a resident
The Watermarks is a reasonable place. But they had been very lean with staffing and they don't have the ratio of staff to people to provide the right level of support.
---
Caring65937750
July 12, 2013
I visited this facility
I didn't care for The Watermark because I felt I was like a camper when I was there. I went around dinner time and everybody was waiting outside the locked dining room and that made me feel very uncomfortable that everybody was sort of herd together and waiting in their wheelchair and stuff. I thought also that it was an old hotel that became a residential community. It was really too big for me and I didn't like the size of it.
---
Deborah12
June 12, 2013
I am a friend or relative of a resident
Watermark is a very well-kept facility. My mother has a small one-bedroom unit there that she couldn't get anywhere for a similar price. That's one of the reasons she decided to stay in Philadelphia. The staff was fine though I didn't have much interaction with them. The food is also good, not great, but for all the people that they're feeding there, it is pretty good.
---
Erica Rivera
October 23, 2012
I am a friend or relative of resident
The Place is great, however the elevators are terrible. My mother struggles to make it to dinner on time and most eleavators are always down. The director of security is terrible. myy mother waited 2 weeks for a mail box key, and God forbid she needed something else. she is 95 and does not need to wait that long especially for all we pay. I want to know how i can reach the human resources regional manger and make a complaint. I complained to the executive diretor multiple times and still nothing.
Provider Response
Thank you for your feedback. I'm sorry that your experience at The Watermark was anything less than extraordinary. My team and I are committed to making every experience a positive one. Here's what's in progress to solve the issues. Regarding keys, we have increased shipment orders to maintain stock at all times. No new resident should ever have to wait for a key again. Regarding the elevators, we have instituted a new policy that there will be no moves to our community (which take a lot of space on the elevators) during peak hours or meal times. Additionally, we now have operators manning the elevators during dinner hours and high traffic event times. We have also purchased software that will adjust the load capacity. It actually slightly reduces the load capacity and therefore will prevent overloading which will greatly expedite timing. I would be glad to speak with you about your concerns. Please call my cell at 215-375-4465 any time if you would like to discuss this or any matter. Additionally, if you would like to speak with our National Director of Human Resources, you can reach Mike Burkhart at 520-797-4000. Sincerely, Jennifer Tapner, Executive Director, The Watermark at Logan Square.
---
tsg
August 28, 2012
I visited this facility
My most recent memory of the Watermark was my great-grandmother's 100th birthday party. The staff was great help and they even provided us with plates for our cake. I think that my great-grandmother lived out her final years in happiness thanks to the care from the people at the Watermark.The reason I gave the facility three stars as opposed to five stars is the fact that my great-grandmother was not able to bring her car with her. I understand that it may be policy to have no animals at the the center, but it would have made the transition much easier on her. Furthermore, as great as the staff was; the center was extremely understaffed. There was a general sense of chaoticness in the facility which is really the opposite of what you want somewhere like that. Other than that, I believe that this facility provides a fairly smooth transition from everyday civilian life, the life in an assisted living facility.
---
marksemily14
March 28, 2012
I visited this facility
The staff is always helpful when I enter the facility. My boyfriend's grandparents are both residents and when several times they had some serious health problems they were taken care of with delicacy and professionalism. While I find that it is very pricey, the service is quite excellent. I would put my own grandmother there.
---
elemide
June 30, 2011
I visited this facility
Aaaahh.. talk about retiring in style. This is the complete package if you ask me. Has a five-star hotel themed setting and comes with everything one requires; a fitness center, barbershop and lady's salon, massage parlor, chefs, a bar, front patios and balconies that over-look the rest of the city and a 24 hour staff on stand-by for one's every need. Been to a number of retirement facilities and can say this ranks high and is among one the better managed retirement centers there is within the Philadelphia area. If I was ever to retire tomorrow and having to consider a home away from my home, this would be it.
---
SteveRol
June 24, 2011
I am a friend or relative of resident
My mother has resided in the Watermark's independent living section for a few years now. I have found that the community is Great. Also, the nursing care for the independent living folks is excellent. They are responsive (to both the resident and their families), have excellent judgment, get to know the residents as people, not just diagnoses. All the staff members I have dealt with are well-trained, patient, and understand what is required when working with senior citizens.
What a great place for my mother to live independently! This is a full-service community setting where warmth, caring and integrity are but a part of what I see as the vision that creates The Watermark's culture! The fantastic staff always have smiles and warm words for both residents and visitors. It really seems that the associates have a great interest in the success and wellbeing of the residents and the community at large.
In addition to the great atmosphere, there is a huge comfort level in knowing that there are skilled staff members just a call away at all times. This is a great place and I have recommended many of my friends to explore this as an opportunity and a great place for their parents also!
My mother says moving to the Watermark has turned out to be one of the best lifestyle choices she could have made. Partly because of the Watermark's proximity to philadelphia. In addition, therer are daily events presented right here at the Watermark such as recitals, instructive classes, etc. Last, but not least, there is the comaraderie of the many friends you meeti and socialize with, as well as the services of a caring staff. Again,
The staff is extremely caring and takes each resident's wellbeing seriously. They go out of their way to help them through the inevitable difficulties that emerge for old people. Nothing in this world is better than feeling secure!!
---
JoshP4ri5
May 31, 2011
Visited this facility
My grandmother lives at this facility, I really enjoy visiting her and she truly enjoys living there.
Its located in a really nice area of Philadelphia so I feel safe visiting my grandmother, and I have never heard of her feeling un easy about traveling around the area. They have a really great services that they provide to help keep residents busy. There is a hair salon that my grandmother goes to located on site as well as a day spa, i am not sure how often she goes there but im positive that she takes advantage of it because lord knows i would!. They have a excellent restaurant that we go to from time to time when i visit her the food is pretty good and the staff is very nice and professional. My grandma lives in the one bedroom apartment and it has the feel of a luxury hotel, I not know how much she pays but it is worth every penny.
---
From The Watermark At Logan Square
---
The Watermark at Logan Square in Philadelphia, PA is a rental retirement community that offers Independent Living, Assisted Living, Memory Care and Skilled Nursing on a campus that bristles with all the excitement of Center City living. Choose from spacious one-bedroom models to our gorgeous penthouse suites, all recently renovated from top to bottom. The Club brings many aspects of wellness together in one place: Indulge Salon, a full-service beauty salon and spa, Renew Wellness Center, which offers nutritional and preventive care, Vitality Fitness Center and the eco-friendly Gallery Cafe. We know that challenging our brains and getting in better physical shape has enormous benefits at every age, and The Watermark at Logan Square offers an ongoing course schedule of mind-expanding and body-toning classes through Watermark University. A Watermark retirement community.
Features of The Watermark At Logan Square
---
Costs
All Inclusive Rent
Entry Fee
Fee Structure Extra

We Offer A Month To Month Rental
Room and housing options
1-bedroom apartments
2-bedroom apartments
3-bedroom apartments
Companion Suites

We Do Not Offer Companion Suites

Studio Apartments
Dining options
In Room Kitchenette
In Room Kitchens
Dining Room Shared Meals
Features
Beauty Barber Shop
Computer Room
Resident Transportation
Coffee Shop
Party Space
Tv Room
Garden And Patio
Resident Parking
Spa
Features Extra

Library, Fitness Room/Gym
Cleaning services
Laundry For Linens
Private Cleaning Services
Housekeeping
Laundry For Clothing
Technology and entertainment
Cable In Rooms
Internet Enabled Rooms
Technology Extra

Emergency Call System
Health services
Skilled Nursing
Hospice Care
Medication Management
Physical Therapy
Nurse On Staff

Yes
Activities
Offsite Activities
Music
Games
Stories
Religious Services
Lectures Discussions
Book Clubs
Wii Sports
Tai Chi
Fitness Room
Yoga
Gardening
Cooking
Arts And Crafts
Activities Extra

Computer Class, Our Own In House University
Financial guidance
Financial Guidance Extra

We Have Providers That Can Help With All Above
Guest services
Guest Parking
Guests At Mealtime
Overnight Guests
Diet
Diabetic
Low Fat
Low Salt
Renal
General
Staff Patient Ratio

Based On The Need Of The Resident

Minimum Age

62+ (There Can Be Exceptions)

Pets

Small Pets Allowed
Licenses
Licenses

Personal Care, Rehab, and SNF licence
Location of The Watermark At Logan Square
---
Request Info
Get full access to reviews, cost information, and amenities