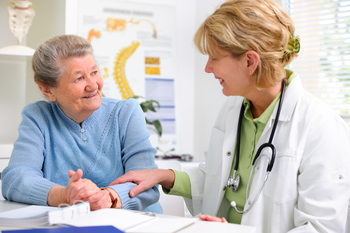 All Rights Reserved
Talking about your wishes for end-of-life care sounds morbid, but those preferences should not be kept secret. Experts say that an advance care planning process is a way to ensure you have the quality of life you want at the end of your life while providing guidance for your healthcare team and the people who love you.
According to the Conversation Project, a national collaborative effort to support end-of-life discussions, 90 percent of people say it is important to talk to loved ones about what you want at the end of life – yet only 26 percent of adults have had that conversation.
"When I ask patients about their wishes, they will often tell me who they plan to leave their money to. They feel more comfortable telling me who they are leaving the house to than what their wishes are for care," says internist Kate Lally, MD, chief of palliative care for Care New England Health System in Warwick, Rhode Island. As important as estate planning is, thinking about the kind of care and quality of life you want at the end of life should also be emphasized, experts say.
"Those of us who are in this space and work with people every day, trying to figure out what their wishes are, it's the last thing you want to keep a secret," Lally says. "You want to tell everyone, so if you can't speak for yourself, people will know what to do."
Since January 2016, all Medicare beneficiaries have the option to schedule a visit with their doctor for the purpose of advance care planning. This visit is only a first step in the whole process, though. "You can just have the discussion as part of a wellness visit, or another visit with a copay. The real point of any advance care planning conversation is to think about what your wishes are for care and treatment and then also to appoint someone to be your substitute decision-maker," explains Jo Kline Cebuhar, JD, author of "The Practical Guide to Health Care Advance Directives".
The substitute decision-maker you need to identify is called a healthcare proxy, also known as a durable power of attorney for healthcare. This person will advocate on your behalf in healthcare situations if you can no longer speak for yourself. According to The Conversation Project, half of all people over 65 who go to the hospital are unable to tell doctors and nurses what kind of care they want, so someone else has to make these crucial decisions, often under pressure.
Prior to this option becoming available in early 2016, advance care planning conversations were only covered by Medicare for people with a life-limiting diagnosis, Kline notes.
Advance Care Planning in Five Steps
"Advance care planning is the process of reflecting on what is important to you, documenting it, and talking to your loved ones," says Anna Gosline, a member of the Honoring Choices Massachusetts Coalition and senior director of health policy and strategic initiatives for Blue Cross Blue Shield of Massachusetts. This process includes:
Thinking about your values.
Take a few moments to think about what you want in your advance care plan. This means considering what you want your last days to be like, ideally. You should also consider whether you want to be in a healthcare facility or at home, how aggressive you want treatment to be, whether you want to know every detail of your condition or not, and more. The Conversation Project's Starter Kits can help with this first step.
Talk to your doctor.
Use the Advanced Care Planning benefit to schedule an appointment with your physician to start discussing end-of-life care options. Ask what special considerations might apply to your health condition and prognosis, if applicable.
Choose a proxy.
This is also the time to figure out who you want to serve as your healthcare proxy, ask them if they are willing to take on that role, and then talk about your specific wishes as well as general guidelines for making decisions on your behalf. If you aren't sure who to ask, Lally recommends using the Healthcare Proxy Toolkit developed by the Conversation Project. Choose someone who will be able to speak up on your behalf and make the decisions you want made. Lally notes that this person might not be the first person you think of, because a spouse, parent, or adult child could be too emotional when the time comes.
Create a Healthcare Proxy document and an Advance Directive.
A Healthcare Proxy formally identifies the person who will make decisions for you and an Advance Directive outlines many of your wishes for care. Your physician will not help you create these during your Advance Care Planning visit. Each state has its own forms, so be sure to get the right forms for your state. It is also going to be your responsibility, not your doctor's, to share these documents with people who need them. Kline recommends making at least 10 copies of each document.
Talk to your family.
Once you have a general idea of what you want, it is important to discuss your wishes with the people around you. In these conversations, you should let your loved ones know whom you've chosen as a healthcare power of attorney and also provide information about your end-of-life priorities and values.
Three Benefits of Advance Care Planning
You'll clarify your values.
This is a chance for you to think about what your values and priorities are regarding the care you'll receive at the end of life. Lally emphasizes that these values go beyond the parameters of medical care, such as choosing between aggressive treatment or palliative care (although that decision is a big part of advance care planning, too). She encourages people to think about what aspects of life are crucial to them, such as the ability to be with loved ones, staying alert as much as possible, or being able to attend a milestone family event comfortably.
An advance care plan might reduce family conflict.
Making sure everyone in your family knows who your healthcare proxy is and what your wishes are should help prevent family arguments. Lally recalls many situations where one family member tried to carry out their loved one's wishes while having to defend every decision to relatives. "It's a lot of pressure," she says.
An advance care plan helps your loved ones make the best decisions.
Kline says that having to make healthcare decisions at the end of life without knowing what a loved one would really want can leave survivors with longstanding guilt or doubt. The more information you can give your loved ones about what you want, the more likely they'll be able to care for you without added worry.
Advance Care Plans Can Change Over Time
"This is the last thing you want to keep secret," says Lally, who adds that healthcare providers often joke about having their wishes tattooed on their chests so everyone is clear about their preferences. "The problem is that people think you are talking about death, when really you are talking about how you want to live when you are very sick."
Your end-of-life care preferences can change as your health and perspectives change, however. The advance care planning Medicare benefit is available to you regardless of your current health status and you can use it as often as you need to over the years, so you can revisit your plan over time.
When you're healthy, you can begin the advance care planning process by identifying a proxy and talking to your physician in general terms about what to address, advises Lally. If you have a chronic condition or another diagnosis, you can get more specific with both your proxy and your doctor about your prognosis and possible outcomes. And, as you approach the end of your life, you can all talk more about shorter-term goals and needs for the best possible quality of life in your final days.