The Laurels & The Haven in Highland Creek
6101 Clarke Creek Parkway, Charlotte, NC, 28269
Talk to a Family Advisor: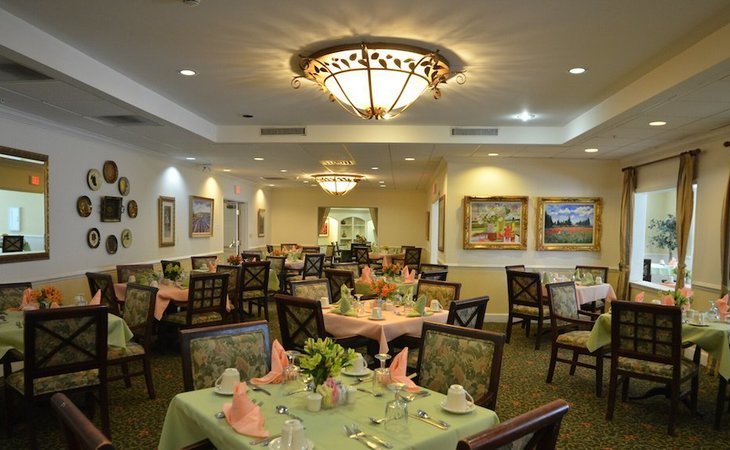 Top nearby Assisted Living Facilities
Reviews of The Laurels & The Haven in Highland Creek
---
mathematics4fun@gmail.com
January 10, 2017
I am a friend or relative of a current/past resident
horrible... scant assistance for "assisted living". Dad fell and no one could pick him up when he went to the front desk to complain there was no chicken in his "chicken" soup. Director won't return phone calls. Activities are limited and not of interest to intelligent people. I can't wait to get my dad out of here.
---
Care About My Loved One
December 20, 2016
I am a friend or relative of a current/past resident
The best things about the Laurels are Dawn, the receptionist; Tiffany, the hairdresser; Patricia and the maintenance staff; the food and majority of the dining room staff (not all); and the fact that they let you do things to customize your room (but you have to leave it in place if you move out); and, Nikki the activity director and the activities offered. The worst things: Jessica, the new General Manger, Michelle, the new Director of Nursing; attitude of some of the nursing staff and some of the wait staff in the dining room. If they don't like you in the dining room, they wait and serve your meal last - very passive/aggressive. Some of the nursing staff don't seem to know what's going on with resident medications even though they have all the information on the cart. One or two of the caregivers are are really rude and surly to the residents. The facility is nice but I would expect that with this level of high-end, expensive, private pay facility. They redid the manl living area, dining room and repainted the downstairs this past year. This was much needed. It's nice but a definite emphasis on 'looks' versus 'function'. Most of the furniture is way too big and too deep for the residents. The room themselves have nice layouts but desperately need to be updated in terms of their kitchen and bath areas.
---
Susie23
May 11, 2016
I am a friend or relative of a resident
My parents are staying at The Laurels in Highland Creek. The place is excellent in all aspectS. Their dining area and food are fantastic. The facility is beautiful and very clean. The maintenance is very good and my parents are very happy, although I am having problems with their nurses. It seems like the nurses are not aware of what is going on with my mom, but I am totally satisfied with the overall experience.
---
ex resident relative
November 16, 2015
I am a friend or relative of resident
I had a family member in the Haven Memory Care. This facility is a well designed layout which gives residents lots of safe space and mobility options. The individual rooms however are dark, dinghy and poorly ventilated. Food service is adequate. The staff, while there are exceptions, are by-in-large cold, indifferent, unhappy and unengaging. The service provided the residents is very robotic and meets minimum standards. The Executive Director is aloof... operates "in the background" and makes no effort to embrace the family. This attitude no doubt permeates the entire staff. The Wellness Director means well but is ill-equipped to produce or manage a staff that stands out in any way. There is no sense of "customer service" or personal responsibility instilled in the care-givers. My family member's condition degenerated very quickly in this environment and I could not recommend the Haven. If you opt to place a family member in this facility... be prepared to become very involved in their daily care or hire a private service to subsidize their care.
Provider Response
We always appreciate the feedback of our family members and thank you for taking the time to write a review. We are pleased that you noted the benefits of our design and layout to our residents, but recognize that we fell short of your overall expectations. The feedback you have provided will be used to create and implement a continuous improvement plan specific to these areas. It is certainly our goal to meet and exceed standards, as well as the expectations of those we have the privilege of serving. Thank you again for providing us with additional perspective and the opportunity to use it to continue working to be our best.
---
Caring Son11
October 28, 2015
I am a friend or relative of a resident
My father moved into The Laurels & The Haven in Highland Creek two weeks ago. The location of the facility was the best of the ones that we saw. The staff was friendly and helpful. It's also relatively very close to my home, and the pricing was within the range normal for Charlotte. The common dining area is like an open cafeteria-type of setting. The facility in general is newer and better taken care of than a lot of the others that we went into. The rooms are one-bedroom and studio that have typical sizes and have a relatively good view. It was the best location and amazingly enough it was very convenient. They have bingo, ice cream socials, game time, movie time, and visits to local malls. They have a fairly full calendar of events, including some exercise and general get-togethers. If the resident is willing to take advantage of it, they can have a fair social time.
---
Caring107788950
June 22, 2015
I visited this facility
We have selected The Laurels for my father-in-law, and the place was amazing. It had a regular senior living and then also a section for dementia. The coordinator was very accommodating and enthusiastic, he knew all of the residents there, and he walked me through the layout of the place and why it was laid out in a certain way to help seniors physically and mentally get around easily on their own. I loved the amount of little activities they have from church groups to bible study and choir. They were doing things the way it felt like the residents were like living out or like looking outward versus starting to shutdown and just not really care. Everybody was really like looking forward to the day, so I like that. They had guys that go in there and they play poker, they have a craft room and a men's club with leather and darker accent colors. For the gals, it's more like a yellow, green and white design. It was so well cut out and nice setting. They did have one couple who the man was over in the side with did memory care, the wife was in the other side and how they coordinate the visits. They did have 5 or 6 couples, and that was out situation; we were looking for potentially moving two people not just an isolated senior. It is located right in the middle of a big high-end suburban neighborhood, and they had access to a golf course.
---
Jennifer105828450
June 21, 2015
I am a friend or relative of a resident
The Haven was nice, and the rooms were like you are in your own little home; it had a chair and a bed. They had ice cream socials, bingo, gardening, and outings or trips. The food was good, the dining is set up nicely, and the family can eat with them. The staff was good, I never met anyone who didn't have a smile on their face, and they really had the best interest of the people.
---
Shirley106601650
May 16, 2015
I visited this facility
At the Laurels, it was a different vibe. The residents seemed to be a little older, and even though some of them that I actually saw were impaired, they were up and around with canes and walkers. It was after their lunch hour, and I thought they were going back to their rooms or over to the activities that they had planned for the day, so I really didn't get a chance to talk to too many of the residents. But it was a clean, well-cared for place with a sunny and warm feeling, and the staff was very nice. They were exceptionally nice to me as far as I am concerned because at that time, I had a walking problem, so they politely gave me a wheelchair, and I was able to get around that way. That, of course, limited me to just certain areas where I could go. I wasn't able to really go outside around the grounds, but I saw one room because I was interested in a two-bedroom apartment, and they only had one available that I could see, so I only saw that one. My daughter-in-law -- who accompanied me -- was taking around, and she said that it was very nice. They had crafts and different things or activities going on. It is a warm atmosphere.
---
Caring105154250
April 19, 2015
I visited this facility
The Laurels & The Haven in Highland Creek was our second choice. It was The Haven part that we looked at. Everything was awesome about the community. They have a different philosophy -- they provide each patient's needs instead of general -- which is fascinating. Right now, it kind of looks old, but they are in the process of renovation. They had the nicest bathing area as far as safety. They had nice tablecloths and used solid color plates.
---
Caring103402750
April 14, 2015
I visited this facility
The Laurels was very nice, clean and spacious. The staff was very helpful, informative, and professional. I was very pleased. The dining room is very nice, open, and nice size. They have movies and bingo, they go out shopping, and they bring church services in. It seemed to be a very secure and safe place as well.
---
Nicole11
February 20, 2015
I visited this facility
The Laurels was really nice. It was actually located very close to the mall. I was very pleased, the rooms were very nice, but it didn't have an open feeling. The staff were great, very attentive, friendly, extremely knowledgeable, and helpful.
---
Caring101552250
February 12, 2015
I visited this facility
The rooms were small at The Laurels, but the staff was really nice. I saw a little bit of the menu. My mom has dementia, and if I move her there and my mom's dementia gets worse, they will again move her to another facility.
Provider Response
Thank you for your recent visit and taking a moment to share your thoughts. We are proud of our community and pleased that our menus and the warmth of our residents and staff made a positive impression. It seems that during your visit you might have viewed our studio apartment that is the smallest of our four floors plans. We do recognize that for some, this particular plan seems a bit on the cozier side and perhaps the larger one bedroom, or two bedroom at nearly 600 square feet might be a better fit. In conjunction with the many floor plan options, we are also fortunate to have both assisted living at the Laurels and our award winning, Bridge to Rediscovery, memory care at the Haven, both located on one convenient campus. Our Haven is its own neighborhood adjacent the Laurels as it is specifically designed to promote as much independence for our memory care residents as possible. Guest perspective always helps us to improve and we would like to invite you to come again to see all of our floor plans, visit the Haven neighborhood and experience our menu by joining us for a delicious meal. Thanks again for your review.

Steven Poole, The Laurels & The Haven in Highland Creek
---
Lorrie2
February 28, 2014
I visited this facility
The Haven was a real nice place. The staff was nice. The rooms might have been a little bit bigger, but they were nice and well. I like the fact that it's dedicated to memory care.
---
Caring78288950
January 31, 2014
I am a friend or relative of a resident
Mom has been at The Laurels & The Haven for a month now. My brother chose this facility because of it price; its affordable, and it's close to me. The staff at the facility seemed very nice and very helpful with her. It seems like it's working out fine right now. She is well fed and she's well taken care of. They are doing the things that needs to be done for her.
---
CaringSon000285
August 29, 2013
I visited this facility
I visited The Laurels and The Haven for my mother. It is a very nice facility. It is clean. Their rooms are nice. The staff is friendly. They also have many activities for their residents. I would recommend this place.
---
caring5698
May 31, 2013
I visited this facility
The place was excellent. I liked that it has a beauty parlor and a laundry room inside the facility. The only thing I didn't like about The Laurels is the price. The cost is too high. The rooms are small and not all the people there are friendly.
---
Martha B.
May 29, 2013
I am a friend or relative of resident
My Mom has been a resident at The Laurels for over a week. I have nothing but praise and high accolades for this facility and its staff. They have put smiles on her face and comfort and ease to her mind which she did not have living by herself. She enjoys sitting on the front porch with her new friends and loves going on outings on The Laurels' bus. I was impressed when I observed a lady at the front desk interacting with a resident that was sitting in the living room. She noticed a change in his demeanor and immediately called the nurse to tend to him. It was just some minor dizziness; however, he got immediate attention. The staff is very attentive to the residents and tries to meet their every need. If this were not so, then I do not believe you would see so many happy people living there. The Laurels in Highland Creek really do their best to make this a "Home Sweet Home" for their residents.
---
Clara1
February 24, 2013
I am a friend or relative of a resident
Laurels in Highland Creek is close to my home. My husband has been there since December. Their services meet our needs. They have in-house therapy, physical and occupational therapy. The setting was lovely, and grounds are well-kept. Overall, I felt like it was a top rate facility. But as would any senior care facilities, communication can always be better.
---
anonymousll
June 09, 2011
Friend or relative of resident
The Laurels in Highland Creek is the place that our great aunt now calls "˜home'. My husband and I are her only close family and we visit with her at least 3 times a month. We live in Rock Hill, SC and this assisted living facility is only a short drive away in Charlotte, NC. Our aunt insists that we stop in at the on-site ice cream parlor during our visit, and she certainly doesn't have to twist our arms to get us to agree. This is a cozy little spot that is very nostalgic, and the ice cream is delicious. From the moment we arrive at the main entrance it is easy to see that there is a lot of care and devotion. The residents are always smiling and the facility is extremely neat and tidy. Even the carpets are kept clean and fresh despite being walked on by numerous guests and visitors. According to our aunt this devotion to duty definitely extends to each and every senior aged resident. She needs help to get dressed in the morning and she says she never feels rushed. When she requests assistance for other activities she rarely has to wait for more than a few minutes for someone to arrive. We are delighted in the quality of service, compassion and care that we have personally seen at The Laurels in Highland Creek.
---
Rebekkah
March 31, 2009
I am a friend or relative of resident
I have had experience with both The Laurels (the assisted living section) and the Haven (the Alzheimer's section) over the past few years. At first, when my loved one was residing at The Laurels, I was very impresed. The facility was well managed by a woman names Lauren Bonner (sp). The food services were excellent, one that would rival most eating establishments today. And the facility seemed well maintained and clean. Over the past few years, my opinions have changed dramatically. The facility has taken a nose-dive in the administration, the staff are bitter and unhappy, the food is awful, etc. I believe this to be the result of the new Executive Director. Since taking this role, all services have gone down and in addition to the residents, several employees have passed away unexpectantly. I would be weary of placing my loved one here again ever. This place has unfortunately lost the "home feeling" and the caring it once had.
---
From The Laurels & The Haven in Highland Creek
---
We've thought of everything at The Laurels in Highland Creek! The assisted living community is designed around individual neighborhoods, each with it's own personality fostering closeness within each residence. Each senior neighborhood contains a mixture of one- and two-bedroom, alcove, and studio apartments; each is handicap adaptable.
The Laurels in Highland Creek assisted living community is situated in a lovely master-planned community in northern Mecklenburg County amid beautifully-landscaped grounds, including parks, walking trails, and a championship golf course.
The Highland Creek Community offers resident access to a Golf Club, Racquet Club, Swim Club, and Sports Club and is only minutes away from great shopping venues.
The Haven is an assisted living residence designed, programmed, and staffed for individuals with early, middle, and late stages of Alzheimer's and dementia.
Tailored to enhance dignity and foster independence, The Haven has licensed, on-site nurses and offers a progressive approach, which encourages family participation through care planning, education, special events, and support groups.
Features of The Laurels & The Haven in Highland Creek
---
Costs
Minimum rate:

$3585/month

Minimum Memory Cost

$4835/month

Fee Structure Extra

We Offer A Month To Month Rental
Room and housing options
1-bedroom apartments
2-bedroom apartments
Companion Suites

We Offer Companion Suites

Studio Apartments
Housing Extra

Alcove
Dining options
In Room Kitchenette
Dining Room Shared Meals
Room Service For Meals
Dining Extra

All Day Dining Menu
Features
Beauty Barber Shop
Resident Transportation
Golf
Tv Room
Resident Parking
Pool
Tennis Courts
Features Extra

Library, Fitness Room/Gym
Cleaning services
Laundry For Linens
Private Cleaning Services
Housekeeping
Laundry For Clothing
Technology and entertainment
Cable In Rooms
Technology Extra

Emergency Call System
Health services
Medication Management
Physical Therapy
Nurse On Staff

Yes
Activities
Offsite Activities
Music
Games
Stories
Religious Services
Book Clubs
Fitness Room
Gardening
Cooking
Arts And Crafts
Activities Extra

4 Things You Need To Know About The Laurels: 1. All Of Our Residents Wear A Pendant With Gps Technology. If A Resident Needs Assistance They Can Push Their Pendent And Our Care Staff Knows Their Exact Location Within The Community. 2. Our Community Offers Physical, Occupational And Speech Therapy. Our Therapists Are Hired, Trained And Managed By The Laurels No Contracted Third Parties. 3. Our Dining Program Offers Restaurant Style Service. The Dining Room Is Open For A 2 Hour Window During Every Meal Time, And Our Residents Order Off A Menu. We Also Offer An "All Day" Dining Bistro Menu That Allows Residents To Order Something Off That Menu Any Time Of The Day. We Also Include 3 Snacks Per Day Hand Delivered By Our Care Team. 4. Our Community Is Located In The Beautiful Highland Creek Neighborhood. A Sprawling 1,900 Acre Community Complete With Swimming Pools, Tennis Courts, Hiking And Walking Trails, A Fishing Pond, Golf Course, And A Sports Complex
Guest services
Guests At Mealtime
Overnight Guests
Diet
Diabetic
Low Fat
Low Salt
General
Staff Patient Ratio

16:1 Al, 6:1 Mem Care

Respite Care
Minimum Age

55

Pets

Small Pets Allowed
Licenses
State Licenses

HAL-060-106
Location of The Laurels & The Haven in Highland Creek
---
Request Info
Get full access to reviews, cost information, and amenities