Riviera
| Independent Living
1825 Ridgewood Avenue, Holly Hill, FL, 32117
Talk to a Family Advisor: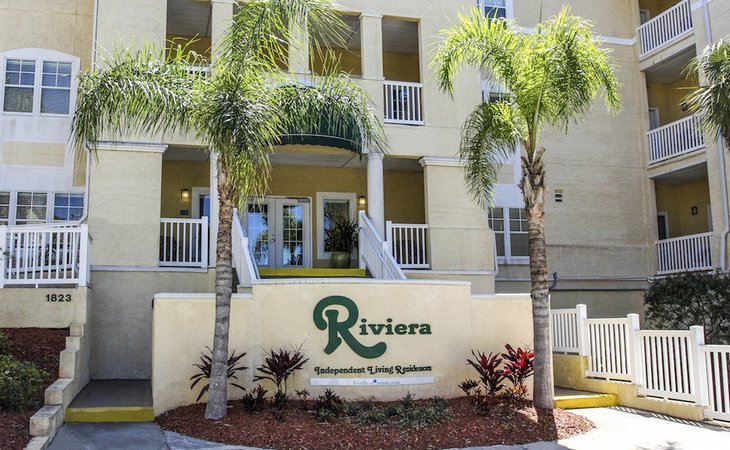 Top nearby Independent Living Communities
Reviews of Riviera | Independent Living
---
Michael344147
May 10, 2017
I visited this facility
Riviera was nice, very clean and well kept but old. The dining room was really nice, but the rooms were older and a little different in the way that they were laid out. They didn't have a lot of counter space.
---
Dona1
May 10, 2017
I am/was a resident of this facility
Riviera is a wonderful, five-star community. They have white table clothes in the dining area and fresh flowers on the tables. The food is of excellent quality, and the servers are great. It is like eating in a very nice restaurant twice a day. I stayed there for a year. The cleanliness was very good, but there weren't many activities that appealed to me. The staff is excellent and makes you feel like a family. I have a respiratory problem and sometimes I can't walk far, so they would get somebody for me. If they didn't see me for a while, they would make sure they found me. They're extra sweet and more like a family to me.
---
James786803
March 29, 2017
I visited this facility
Riviera's staff was probably the most responsive that I have ever seen. When we walked through the facility, we were with the marketing director, who knew virtually every resident by name. She grabbed them by the hand and said, "Martha how was your birthday yesterday?" It was amazing. It's a full-service community with independent living that provides all your meals, and then you can move to assisted living. There were activities all over the place; there was dog therapy going on, pet therapy, and card games. Virtually nobody was in their rooms. They were watching TV, talking to each other, and doing things. Christine, the marketing director, was phenomenal to work with.
---
John111220150
November 30, 2016
I visited this facility
We liked the Riviera a lot. It was bright and more of a cheerful place. All the residents seemed very happy, and they were involved in doing things. One of the things I liked was that the meeting rooms had a higher ceiling than 8 ft. -- which some of the places that had the larger rooms had low ceilings, and it didn't seem open and airy. The staff was very nice and very friendly, and they made the tour very enjoyable.
---
Vick137343
November 24, 2016
I visited this facility
I liked the Riviera. It was a little out of my price range, unfortunately. For the apartment that I would have wanted for my mom, it was $500 or $600 more than I could really afford. Otherwise, I would have selected them. It was beautiful, the staff was very kind, and it just felt more upscale. I would move in there actually. I really liked the place. It was really top-notch; it's just a little out of my price range, sadly. The staff was very nice; all of them were really super. The dining room was very nice -- just a little on the small side -- so I wondered how they could accommodate everyone. They had to have done it in shifts because it wasn't a huge dining area.
---
Joanne103356
October 13, 2016
I visited this facility
Riviera seemed like a nice facility. I think it would have been a nice facility for my brother. They had the independent care and then the graduated memory care, which I felt was nice. They had entertainment. In fact, the last time I was there, they had a rather young activities director who was in a room, and they were having cocktails, dancing, and music. Everybody was very happy having a good time listening to music and some of them moving on their walkers. Riviera was an older facility, and it was pretty big. Again, it's an older facility -- and you can tell they have age on them -- but they have kept it as clean as they can be. I thought it was fine. The staff was very helpful, very pleasant, and very nice. They're very interested, upbeat, and happy. They're what you would expect staff to be when dealing with seniors.
---
Mary117606350
December 22, 2015
I am a friend or relative of a resident
We found a place for my aunt called Riviera Senior Living, and I'm very happy with it. They're accommodating, pleasant, and helpful, and my aunt is happy. The room is beautiful. I have eaten there a couple of times already, and their presentation of the food is wonderful. If a resident doesn't seem to like something, they make every effort to find something that they do like. I have not observed that with my aunt, but I have seen other residents ask for something different, and they have been very accommodating.
---
Bob116453450
November 30, 2015
I visited this facility
Riviera Senior Living was really first-class, and the staff was excellent. They were very up on everything and answered all our questions. We did a tour, and the rooms were extremely larger than I expected. They have a lot of access to things. There are two bedrooms and two separate baths. It would have been my cousin and her daughter. All things were really nice.
---
Caring105007650
January 30, 2015
I visited this facility
We were able to visit Rivera, and it was nice. It offered several amenities of what we were looking for, but not exactly what we were looking for. It was also expensive for what we could afford. I saw them doing activities like bingo. I saw a lady walking, and she was kind of lost. Everybody was so helpful, and I think that was a good thing.
---
Caring82186850
April 29, 2014
I visited this facility
Riviera is an older place, and it needs updating. I liked the location; it's on a major street if you need to get to anything. The rooms are all right, but they're not as well-maintained. They offer a lot of activities. The staff seemed to be very nice. The food was all right; I had lunch there, and they had two dining rooms. They have both assisted living and independent living.
---
Anonymous68971150
September 19, 2013
I visited this facility
I had a good time during my visit in Riviera Senior Living. We had a light lunch there and the food was excellent. I had fun participating in their nice little program going on at the time. I looked at some of the rooms and they were very comfortable-looking. They were also very clean.
---
Linda53475850
July 29, 2013
I am a friend or relative of a resident
My mom is at the Riviera Senior Living. We chose it because it is about one minute from my house and it is very nice and she could have her own furniture. She can have a little bit of independence in there, but still will be watched over. It is always clean and my mom likes it. I have eaten there and I liked it. They have a lot of activities, there's always an activity every morning, afternoon and night. The environment and the area are very nice. The staff is also very nice although they do have a few staffing issues that they'll work out. I just think they need to have consistency in the caring that they give and on their staffing. But my mom is happy there and I recommend it to others.
---
ormond girl
March 28, 2013
I visited this facility
what a great feeling when you walk in the door. everyone is chatting or doing some kind of activity. the people that live there seem very happy. wonderful staff, great food, and nice people. my mom can't wait to move in
---
mapman
July 27, 2011
I am a friend or relative of a resident
My mother has been a resident at the Riviera Senior Living Center for several years and enjoys being there at their assisted living quarters. They also have on-campus facilities for independent living and nursing home options. The Riviera has old world charm, courteous and responsive staff, and great food. It is very convenient to shopping, hospitals, medical parks and just 5 minutes from the shores of Daytona Beach.
---
---
Among the palm trees and warm ocean breeze of Holly Hill, Florida, Riviera Senior Living Community welcomes you. Formerly known as the Riviera Resort Hotel, our Independent and Assisted Living community features unique architecture; high-ceilings, arched doorways, large windows and wide hallways that recall an era of elegance and charm that is not duplicated anywhere else in the greater Daytona area.
The moment you walk into Riviera Senior Living Community, you are part of our family. Relax in a cozy chair, shop the nearby stores or enjoy one of our many stimulating activities, Riviera Senior Living Community makes you feel right at home. From our caring, dedicated Independent Living and Assisted Living staff to our inviting courtyard and decor we create a family-oriented place you will want to call your own.
Request Info
Get full access to reviews, cost information, and amenities