Morningside of Raleigh
801 Dixie Trail, Raleigh, NC, 27607
Talk to a Family Advisor: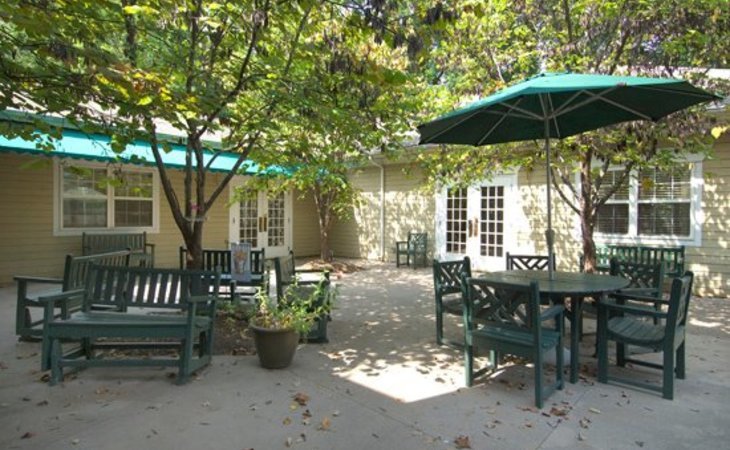 Top nearby Assisted Living Facilities
Reviews of Morningside of Raleigh
---
Caring106455250
September 30, 2015
I visited this facility
They were very welcoming, very pleasant, and very friendly. Everybody smiled and was very nice to us. Morningside offered a lot, and it was very well-maintained. I think the one thing we didn't care about was it was more of an institutional look as opposed to the homey type of look, and we were hoping for something that was more of the homey look. They had great activities. The food looked like it would be very good. We did not stay for a meal, but what they served us was absolutely excellent -- beverages and a snack. I just can't tell you enough how friendly everybody was to us, and it wasn't just the person who was talking to us. As we walked around and all that, people smiled, and they were just very pleasant. It was just very nice, and I really appreciated that.
---
Barbara110584350
July 13, 2015
I visited this facility
I looked at Morningside of Raleigh. I thought it was excellent. The staff that took me around was very knowledgeable. There was somebody at the door to greet you, and there was a lot of interaction between the residents and the staff. The facility was very clean and new. The people that I saw looked like they were happy and content. I also liked their philosophy about how they deal with their memory unit. It really felt like a home. They had a lot of activities like chair yoga, lectures, and shopping excursions for the assisted living residents. They also had barbecues for the holidays. It was a really nice setup. The apartments were new. I thought the studio sized apartments were of good size.
---
Robert107285650
May 29, 2015
I visited this facility
Morningside looked pleasant inside and outside, and the staff seemed nice enough, but the residents all seemed really sad. During my tour, there was a resident with dementia who was upset, and the person giving me the tour seemed to not know how to handle the situation or what to do with a resident with a problem. The maintenance seemed fine. The rooms were fine as well.
---
Caring104084350
April 07, 2015
I visited this facility
I have only been to one in my life. Morningside is the one I went to, and I was doing it for a friend. It seemed very clean and very professional. I just saw the bulletin board that listed all the activities that were going on and what days they were going on. I think it was a very professional place, and if you have dementia or if you just have some basic needs, it would be a perfect place to be.
---
Caring100332450
February 16, 2015
I visited this facility
Morningside of Raleigh was very nice, but they had no grounds to speak of. No place to go for a walk -- there were little patio areas and little courtyards, but very limited, very nice people, nice rooms, and nice food facilities. Their dining area was very attractive.
---
Caring101883050
February 10, 2015
I visited this facility
Morningside of Raleigh was clean, quiet, safe, secure, and well managed; it was high class. It's just excellent leadership and administration. They had a chef, and they had good food. In every way, they care for the residents who were there, and they sent me home with a little gift.
---
Caring101729950
February 10, 2015
I visited this facility
It was one of the listed facilities given to me by the contact from Caring.com. During my visit, the staff that I ran into was very friendly. They were very accommodating to my tour. I had a resident invite me to her room, and she was very friendly. One of the things that was a little different there is they have two floors. They have a dementia floor that is the basement floor. Each of the floors has their individual dining room, so the dining rooms there are a little bit smaller. It is very well decorated, clean, and accommodating. They even have a section that you can reserve for family members to come there and get together. The only thing is Morningside is further away from me, and it is right in the middle of downtown Raleigh. It didn't seem to be quite as separated from the traffic as the other facility I liked. I looked at a double suite which would have housed two residents. It has a larger room which is open to a sink and cabinetry. There you could have coffee and snacks and a place for a small refrigerator. The second room has a door to it, so it was a bedroom to the side. On the hand, the single studio suite seemed to be a little bit smaller. It may be because the facility is older, but I'm not sure. One of the things that stuck out was the fact that the staff -- specially the managing staff -- has been there for quite some time. I understand that there can be a lot of turnover in this industry.
---
Caring97559750
December 05, 2014
I visited this facility
Morningside of Raleigh is excellent. The staff was very caring, it smelled good, everybody seemed to be taken very good care of, and they had a lot of excursions, so they kept the people really involved. The rooms looked clean, and they had a nice size refrigerator with little freezer sections inside the room. It just looked clean and smelled good. When we were there, a bunch of the residents were out; I think they were going to a museum, so it was nice that they take them out to do stuff. A lot of the more mobile residents were out on excursions, but they had a list of other activities for the ones who were there. We saw where their lunch room was, and I liked that they were very flexible so that some of the people who got up later could have their breakfast later. The food seemed adequate and fine. Their grounds seemed very nice. I liked that the memory care area had space for them to walk outside and to spend time outside. For that niche with the memory care, I would rate them a five. If my father needed memory care, this is where we'll send him.
---
Shelley7
August 11, 2014
I visited this facility
We were very impressed with Morningside of Raleigh. They were a smaller community and if we do decide to put my mother in another facility, that would be our choice. It was a very quiet facility. Everybody was very nice and helpful; they answered all the questions that we asked. It was very clean.
---
Caring76438350
December 28, 2013
I visited this facility
I thought that Morningside was also kind of homey and personal which I liked. I liked that the facility was smaller. However, they had no kitchen at all but they said you could have a mini-fridge in there. It was an assisted living which was what we were more ultimately thinking for my mom.
---
caringchildren
July 30, 2013
I am a friend or relative of resident
My Dad lived in the memory care unit for almost 6 months and received wonderful attentive care. We had moved my Dad from a place that was more expensive, but he received much better care at Morningside. Staff went out of the way to take care of him and to see that his needs were met. They really seemed to care. One night when my Dad was near the end of his life, my brother came back over about 11:00pm and found a staff member reading to my Dad. She knew we had gone home to take care of our children and didn't want Dad by himself in case he passed away. She had gone home and put her kids to bed and came back and was reading to him. This was the level of commitment that the staff had. I truly miss many of the staff and residents after spending so much time there.
---
Very Disappointed with Morningside
June 27, 2013
I am a friend or relative of resident
My family had a very bad experience with Morningside. Our Mom was in the Memory Care section for a few weeks. Other residents are allowed to wander around alone and they often walked into Mom's room without knocking or anything and they would just stand there, not even speaking. It was creepy. Mom also had several things stolen from her room (mostly clothes and costume jewelry- we didn't keep anything too valuable in her room) but still, stealing is stealing. When we asked about the items taken we were told that they would probably show up and we then learned that we could get a lock on the door, which we did. This helped with residents going in and out as they pleased. Luckily we found most of her things in other residents rooms. The biggest problem we head was that the required 30 minute checks were not performed. All they did was walk down the hall, open the doors to residents rooms, and check to see if there was a body in the bed. They didn't even check to see if the resident was breathing! On a hunch, I decided to drop by one evening around 11 PM and found Mom in bed with no clothes on, moaning, and shivering from a fever. That was the last straw and we hired overnight sitters from an agency to stay with Mom until we could move her somewhere else. We also didn't like the idea of men getting our Mom ready for bed (and neither did she). Morningside is very understaffed and sometimes just had one person in the living room with 15-20 residents. I saw two residents fall just during the brief time I was visiting. The worst part was that no one even seemed phased by it or helped. There were a couple of really nice, helpful people working there but the nurse was not one of them! She was very defensive whenever we tried to talk to her about our concerns. Overall, a very bad experience and glad we were able to move Mom quickly to a safer place.
Provider Response
We are sorry to hear that a family member was not pleased with our services. We appreciate feedback from family members of residents as we endeavor to exceed the expectations of all we serve. Family member concerns brought to the attention of management are documented, and addressed immediately. Through a variety of means, we convey an open door policy and hope that families will bring concerns to the attention of the Executive Director. In the case where concerns are not voiced to management, it is difficult to correct them or the impression of them. We continue to utilize our own internal quality improvement checks, monitors and oversight throughout the day and night 7 days per week. Areas of concern are then addressed and corrected immediately. Further, our Manager on Duty program provides families and residents 7 day per week access to an on-site manager to address any concerns as they arise and before. Our staffing levels are mandated by our regulations and we are frequently surveyed (deficiency –free state surveys for several years) to assure compliance with those staffing levels. We often staff well above the mandated minimums and do not fall below them. As in any healthcare setting professional male staff are employed and do provide personal care to residents. If requested, "female only" caregivers are assigned without question. When residents with dementia are given the freedom to walk about independently, they do sometimes visit other resident's rooms. They may unknowingly pick up items that do not belong to them. This information is presented to families upon admission and is expected where Alzheimer's dementia is concerned. In most cases the missing item is found and returned to its rightful owner. Falls are unfortunately a frequent risk taken on by communities caring for persons with dementia. We take falls very seriously and have a comprehensive review and reduction plan in place to minimize that risk as much as possible. We are a restraint free community. Please visit us in person to experience our lovely community, professional staff and happy residents.
---
woolie
May 27, 2013
I am a friend or relative of resident
My mother is at Morningside. We have been very pleased with the staff. Food is good. As with any facility,sometimes ,there are odors. The residents are very nice for the most part.Our Mother seems satisfied.
---
Sandra25
May 22, 2013
I am a friend or relative of a resident
I have been very impressed with the caring and supportive staff at Morningside. Everyone one from the director, doctor, and med techs to the shuttle driver and laundry workers have gone out of their way to be helpful.
---
capgroth
May 17, 2013
I am a friend or relative of resident
Morningside is a wonderful place. Staff from the Director on down are the most caring people you could ever want to meet. Completely responsive to questions and concerns. We knew this was the place for Mom the minute we walked in the door and we have never been disappointed. Some places we visited were "facilities." Morningside is a "home" and it has been Mom's happy home for 5+ years.
---
Tomsmom
May 14, 2013
I am a friend or relative of a resident
I placed my mother here almost a year ago and its been the best decision I have ever made. The staff are friendly and always helpful I can not say enough good things about them. It was hard to get my mother to leave her home but once she came to Morningside she adapted very easily. I love to visit her there everyone is always so happy to see me and if I need to speak to someone they are very quick to respond. I would recommend Morningside to anyone who is seeking a place for their Mom or Dad.
---
markflk2
August 21, 2012
I am a friend or relative of a resident
I believe Morningside of Raleigh has the best in terms of activities and a quality staff. The staff looks out for the best interest of the residents and tries to provide a great living experience for the residents. The activities that residents can participate in include bingo, gospel singing and sports. The staff was very knowledgeable about residents care in terms of their health and well-being. They provide a variety of meal choices and made sure that the food was of quality and high standard. Each resident's room has a tv and a bed. The rooms are fitted with a mirror and bathroom. Some rooms have a patio connected to the living area. There is a break room in this assisted living facility and it is mostly used for meeting friends and family. Also the staff sometimes comes in for a work break or to talk to the residents and their families. I feel in my opinion that Morningside is the best place around my area for the elderly to live out their remaining years in happiness and comfort.
---
ncheels12
June 30, 2012
I visited this facility
Staff was very friendly, and the facilities were modern and up-to-date. Everyone I interacted with was professional, informative, and quick to answer any questions I might have had. All of the residents I spoke with were pleased with the facility and its facilities, including the various food options. I'm not sure about pricing options (didn't specifically ask), but based off my experiences, I would feel very comfortable sending a family member here once it becomes necessary. Also, the location couldn't be any better. Being this close to downtown Raleigh makes it convenient to visit, and the Beltline is fairly close. Additionally, I know several students from N.C. State University who come to the retirement home to volunteer with the residents (help with meals, play bingo, etc). I think this sort of interaction is great for both the students and the residents. I happened to be there one evening when a bingo game was going on, and the students were sitting and chatting with the residents who were sharing their life experiences. Overall, a great place!
---
Suthrnlv
March 17, 2012
I am a friend or relative of resident
I have a relative on the memory care floor. Our experience has been mixed as to the quality of service received for the amount of monthly fees which are charged. You are charged even for Kleenex, gloves (which are required per resident room), and disposable wash clothes. Sometimes staff will take the items from one room to another, therefore, you need to really watch the monthly bills for misc. items.
Residents are not checked & changed every 2 hours which is required by NC State law. This has been an issue for numerous residents. There is a 30 minute resident checklist which is used but not correctly. This is often completed hours after the fact.
Cleanliness for the residents does not appear to be something the management focuses on. They have all the residents in the common area touching items and then take them directly to their meals without cleaning their hands. Some residents eat with their hands and this is not sanitary at all.
Record keeping of resident activity, sleep times, bath times, restroom habits, fluid intakes, etc. is less than adequate.
This company appears to have a serious issue with staff turnover. Staff is repeatedly asked to work double shifts. In this type of stressful business, this wears on you after awhile. Staff has been seen dozing instead of watching the residents. Management continues stating they meet the state requirements for staffing but often the residents are left unattended in the common area. This results in unnecessary falls had the residents been properly supervised.
---
wpdsrhcpoa
September 03, 2011
Other
Not sure what religious service you are talking about daily at Morningside. You must have turned left into the church parking lot across the street when you came to visit. If some of the staff and even residents look like they are praying, they are sleeping.
If you are a visitor or even a relative it is hard to tell exactly what is going on at Morningside due to all the smoking mirrows. As for someone talking to you about it, resident or staff, forget it.
If you visit often, just watch. If you have a relative there, watch twice. If it does not feel right, it is not right. Society coined the word "denial" specifically for family and friends visiting love ones there. See wealth people can be treated just as bad as poor people.
Not all is bad though, the food is good, even if the silverware and dishes are sometimes dirty, the food is still good.
Provider Response
We appreciate feedback from family members and residents as we endeavor to exceed the expectations of all we serve. Morningside of Raleigh routinely surveys residents for input related to recreational and spiritual service preferences and makes every effort to honor those requests. Included on our monthly recreational calendar are a minimum of 6 worship and spiritual learning opportunities representing the denominational preferences of our residents. There are times when circumstances may develop that prevent our staff from providing the care and services we are accustomed to providing due to family mandates. In these cases, we continue to work diligently to resolve issues and assure comfort and safety of the resident. We regret this family member did not perceive his/her experience to be a good one. Our commitment is to quality improvement.
---
chrisdel1982
July 18, 2011
I am a friend or relative of resident
This is a very nice facility on the outside. Manicured lawns and beautiful buildings gives you the air as if walking into a fancy hotel. My Aunt lives here along with her husband. They are content. I have, however, witnessed a resident request to see a nurse and it took 45 minutes for the nurse to come and see her. When the nurse arrived she acted stand offish and she told the resident that she was a very busy person and that she couldn't always drop what she was doing just because this resident wanted some attention. On the upside, they offer superb religious activities. Clergy from all faiths can be seen going from resident to resident to just have a conversation with them and, if the resident requests, minister to them. There are religious services held every day.
Provider Response
We appreciate the positive feedback regarding our lovely grounds and regarding the wide variety of worship and spiritual opportunities provided to our residents. While we do employ a registered nurse and a licensed practical nurse in leadership roles, the majority of direct resident care in Assisted Living is provided by non-licensed resident assistants and medication aids. The writer's reference to the "nurse" may not in fact be a misnomer. Wait times of 45 minutes are not our standard. Our goal is to always provide the very best care and services to our residents. Recently we experienced necessary turnover in our Resident Services Director position. Our commitment to the highest customer and resident services standards and our focus on quality improvement are demonstrated in our action steps taken to respond swiftly to customer feedback.
---
From Morningside of Raleigh
---
Morningside of Raleigh offers compassionate senior care in Raleigh, NC. We strive to create a home-like atmosphere where you and your loved ones can feel secure. Our warm, well-trained staff works closely with our residents to provide the utmost care and comfort. As part of the Five Star corporation, you can be sure that everyone at Morningside of Raleigh shares the Five Star Values, and is committed to a high level of caring in all that they do. Please schedule a visit to see why we are the first choice in senior care in Raleigh, NC.
Features of Morningside of Raleigh
---
Costs
Minimum Rate

$4050/month

Minimum Memory Cost

$4865/month

Rent Plus Care Fees
Entry Fee
Fee Structure Extra

We Offer A Month To Month Rental
Room and housing options
1-bedroom apartments
Companion Suites

We Offer Companion Suites

Studio Apartments
Dining options
In Room Kitchenette
Dining Room Shared Meals
Features
Beauty Barber Shop
Resident Transportation
Party Space
Tv Room
Garden And Patio
Resident Parking
Cleaning services
Laundry For Linens
Housekeeping
Laundry For Clothing
Technology and entertainment
Wifi
Technology Extra

Emergency Call System
Health services
Hospice Care
Medication Management
Physical Therapy
Activities
Offsite Activities
Music
Games
Stories
Religious Services
Lectures Discussions
Book Clubs
Wii Sports
Tai Chi
Fitness Room
Yoga
Gardening
Cooking
Arts And Crafts
Financial guidance
Va Benefits Consultation
Financing Advice
Guest services
Guest Parking
Guests At Mealtime
General
Staff Patient Ratio

Al Day 1 13; Alz Day 1 6

Respite Care
Minimum Age

Al 65+ Alz No Min (Exceptions Apply)

Pets

Small Pets Allowed
Licenses
Licenses

4 Star

State Licenses

HAL-092-088
Location of Morningside of Raleigh
---
Request Info
Get full access to reviews, cost information, and amenities