Paradise Village
2700 East 4th Street, National City, CA, 91950
Talk to a Family Advisor: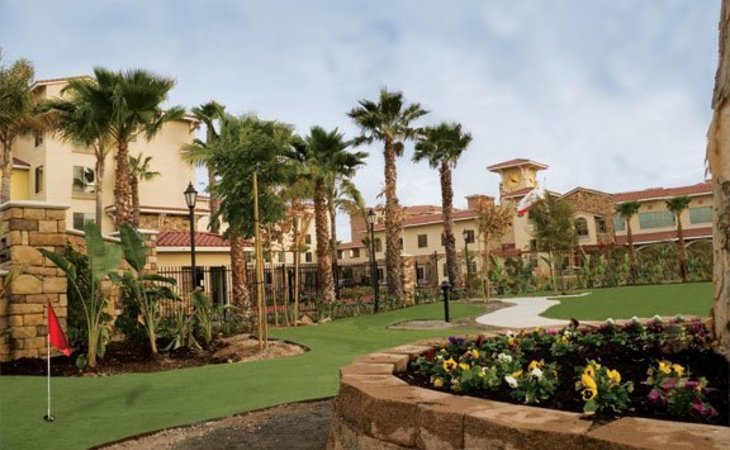 Reviews of Paradise Village
---
Eileen318822
April 13, 2017
I visited this facility
Paradise Village gave us a lovely dinner. It was very well done. However, this was too large for me. It was overpowering. They showed me an apartment, which I didn't like. It was too bad because I met very nice people there. They had thousands, it seemed, of programs, but what I wanted was not there. They did have a swimming pool, but I didn't like their pool either because it was inside.
Paradise Village was very depressing. They used dark colors, which was very unappealing to me. I don't like that. The reception area was overbearing. It was the feeling I got when I walked in there, it was this massive feeling and dark colors. There was no appeal to me at all. It wasn't the people's fault though because they were very friendly, and they gave me a beautiful presentation.
Provider Response
Hi Eileen, I'm glad to hear you had a lovely dinning experienced and enjoyed the friendliness of our staff. Unfortunately our Resort-Style community may not be a perfect fit for everyone, however we do appreciate your feedback and I hope you find what you're looking for.
---
SS630355
December 05, 2016
I am a friend or relative of a current/past resident
Paradise Village has tons of amenities like a library, an indoor pool, a gym, a snack room, and a couple of open community rooms. There is an activities director who is very much engaged. There is also a bus that takes the residents to shopping centers, supermarkets, and outings. It has a putting green, too. There were 2 restaurants -- one in the independent living side and one in the assisted living side.
---
Peter161821
August 02, 2016
I visited this facility
Paradise Village is our top place. You don't have to buy into it, and you can pay rent. They had a nice swimming pool, nice gym, and plenty of places to walk around. The lady who took us around was very nice. The dining area looked nice. It had a little coffee area with the main dining area adjacent to it.
---
JB328722
July 20, 2016
I visited this facility
Paradise Village was the best place that we saw. They had nice rooms, and everything was top notch. If we had the money, Dad would have went there. They had an indoor pool, gym, theater, library, and a game room.
---
Louis653142
July 07, 2016
I visited this facility
I visited Paradise Village. They have a chef, and the meals are excellent. They also have a pool and offer recreational activities in their pool. They also have an outside putting range. They seem to be very happy there. They have a gym, and offer music and dance. I saw people dancing there.
Provider Response
Thank you for your kind words, Louis! We'd love for you to come back and dance with us soon!
---
Elizabeth572577
June 28, 2016
I am/was a resident of this facility
I am in Paradise Village now. It's very spacious and comfortable. There's room for all my furniture and collections. I moved here partially because of that. They give us a budget to eat and the rest we provide ourselves. The food is OK and tastes like restaurant food. They have an indoor, saltwater pool that's good for arthritic exercises and a gym as well. I was in assisted living, but I am now in independent living.
---
Richard367188
June 17, 2016
I visited this facility
Paradise Village was a great, well-established community. They just didn't have anything available in the family suites. The staff was friendly and had a lot going on, so sometimes it's tough for them to get back to you. I've had delays in getting communications back when I was trying to talk to them. But besides that, they were very good.
---
Kim123497450
May 11, 2016
I am a friend or relative of a resident
Paradise Village is the one we chose. It was great and we loved it. Everything was really good. It's a great facility: the activities, the atmosphere, and the friendliness of the people. There are too many activities to list, but most of the activities are nice. They have a movie theatre, a swimming pool, and a workout facility. The food is great
---
BillSICDJ
May 11, 2016
I am/was a resident of this facility
The food is good at Paradise Village, and the people are nice. They have some water exercises, which I need badly, and aerobics exercises, too. I am taking advantage of all their activities. I have a spacious, quiet one-bedroom apartment with nice, big windows, good lighting, and high ceilings. The older staff is good but the younger staff is pretty inexperienced.
---
Visitor124811250
February 29, 2016
I visited this facility
Paradise Village seemed very nice, it had nice apartments, and nice residents. It's one of the ones they will consider. There seemed to be a lot of choices about what to do, where to go, and things you could learn.
---
Beth118866450
February 01, 2016
I visited this facility
Paradise Village is large and beautiful. It had everything you could ask for, but it was a little too big. If given a chance, I would recommend this facility because it is very nice. They have exercise rooms, games, outings, and programs. They also have a movie theater. They have an in-house doctor. The staff is wonderful. The rooms were nice.
---
Harry26
December 29, 2015
I visited this facility
Paradise Village was gorgeous, very big, and catered to people very well. They didn't have any vacancies and were still building their memory care facility. I needed to see what kind of memory care was going to be provided; however, they might not have the building completed and operational by the time my mother needs it. It was just too much of a gamble. I did love it, though. The facility was clean. The employees were delightful. I know somebody who works there. It was wonderful. They had multiple dining areas and a four-page ala carte menu if you don't like what they're serving on any given day. The chef came out to talk to me and assured me he would fix whatever my mother wanted to eat even if it wasn't on the menu.
---
Happy Visitor7
December 28, 2015
I visited this facility
We went to Paradise Village. It was beautiful inside. The meals were great. We stayed overnight, and there just happened to be a party celebrating something in a room, so we met many fantastic people. They were so nice to us. However, you couldn't have wine in the dining room. We just like wine with dinner, so, for us, I think that would be a big negative about that place. Also, we didn't like National City. It didn't seem like there were any shopping centers or nice restaurants around. The facility was beautiful, and the people were very nice. For our needs, I would give it one star, but for someone who doesn't care about wine with dinner and not going out, it would be nice enough for them. Also, it only had an indoor pool; it didn't have an outdoor swimming pool.
---
Rhonda23
June 25, 2015
I am a friend or relative of a resident
Paradise Village is beautiful. It has a ton of amenities, and it is reasonably priced. They have a gym, a salon, and a heated indoor swimming pool. They have a church service which is a Catholic Mass on Sundays. It has a theater and a restaurant in addition to the resident's dining area.
---
Sharon107683750
June 01, 2015
I visited this facility
I just thought Paradise Village was wonderful. It is extremely well-appointed and had wonderful facilities. I talked to a lot of the residents, and they were whole-heartedly in praise of many facets to the place. The rooms look good, and it was a good value. Another thing that I have since found out is that a number of people that we know have been residents there and give it a really high mark. The person that was assigned to my sister and I think to another couple of people, and they were very informative and extremely pleasant. I was very pleased with it, and the residents seemed very happy.
---
Caring107835050
May 28, 2015
I visited this facility
Paradise Village was beautiful, and I liked it a lot. The staff were very accommodating. If it worked for me and I needed it, I would consider it. It was set up really nice. It's got an indoor pool and a restaurant. We did have lunch there, and it was very good, but the location was really the downside of it.
---
Tim30
May 28, 2015
I am a friend or relative of a resident
My in-laws are at Paradise Village, and I like that place a lot. The people were friendly, and it seemed very clean. They do have activities for their residents, and the food was good. My in-laws also like it fairly well.
---
Caring106289850
February 18, 2015
I visited this facility
The staff of Paradise Village Retirement Community was very nice and very helpful, and they gave us a tour. The rooms were big and very clean. We liked it. We did not eat there, but the dining area was big and fine. I did not see any recreational activities, but I think their residents were happy.
---
Caring92930050
February 10, 2015
I visited this facility
I visited Paradise Village, and I thought they were a little expensive. But they had rooms that were nice although their studio didn't have a balcony. If you went to a studio, you have only a certain amount of food credit a month. That is all they give you. They have plenty of activities though. The community is very good, and I liked it. It will be very good for a person that is a little bit wealthier than I am. It is a very good community, but I can't afford it.
---
Kandi2
January 19, 2015
I visited this facility
I really liked Paradise Village, and if my father-in-law gets worse, that's the place that I would chose for him. It was all inclusive; they had even a bank there. They had a van that would take them to the grocery stores and activities, so it was a gorgeous place.
The rooms were of good size and clean. The price was reasonable. The grounds were very nice; everything was very tidy and well-groomed.
The staff was very professional and helpful. I met these guys, and they were very accommodating. There was a place where they were playing poker or blackjack which I thought was very entertaining. They had a gym and a swimming pool, and there were people working out. It was really beautiful.
---
Peggy43
November 22, 2014
I visited this facility
Paradise Village is probably the nicest-looking place we had seen. It's large, it's new, and it looks more upscale to me. They have a huge swimming pool, and the apartments are lovely, lovely, lovely. They're spacious enough, just beautiful. A young gentleman showed us around. The staff has been very friendly and very helpful.
---
Stan8
November 14, 2014
I am a friend or relative of a resident
My mom has been in assisted living now for a month and a half. It's called Paradise Village. So far, my mom is very happy there. People working there are good. The facility is about a block from the hospital if needed. They have everything that is needed within walking distance. Food there is great so far. I have no problems with it. Their rooms are a little bit small though.
---
Caring85899350
August 30, 2014
I am a friend or relative of a resident
I really like my apartment here at Paradise Village. It's very clean. The staff are very nice and patient. They were very good. The dining area was really fine and the food was good. I am satisfied and happily living here.
---
Caring86921250
June 26, 2014
I visited this facility
Paradise Village was a very nice facility. It was very good. My wife's sister lives there. Everything was excellent. However, they didn't have a memory unit.
---
George49
February 13, 2014
I visited this facility
I wasn't happy with my visit at Paradise and it didn't impress me. It was too big and exuberant. I didn't care for the place at all. They have a lot of activities for the residents. It was expensive and the staff that took me on the tour was more like a salesman. It didn't have a homey feel for me.
---
R.S
August 23, 2013
I visited this facility
My husband and I completely enjoyed our recent stay at Paradise Village. Our room was beautifully decorated; in fact, the entire community exceeded my expectations. From the rooms, lobby areas, grounds, Wellness Center, theater, and restaurants went above and beyond any retirement facility I have ever seen. Everything was beautiful and elegant. The residents and their guests appeared happy and active and the central Plaza building had a wonderful liveliness to it. The staff were friendly and helpful - especially the dining team, who served us several fantastic meals. I would heartily recommend taking a look at the community.
---
Martin4
July 11, 2013
I am/was a resident of this facility
Paradise Village is top line and it's brand new. Everything is in good shape and most of the facilities are very good. This place was also close to my son that's why I chose it.
---
commercesd
June 09, 2011
Visited this facility
We visited the Paradise Village assisted living facility in National City, near San Diego, CA as a place for our grandmother to live. As she has many friends in the region and has always liked the South Bay area, it seemed logical to visit the facility.
The building resembles a resort community, with all the style and comfort of a secure gated community, but with a kind of exotic décor.
Our grandmother has embraced vegetarianism, so we were thrilled to find so many menu options that catered to this lifestyle. She loves to swim, and the pool and spa were as nice as any we've seen at any hotel. The hot tub therapy includes a salon and the fitness classes could be tailored to fit her needs, which we really liked. While she was ambulatory, she was a regular member of the local YWCA.
The wellness center would provide a lot of convenience for her. She really liked the theater and pointed out that many of her guests would enjoy the putting green.
The Plaza area included a wonderful open atrium with restaurant dining and an outdoor patio. There is also a coffee shop and a library, which we know our grandmother will really enjoy, as she is an avid reader. Recreational activities were plentiful with tennis courts, walking paths, billiards, an art studio and many other cultural and social events.
The chapel features a variety of religious activities and covers all faiths. This facility has everything that a senior needs in a retirement facility and more. Very well designed and thought out, with wonderful, caring staff.
---
---
WELCOME TO PARADISE!
Offering retirement, assisted living and memory care, in a resort-style, gated community with a Mediterranean flair. One bedroom, one bedroom with den, two bedroom and penthouse options. Studio and friendship suites available in Assisted Living. Upscale & casual dining restaurant options with indoor or patio seating with flexible options. Club Paradise wellness center including state of the art fitness center, heated 75-foot pool, jacuzzi, strength training, locker/shower rooms, and classroom. Salon/spa services, 212 seat auditorium/theater, medical/health clinic on-site. Over 200 scheduled activities each month and 22 resident run clubs. Outdoor landscaped putting course, walking paths and resident garden areas. Hospital and medical centers adjacent to our community and more! Month to month rentals. No buy-in fees.
12-Acre Gated Community in South Bay
Heated 75-Foot Indoor Pool & Jacuzzi
State of the Art Fitness Center with trainer
18 Hole Putting Course & Tennis Courts
Walking Paths & Resident Gardens
Art Studio & Hobby/Wood shop
Community Chapel
Coffee Shop/Deli
On-site Credit Union & Gift Shop
Billiards Lounge
Offering Memory Care (Parkview at Paradise Village) with 66 comfortable living arrangements; 56 Friendship Suites with shared bath and 10 suites with private bath.
Features of Paradise Village
---
Costs
Minimum rate:

$3990/month

Minimum Memory Cost

$4500/month

Rent Plus Care Fees
Entry Fee
Room and housing options
1-bedroom apartments
2-bedroom apartments
Companion Suites

We Do Not Offer Companion Suites

Studio Apartments
Housing Extra

Shared Living
Dining options
In Room Kitchenette
In Room Kitchens
Dining Room Shared Meals
Room Service For Meals
Features
Beauty Barber Shop
Resident Transportation
Coffee Shop
Party Space
Golf
General Store
Hiking Trails
Tv Room
Garden And Patio
Resident Parking
Security Gate
Pool
Tennis Courts
Spa
Cleaning services
Laundry For Linens
Private Cleaning Services
Housekeeping
Laundry For Clothing
Technology and entertainment
Activities
Offsite Activities
Music
Games
Stories
Religious Services
Lectures Discussions
Book Clubs
Wii Sports
Fitness Room
Yoga
Gardening
Cooking
Arts And Crafts
Guest services
Guest Parking
Guests At Mealtime
Overnight Guests
General
Minimum Age

Minimum Age: 55+

Pets

Small Pets Allowed
Licenses
Licenses

RCFE 274602869

State Licenses

374602869
Location of Paradise Village
---
Top Cities for Assisted Living
---
Get Cost Information
Get full access to reviews, cost information, and amenities