Riviera
1825 Ridgewood Avenue, Holly Hill, FL, 32117
Talk to a Family Advisor: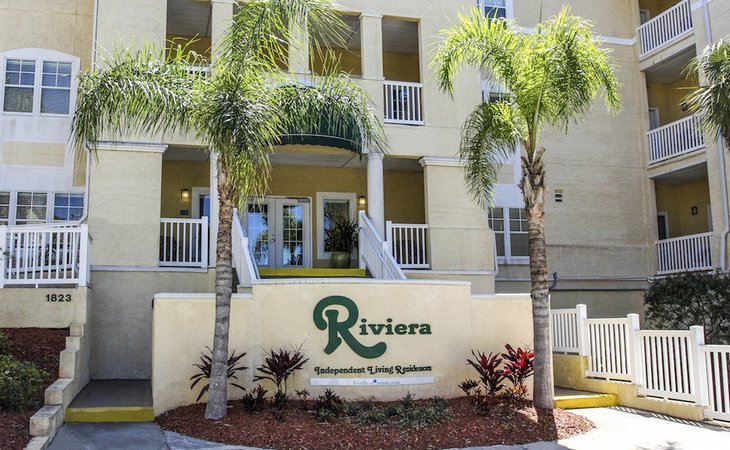 Top nearby Assisted Living Facilities
Reviews of Riviera
---
KSwann
March 07, 2017
I am a friend or relative of a current/past resident
My uncle lived in Riviera's assisted living for seven years. I visited many times along with my parents. Riviera is a warm, inviting place that provides good care. The staff is very attentive to those who live there. Any concern I brought to their attention (and it was few) was taken care of immediately. The food is good, and the kitchen is accommodating to individual concerns. My uncle enjoyed living there until he passed away recently. As I was removing his personal belongings, many of the staff visited his apartment to share their sadness and I could see the caring of the team. Caroline, Director of Nursing; Pamela, Executive Director and Christine who heads sales were all great to work with. I would recommend this place to anyone looking for a warm, home-like atmosphere with all the amenities.
---
Alice542888
November 25, 2016
I am/was a resident of this facility
Riviera is fine, and the staff is fine. I have a studio, and I believe they offer 2 meals a day. It's nice; you just walk down the hall, and you know where you're going.
---
Susan230043
October 24, 2016
I visited this facility
We visited the Riviera, and this was actually the very first one I visited back in July. We didn't go to the independent living part of it. I just went to the assisted living part. The people there seemed to be genuinely happy, and so it is hard to say. I am not the one who needs the assisted living -- it would be for my mother -- but it just seemed a little old. I grew up in that town and that used to be an old hotel many years ago, and I was under the impression that they have restored the whole place. I'm sure they have done some things, but I would not want to live there if it were me and if I were in need of such facility. The staff was great. There was a girl -- Jennifer -- and she was lovely. She is the one who does the tours and gets people to sign up and all that, and she was lovely, very accommodating, very nice, and all of that. I just think the property was a little outdated. For someone in desperate need of a place, I am sure it would be fine, but my mother is not in a desperate need.
---
Caring114575550
July 28, 2015
I visited this facility
The staff was very gracious. Riviera reminded me of a hotel -- they had that kind of an atmosphere. The dining room was very nice, but I like something a little less formal, and this was more formal. They had entertainment and movies. It's on the main highway, which I don't care for.
---
Caring99817550
March 23, 2015
I am a friend or relative of a resident
Well, mom and dad have only been in Riviera just about a month, but everybody seems friendly. They certainly care about the patients. They're quick to respond which is the most important thing. They've got a calendar posted. They have different activities everyday. They have bingo, cards, scrabble, and play games on the television. They got movies, and they have events at least twice a week where they can leave. They plan to go some place for lunch and go to some other special place. The care has been excellent.
---
Diana22
November 27, 2013
I visited this facility
What I don't like about Riviera is that there's just too much walking. The room that is available takes so much walking and my friend doesn't walk very well. The rooms were okay, nothing fancy, but they were fine. They were clean and it had enough space. Their appliances were a little old, but that's okay. The staff that gave us a tour did a great job. The lady took her time to explain everything and showed us everything. They did well with all that. They offered us free lunch although we did not eat, but the food was looks good. We talk some of the residents there and they seemed pretty happy.
---
dp ormond beach
November 26, 2013
I visited this facility
I took a tour looking for my mom and all I can say is the Riviera is definetly a class act. I ate lunch and it was delicious from soup to nuts. Everyone was very accommadating I could not ask for more. I will be moving my mother in after the first of the year and I am sure she will feel like she is on the best cruise ship ever.
---
Art5
June 25, 2013
I am a friend or relative of a resident
My dad is in the Riviera and every aspect of it is just super. They have an activity manager that is really great. They have tons of activities, they take residents out to Walmart every Friday morning, they go to lunch at a different restaurant every Wednesday, and they take them out to dinner or to different places. They took them on a dolphin cruise a couple of weeks ago. They play Wi golf and Wi bowling with them every afternoon, and they have bingo and all kinds of stuff. The food is awesome. They have a full menu everyday and they don't just choose from one or two different items. If they don't like what's on the menu, they can get a hot-dog or a hamburger or whatever they want. The staff is awesome. Everything that they do, they do extremely well.
---
Mikelle
May 31, 2013
I am a friend or relative of a resident
My mother's been to Riviera. It was a really beautiful place. She was there for a couple of years, but she started wandering, so they couldn't maintain her there. That's not a secure enough place for somebody with dementia or it's not a window or house secure type of place. The staff was sweet. They were nice and they were nice to her. From an amenities point of view, it's almost prettier than any place you could be. You could walk a block and a half from the Riviera down to the river. It's very beautiful, elegant, old, and full of history kind of building, but it wasn't the place for somebody who wanders because there is no security there.
---
Caring3866
May 22, 2013
I visited this facility
We visited the Riviera because it was in our price range and it looked nice from the outside. It actually was pretty nice and clean. The rooms were good and functional, not fancy, and seemed to be well-kept. The staff was very friendly. They fed us and the food was good. But, it smelled a little funny, like a nursing home. It definitely is a place to consider.
---
Stellatoni
January 15, 2013
I visited this facility
Talked with some of the residents. They seem to totally enjoy living there. They highly recommend the place.
---
---
Riviera offers compassionate senior care in Holly Hill, FL. We strive to create a home-like atmosphere where you and your loved ones can feel secure. Our warm, well-trained staff works closely with our residents to provide the utmost care and comfort. As part of the Five Star corporation, you can be sure that everyone at Riviera shares the Five Star Values, and is committed to a high level of caring in all that they do. Please schedule a visit to see why we are the first choice in senior care in Holly Hill, FL.
Request Info
Get full access to reviews, cost information, and amenities