Talk to a Family Advisor: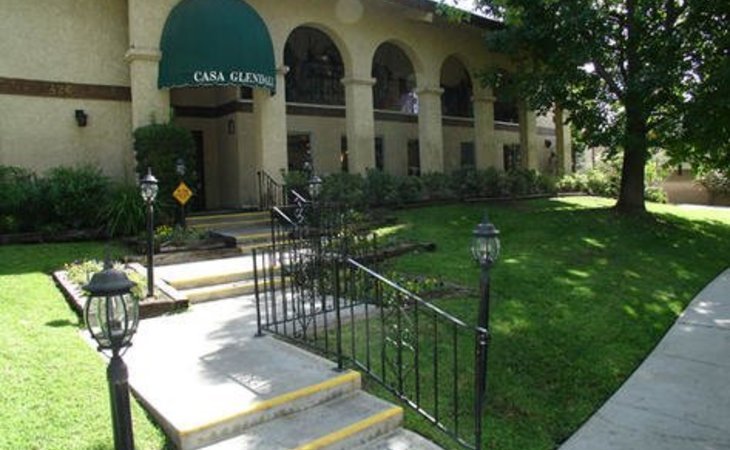 Top nearby Assisted Living Facilities
Reviews of Parkview of Glendale
---
MuqtadirXZOJX
May 11, 2016
I am a friend or relative of a resident
Mom is at Brookdale Glendale and so far everything is great. My mom is loving it and it's a great situation for her. She has a studio size room and a shared bathroom. They have two different dining rooms for the residents to it. They have an exercise room as well as a music room. They have different celebrations or events going on as well. The food is good for her and she is a low sugar diet.
---
HA1
April 07, 2016
I am a friend or relative of a resident
Brookdale was a very comfortable fit for my mom because the staff was very engaging and the residents seemed to be very friendly. The dining room is not fancy, but it's very clean and well run. The food is very fresh and well prepared. They have exercises, recreation, and art programs. It seems more intimate there. The staff is terrific and very good about engaging the residents who live there and making my mom feel comfortable and oriented.
---
Tricia B
February 10, 2016
I visited this facility
My visit to Brookdale Glendale, formerly Emeritus at Casa Glendale, was very positive. It was very well-kept, and the staff looked happy to be working there. If I would have to choose, that would probably be the one I would go with. However, at the time, they didn't have any shared rooms available; so I just told them if I could be on a wait list. I met with the director, and looked at the rooms. One of the activities I witnessed was an exercise program that the residents were doing. They also had an arts and crafts room. It was very spacious, and nice. I didn't see anything that I disliked about it. It was in a nice quiet neighborhood.
---
Happy resident11
January 25, 2016
I am/was a resident of this facility
Brookdale in some respect is well-staffed and in some respect not. The food is adequate and for the most part appropriate. They give selection of food which is adequate too. They have a lot of activities, and Glendale is a very nice neighborhood.
---
Muqtadir
October 29, 2015
I am a friend or relative of a resident
My mom is in Brookdale. It is clean, quiet, and a restful place to be for seniors. The nurses and help are great. The care is great so far, and my mom is actually getting better than she was before. I think it's a nice place and she's enjoying it.
---
John113526250
October 28, 2015
I visited this facility
Brookdale Glendale (formerly Emeritus at Casa Glendale) was a nice place, and the staff was very helpful. A lady told me about VA, which was really helpful. She directed me to someone that's really knowledgeable. They should just offer more for the dementia patients. The rooms were very nice, not really gigantic but sufficient. The place was clean. There were no negatives there. They offered outings and group activities.
---
Sandra111574050
August 22, 2015
I am/was a resident of this facility
I'm at Brookdale Glendale for two months now. The staff is fabulous. They have a great staff here. They're mostly Filipino, but they're very, very good. The rooms look like a college dorm room; that's what it reminded me when I walked in. I would recommend this facility to anybody. There are more activities than I can name. They're same old, same old, but we go places too.
---
Mikela
August 09, 2015
I visited this facility
We visited Brookdale Glendale. The place was really nice. The only negative was it was too far away from my brother's house. I did not really like their room so much because it was more like just a bedroom. It did not have a little kitchenette area. It was not what I was hoping for. The activities were good. The dining room was nice. It looked like a restaurant. I really liked the lady who gave us the tour.
---
Andranik
June 29, 2015
I visited this facility
Brookdale Glendale was not bad, but it was expensive. They were nice people, but the rooms were small, and the price was high. It was clean.
---
Caring108876550
June 26, 2015
I am a friend or relative of a resident
My dad is in Brookdale Glendale. For a large studio, it is $2,700, and at that time, that was what we could afford, so that was the major driver of our decision. The attitude of the staff and the service is great. Everybody is very kind, upbeat, and outgoing, and they seem genuinely concerned about all of their residents.
---
Max7
February 26, 2015
I am a friend or relative of a resident
My father has been in Brookdale Glendale for about two weeks now, and so far it has been fine. It is more intimate and a little homier. The staff are fantastic. Everybody is very helpful.
---
Caring94712550
September 23, 2014
I am a friend or relative of a resident
We chose Emeritus Casa Glendale because it was just 200 yards away from her own apartment and it was a very easy move for her. They have good reviews in the area and the staff were great. They allow cats in the community. The rooms were a little small, but they are very nice. They have all day long activities although I don't know the specifics of that.
---
Caring90629650
August 05, 2014
I visited this facility
Everybody at the Emeritus at Casa Glendale was very friendly. The rooms were very neat and very nice. The residents looked happy. The dining area was very clean. I thought it was very clean, happy, and peaceful.
---
Caring010530
June 26, 2014
I am/was a resident of this facility
I moved into Casa Glendale on March 22nd. This was the only place in Glendale that I could afford. I have nothing to compare it to, but it's a nice place. Most of the residents are friendly and pleasant. We have a lot of activities, too. The first room I had was very small. I just moved into a larger room. I share a bath with another lady. The bath is in between my room and hers. One lady I know has her own private bath, but it costs more. Once a week, they clean your room and do your laundry. You have all your meals in the dining room. The food is OK, almost mediocre. At this point, it's always frozen and the same things. Never mind what it says on the menu, you get the same soggy little vegetable. The food is rarely ever hot; if it's not, its warm. But, they hired a new chef, and I like the things that he shares. Also, Emeritus has been bought by Brookdale. If they take over, there will be improvement on the food. I'm not really picky when it comes to cleaning, but the cleaning crew could be a little bit better. Basically, the girl who cleans my room likes to vacuum the rug and change the sheets on the bed, but never comes back for the bathroom (she says she will). However, when I came to my new room and her manager was there, she did a beautiful job. The manager said she's really good, but I can't say anything because he has already made up his mind about her. But she's very nice and pleasant.
---
Christel
June 26, 2014
I visited this facility
Emeritus was very nice, but because my mother-in-law needs help with bathing, the charge would have been $600 more than what I'm paying now. Also, I didn't like the many stories and the elevator. I need an all-one-level facility so that there is very little confusion for old people. At the time I was there, the room that they showed us didn't smell good, but they were in the process of cleaning it.
---
Caring5965
May 10, 2014
I visited this facility
Emeritus at Casa Glendale was really nice. It was clean and big. It had a lot of activities. It was a beautiful place. The staff was very good. They were very helpful and very informative. They answered a lot of my questions. Overall, I was very impressed. It was a very nice place.
---
Caring83535150
April 30, 2014
I visited this facility
I saw Emeritus, and I liked that one a lot. The staff was fine. They were very nice, accommodating, and I particularly liked that they knew their patients' names pretty well. The rooms looked clean, and they had a variety of options. They had a Jack and Jill type with a bathroom in between, and they had some private suites too. I didn't have lunch there, though they invited me to. They showed me the dining room and the kitchen, and they were fine. I met the activities' director. She was going around, and they were dealing with holiday decorations. They had a nice list and calendar of all their activities. They were very organized.
---
linda6051
January 30, 2014
I visited this facility
Emeritus at Casa Glendale was okay. That was going to be my second choice, but they had just a room and the bathroom was down the hallway. I didn't like that. It seemed like one giant home. But, it was a smaller community. I toured with one lady and she seemed very nice and caring. I just didn't like the rooms enough for my mom to stay there.
---
Denise15
December 30, 2013
I am a friend or relative of a resident
My grandmother picked Emeritus at Casa Glendale because it felt more homey to her. She liked the size which was not too big and everybody in the staff knew you. It was not fancy but it was comfortable which was what she looked for. The staff were very nice and helpful, and everybody was friendly. She paid for the staff to give her medications. She loved the food and they had exercise class also. She was in a room that looked out to a patio outside on the first floor and a shared bathroom.
---
Marcia13
December 13, 2013
I visited this facility
Our favorite was Emeritus at Casa Glendale. We loved everything about it. They just didn't offer either mental care or nursing care. For assisted living, that was the perfect place. The atmosphere, the amenities and the fact that my mother could have her puppy and the fact that even if she reached the point where she were unable to care for the puppy itself, someone else there would be able to do that for her for a nominal fee. They offered to let her have a corner in their craft room for her to keep her card-making supplies. Everybody there were so vivid and so full of life, it was like they're still alive. We didn't find that to be quite the same anywhere else.
---
Caring74674750
November 26, 2013
I visited this facility
My daughter and I went to visit Casa Grande. The facility appeared to be new and clean. I think I had a good impression of this place. In terms of environment, it's pretty homey, but it's hard to get away from institutional also. So I would say they have a homey-institution feel to it. The people there were friendly and the place was not overly populated. Their residents did have some positive attitude. The rooms they have there seemed nice and clean. I also think they were just the right comfortable size. We also saw the dining area and the library area and everything seemed nice and clean. My problem with this facility is the cost. I don't have insurance that would cover that.
---
Debi4
October 26, 2013
I visited this facility
The manager at Emeritus at Casa Glendale was wonderful. They were very accommodating and very nice. I did go to a seminar regarding veteran benefits and everything was very professional. The place was clean and seemed like everybody was happy. I really like the friendliness of the staff in there. It seemed an okay choice.
---
Elaine13
October 22, 2013
I visited this facility
Emeritus was wonderful. I love this facility. The only thing that I was concerned with was the prices that they charged and I was told that my mother's maximum benefit would only give her a private room with a shared bathroom. I liked all the people there and I liked that it was so close to me that I can be there in 5 minutes. The rooms weren't very spacious but enough for what she needs now. They come in and clean for you once a week. They also cook for you and I saw the menu. The only thing I saw that I didn't like was there were some stains on the carpet that needed to be replaced but other than that, the place was very nice.
---
Tish4
September 11, 2013
I visited this facility
The woman who toured us at Emeritus was very informative and spent probably about two hours with us. The facility was very, very nice. It's very clean, well run, and very structured. It seemed like all the people there genuinely cared. The facility is very nice, but expensive.
---
Aileen24
August 13, 2013
I am a friend or relative of a resident
Emeritus is a very nice place. The staff was very kind and friendly with all the residents. The rooms were smaller but nice. The food was great. They have a program where the residents are the ambassadors, and would talk about the place. They even have a basketball court or volleyball court. There are several activity rooms with several things going on. They have a real exercise program and not just a TV recording. They also have their own bus for recreational activities but it's just out of my reach for my mother.
---
Caring0605192
June 28, 2013
I visited this facility
We happened to tour Emeritus at Casa Glendale for my sister's husband before he died. It was a very nice facility. The grounds were very pretty. They had a nice reception area like a little living room with a fireplace. Also the staff working there were very nice and very accommodating.
---
BrigidM
November 16, 2012
I am a friend or relative of a resident
I know my mom is very happy with Emeritus at Casa Glendale. They have very nice staff and they've done pretty good. She is also happy with the food in the facility.
---
VioletLeafs
September 27, 2012
I visited this facility
Everything was very nice inside the facility. It was very well up kept. The nurses and staff working there were very friendly. The facility included a very nice and peaceful garden where tenants can spend the day. It also had a restaurant included which was good for those who could not cook for themselves. The units that were available to live in were very nicely furnished. They included both AC and heat units. Bathrooms and rooms were made for the safety of the person who lived there. Overall the vibe was very nice. Everything seemed to be made for the comfort of the people living there. The area was very clean, I also liked the neighborhood that it was set up in. Glendale is a nice city. My experience had no negative aspect to it. I enjoyed the area very much.
---
Caring454692
October 02, 2011
I visited this facility
Emeritus at Casa Glendale is a magnificent home! I feel as if I placed my father at a 4 star resort where residents and visitors are greeted with a smile. Everyone is compassionate, patient, and understanding about the needs of both the residents and their family members. I feel like I have a new family now. I wouldn't have been able to find this place without Carla C.'s help from "A Place for Mom."
---
About Parkview of Glendale
---
Parkview of Glendale is an assisted living facility in Glendale, CA that offers residents independent living options and daily support services. Contact Parkview of Glendale for more details on housing, services, and rates.
Features of Parkview of Glendale
---
Location of Parkview of Glendale
---
Request Info
Get full access to reviews, cost information, and amenities