The Woodmark at Uptown
7201 Prospect Place N.E., Albuquerque, NM, 87110
Talk to a Family Advisor: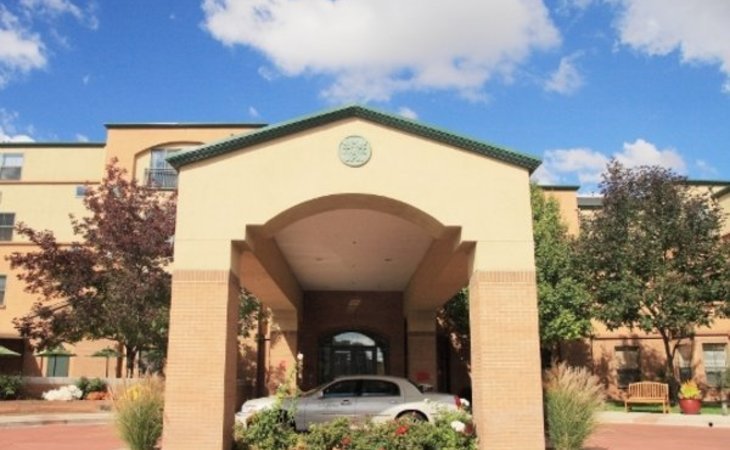 Reviews of The Woodmark at Uptown
---
Happy Visitor725188
April 18, 2017
I visited this facility
The Woodmark was clean. The staff was very friendly and very nice. The dining area was suitable. The menu was very nice.
---
Kathy775104
January 19, 2017
I visited this facility
The Woodmark at Uptown was very nice, but it was just too big. Their rooms were nice. They had a small kitchen, but for my dad who is in a wheelchair, he didn't need a kitchen. They were very thorough in the visit and very patient. Their dining area was very nice, and the chef came to visit with us. He was very enthusiastic about working there and made accommodations for the residents. I thought The Woodmark was very accommodating, but I didn't like the fact that every single thing that they did was a separate charge, so you never knew what your bill was going to be from month to month. There wasn't a set fee, and I didn't like that.
---
anonymous753215
October 27, 2016
I visited this facility
The Woodmark was OK, except that I thought there were too many people in one room. Everything else seemed nice; I just didn't like the crowdedness of it. The dining area was nice, and the grounds were nice.
Provider Response
Thank you for taking time to post a review online. We would appreciate the opportunity to learn more about your experience and what we could have done to make it a five-star impression. Please feel free to reach out to our team at 505-881-0120 at your earliest convenience.
---
Sherri354445
October 20, 2016
I am a friend or relative of a current/past resident
We liked the apartment at The Woodmark at Uptown, and we just thought that it would fit my mom and dad's needs. It was the largest one we looked at, and the people there are very friendly. It's not a brand-new facility, but the care they give makes up for it. We're very happy with the staff so far, and the caretakers are very good at helping and making my parents feel comfortable there. They have Bingo, music, artists come in and play piano, worship, and Bible study. They have a good menu, and they have a standard menu which you could order off the specials. If you don't care for them, they have another menu.
---
Julia266600
September 29, 2016
I visited this facility
The Woodmark at Uptown had nice facilities. The hallways felt narrow to me, and they weren't sure about mom being able to use her motorized wheelchair. The person who assisted me was very nice and very knowledgeable. Nothing was going on when I was there, but they did offer a wide variety of activities. They have an arts and crafts room and a small gym where they teach chair yoga.
Provider Response
Thank you for stopping by to visit our community; we were pleased to learn that you enjoyed your tour and our staff of The Woodmark. We do allow motorized wheelchairs, following demonstration that the resident has the ability to use the electric wheelchair safely, and would be happy to further connect regarding our wheelchair policies. Please feel free to reach out to us with any other questions or input directly at our community phone line. Thank you for your time!
---
Talia720405
September 18, 2016
I visited this facility
The Woodmark was very good if you are doing the independent living side of things. I am sure that the assisted living for the dementia care is good too, but the facility is very small, and to me that was the big issue -- that the entire building is locked down. They were playing some games, and the rooms were clean and adequate.
If a couple can afford it -- because it's expensive -- one of them can live in the independent wing, and the other can live in the memory care; that works for some couples. The staff seems great too.
---
Rebecca860342
September 06, 2016
I am a friend or relative of a resident
My mother was at The Woodmark at Uptown. She was in the memory care portion of it. The facility also had an assisted living section. The place was very nice. The staff members were very good. One of the nurses who went to evaluate my mom at the hospital was excellent. My mom shared a room with another lady. It was big, comfortable, and had enough space. It didn't feel crowded. Some families said the food was good. The location was very good, and the grounds were nice. There was a little patio in the back where the residents would sometimes have get-togethers. It was a nice place.
---
Clubm5NJ
August 22, 2016
I am a friend or relative of a resident
My mother is at The Woodmark at Uptown. The place is clean. They are very personable, and the location is absolutely excellent. It's near all commerce, shopping, and doctor's offices, so the nurses can walk the residents over. Inside the facility, the activities don't seem to be extensive.
---
Kevin271503
August 12, 2016
I visited this facility
The Woodmark at Uptown was a nice place. The staff was very friendly and professional. The rooms were of an excellent size, spacious, and had a homey feeling.
---
Anita36
March 31, 2016
I visited this facility
The rooms were bigger at The Woodmark at Uptown, but the people seemed a little more infirmed, and it wasn't a comfortable fit for my friend. The menu wasn't as open as the other place I visited. It was comfortable and clean, but it just did not have the same welcoming feel that the other place I visited had.
---
Camille10
March 28, 2016
I visited this facility
The Woodmark at Uptown was a reasonably nice facility. The room seemed to be a little small to me, but it was nice and in a good location. One problem I had was that my mother had a catheter that she could not necessary take care of herself, so we could not go there because they really do not like people with catheters. The staff was nice. I talked with a nurse who seemed knowledgeable. The facilities were clean. The residents were playing some music downstairs. It seemed like a nice facility.
---
Debbie119805350
January 31, 2016
I visited this facility
The Woodmark was good, and when my aunt needs assisted-living; I would be going there to get her in there. They have what she needs I think. It's a clean, and very attentive community. The rooms were good as well.
---
Brian32
January 16, 2016
I am a friend or relative of a resident
My mom is doing really well at Woodmark. The staff is friendly. They do a lot of singing, piano and guitar playing, and baking cookies. She is in the Alzheimer's unit, and she's adjusting well, is happy, and feels comfortable. She is in a clean, shared room.
---
Happy Visitor15
January 14, 2016
I visited this facility
The Woodmark was a very nice place with nice staff and rooms. I did not taste the food, but they had a nice dining area. The place was very well kept, and the staff seemed to care about the people there.
---
Satisfied daughter of the Woodmark
October 16, 2015
I am a friend or relative of resident
My 96-year-old mother moved to the Woodmark in February. She was able to take care of herself at that time, but had some issues with falling (she was using a walker). She very quickly came to love it at The Woodmark. She had a nice one bedroom apartment on the second floor. Her apartment is thoroughly cleaned once a week and they also do her laundry at that time. They had trips to the mall, and other shopping events, as well as trips to entertainment facilities. Recently, her health has deteriorated drastically and she is now bed-ridden. It is not easy to take care of her and we have hired additional help during the day hours. However, the staff still helps continually and truly go above and beyond. We are there every other day and have always found her care to be the best. She is kept clean. The staff is making her last days as pleasant as possible. If you are looking for a place for a relative, you can do no better than The Woodmark. I am so grateful that we found this place for my Mom.
---
Sherri13
September 29, 2015
I visited this facility
I went for a visit at The Woodmark at Uptown. The place was very nice, clean, and bright. The residents seemed very happy. I like the whole atmosphere. I also like that they have a little movie theater for the residents to see movies; I was just really impressed with it.
---
Caring106324150
July 04, 2015
I visited this facility
Woodmark was good, but their rooms were too small for what we were looking for. They didn't have what we needed available at the time. All apartments were full. I don't think it was quite as nice a facility, but its location was better. Their staff was good. This place would've been acceptable.
---
Caring107878750
June 01, 2015
I visited this facility
We were very impressed with everything at The Woodmark at Uptown. It was a lovely place, and it seemed very well managed. The rooms were double rooms and sharing a bath. There were pony walls in the room to separate the residents. I saw their dining room, and it's lovely. They did have hydration stations, which we were certainly impressed with.
---
Karen Taylor
May 27, 2015
I am a friend or relative of a resident
We visited several places and found this was the place that would best suit my mother. She has a one bedroom apartment that is really very nice and the people that work there, and run the place, are all really good at what they do. Her only compaint is that the food is not "always" good.....but, even that is only seldom and not a big deal. She is 94 and can live there through every stage of the last part of her life including hospise when she needs it. We visit two and three times a week at different times and have never seen anything but excellent care.
---
Steve104876350
April 27, 2015
I visited this facility
I went over and looked at the Woodmark because that is close to our house, and I have a neighbor that moved over in there. From our visit a few weeks ago, it was a very nice facility. It was very clean, and the facilities were very nice. I visited a room of our ex-neighbor who moved in there with her husband, and it was nicely situated. I like the place. It has nice views, it is centrally located, and it has lots of activities, so I thought it was a very nice facility. Julie took us around -- and I have talked with her before -- and she gave me all the information I needed on cost and move-in type of things -- what you needed to do and what to put down to hold a spot. She gave us a good tour and showed us where all the facilities were -- the wander rooms, the beauty salon, the upstairs, sun areas, and different things like that. She was very helpful and very nice. They have some different activity rooms. I think one where you can go in and watch movies, and a different one where you could go in and do some workouts with different bicycles and machines like that. My neighbor who's there really likes the food, and she says, 'If you don't want to eat, you don't have to go down. If you want to eat, you go down, and if you miss a meal, they always have a snack area where you can get something like coffee or something to nibble on. And you have your own kitchen upstairs in your room, and you could bring in your own stuff." It seemed like a very nice place. My mom is just always worried about moving out, the cost, and different things like that.
---
Caring96978350
November 28, 2014
I am a friend or relative of a resident
The Woodmark accommodations are fine,and the service is very good. The food is acceptable, but they have a limited choice menu. It's clean, it's comfortable, and each apartment has furnishings. But they must add staff on weekends and at night.
---
Caring82959450
April 21, 2014
I visited this facility
We dropped by The Woodmark without a reservation, and it looked like it was quite nice too. It was much more lively, as there were more people there. It was a newer facility, and from the area I was in, it was very clean.
---
NR/
December 20, 2013
I am a friend or relative of resident
I had a horrible experience with the management of the Woodmark and had to move my two family members out. The aides are wonderful and caring but I would never recommend this group because of their management policies and ethical challenges.
Provider Response
We are very sorry to hear that you did not have a better experience with The Woodmark at Uptown. The Woodmark is managed by Senior Lifestyle, an family-owned organization with close to 30 years of experience dedicated exclusively to senior care. It is our highest priority at the Woodmark to deliver the highest quality of services and care to our residents! While we agree that our aides are wonderful and caring we are disappointed that overall your experience was less than satisfactory. I would be happy to talk more with you in more detail about these concerns. We welcome any additional insight into how the management team can better serve the residents and their families. I can be reached at 505-881-0120. Lastly, on a personal note, we do hope that your loved ones have had a safe transition to their new location. Lesha Vaccaro, Operations Specialist at Senior Lifestyle.
---
Caring72623150
October 11, 2013
I visited this facility
Although the Woodmark at Uptown was a large facility, it did not have that humongous cold and impersonal feeling to it. It had a good Alzheimer's/dementia program. The staff was very friendly and everybody was very nice. They were interacting very well with the client and with the patients. I did not see anything there that was a problem.
Provider Response
Thank you for taking the time to tour The Woodmark at Uptown. We truly appreciate your positive feedback on our community. We welcome you to join us for any upcoming events as you continue in your search for a retirement living community
---
Ladybird1
August 25, 2013
I am a friend or relative of a resident
The people and doctors that work here are ALWAYS compassionate, caring, giving and concerned for the welfare of the residents there. My Aunt has been living there for a few years now and she loves it! We dont have to worry about her well-being or if she is getting the proper care because we know she is. Even the staff in the cafeteria are polite and respectful to the residents. Its a very clean and well kept facility. I would highly recommend this facility and if and when the time came, I wouldnt mind living there myself.
---
From The Woodmark at Uptown
---
Senior assisted living at The Woodmark at Uptown offers residents the best of both worlds. All benefits of our senior living community are combined with a full spectrum of senior care services to create a premier senior assisted living community. Residents enjoy beautiful surroundings, on-site amenities and social programs alongside continual on-call medical care.
At The Woodmark at Uptown, we adhere to state-of-the-art standards of senior assisted living while providing a special touch. Our residents receive personal and comprehensive care and are consistently treated with the dignity and respect they deserve. Whether our residents need help with day-to-day activities, getting to appointments, or medication management, our caregivers kindly and competently meet those needs.
Our assisted living community in Albuquerque has been purposefully designed to provide you or your loved one with a nurturing, comfortable, home-like environment that is attractive and easy to navigate. We foster community and family by hosting many activities and events each month. Residents are encouraged to participate in as many pursuits and outings as they like, appropriate to their ability. No matter what, everyone is treated as an individual person with unique needs.
At The Woodmark at Uptown, our residents live life to its fullest as they age in place.
Assisted Living Amenities
Personalized Care Plans
24-hour Staffing
Emergency Response System
Medication Management
Scheduled transportation to local shopping and medical appointments
Award winning Wellness Everyday™ programs, provided 7 days a week
Dining for Wellness™ - educational and wellness program
Brain Health University™
Beauty and Barber Shop
Housekeeping and maintenance service
All utilities and basic cable included
Individually controlled heat and central air
Fresh, seasonal cuisine prepared by the dining service team
What Makes Us Special
---
4 Registered Nurses on staff___ 3 levels of care including Assisted Living, Light Memory Care and Moderate to Advanced Memory Care___ Deficiency Free Community from 2011-2013___ Located in the Uptown area close to ABQ Uptown Shopping Center, Trader Joe's
Features of The Woodmark at Uptown
---
Costs
Minimum rate:

$3325/month

Rent Plus Care Fees
Entry Fee
Room and housing options
1-bedroom apartments
2-bedroom apartments
Studio Apartments
Dining options
In Room Kitchenette
In Room Kitchens
Dining Room Shared Meals
Room Service For Meals
Features
Beauty Barber Shop
Computer Room
Resident Transportation
Coffee Shop
Party Space
Tv Room
Garden And Patio
Resident Parking
Features Extra

Movie Theatre
Cleaning services
Laundry For Linens
Private Cleaning Services
Housekeeping
Laundry For Clothing
Technology and entertainment
Cable In Rooms
Internet Enabled Rooms
Wifi
Activities
Offsite Activities
Music
Stories
Religious Services
Lectures Discussions
Book Clubs
Wii Sports
Tai Chi
Fitness Room
Yoga
Gardening
Arts And Crafts
Guest services
Guest Parking
Guests At Mealtime
Overnight Guests
General
Staff Patient Ratio

14:1

Respite Care
Pets

Small Pets Allowed
Location of The Woodmark at Uptown
---
Get Cost Information
Get full access to reviews, cost information, and amenities