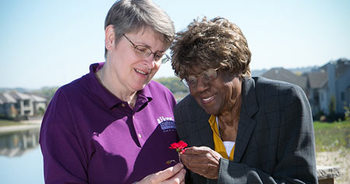 All Rights Reserved
Every single day, families are struggling. Like most of us, they're doing their best in a tough economy, raising their kids, and often working demanding jobs. Sometimes they're also trying to care for an aging parent or grandparent.
Women especially are balancing the care of their parents with piano lessons and little league for the kids, a full-time job, church, community, and volunteer activities. These family caregivers eventually run out of hours in the day; the stress becomes too great and the balance is broken.
That's where you come in.
As a dedicated CAREGiver℠, you can help these families restore balance, order and peace to their lives and help their senior loved ones remain at home.
Being a paid caregiver is a unique job with responsibilities and challenges, both physical and emotional. But it also offers many joys and rewards that you simply won't find in other careers. As a Home Instead® CAREGiver, you'll have the opportunity to meet wonderful people, build fulfilling relationships, and make a difference in the lives of your clients.
With a career as a Home Instead Senior CAREGiver, you can help families by offering individualized care for their aging loved ones. Hours are flexible and training is provided. Learn how a career with Home Instead can be much more than just a job. Visit www.homeinstead.com/CAREGIVER to find your nearest Home Instead office and apply now.
What Does a Professional CAREGiver Do?
Home Instead CAREGivers provide a variety of non-medical services that allow seniors to remain in their homes, including companionship and home helper services. These services may involve tasks such as:
Providing companionship and conversation
Planning and preparing meals
Light housekeeping
Medication reminders
Running errands
Encouraging social and mentally-stimulating activities
Facilitating opportunities to exercise
Transportation to doctor appointments
You likely have experience carrying out many of these tasks for your own family or older friends. Professional caregiving allows you to build on the skills you already have to develop a fulfilling, rewarding career while helping seniors in your community live rich, independent lives.
Opportunities for Advancement
Entry-level CAREGivers begin by providing basic companionship and home helper services. They may then have the opportunity to advance their senior care careers through special training programs offered by the Home Instead Senior Care® network. Current advanced CAREGiving opportunities include:
Personal Care Training
CAREGivers may be eligible to receive personal care training and become qualified to help clients with bathing, incontinence, hygiene, and other hands-on tasks of daily living that they can no longer manage themselves.

Specialized Alzheimer's CARE Training
It takes an exceptionally dedicated, specially trained CAREGiver to provide care for someone who has Alzheimer's disease or other dementias. Our Alzheimer's or Other Dementias CARE: Changing Aging Through Research and Education® training program equips CAREGivers with proven techniques that enable them to provide the highest quality of customized care and support to clients and their families.
Home Instead is hiring CAREGivers nationwide. Visit www.homeinstead.com/CAREGIVER to find your nearest Home Instead office that is hiring CAREGiving superheroes.