Mild to Moderate Alzheimer's
Activities Ideas Center
Raking, Sweeping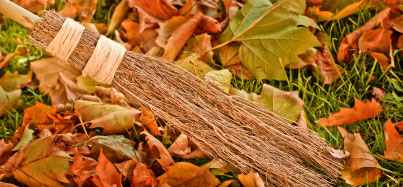 What you need:
Garden tool (rake, push broom)
What to know:
Longtime gardeners or outdoor lovers appreciate contributing in meaningful ways around the yard.
The repetition and simplicity of raking and sweeping make them good gardening choices. There's little judgment involved (as in, "Is this a weed or not?").
It's great exercise.
Don't worry about how tidy the job is or whether your loved one goes over the same patch again and again.
Note that a push broom is easier to use on patios and driveways than a conventional broom.
Alternate activity: Pick up fallen sticks or other yard debris. Be careful if there's an in-ground pool in the yard; a zealous worker may not be able to resist reaching into the water to fish out leaves.