Baybrooke Village Care and Rehab Center
Claim 8300 ELDORADO PKWY WEST, Mckinney, TX, 75070
Caring.com Listing
Talk to a Family Advisor: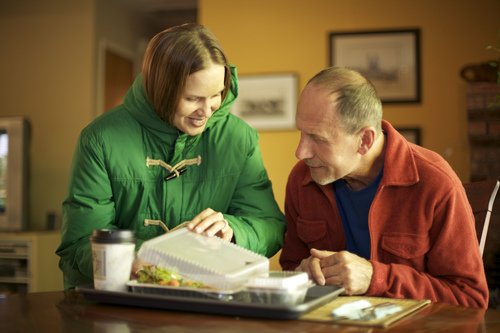 Reviews of Baybrooke Village Care and Rehab Center
---
Linda704647
November 17, 2016
I visited this facility
Baybrooke Village Care and Rehabilitation Center just opened, and it's very nicely decorated and very expensive-looking, but their food is lousy. The staff at the rehabilitation physical therapy department is absolutely excellent. They have very large or very small rooms. The small rooms are 2 rooms that share a bathroom, and the food was not very good. The place was decorated to the hilt, and it's absolutely gorgeous inside. The dining area is beautiful and very nice. It's not far, and it's in a more upscale neighborhood. They've put a lot of money on the outside and the decorations. One thing that's really strange is they've got people who have difficulty walking, but they've got cobblestones going up to the door, and to me, it looks gorgeous and beautiful but not practical for people who have poor balance or need assistance with a walker. I saw the diet that was given, and there was no protein on the tray. It appeared to be insufficient, but that was just one meal.
---
pink323
January 01, 2016
I visited this facility
Horrible. My grandpa has fallen 9 times here. 1 fall resulted in hip surgery. I came earlier today & he had food all over him. Presently he is naked, screaming & begging for help... & the only staff member working just told me they can't find his pain medication so I guess they're just going to let him suffer.
---
notahappyhubby
December 28, 2015
I am a friend or relative of resident
DON'T GO HERE! IT IS ALL TRUE!! If I could give negative stars, I would. My wife was discharged from the hospital for rehab because of her being a fall risk and we chose to come here because the building is very nice and it was close to home. When we got here, they,( the MEDICAL STAFF), completely changed the dosages of her medications. The DOCTOR stated the dosages were too high. I later discovered the doctor lowered the dosages to prevent any possibility of a LAWSUIT against her instead of caring for the patients needs. On the SECOND day, a CNA was administering her meds, and she didn't receive some of her meds. When I asked why, her response was " She got all I could find" I then told her where, IN THEIR MED CART, her meds were kept. The LVN on duty had no idea what was going on, which suggests she WAS NOT supervising the distribution of the meds. My wife suffers from anxiety attacks as well. We both called for a meeting with the administrator to discuss the alarms NOT BEING ANSWERED, and in the middle of this conversation, my wife went into an attack. Both the LVN and the administrator witnessed this attack, and the PROPER way to deal with it. The next morning, I'm talking on the phone with my wife, and she was sitting in one of the chairs and her wheelchair next to her, she was coherent and very talkative. After our conversation, I was preparing to visit her I got a phone call from THE SAME LVN THAT WITNESSED THE ATTACK saying she had fallen and complained of her ribs hurting. The nurse said they had called for X-RAYS to be taken. This call came to me at 9:33 am. I got there at 9:40 am to find my wife laying in her bed, one hand gripping the railing, and the other hand continuously pushing the help button with a look of sheer terror on her face. She was all alone. My wife was in the middle of a SEVERE anxiety attack, and the LVN that had witnessed the attack the day before was on duty, and was no where to be found! I insisted an ambulance be called and she be taken to the ER. It arrived at 11:30 am, almost 2 HOURS LATER. She never returned to this facility, we went to another facility in ALLEN, TX. I witnessed all of the events mentioned here.
---
sallysreview
November 15, 2015
I am a friend or relative of resident
DON'T GO HERE! Everything these people are saying is TRUE! They don't answer the call lights. My mom sat with food all over her yelling for someone to help for 3-4 hours and no one came. They put her in a room where she shared a bath with a MRSA patient. They had NO signs up stating that people need personal protective equipment when seeing her suite mate. They have little 'nat' bugs in the beds. Talked to the head of the facility about my concerns and they never did anything. Physical therapy didn't do enough! I had to get her stronger at home so that she could walk to the bathroom! Never will go there again. She is in another facility in Mckinney across from Baylor medical center now as I am writing this and I would never send her to Bay brooke again.
---
lwn
October 28, 2015
I am a friend or relative of resident
My father is a resident at this facility, and all I can say is don't bother to bring your family member there. First of all the receptionist is rude and completely unprofessional. Second, my father is a renal diabetic and they continue to give him food that he should not eat. His cell phone was stolen, his clothes are continually misplaced even though they have been labeled with his name and room number. Because my father is blind, he could not see that he had another patient's underwear on. They even left him outside at night by himself with no shoes on several occasions and no one even noticed. When we found him he was calling for help and on one was there.
---
LBrooks
July 18, 2015
I am a friend or relative of resident
The physical setting of Baybrooke Village Care and Rehab Center is welcoming, but the care is lacking. We placed our mother in Baybrooke for rehabilitation after she had undergone major heart surgery. The statements that I am about to make are based on my personal observation as my sister or I stayed with my mom (both day and night) while she was at Baybrooke. There were numerous problems and the ones noted below are not exhaustive of the list. The call buttons were routinely unanswered for 30 minutes or longer, especially at night. I noticed this with my mother's call buttons as well as the ones of other residents. I suspect that it took much longer for the calls to be answered for those whose relatives were unable to stay with them. When I sought assistance, I often found the staff watching television or simply relaxing while ignoring the call buttons. My mother was at risk for falls and could not walk. Although it was agreed that an alarm would be placed on my mother's bed, it was often removed. My mother fell several times because the alarm was not placed or because her calls went unanswered and she attempted to get out of bed. The nurses who were present (both day and night) also ignored the calls. Sometimes the nurses were outside my mother's room and when I asked for assistance with my mother, they stated that it was not their job. One nurse even allowed my mother's knee to bleed even though I informed her it was bleeding. On Mother's Day, a nurse left my mother on a portable commode for over an hour. My mother wanted to get up early on Mother's Day so that she could have breakfast with me. I could not get anyone to assist her in getting dressed for two to three hours. On another occasion, the staff left my mother on the commode for two and one-half hours, did not clean her properly, and left the unclean commode in her room for hours. Once I returned from a break to find my mother on the toilet alone in the bathroom with the door closed. My mother was upset and said that someone had left her there for over an hour. A couple of the CNAs were attentive to my mom. However, most of the staff seemed uncaring and inattentive. The speech therapist didn't seem to understand the issues with my mother and did not assist her with proper exercises. My mother had no issues with drinking, eating, and swallowing when she was discharged from the hospital, but once she arrived at Baybrooke and began working with the speech therapist, she began to have problems with swallowing and there was a sharp decline in her eating and drinking ability. The speech therapist even had a swallowing test performed on my mother even though she was drowsy from medication. The nurse practitioner seemed okay when I first met her, but later began to provide information that was inconsistent with information I obtained from the doctors. She didn't seem to understand my mother's condition. She was also rude, unprofessional, and didn't communicate properly. We raised our concerns with the Administrator and the Social Worker, in writing as well as in person. No response was ever provided as required.
---
Albert10
May 30, 2015
I am/was a resident of this facility
Right now I am in one they called Baybrooke Village. It is a very nice place and a beautiful environment. The people are very nice. I am very pleased moving here. The food is very good. I am in a private room right now, but I am going to a room where I have a roommate. We play bingo. They have all kinds of games, contests, and stuff like that. They have more to do than I can possibly do.
---
Caring106504650
May 04, 2015
I am a friend or relative of a resident
My mom was in Baybrooke Village for a week and a half, and then she fell and broke her back. The staff had no idea about how to deal with Alzheimer's patients. They never did talk to me about a care plan or what works for my mom. The food was horrible, and you wouldn't even feed the dog with what they're feeding this people. Nobody monitored her, and she wasn't able to be watched. I was so scared to leave my mom there alone that I got an in-home care to sit with her for the first three nights. The rooms were very dark and very small with shared bathrooms.
---
frannie68
January 02, 2015
I am/was a resident of this facility
My daughter lives in McKinney and I was here to visit her for the holidays. I fell off a curb at a restaurant and broke my ankle and hip which led me to Baybrooke. Both the orthopedic surgeon and case manager at Medical Center of McKinney recommended Baybrooke to me. Luckily it is pretty close to my daughter as well. I am very impressed with the caring attitude of the staff. The rehab is very good too. They have a big machine, like a treadmill but more sophisticated that they put me in and I am shocked how fast I am recovering! I think negative people must come on and put in reviews because what I am experiencing is nothing like some of the reviews I have read. I am a glass half full kind of gal and am VERY pleased with how I am being treated and cared for. My orthopedist is happy too!!!
---
harris0367
November 04, 2014
I am a friend or relative of resident
My aunt was put in for rehab, she is diabetic and has severe heart problems. They gave her a regular diet, high in sugar and salt. She has surgery a week prior and was told how to care for her incision which was not done, I took her out after 5 days and would never send anyone there for care. Be very aware.....when I checked her out they pointed to her room and said she is in there. No help getting her out to the care, I did that by myself and no information about home care. Stay far away from this place.
---
lala2014
October 28, 2014
I am/was a resident of this facility
Very bad experience, there were bugs, and ants crawling on the beds and furniture. Nasty
---
Caring95904450
September 29, 2014
I am a friend or relative of a resident
My husband had a really bad fall and he is currently in Baybrooke Village Care and Rehabilitation Center. I'm very impressed with it. Of course, none of them are really as good as they should be. They don't have enough help. We know that, but out of the other three local ones, this one is absolutely the best. It is clean. The food is really good. The only thing is that it takes a while for somebody to answer the call bell. They could improve in that area. However, they are very attentive to my husband. They did help him get his independence back in walking. He has shown improvement after a month.
---
smcaloon
May 13, 2014
I am a friend or relative of resident
My father-in-law is currently being cared for at this facility. My wife just called me in tears. She came to visit her father who suffered a heart attack and a cervical stroke and is no longer has use of his body from the waist down. He also is being treated for a bedsore/wound he obtained while in the ICU at UT Southwest. He is under orders to have a wound vacuum in order to treat this sore. My wife found her father with the wound vacuum disconnected (the 3rd time this has happened) and his wound covered in feces. When she reported this to the staff she was told, nobody there could do anything about it.
---
v74
November 14, 2013
I am a friend or relative of resident
My grandmother was admitted to the hospital 2 days ago with a fever, low blood pressure and unresponsive. She was found to be severely dehydrated, left soaked in urine and with a bed sore that had gone to the bone. She is now on antibiotics for a bone infection as a result. She was there to receive rehab for a broken bone and has declined in general since being admitted. There is much more to mention, as far as poor service and care, however I think my first paragraph speaks volumes. I would also like to add that when I reported the facility, I was told that although Baybrooke has listed a rating of 100 on their website, they are actually rated far below. They have been recently cited for several issues. If anyone questions this review, you can call Department of families at 800.252.5400 and speak with them.
---
mahalKita
October 14, 2013
I visited this facility
I enjoyed my experience at this faciltiy. The scenery is beautiful and the staff is very friendly. The staff seemed to really care for the residents and tended to their every need. Everyone had smiles on their face and it seemed to be a great place for residents.
---
bramserson
August 27, 2013
I am a friend or relative of resident
Where to start? Sue, the receptionist is very rude. Barbara in the financial office or whatever title she claims to have that week, is rude. They try to bait you into keeping your parent there longer so they can get more money out of you. It took over an hour most days just to get two aides at the same time to put him to bed. The physical therapy staff was rude. Every time I went there, like clockwork, my dad was sitting at a table with two other patients being ignored. A lot of the therapy staff was in the back room on computers, or staring at the television which was always super loud even for me. They don't know much about brain injuries which is what my dad has. We would ask for a set time for him every day and they would not do it. If he wasn't sitting at a table being ignored, Ellen was having him dig beans out of rice from a container. Wow what top of the line therapy. They do not clean their machines or tables. Everyone touches everything, shares everything without washing it first. It also smells like urine in the therapy room. Ellen would bark orders at my dad, she tried one day to tell me not to push my dad down the hallway when he was clearly tired and struggling to use one hand to move himself. So I told her I will push his wheelchair if I want to he is tired. She'd scoff and walk away. We went to the Head Nurse Anthony, numerous times. Nothing seemed to change. Also talked with Agnes, the director of the therapy department, still, nothing changed. If they had been more involved with my dad, he would have been walking by the time he left. They had him stand twice the few months he had to be there. They had him walk on the parallel bars twice. The place he came from before gave him solid three hours of therapy 5 days a week, I am positive had he been able to stay there he would be walking by now. Dinner service, another glory, Claudia is very rude. She would poke my dad's arm and tell him you need to eat. She was told not to touch him and she argued that it's her job, "this is the cue table I am supposed to tell them to eat and get them to eat, it's the cue table" over and over like a broken record to the point she made my sister so upset. The call buttons are a joke. Nobody comes, which worried me all the time. My dad could not speak so if he needed help he probably would have died because they never check. The call lights are just lights and it buzzes at the front desk, no audio because they are supposed to come check and they don't! The buzzer went off more than a half n hour sometimes and people behind the desk would continue doing whatever it was they were on the computers. I can't say enough about how unsatisfied I am by this place. I have no idea how they have such high ratings. Just awful. Please think twice before putting your loved one in this place.
---
chester0313
April 18, 2013
I am a friend or relative of resident
Baybrooke Village staff got both my mother and I through an extremely difficult time when my mom was initially there. If it were not for the excellent professional care, thoughtfulness and genuine concern exhibited by the staff, I honestly do not know what we would have done. I truly never had to worry about my mother because they took such great care of her, and in a way took care of me, because I was at peace knowing my mother was in good hands and safe.
---
caring 0289
March 13, 2013
I visited this facility
Dad seem to be doing well at Baybrooke Village. The staff is very friendly. The physical therapy is excellent. It's really good. The facility is always clean, I've never seen anything dirty. He's in a nice, big size room. He shares the bathroom with someone else. The food is not so good. Some of it looked okay, but some of it looked like cafeteria food.
---
Strick
March 01, 2013
I am a past client of this provider
The people at Baybrooke Village Care Center were very nice. The care was great. It was in a beautiful location, the place was all very clean, and very nice.
---
Texaslopaka
September 04, 2012
I am/was a resident of this facility
I have been at this facility for two weeks for rehab followinng hip surgery. The staff has been very attentive to my well being. As far as the older residents I hav heard nothing but praise for the staff.
---
McKinney1
January 08, 2012
I am a friend or relative of resident
Beware of this place..it may look nice on the outside, but the staff is horrible...they gave medications to my uncle without permission and it caused him to go into a coma, they neglected him and failed to refill his oxygen...please beware...i should have sued this place, but my focus is just on my uncle's well beging
---
Lauri-1
July 12, 2009
My loved one stayed here
My mother was at Baybrook after a hip surgery; she was in for rehab but they put her on so many medications without permission and she started hallucinating horribly. The staff only wanted her to remain in her bed so they wouldn't have to get her up to rehab her hip...she would lay for long periods without any underwear or cloth under her gown at bed time but be so drugged up she couldn't get up to go to the bathroom. They also made a mistake on her meals only giving her pureed food when she was on a regular diet and nothing to drink. She was so dehydrated and drugged up when I got her out it took two weeks to get her back to somewhat normal. I would never recommend this place to anyone. Also the nurses and other staff had her medication charts incorrect all the time and forgot to give her the one medicine she was supposed to have. They also had her marked for giving her medicine on days she wasn't even there.
---
Concerned individual-1
March 09, 2009
Other concerned individual
I just heard a story from a client with a loved one at this facility. I am horrified that their loved one and others are allowed to stay in dirty clothes, bed linens not washed and eat their meals without a drink. Also, during their meals...not having their food correct, this could be a health hazard! These are the ones that took care of someone during their early years...don't we owe it to them, to take care of them? Especially, when the personnel there are getting paid to do it? If you do not respect the elderly, find something else to do....This could be your mom or dad and someone mistreating them.
---
About Baybrooke Village Care and Rehab Center
---
Baybrooke Village Care and Rehab Center is a nursing home in Mckinney, TX that provides patients with skilled nursing care as well as private or shared accommodations. Contact Baybrooke Village Care and Rehab Center for more details on housing, services, and rates.
Features of Baybrooke Village Care and Rehab Center
---
Medicare (ratings last updated: 06/16/17)
Health:
Overall:
Quality:
Staff:
Medicare Provider Number: 676096
Ownership Type:

Government Hospital District

Date Certified:

05/01/2017
Location of Baybrooke Village Care and Rehab Center
---
Top Cities for Assisted Living
---
Request Info
Get full access to reviews, cost information, and amenities