Villages of Lake Highlands
8615 Lullwater Drive, Dallas, TX, 75238
Talk to a Family Advisor: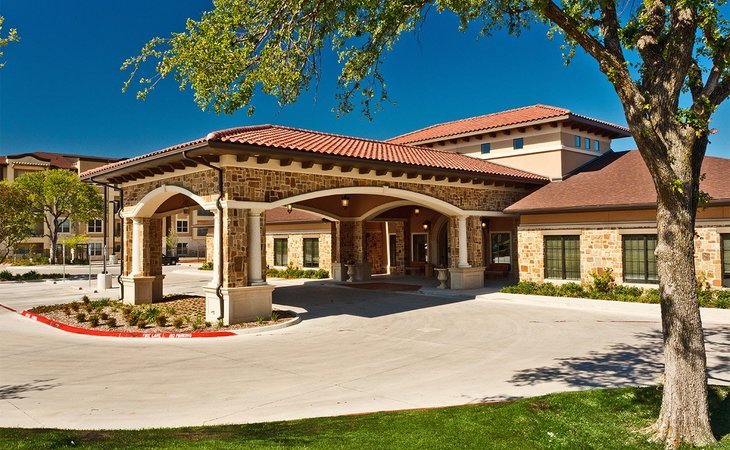 Reviews of Villages of Lake Highlands
---
daughterofdad
August 14, 2017
I am a friend or relative of a current/past resident
My Dad has been in the Memory Care unit at the Villages of Lake Highlands for more than 3 years and while it was a good facility, a change in management has made it a wonderful place for dad. Adam, Director of Memory Care, is the most passionate person. He is constantly striving to better the care, living conditions, and lives of all the residents in the Memory Care unit. Dianne, Director of Nursing, is amazing. She is professional and happy to look out for the health and well being of every resident. Alicia, the Activities Directory, is always working with the residents to keep them both active in mind as well as body. She has arts and crafts, music therapy, and takes them on outings such as trips to the Dallas Museum of Art. The many Aids in the Memory Care unit are cheerful and know each resident's likes and dislikes. They treat each one with respect and love as if they were their own parents. The facility is beautiful, clean, spacious and secure. I would highly recommend the Villages of Lake Highlands.
---
Bennet52
July 23, 2017
I am a friend or relative of a current/past resident
My mom had a great experience ; the care was very helpful; The bed was comfortable but she really wanted me to stay overnight, nurse Eva brought a bed in the room so I can stay over first 3 nights which eased my moms anxiety. If she ever needs to go to rehab again this is the only place that we would choose.
Provider Response
Thank you for your review! We understand that transitioning living environments from home, to the hospital, and then to a skilled nursing and rehab community in a short amount of time can cause anxiety and disorientation for some guests. It is our pleasure to provide accommodations for our guests and their family members in order serve them in the most person-centered way.
---
Angie72
July 19, 2017
I am/was a resident of this facility
Very pleased with the care here at VOLH. They needed to switch my meds it was 9:15 am Saturday, the Doctor Punatar was able to do this in 20 minutes!! My pain subsided immediately and I was able to participate in physical therapy that morning! They are on top of everything and exceeded my expectations me and my family are so grateful.
Provider Response
Thank you for your review! I'm glad you had a great experience at Villages of Lake Highlands! Physician responsiveness is a primary part of our clinical and customer service platform. The technology we have implemented with our new on-site PASSPORT PHARMACY has been instrumental in enhancing the pain management services to our guests.
---
MaryLane55
July 06, 2017
I am/was a resident of this facility
My room was the best room ever.I had a garden view and I could see the birds, and it was so lovely, as if I was enjoying a piece of heaven.." She was here at Easter and 1 week after, she enjoyed watching the easter egg hunt where there were children and their families I could watch, and they were all dressed up in their nice clothes. It was a wonderful sight to see . Loved the meals; everything she ate was so good and fresh. .Could not speak highly enough about the care of the CNA's and the rehab department. She bonded with them and they were like children to her. CNA's were fantastic and so helpful
Provider Response
Thank you for your response. We will be sure to share your kind words with our clinical and dining services team. We strive to provide a person centered experience to each guest's individualized needs and plan of care here at Villages of Lake Highlands. We appreciate your feedback.
---
Caring_2644532
August 12, 2016
I am a friend or relative of resident
My mother died here after only 2 days from being released from the hospital. I had to be on the staff constantly in order for her to have care.
---
lovedone87
June 28, 2016
I am a friend or relative of resident
The Villages of Lake Highlands was just what my mom and I needed during her last days with me. She lived in the memory care area for two months and received great care day and night. I will be forever grateful for their attention to her needs. They gave her snacks when she wouldn't eat and got her involved in the activities. I would recommend the facility for anyone who needs memory care for their loved one.
---
km30075
May 18, 2016
I am a friend or relative of resident
This place was terrible with my father. He was there after a huge surgery and needed rehab and care. Instead he was humiliated and ignored. Monique at first was nice but after that she never came around to tell us what to except or the protocol for his care. Julius was rude and unwilling to help my father even get to the bathroom. The room was filthy when we got there. The staff would forget to feed him. We could hear other patients complaining and at times even screaming for help. There was absolutely no bedside manner. They would not take the trash out of the room and had to ask for basic personal care. They did not follow the instructions for the medication that the doctors had prescribed. The only person that was helpful was Vanessa and Nathan. My advice to anyone taking their loved one to this facility: Do your research and read the reviews. Watch them like a hawk and have someone with your loved one 24/7 or they will get completely ignored and neglected. This is the nightmare that we hear about on the news concerning elderly care.
---
Visitor56188961
December 21, 2015
I visited this facility
I did not like Villages of Lake Highlands at all. It was old, and I did not see any activities happening while I was there; it was like everybody was on their own. I just didn't care for it. I went into one of their rooms to visit a friend, and it was even smaller than a hospital room.
---
HAPPYCAMPER2015
September 29, 2015
I am a friend or relative of resident
I love the assisted living and memory care. They care!!! My mother has been through so much over the past few years. After I lost my dad I had to take steps in making sure that my mother is well taken cared of. The staff there are outstanding. They have had their ups and down with new management but I am esp. grateful for the New Director and Director of Nursing who have managed to turn things around. I would recommend this place to all. The residents look happier. Every place has it's good and bad. After talking to some families I realize that they don't understand how it is for the staff to work in that industry and always think to myself "if you hate it so much why do you have your loved ones here?". Lets appreciate everyone that work in this areas because its tough to work in that industry. My mother is happy and I am too!
Provider Response
Thank you for these kind words and for recognizing the hard work of our staff at Villages of Lake Highlands. It is our number one goal to provide nothing but the best care for your loved one, we strive to be the best in everything that we do here. Happiness is key :)
---
reallySadrelative
August 01, 2015
I am a friend or relative of resident
HORRIBLE! Don't be fooled by the pretty building. Only 1 out of every 10 employees there knows what is going on. Terrible daily care of patients. We were told what we needed before they even evaluated my relative. Don't bother asking for help. On the "memory care" side, When trying to talk to the Dr., Was told, by the Dr, that by law, she only had to see my relative once every 2 weeks. Any care he needed was left to a tech. When the Dr missed her Thursday visit, She didn't come the next day, She waited until the next 2 week visit. When quizzed, She said that She was just to busy. The neglect made some of my relatives last days on earth painfully miserable. We are thinking of taking steps....
---
oliviap
June 04, 2015
I am a friend or relative of resident
They are negligent, when I went to visit my father, his nails hadn't been cut his hair was long, his clothing was dirty, not the kindbof care any one would want especially for the money they are charging.
---
Missy5
March 20, 2015
I am a friend or relative of a resident
My mom is now in Villages of Lake Highlands. We love the staff. It's a very beautiful facility, and my mom's room is semi-private. Instead of just a curtain, there's a wall that divides the two sides of the room, so it's like she has her own private room. I eat there with her all the time, and they have really good food. Their dining room is beautiful -- like a restaurant. We have them pick up my mom for activities all the time. They have music class, dominos, bingo, church on Sundays, and movie day, and over Christmas they made gingerbread houses. They also have a memory care session, and I really like it because my mom is borderline to being put in memory care. She has a hospital bed, but when you walk in and look at it, it doesn't look like a hospital bed. It doesn't really give you that hospital feeling. We were looking for a place that was kind of upscale. The man that was in charge of admissions was super friendly, and immediately the first thing he said was, "What can we do to help your mom and what does mom need from us?" That really impressed me. He showed us the room that she'd be in, and we met her nursing staff. It's got a gate, and they lock the doors at 6:00, so you have to have a code in order to get in. She has been there since December, and honestly I don't have any complaints at this point.
---
Semantha
January 16, 2015
I am a friend or relative of resident
Warning!! Whoever is reading this and don't have any medical background, please do not take your family member to this facility for rehabilitation after surgery. This facility is really beautiful on the outside. However, the care provided was very horrible. Recently, my mom was admitted for two to three weeks. During her stay, the physical therapy and occupational therapy schedule were very inconsistence. The nurses constantly made mistakes with her medications. Thank God she was alert enough to question the medications given to her that were not correct. Their nursing assistants especially on the evening shift were very rude and lacked compassion. For example, one in particular never went inside my mom's room to ask her what she needs or what she can help her with. Instead, she screams at her from the door and ask what do you want? and she's will not be seen for the remainder of her shift. This was brought to the attention of the director of nursing, but the same situation was repeated. My mom was just there after her surgery and was left on the bedside commode without any help to get back in bed. She pressed her call light for assistance but no one ever came. My mom has a history of nerve damage in her operated knee that required proper pain management, but the nurses, the director of nursing, and the assistant director of nursing treated her like she was a pain medication seeker without looking at her chart for her history. After hearing several complaints, the administrator never even came to her room to address or apologize. Towards the end of her stay, a nurse performed wound care on her operated knee without reading the doctors order. My mom questioned her about the type of wound care she was performing, instead of verifying she got really upset, walked away, then came back and did a dressing change that caused my mom's wound to start opening and draining. When she finally came home, she was taken back to the operating room under general anesthesia to clean her knee and re-suture it. As a health care provider, I am truly disappointed by the type of treatment and care provided to my family member.
---
Mildred8
September 30, 2014
I am a friend or relative of a resident
The Villages of Lake Highlands is excellent. As far as I know, the relationship between the staff and the residents is great. The thing I like the most is the medical care that they give to my husband.
---
Caring85445950
February 13, 2014
I am/was a resident of this facility
They provide loving and respectful care to residents. They have friendly and trustworthy staff that provides personal attention.
---
Paola1
December 23, 2013
I am/was a resident of this facility
I stayed here for rehab. They were nice and I was able to recover quickly. The nurses seemed geniune.
---
Reimer
December 23, 2013
I am a current client of this provider
My mother thought she was at a luxury spa. The food was fantastic and the therapists were amazing.
---
LeslieD11
November 21, 2013
I am a friend or relative of resident
This place is great
---
2thebgr
August 26, 2013
I am a friend or relative of resident
The facility is beautiful but it is not the facility who cares for the patients. It is the nursing staff that is important and the ones at the Villages are overworked and therefore mistakes happen. I agree with the previous writer that the staff will leave its patients in bed after ringing for help for up to an hour. It happened to my wife on more than one occasion. She too was told not to get out of bed without assistance but since it took so long for anyone to come she started pulling herself out of bed. It was a dangerous situation and luckily she did not hurt herself. She too did not have her stockings put on her and again luckily no clots developed. The most dangerous situation was when she was almost given a double dose of a narcotic pain medication. It seems that the Villages do not have a good control system to prevent mistakes from happening when giving medication. My wife is mentally alert and able to take care of herself. She told the nurse trying to give another dose of pain medication only 30 minutes from when my wife received a dose that she had already had it. My worry is how many less cognitive patients would take anything that a nurse hands them. A scheduled narcotic drug for pain given to an elderly, ill patient at twice the recommended dosage could be disastrous. I would not recommend this facility to anyone.
---
Marie1311
August 23, 2013
I am/was a resident of this facility
My dad was here and the staff was wonderful and attentive. So much so that he came back a second time.
---
From Villages of Lake Highlands
---
Welcome to the distinctive and charming Villages of Lake Highlands, where exceptional living meets comprehensive professional care. Beyond the front doors of this extraordinary lifestyle community you'll find the compassionate and caring hands of an assisted living and skilled nursing team, as well as experienced and comforting memory care assistance. Our goal is to provide the best clinical care possible for your loved one.
The Villages of Lake Highlands Assisted Living Community is ideal for those who need assistance in maintaining their independence. Residents will find a variety of opportunities to live a life filled with vitality and peace of mind. We offer the amenities and services designed to meet the individual needs of each resident. Our 24-hour licensed nursing staff is able to offer a higher level of care for those residents that may need it. We invite you to find out more about our assisted living lifestyle.
The Villages of Lake Highlands is a charming lifestyle community that was designed with its residents' needs in mind. With beautiful décor, exceptional dining and wellness programs, and an amenity-rich environment intended to assist in the pursuits of social activities and fun, Villages is as unique and distinctive as its residents.
Senior Living Dallas Features
Skilled Nursing Services
RN Coverage 24/7
Community based Nurse Practitioner
Rehabilitative Therapy: Physical, Occupational & Speech Therapies
Activities of Daily Living Apartment
Private Rooms
Companion Suites
Flat Screen Televisions
Alzheimer's Care Services with Our Exclusive and Nurturing CALM™ Program
Monthly Alzheimer's Support Group
LifeWorks Senior Wellness Program, which includes a comprehensive curriculum of purpose-driven exercises for every area of life
Dietary Counseling and Management
Dining Your Way Meal Service, which includes menu choices and Restaurant-Style Meals
Private Dining Room available upon request
Pharmacy Services
Transportation
Beauty and Barber Salon
General Assisted Living Services:
Medication Assistance and Administration
Emergency Call Systems
Social Services
Assistance with Activities of Daily Living
Weekly Linen, Laundry and Housekeeping Services
Rehabilitative Therapy Including Physical, Occupational and Speech
Dining Your Way Meal Service
LifeWorks Senior Wellness Program
Spa and other in-house services available
Podiatry and Optometry also available on-site
Salon
Dementia and Memory Care in Dallas
The Villages of Lake Highlands Alzheimer's Community is designed to ease the burden that the disease or related memory conditions place on families. As an Alzheimer's certified facility by the Texas Department of Aging and Disability Services, Villages of Lake Highlands takes pride in providing a compassionate approach to dementia care. We understand that a person living with Alzheimer's "lives in the moment".
While many losses can occur throughout the course of the disease, the individual spirit remains intact. The Villages incorporates the "I" care plan approach for each resident. This allows us to know the individual's life story, abilities, and diversity preferences and empowers us to tailor activities and a regime for an enhanced lifestyle. Our exclusive CALM program is a unique approach to treating many of the symptoms of Alzheimer's and other dementia's. At the Villages of Lake Highlands, it's our mission to nurture and celebrate the wholeness of our residents during each moment of their live. Visit the Villages of Lake Highlands to find out more about our Alzheimer's Care Program
General Memory Care Services:
Family Style Dining
Physical, Occupational & Speech Therapy Available
Medication Administration & Personal Care Assistance
Safe, Nurturing Environment for Memory-Impaired Residents
Life Story Book
Specialized Daily Programming – Activities, Exercises, Cognitive Stimulation & Social Interaction
Villages of Lake Highlands staff is ready and able to answer any questions you have, whether you are a potential patient, referring physician, family member or prospective employee. Please feel free to call us anytime.
Features of Villages of Lake Highlands
---
Costs
Minimum Rate:

$4500/month

Minimum Memory Cost:

$4500/month
Room and housing options
1-bedroom apartments
Companion Suites:

We Offer Companion Suites

Studio Apartments
Location of Villages of Lake Highlands
---
Get Cost Information
Get full access to reviews, cost information, and amenities