The Forum at Tucson
2500 North Rosemont Boulevard, Tucson, AZ, 85712
Talk to a Family Advisor: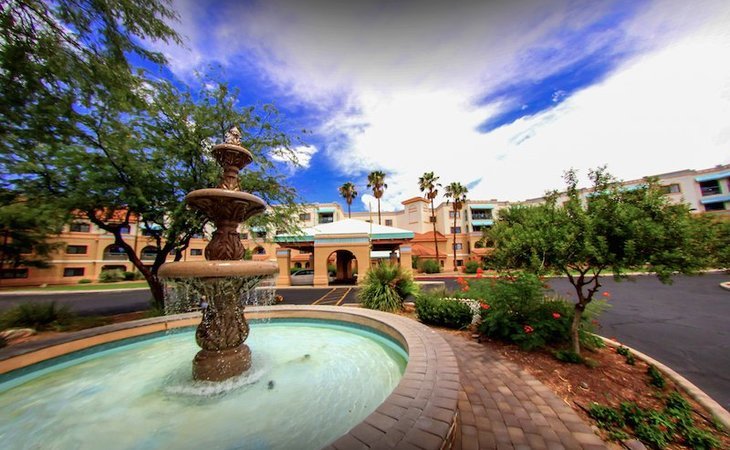 Reviews of The Forum at Tucson
---
Joanne834452
January 07, 2017
I visited this facility
If we ever had to put my mom somewhere, The Forum at Tucson would be the first place we choose because I'd known people who had been there, and they got really good care. My mom spent 3 weeks there after she had her hip done. They catered to what she could eat and the food was great. They were very good to her. The people there are very nice and very helpful. It's a fabulous place; it's beautiful and comfortable. They have game rooms, and people come in with musical things.
---
Katie200883
November 19, 2016
I visited this facility
The Forum at Tucson's rooms are very wide open which I personally like the best. The only downside is that it's a very large facility, and for our mom, it would be a bit overwhelming for her to get around. They had a nice list of amenities, and it was a lovely place.
---
Poor elderly people
September 16, 2016
I am/was a resident of this facility
I would never allow any human to live in this place. They do not care for your love ones. They mistreat patients and let them sit in pee'd diapers and are never available when needed. It's a night mare in Tucson.
---
Robert317138
August 18, 2016
I visited this facility
We liked the The Forum at Tucson. They had nice but old rooms with small showers, which I did not like. The intensive care unit was very old. They also offer memory care. Their meals were good. They didn't have a theater room like the others I visited, but they had an activity room where they show movies. They also had a schedule of events for the residents.
---
Bruce KHIIGJ
May 11, 2016
I am a friend or relative of a resident
The Forum was very nice, and the rooms were nice and of adequate size. My mother stayed there and went to physical therapy for about a month. The level of care was very good. It was in a nice area, next-door to a hospital and about half a mile away from a shopping center. There's a restaurant about a block away. However, it was a little pricey.
---
bdurant
December 30, 2015
I am a friend or relative of a resident
This is assisted living at it's finest, for a very reasonable price. The facility is impeccable and laid out beautifully. The apartments are huge in comparison to other assisted living facilities, the staff always kind, compassionate and willing to help. The food compares to that of a 4 star restaurant! The activities are endless and they go to interesting places as well as "errand style" visits to stores and banks, etc. The kitchens in each apartment are full kitchens and many apartments come with private balconies. Just beautiful, all the way around.
---
Unhappy visitor
October 25, 2015
I visited this facility
I would never let a person I love, be cared for in the assisted living area. Understaffed, rude, do not follow doctor's orders, cause more health problems- then what patients arrive with. I am shocked that it has 4 stars. The two areas- independent and assisted living, need to be reviewed separately.
---
Anonymous112214250
August 21, 2015
I visited this facility
The Forum at Tucson was a nice place, but it was very clinical. The rooms were like hospital rooms, and the price was very expensive. They had a little activity room where people can read and do puzzles. I was not impressed with their activities. It was very clean, and the staff was very nice.
Provider Response
Thank you for taking the time to write a review about The Forum at Tucson. We are take pride in our community and are very pleased that you found the staff to be nice and the building to be clean. We would love to invite you back for an additional tour, as well as the opportunity to meet with our Activities Director to get the chance to see all of the great activities we offer our residents daily. My door is always open, please reach out to me. Thank you for your consideration, Maria Lynn, Executive Director.
---
ravenna
August 12, 2015
I visited this facility
I spoke with staff on the phone after emailing for information. I inquired on assisted living for my parents. My father is on dialysis and is very stable. This facility will not take anyone on dialysis or with some other medical conditions. This is the first place I have come across that has this limitation. So make sure to ask this question first before taking time to consider this facility. If you develop a medical condition they do not allow, you will have to move.
---
Caring18114150
June 26, 2015
I visited this facility
We really like The Forum. It was very good. We have gone back there three times now. The staff was very professional. I'm just impressed with them. I'm impressed with the staff members that we met and the facility's cleanliness. Just everything about it was very nice, and that's the place that we are planning on moving my grandma to.
---
B Winter
May 15, 2015
I am/was a resident of this facility
I am a new resident of The Forum but already it feels like home. I have met very nice people both residents and help.My apartment is lovely and makes the transition from my home to here much easier than I thought it would. The dining room is delightful and the food is great. I am so happy I chose. The Forum.
---
-Anonymous
April 09, 2015
I visited this facility
We were met on the day of our appointment to check out the Forum, by Ms. Bolkcom and given a thorough tour of the facility. Her warmth and enthusiasm and the wonderful facility itself left a greta impression on us.
---
Caring107266450
March 08, 2015
I visited this facility
My mother-in-law lived at The Forum at Tucson for about a year-and-a-half, and we were very dissatisfied with it. She is in the Alzheimer's unit, but she does not have Alzheimer's. She is a little forgetful, but she dresses and showers herself. It was just terrible there. We were very unhappy, but the facility itself has nice rooms. It's a large facility which also means it is less personal.
Provider Response
I am the Executive Director and I would very much like to meet with you to address your concerns. The satisfaction, happiness and comfort of our past, present and future residents and families is our first priority at The Forum at Tucson. Thank you for your consideration.

Fred Randolph, Executive Director
---
Caring102472150
February 25, 2015
I visited this facility
The Forum at Tucson is a nice place. That is where we were going to put my mother. We had it all set up, but then they called to say they were sorry because she required too much help. It was really weird. They have a new director that came in, and he just thought that she would require too much help because she was a dialysis patient. They were really nice, and the place was beautiful. Then at the beginning of the year, they got a new guy that's in charge. He changed some rules, so it was last minute when they shut us down. We were planning on moving her in, and we already have put the deposit down. They never even saw her or even assessed her. It was bad, but I'm glad because she is very happy where she is now.
---
AVOID!!
January 29, 2015
I am a friend or relative of resident
This facility used to be OK... but in the last several years has gone WAY downhill. The prices shown are not even close to the actual prices, which are MUCH higher. Service is very poor, food is cheap to the point of being a disgrace. Staff is often rude. Facility cancelled the security guards that used to be present and if in Independent Living, NO care is provided if an accident or illness occurs, other than maybe calling 911. AVOID this facility, there are so many others that are superior in every way.
Provider Response
I am the Executive Director and I encourage you to call or visit me. We do operate under state regulations that require nurses to practice only in the licensed areas to which they are assigned. In Independent Living- the front desk, management or security will answer calls, summon 911 if needed and stay with our residents until help arrives. We know that Food & Dining is vital to our residents' happiness so we pay close attention to the insights of our Resident Food Committee and the resident comment cards. We have always been very proud of our resident and family satisfaction scores. Senior living is a significant financial decision so we know that it is important to be very clear about costs. Please contact me so we can discuss your concerns. My door is always open and I would appreciate the opportunity for a conversation with you.

Fred Randolph, Executive Director, The Forum at Tucson
---
Jackie30
December 18, 2014
I visited this facility
We were treated nicely at The Forum at Tucson. The staff seemed friendly. They had a bus that takes you to places, and the food was good. I liked the size of their rooms. The dining room was nice and had very nice waiting staff. It was clean, it did not smell, and we were kind of impressed with the size of the apartments; at least, the two-bedroom and even their one-bedroom was larger. It was more like a home than an institution.
---
Caring76344550
December 12, 2014
I am a friend or relative of a resident
The Forum at Tucson was very nice, but I can't afford something like that. My cousin died, but she liked it very much while she was there. She had a really nice apartment, and her furniture was gorgeous as she was able to bring in furniture. It's very nice on the inside. If I could afford to go to any place, that's where I would probably go. She participated in a lot of activities there.
My cousin really looked at a lot of them before she decided on which one to go, and this is the one that she felt was the best; she was right, it was really very nice. The dining room is very nice too. When she finally got bedridden, they did provide her with care.
Provider Response
I am the Executive Director and I want to express my appreciation for your kind words about our community. At The Forum at Tucson, the whole team is dedicated to providing a comfortable home and an enjoyable lifestyle for our residents. We are pleased that your cousin chose us and that it was a happy decision for her. We are also gratified that we were able to provide the extra care when she needed that support. I did want to let you know that we have a variety of options to make The Forum an affordable choice. Companion Living is always a good financial alternative and has enormous social benefits. We also offer a wide range of floor plans which are priced according to square footage and all come with our wonderful services and amenities. In addition, we have Financial Solutions partners which we can discuss with you. Again, thank you for your wonderful comments about The Forum!

Fred Randolph, Executive Director, The Forum at Tucson
---
MWCole
November 28, 2014
I am a friend or relative of resident
This facility does, in many ways, seem good Unfortunately, when they moved my mother back to TMC from the Skilled Nursing Facility - she had been sick with them for 9 days, they would not take her back. They said she had met her goals there! That doesn't explain why she went from the Forum to Tucson Medical Center! When we tried to get her clothing, they could not find it. I had paid extra for them to do her laundry, but they coul;d not keep track of it. They also could not find several other things that belonged to her. Not a good experience!
Provider Response
am the Executive Director and would like to apologize for the experience you had with us. Please reach out to me so that we may sit down and discuss your concerns with the care and attention that they deserve.

Fred Randolph, Executive Director, The Forum at Tucson
---
Caring97194150
November 05, 2014
I am a friend or relative of a resident
My impression with the Forum at Tucson was excellent. My mom has been there for almost four years. It doesn't smell or stink. I definitely recommend the skilled nursing. The skilled nursing provided excellent care to my mother, but for the assisted living not so much.
---
MariaV
October 22, 2014
I am/was a resident of this facility
To the Forum Skilled Nusring Staff: I really enjoyed my stay at The Forum. Everyone and all my treatment was excellent. Thank you for helping me rehab and get home. Respectfully, Maria
---
Elizabeth44
September 30, 2014
I am/was a resident of this facility
Great service, cheery environment, knowledgeable employees, and good food!
---
Marjorie15
September 30, 2014
I am/was a resident of this facility
All the staff is very considerate of the resident's needs and are so helpful and kind.
---
Alex & Margaret
September 30, 2014
I am/was a resident of this facility
From day one, customer service has been excellent. All staff have been helpful and supportive. All nurses attending me have provided top-notch service. The PT and OT, Andrew, Pablo, and April have provided outstanding service. They are understanding when I'm in great pain and take the necessary measures to complete therapy in a productive manner.
---
Caring86048750
June 19, 2014
I am a friend or relative of a resident
My father was at The Forum for a couple of months, and my mom was there too for a month. I think it was a good place, but I don't think it was a very good match to my dad because my dad had too many physical needs, and I think it was hard for them to take care of him. However, they were good and adequate for my mom. When she was there in the assisted living, she just wanted to be by herself, but they were able to get her interested in coming down to the dining room and were starting to interest her in activities and introduced her to different residents. However, she passed away suddenly, so she wasn't able to have the full benefits of living there.
I thought it was good as long as people were pretty mobile and could still go around and do something. However, if they were falling or had other medical issues, I didn't find it to be a very good match. Also, it bothered me that the memory care unit smelled like an old folks' home. It wasn't nasty, but I have a sensitive nose. It smelled like chocolate muffins and oatmeal and bleach. It was a secured unit, so residents couldn't wander off, and I think that would kind of hold some of the smells in there. I think the price was quite high.
---
John74077250
June 17, 2014
I visited this facility
I was not impressed with The Forum at Tucson. As soon as we walked in, it smelled like urine. Also, I was not impressed with their rooms and dining rooms.
---
Caring84555050
June 10, 2014
I am/was a resident of this facility
The Forum used to be a Ramada Inn, and it was designed to have all the appeal of a Ramada, with a circular fountain out front and lots of parking. It has very wide hallways, so you can have wheelchair races. It was very nicely done. The rooms are spacious in The Forum. The food is excellent. They have movies, and people come in to play the piano, they have several groups, they have walk in tours and driving trips. The staff is excellent. I am happy here.
---
Lorrai
August 11, 2013
I am/was a resident of this facility
Upon leaving this first rate rehabilitative facility, I'd like to say "thank you" to the employees in housekeeping, nursing, dietary and administration. The housekeepers are hard workers and bring a love of life to her job every day. It has created a beautiful place where people come to heal. the night nurses take the time to answer and explain with a respectful and very knowledgeable background. They create a relationship with me that was trusting and comforting. It made it so much easier to relax and sleep at night. The day nurses are very professional and do their jobs with a grace that also radiates a calming and reassuring charm. The nurse aides seemed to have endless energy and plain old cheerfulness. My stay here has been not only positive, but also pleasurable.
---
Judy36
August 01, 2013
I visited this facility
The Forum was beautiful and we really liked it. The food was excellent. The staff seemed wonderful. The apartments except for the smallest one seemed really nice. It was like a hotel.
---
JBurie
July 19, 2013
I am a friend or relative of resident
My family member has lived in two other facilites in town and I can honestly say that neither has compared to the care that The Forum has provided. The staff is friendly and caring, the grounds are well kept, and the food is fantastic. The past few times I have visited this property the front desk staff has gone above and beyond to accomodate a few of my requests. Thank you for all you've done for my aunt!
---
Janice9
June 19, 2013
I visited this facility
I liked The Forum a lot. This was a very nice facility. The rooms were nice and the food was good. Their staff seemed nice too. However, at the time that I visited this place, they didn't have any apartments available.
---
Bonnie15
April 30, 2013
I am a friend or relative of a resident
My mom stayed at The Forum because it suited her rehabilitation needs. The building was well-maintained and well-kept. The staff were courteous. And the food was palatable, it was not great but it was good.
---
alzheimer1
September 27, 2012
I am a friend or relative of a resident
This facility is always well kept and clean. The staff is courteous and professional and takes very good care of all the residents.My friend that stays there has stayed in other assisted living homes that have not been as well kept and nice so she appreciated that the Forum is.She does not have to worry about anything as all of her meals are provided and they make sure she takes her medications and that is not always easy with her.She very much enjoys the social interaction with the other residents as well as the staff.The only negative thing I have to say about it is sometimes it get noisy.The prices are in line with industry standards and I think it is worth a bit more because they are better.She has a nice room with a good view out the window of a pleasant park like area with grass and trees. I would recommend this facility to anyone looking for assisted living.
---
Kristen1
April 14, 2012
I visited this facility
I recently paid a visit to this facily because my grandmother is a current resident. She is a part of the assisted living program, where she is continuously cared for. This care includes, getting dressed daily, properly groomed, and monitoring of her medications. We are so thankful she is a resident here, my family is at ease knowing she is well taken care of. Our family and her alike love the staff. Her bedroom is larger than what we had expected, which was a plus!! And she loves being able to meet with her friends during the evening for dinner! It's a great place if you're considering options.
---
tbuzzard7
February 17, 2012
I am a friend or relative of a resident
My great-grandmother is an assisted living resident at The Forum. As a regular visitor I feel I can offer a different perspective on this facility. She is in a single "apartment" type room which, in my very inexperienced opinion, is quite a bit more spacious than I would have thought. I have accompanied her to dinner and lunch on several occasions down in the dining room and would rate the food as fair. I wouldn't say it was flavorless but it wasn't what very enticing to my pallet. The interior grounds are well kept and scenic. Finally, the staff is quite friendly and accommodating. Overall I found the Forum to be a more than acceptable assisted living facility for my family.
---
Enforma
November 07, 2011
I am a friend or relative of a resident
It's rare when a facility affects me personally, and so I want to give two thumbs up to the Forum staff for taking such good care of my mother during her stay there following her recent knee replacement surgery. She had her first knee replacement done a year earlier, and she had so many things go wrong during her recovery that I was afraid she would opt-out of having the other knee done. My fears were put to rest by the wonderful caring people at the Forum in the rehab section. Not only did they give her quality care and therapy, but also provided welcome distractions in the form of hired entertainers, and lots of activities. I also noticed the various selections on their menus, and the many choices of entrees, and I have to say it looked anything but dull.
I was concerned for the staff, especially when mom told me a worker had to pull a double shift due to some workers calling in sick. In this line of business that is not uncommon, I know. I was also impressed with the way the maintenance staff handled the repairs needed after a storm caused some damage to a hallway ceiling, and how they contained the mess quickly. I highly recommend this care facility, and thank them again for the great care they gave my mother.
---
---
The Forum at Tucson offers compassionate senior care in Tucson, AZ. We strive to create a home-like atmosphere where you and your loved ones can feel secure. Our warm, well-trained staff works closely with our residents to provide the utmost care and comfort. As part of the Five Star corporation, you can be sure that everyone at The Forum at Tucson shares the Five Star Values, and is committed to a high level of caring in all that they do. Please schedule a visit to see why we are the first choice in senior care in Tucson, AZ.
What Makes Us Special
---
Providing quality care for over 25 years, on the grounds of one of the largest hospital groups in So. AZ., Tucson Medical Center, award-winning memory care program, larger apartments, state-of-the-art Arial lifeline system.
Features of The Forum at Tucson
---
Costs
Minimum rate: $3495/month
Minimum Memory Cost $4785/month
Rent Plus Care Fees
Entry Fee
Fee Structure Extra We Offer A Month To Month Rental
Room and housing options
1-bedroom apartments
2-bedroom apartments
3-bedroom apartments
Companion Suites We Do Not Offer Companion Suites
Studio Apartments
Detached Homes
Housing Extra Cottages
Dining options
In Room Kitchenette
In Room Kitchens
Dining Room Shared Meals
Room Service For Meals
Dining Extra Restaurant Style Dining
Features
Beauty Barber Shop
Computer Room
Resident Transportation
Party Space
Hiking Trails
Garden And Patio
Resident Parking
Security Gate
Pool
Features Extra Library, Fitness Room/Gym
Cleaning services
Laundry For Linens
Private Cleaning Services
Housekeeping
Technology and entertainment
Cable In Rooms
Technology Extra Emergency Call System
Health services
Skilled Nursing
Medication Management
Physical Therapy
Nurse On Staff Yes
Activities
Offsite Activities
Music
Games
Stories
Religious Services
Lectures Discussions
Book Clubs
Wii Sports
Fitness Room
Yoga
Arts And Crafts
Activities Extra Computer Class
Financial guidance
Home Sale Assistance
Va Benefits Consultation
Financing Advice
Guest services
Guest Parking
Guests At Mealtime
Overnight Guests
Diet
Diabetic
Low Fat
Low Salt
Renal
Vegetarian
General
Staff Patient Ratio 1 To 10
Respite Care
Minimum Age 55
Pets Small Pets Allowed
Licenses
Licenses Assisted Living, Skilled Nursing, and Outpatient Therapy
State Licenses AL3216C
Location of The Forum at Tucson
---
Get Cost Information
Get full access to reviews, cost information, and amenities