Savannah Square
1 Savannah Square Drive, Savannah, GA, 31406
Talk to a Family Advisor: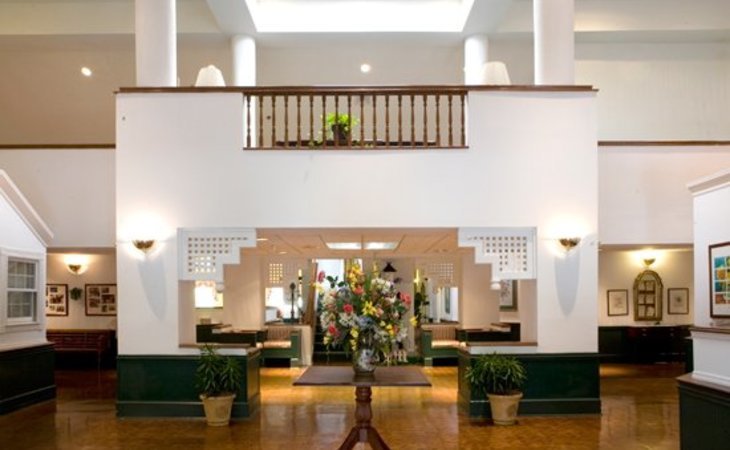 Top nearby Assisted Living Facilities
Reviews of Savannah Square
---
Debbie317830
March 04, 2017
I am a friend or relative of a current/past resident
My parents are in Savannah Square's assisted living area. They have a nursing home and independent living on-site. Right now, I am not too pleased with it. Some of the Med-techs are not very friendly and had been rude to my mom, but not all of them. There are several of them who are very good; they can't always have a perfect staff. The food is OK. They prepare the food in the independent facility and bring it over to the assisted, so sometimes the food is cold. The apartments are really nice. They are living in a spacious one-bedroom, one-bath apartment. It is bright because it has nice, big windows and has a little kitchenette without a stove but does have a microwave and a little refrigerator. They have two-bedrooms and one-bedrooms of different sizes, too. It is very easy to get to.
---
RubyJG
March 04, 2017
I visited this facility
From the initial contact over the phone I felt welcome at Savannah Square. I toured the Health Center for my father in law and was very impressed with the staff. I observed the interaction with residents, cleanliness, and there weren't any bad smells. Staff answered my questions, and My father in law needs short term rehab and I have heard great things about this place and the therapists.
---
Mae.H46
March 02, 2017
I visited this facility
I toured this community and its been updated very nicely. I toured the Health Center and all the staff were very friendly and helpful. Each room has a flat screen T.V., and telephone.
---
Visitor117710550
January 26, 2016
I visited this facility
Savannah Square was very nice. They have beautiful little cottages on the property for independent living, rooms for assisted living, and a nursing home as well. The staff was fine. They were friendly, nice, and professional. They have a bar and a piano area, a theater room for movies, and rooms for arts, crafts, clothing or painting; that kind of stuff. They did have gym facilities, and they also take you to doctor's appointments or shopping, and that kind of stuff.
---
Neva2
July 31, 2015
I visited this facility
Savannah Square is probably the nicest one, but it is way too far from where I live and my family. They have a lot of cottages, and they have lovely dining facilities. It is really topnotch. The staff was quite pleasant. Their cottages were very nice, but small as they all were. I would recommend this facility to others.
---
CarolynRenouf
July 30, 2015
I am a friend or relative of resident
(Rated one star because I couldn't rate zero) My mother stayed in this facility for about one week for the "Skilled" nursing care after a short hospital stay. Her room didn't even have a working call button and she needed assistance getting in and out of the bed. She also did not have a working phone in her room until my 15 year old pulled the jack out of the wall and fixed it. This facility does not provide a TV, even for short term patients, and there are no pictures on the wall in the rooms. The staff was disinterested. The nursing staff "doesn't do" physical therapy so they refer you to the therapist and forget about it. The hall outside my mother's room smelled like a gas station bathroom. Mother had thrush (from antibiotics) and complained about her mouth hurting, but no one made any effort to find out why her mouth hurt and/or get her softer food to eat, until we complained to the nursing staff. This place was awful for short term care. I wouldn't send my worst enemy's parent to this place.
---
Caring111151750
July 13, 2015
I visited this facility
Savannah Square was excellent. It's beautiful. The price wasn't outrageous, and everything was included. They had a whole calendar of things that they do. They stay busy, they have quality people that come in and speak, they have classes -- you name it. They have wonderful activities.
---
Diana1959
April 30, 2015
I am a friend or relative of resident
My mother lives there...She loves the place and has made a lot of friends. It is the right place for her after my father passed. My mom is 81. Nice recreational activitites.
---
Caring103250750
March 11, 2015
I am a friend or relative of a resident
My mother lives in Savannah Square, and I am very happy with that. She has been there for a little over two years. The employees have a lot of compassion for their patients. It is very clean, and it is a family atmosphere.
---
Caring100686450
October 22, 2014
I am a friend or relative of a resident
My brother-in-law moved to Savannah Square. They hated it, and they moved out after about two and a half months. The services were terrible. The staff was insufficient and lazy. One time when the cook and the staff left, they didn't have food except for water. They had a large number of buildings and just two maintenance people. A lot of the building was very dirty. They need to improve their services in their dining room, the food, and the cleanliness of the property. They are way too understaffed.
---
Caring94133950
October 17, 2014
I visited this facility
Savannah Square was nice. The people there were very friendly. I wouldn't say the facility was spectacular, but it was fine. There was plenty of room. They were just ordinary, but they were nice. The staff was friendly. They seemed a little overwhelmed with what they were doing.
---
Dot5
May 12, 2014
I visited this facility
I visited Savannah Square, and the staff was very helpful and friendly. I got to meet several of the residents there, and one of them showed me her apartment. Their food was very good. They have apartments in their main building, and then they have cottages also. The facility itself was clean and bright. They provide transportation within 10 miles every day of the week. The atmosphere was positive, and overall, the visit was a good experience.
---
Melinda11
January 31, 2014
I visited this facility
Even though I had spoken to somebody at Savannah Square to confirm my appointment, the individual that was supposed to do the tour was off that day. So another person tried but that was not their job. They were not just as well prepared. This facility was very dark and I must say that it was a little depressing to me. When I was there, I saw somebody being transported to appointments and I saw the place where they hold different activity. I saw their movie room, arts and crafts room and things of that nature.
---
Jarrod
November 20, 2013
I visited this facility
My granddad is going to be moving into The Savanna Square. They did have both independent and assisted living. Everything was really nice there. The facility itself was nice. I like that it was secured and gated, so that's nice as well. Their rooms were very nice and clean. They were relatively large. Their dining room was large as well with lots of tables and chairs. Everyone I met was very nice. They seemed to really care about their residents. Overall, everything was good there.
---
Caring72406650
October 27, 2013
I am a friend or relative of a resident
Savannah Square was the only facility that provides respite care in our area. Mom has been there for about three weeks now. They have nice rooms and the facility itself is very nice. We were able to have lunch there and the food was very good. I don't really remember what the activities were, but I'm sure they have bingo and games nights.
---
Family one
October 13, 2013
I am a friend or relative of resident
I recently visited my sister in law at Savannah Square. It was just awful! There doesn't seem to be anyone in charge. I understand there is a lot of employee's coming and going all the time, perhaps Glen ? In the HR department is addressing this. I also must mention that the cottage my sister in law lives in is a bit dated and gloomy. For the money she is paying I would thhink they could afford to update the accommodations . Oh the room service lunch we had was cold and not very appealing. I hope you can correct these issues so my sister in law does not have to find another place to reside. Thank you.
Provider Response
Dear Resident:

On behalf of everyone at Savannah Square, I want to thank you for choosing us as your residence. We know you have many choices for living arrangements so we want you to know your presence here at Savannah Square is greatly appreciated and we look forward to having you join us in the many activities that we have available for all residents.

I understand that there was a recent incident concerning your food delivery and I want you to know that we take your concerns seriously and that we are investigating the situation further to ensure that our services are exactly what you expect them to be. Our food services department takes all food delivery concerns personally and will endeavor to correct any problems encountered by our residents. We request that if you have any concerns over the food service or delivery issues you would contact the Concierge at extension 8003 and they can address the concerns immediately.

Again, we thank you for being a part of the Savannah Square family and if you wish to meet further about this situation or if you have any other questions, please contact me at 912-921-8037. I am hopeful that you will recognize that we are making every effort to resolve your concerns and to make this the best senior living community of its kind in all of Savannah.

Sincerely,

Samuel R. Gibson - Executive Director

Savannah Square - 912-921-8037
---
James40
August 27, 2013
I visited this facility
Savannah Square is a little dated but it's very clean. The staff was very good and attentive. They answered all our questions and showed us all their facilities.
---
Caring052502
June 12, 2013
I am a friend or relative of a resident
The administrator at Savannah Square was courteous. The place was very nice and the rooms were clean. They were very happy and very pleasant.
---
A Blessed Daughter
December 12, 2012
I am a friend or relative of a resident
My mom is in early stages of dementia. She has been a resident of Savannah Square for one year now. What has impressed me the most about this facility is the loving care that all of the staff shows toward each resident. The food and cleanliness of the facility is beyond compare and I can be a peace knowing that my mom is being given quality care even when I cannot be there with her.
---
sweetpotato
October 18, 2012
I visited this facility
I visited my grandparents in Savannah Square several times. I have to say I am impressed with their services and the community atmosphere they are creating. I can tell my grandparents are happy there. They are content with their little apartment. Its well designed for senior to easily get around even in wheelchair. It comes with a little garden which my grandmother endears. There are activities to keep them busy and social, and classes to encourage them to be active.Staff are nice and truly caring, and residents are friendly and watching out for each other. Its club house is beautiful. I like it that they provide a special dinning room which residents can reserve for their special occasions. Also there is a recreation room where we spent a great time with our grandparents. I cant be happier!
---
Lovingdaugther
August 28, 2012
I visited this facility
From my experience assisted living does not seem so bad. All residents will have a sense of independence but a plus to that is there will always be help available if needed. The staff was very friendly and informational however; everyone is like that when they want you to choose their facility. The residents appeared to be very happy. The living conditions were also nice with plenty of person space. They have Bingo, Bridge & other game nights which seem really nice. Another plus was its location near all the restaurants and shops in Savannah. The food served at Savannah Square was above average and the sweet tea was to die for! Bottom line if you're a southern then this is the place for you. You are independent with help if needed, entertainment of a regular, in the heart of the city and very satisfying food what more could you ask for?
---
wachinout4u
January 13, 2012
Other
Mama Mia...this is the perfectly located Continuum of Care Community. On the southeast side of beautiful Savannah, it is right across from St. Joseph Hospital campus, the YMCA and popular Abercorn Street (where all of the shopping and restaurants are located). This is a beautifully landscaped campus that has all the benefits of Savannah's nature and charm. Love that if offers independent townhomes and garden apartment, assisted living and nursing home for both short term rehab and long term care. The rooms and commons areas are lovely and meals are both restaurant style or buffet. Lots of choices. Well rounded schedule of activities. Solid staff!
---
healthcareconsultant
December 01, 2011
I am a past client of this provider
I was a past client of Savannah Square. In general, I thought Savannah Square was a nice facility and is in a convenient location. The grounds of the facility are very nice, and well taken care of. The residents' rooms are tidy and organized. The staff and management of the facility seem friendly. In general I think the residents are safe and receive decent care there. While I was there, I did notice that one of the staff members seemed occupied with something else while a resident was talking to her; however eventually she did address the resident. Other than that I did not have any other concerns. I would recommend Savannah Square, but would keep that observation in mind.
---
---
Savannah Square offers compassionate senior care in Savannah, GA. We strive to create a home-like atmosphere where you and your loved ones can feel secure. Our warm, well-trained staff works closely with our residents to provide the utmost care and comfort. As part of the Five Star corporation, you can be sure that everyone at Savannah Square shares the Five Star Values, and is committed to a high level of caring in all that they do. Please schedule a visit to see why we are the first choice in senior care in Savannah, GA.
Features of Savannah Square
---
Health services
Nurse On Staff

Onsite 24/7
Diet
Diabetic
Low Fat
Low Salt
Vegetarian
Location of Savannah Square
---
Request Info
Get full access to reviews, cost information, and amenities