Carlton Senior Living Sacramento
1075 Fulton Avenue, Sacramento, CA, 95825
Talk to a Family Advisor: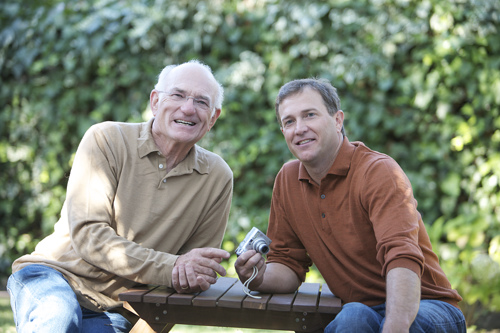 Reviews of Carlton Senior Living Sacramento
---
Annetta451431
February 11, 2017
I visited this facility
I went to Carlton Senior Living Sacramento. It was a very nice place that looked cheery and active. The food was good. The rooms were larger but more expensive. The community was right in the heart of Sacramento, and the grounds looked very nice. The places they showed me were very nice but were more than my mother needed and more expensive.
---
Liane837448
June 10, 2016
I visited this facility
We saw several rooms at the Carlton of decent size. They're certainly spacious-looking and generally bright; however, when you look out the window, unless you're looking into the courtyard, the other part was just really lacking in environment for me. I am not super excited about the location, but the community itself was lovely. The people were helpful.
---
GlennCADSZ
May 12, 2016
I visited this facility
Carlton Senior Living Sacramento looked and fely like a high-end hotel, but the price was a little higher. There were two people at the reception area when we arrived, who were very friendly, very attentive, and very good.
---
Edward28
March 27, 2016
I visited this facility
Carlton has a room for us in the assisted living part of the building. They have physical activities, games, and serve three meals a day. I chose it because I can live with my wife in the room that we're moving into.
---
Julie117379550
February 23, 2016
I visited this facility
Carlton Senior Living is awesome and clean. The food is good, and the people are super nice.
---
Caring113339250
September 17, 2015
I am/was a resident of this facility
Everything about Carlton Plaza of Sacramento is a 10. The staff is very helpful. The food is great. This is the best place that I have found in the area.
---
Caring108357550
June 11, 2015
I am a friend or relative of a resident
The staff at Carlton Plaza is very caring and appropriate. Their service is good. They have a lot of activities, and they are all appropriate for people with dementia. The communication isn't what I had hoped for, but I plan to have a meeting with the manager next week. I'll tell her what I expect, and hopefully she'll be able to do it. The room is very nice. It is a private room, and my mom only shares a bathroom and a hallway with somebody else. But she has the ability to close the door and be completely by herself which is good for her. It is very nice. It is not huge, but it is certainly adequate. The dining room setup is fine. As for improvement, they should have a set for communications with family if the family members want to hear from them regularly. I would like a weekly email detailing what mom has done in the last week and what things have been changed.
---
Anonymous105053650
January 26, 2015
I visited this facility
I visited my friend and his wife at the Carlton Plaza, and it was a nice and clean facility, but he commented that they are somewhat understaffed which is a common problem with facilities. They were having a meal at the time of my visit. I saw that they have a menu, and the food seemed to be very good.
---
Jeanette14
September 23, 2014
I visited this facility
Carlton Plaza was nice and clean, the people were really friendly, and the food was excellent. They didn't have just the plain straight room to eat in; it was broken up into sections, which made it a little more intimate, and therefore didn't have the straight dining room feeling. They didn't have any two-bedrooms and the rooms didn't fit the needs that we have for our parents. But, they were very accommodating to us and were willing to go out of their way to show us.
---
Julie O.
July 21, 2014
I am a friend or relative of resident
DO NOT ALLOW YOUR SENIOR RELATIVE OR FRIEND TO GO TO THIS FACILITY! The management at the Carlton Plaza on Fulton is terrible. My family has filed approximately 15 complaints with the state licensing department in a four month period regarding my grandmother's care, safety, and living conditions.
The facility was cited for falsifying my grandmother's paperwork in an effort to circumvent communication with the listed responsible party, my mother. The executive director then used that falsified paperwork as a means to communicate only with my grandmother who has dementia and was recently diagnosed with early Alzheimer's. The executive director is extremely unethical and manipulative...she is all about business and not about people and their families. She even was recently reprimanded by her corporate office and mandated to take some type of sensitivity classes/seminars after talking about some residents to other residents in a nasty, negative manner (think middle school name calling!). Absolutely unacceptable!
Failure to respond in a timely manner to my grandmother's emergency call button this spring also resulted in a citation by the state licensing department. Then three months later in June the Carlton completely failed to respond to my grandmother's emergency call button causing her to suffer in her apartment all night in horrific pain. Because this was a repeat offence in such a short period of time the Carlton's citation will be more serious.
I could go on and on discussing the problems with this facility, but I think three major incidents verified and cited by the state licensing department is enough said...all between March and June. There are many other incidences that have occurred with other residents, my grandmother was not the only one.
Whenever you visit elderly living facilities ask to see their DSS binder with the reports of all state complaints. Ask at the Carlton and you will see pages and pages of recent complaints.
BEWARE OF THIS FACILITY! GO SOMEWHERE ELSE!!!
---
Caring6870
June 17, 2014
I visited this facility
Carlton Plaza did have assisted living as well as independent. It was a little bit of an older facility, but it was fine. However, we weren't very impressed with this place. We liked their services and stuff, but we didn't like the way they did it. I think it is really set up more for independent living just by looking at it and how everything was laid out in the facility. It was nice, but I would give it an overall rating of 3 out of 5. Also, it was near a major road, and Fulton Ave is very busy, so that was kind of maybe a little bit of a distraction. The people were generally friendly. We didn't have any problems with the staff. They did have a range of rooms, but they weren't huge. I would say they were just an average size.
---
SacGal
August 02, 2013
I am a friend or relative of resident
My father has been a memory care resident for more than a year. Our family could not be happier with the experience. It is so hard to quantify the relief in knowing a loved one is well cared for by truly sincere people. The fact is, he is happier and healthier than he was at home. A social person by nature, he has benefited greatly by living in a community setting. I am constantly amazed at the patience, love and dedication all of the employees show to each resident. The food is outstanding as well. Truly! My greatest hope is that financial resources will allow him to stay as long as needed.
---
Bruce11
July 25, 2013
I am/was a resident of this facility
I'm already in Carlton Plaza of Sacramento and I'm very satisfied with this facility. It is very clean. There is no smell. They clean once a week. They also change your sheets once a week. What I like best in this facility is their food. Also their staff is really great.
---
Joy2255
July 15, 2013
I visited this facility
Carlton Plaza of Sacramento has a state of the art dementia and alzheimer's memory care community. The community is designed in a circular fashion with really interesting murals on the walls of places around the world. Since most memory care residents like to wander with the community set in circular fashion it allows them to walk around the community with out ever getting lost. What is nice is that the care staff always has them in view as well for immediate assistance. I personally found the care staff to be very warm, caring and capable. This place is a must to visit. Very wonderful place!
---
5ormore
February 15, 2013
Other
Memory care at the Carlton of Elk Grove. Staff are young and very inexperienced in dealing with behaviors associated with ALZ/dementia. Safety is also a concern. My mothers stay was only 30 days due to serious safety concerns/falls.
---
Yup1
June 23, 2012
I am a friend or relative of a resident
Overall the facility was very well put together. The staff was conciencious and caring. They actually seemed to like their jobs for the most part. The facility was large, but not too large to be confusing. There were different rooms for different activities, like game rooms and movie rooms. The dining area downstairs was nice, as it replicated being outside with its sunroof. The food was mediocre, as it was quite bland and some dishes were not warm. The menu seemed to rotate constantly though, and kept the residents from being bored with the food. Desert was quite delicious. There were numerous activities planned, like different training classes and film screenings and whoever managed events did a good job. The day I went, there was a live band playing in the lobby and many of the residents seemed to enjoy them alot. The garden outside in the back of the facility was a nice touch to the overall layout of the facility, as it let people enjoy being outside without being far from assistance. Parking for visitors was never an issue, and since there is a roof over the entry way, it permitted many people to come in and out without being rained upon.
---
Caring453029
September 30, 2011
I am a friend or relative of a resident
My grandmother lives in the Carlton Plaza in Sacramento and words cannot describe how satisfied both she and the rest of my family are with this establishment. Like most people I was scared to leave her in a "home" but this place is absolutely wonderful. The staff seem very friendly and eager to please. They always seem to be in a good mood. The facilities and amenities this place has to offer are excellent. The dining area seems more like a restaurant than a cafeteria and the living room is luxurious to say the least. I was worried that the residents of this place would have nothing to do and be bored all day but that is certainly not the case here. They provide entertainment many nights and their movie theater is top notch. The healthcare here seems to be top notch and the attention my grandmother receives is excellent. All in all I truly believe my grandmother is happier here than she had been at her previous home.
---
allenjr55
September 11, 2011
I visited this facility
While looking for a facility to place my grandfather in I came across Carlton Plaza. This facility is very luxurious and up to date. As we walked around the staff were very courteous and you could tell they really meant it when they said "Hi how are you today" and weren't just doing it because it was their job. They seemed to really enjoy their jobs which was very important to me because it you don't like your job your not going to do it to the best of your ability and my grandpa means the world to me and I want him to have the best care possible. They told us that they cater to those with special needs such as diabities and always make sure they are up on their medication and doctors visits. That didn't really apply to my grandfather but it was nice to know that they take care of all their residents not just the healthy ones. One other thing that I really liked was the dinning situation they have the dinning room open to cater to the residents eating schedule so its pretty much open all the time, and they make specific meals according to residents allergies or if they are diabetic etc. I would definitely recommend this place to others. Sadly my grandpa passed away unexpectedly and we never go the chance to use this facility but I will definitely keep it in mind for anyone else.
---
eldercaredoc
August 20, 2011
Other
I cannot say enough about the fabulous staff and amenities at Carlton Plaza. They have many activities to keep seniors busy and connected if they so desire. They also have a memory care unit when your loved one needs the next step in care.
---
BratPhi4
July 18, 2011
I am a friend or relative of resident
First the positive: Good safe location. Very nice interior and exterior. Very well kept, very clean. Good food, lots of choices and easy access. Lots of activities and entertainment. Friendly staff, most seemed to really care about the residents.
Now the negative: Very pricey, some of the staff didn't seem to care just going thru the motions. Supposed to be secure for memory patients but my mom was able to leave the area a couple of times. My mom was able to convince a staff member to use their cell phone to call me and it was strictly forbidden. She also accessed the central phone and wasn't supposed to have access. Not enough supervision, again it was a memory ward and there were several times when patients would just walk into my mom's room while I visited. There were a few mix ups in the transfer of meds from the hospital to the facility and we had insurance problems long after her stay.
I would be hard pressed to recommend this facility for a memory patient, but would be okay recommending to a person without memory problems.
---
From Carlton Senior Living Sacramento
---
Carlton Senior Living Sacramento prides itself on a reputation that is unsurpassed. It has the luxurious feel of a 'cruise-ship on land', with the extensive activities program and all-day dining room with delicious meals and snacks, it is the perfect place for an active senior to call home. We also offer a comprehensive Assisted Living options that cater to residents with more specific needs, including diabetes management. Our separate "Our House" program is a quaint environment with specialized care for those residents with memory related illness.
The Carlton Senior Living experience begins the moment you move in. Our move-in consultation ensures a plan is in place for both resident health care and best life needs. We work with you to create a Personal Expressions activity program and to gauge the level of personal care needed. Ongoing Family Connection Conferences help us monitor resident lifestyle changes and adapt to their healthcare needs accordingly.
Our dining options cater to residents' taste and daily schedule. All-day restaurant-style dining services, a 24-hour cafe and room service on request serve residents who are on the go or ready to relax at the end of the day. The richly appointed common areas, library, game room, and courtyard complete the total living experience.
Features of Carlton Senior Living Sacramento
---
Costs
Minimum Rate

$3095/month

Minimum Memory Cost

$5695/month
Room and housing options
1-bedroom apartments
Studio Apartments
Location of Carlton Senior Living Sacramento
---
Top Cities for Assisted Living
---
Get Cost Information
Get full access to reviews, cost information, and amenities