Harmony Residential Care, Inc
4102 Malaga Ct. SE, Rio Rancho, NM, 87124
Talk to a Family Advisor: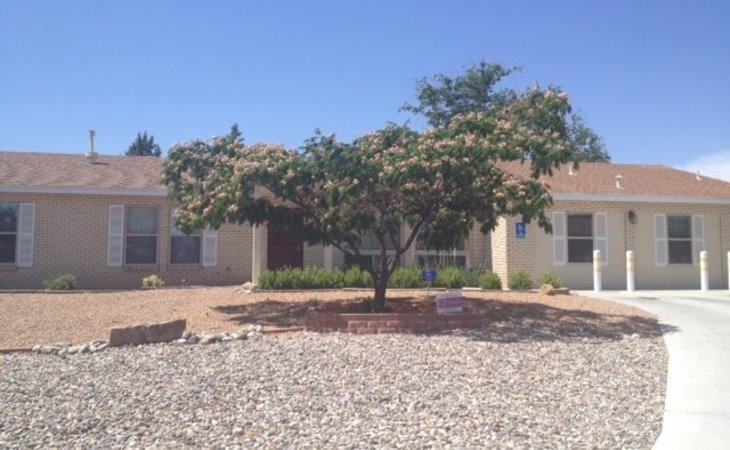 Reviews of Harmony Residential Care, Inc
---
Larry006132
April 14, 2017
I visited this facility
My visit at Harmony Residential Care was very pleasant. The staff was very friendly and knowledgeable, and we had a nice tour. They actually had 1 vacant apartment, but it was too small for me. I am on their waiting list in case one of their larger 1-bedrooms opened up. They have about 8 or 9 people living there, so it is a smaller place, and it is more like a home atmosphere. They serve 3 meals a day, and they have laundry service for the 1-bedroom. They don't have the kind of equipment the bigger places have. They have a very small room with 1 or 2 exercise machines. It is assisted living, and they offer quite a few services. They offer help with bathing and with medication, if you need that. They offer most of the services for assisted living.
---
Paula041064
March 28, 2017
I visited this facility
Harmony Residential Care was a small place. If Mom needs to be moved into a nursing home-type setting, then Harmony is on our list. They had a room with a bathroom, and all meals were cooked in a dining area.
---
Gloria274507
March 03, 2017
I am/was a resident of this facility
I was very pleased in the care that my mother received. The caregivers were very caring and supportive with my mother and family members. All the staff worked together as a team.
Provider Response
Your mother was so much a part of the fabric of our lives for a few years. We will always remember Rose with fondness. Thank you Gloria.
---
Scott336223
November 23, 2016
I visited this facility
We were treated well at Harmony Residential Care, and we liked the facility, but the main concern was the distance from where we're located. The time to get over to be able to see my mom would have been more difficult for us. I think access for someone in a wheelchair would have been more of a challenge. However, it was very nice as far as cleanliness.
Provider Response
It was a pleasure touring our facility with you. Proximity is an important consideration in selecting the right place for a loved one. Thank you for considering Harmony Residential Care for your mom and for the nice review!
---
Joan488637
September 13, 2016
I visited this facility
I liked that idea that Harmony Residential Care Inc. had a smaller number of residents, so they were able to focus their attention on people. They had some activities and did some outings. They were just small homes that were converted into a facility. The director talked to us a little bit. She was very knowledgeable, supportive, and very passionate in what she did. They served three meals a day, and snacks throughout the day. They had a physician that came into the facility, and I believed they had transportation to appointments as well.
---
Sharon B.
October 02, 2015
I am a friend or relative of resident
My mother Mary lived at Harmony Home for the last couple of months of her life. I wish I had moved her there sooner. The House managers were fantastic! Mother Mary loved them all....and always told me about conversations she would have with each individual. I highly recommend Harmony House in Rio Rancho.
---
Landl
June 25, 2015
I am a friend or relative of resident
I cannot say enough positive things about this facility! My mom lived at one of the Harmony Residential homes for over a decade until she passed away. I always had peace of mind knowing she was well taken care of. She was able to receive house visits from medical staff and other health care professionals right on the premises. The facility itself is clean, homey and comfortable. The staff are patient, kind, trustworthy and loving. Margaret is top notch! She was always responsive to my moms needs and addressed any concerns immediately. Harmony House is like family to me and I highly recommend it to anyone in need of assisted living.
---
GratDaughter
April 16, 2015
I am a friend or relative of resident
We had my Dad in Harmony house for 13 months before he passed away peacefully at this home and the hard work the staff does makes them all the greatest. We greatly appreciated it. The staff in this home are all 'worth a million dollars', my Mom's phrase. It was such a comfort knowing he was cared for by such compassionate people.
---
ingekarin
April 13, 2015
I am a friend or relative of resident
Harmony House and the caring team that is working with their passion are amazing.
They cared for my father who had dementia for 13 months until he passed away in March 2015.
Margaret, Mary and Adriana are the ladies I interacted with most but I know there are many more behind the scenes who helped to make my dad's final year happy & peaceful.
And they helped myself, my mom and my sister rest easier knowing that passionate professional folks were seeing to his needs.
With deepest appreciation to the Harmony Home staff!
---
-Caring
April 09, 2015
I am a friend or relative of a resident
Harmony Residential is an absolutely wonderful place. The people working there are angels. They're honorable, loving and professional. They're just fabulous!
My sister was cared for personally with great love and care for all the years she was there. Our experience with them was incredible. My sister was there for three years.
Margaret has the finest ethics. She has such integrity in the way she manages her staff and the facility. She's one of the most impressive people I've ever met and certainly one of the kindest. She's a top professional in every way.
Provider Response
Your 5 Star review will be shared with our staff of 'angels' who have earned this praise in my eyes too. Their work is truly a labor of love. Your sister was a very special person who made us giggle and smile a lot. We will always remember Madge with great fondness. Visit often because we love you too Joann. Thank you for your generous words of praise.
---
fredamc
March 13, 2015
I am a friend or relative of resident
My name is Freda McSwane and I was the POA for a very sweet lady who spent her final year with harmony Residential Care. I have been in many assisted living centers, and have to admit that Harmony Residential Care is the best I have seen. This place gets five stars for cleanliness, compassion, staff, directors, and care. I could not fault them in any way. The above and beyond care that my friend received was pretty unbelievable. If I ever need a place to stay and require assistance, I would not hesitate to do everything possible to make Harmony Residential Care that place.
Provider Response
Our staff care very deeply about our residents and I'm so glad it shows. An acknowledgement such as this is the best reward we could receive. Thank you for your kind words.
---
Mary Frank
December 06, 2014
I am a friend or relative of resident
Margaret, I want to let you know how supported I felt all through the process with my mother. Everyone on your staff is just the best -- I felt so close to them all, especially Mary, because of who she is and that we spent so much time together with my mom. She was wonderful - but also Adriana, Tanya, Devon -- you have loving and competent people working for you. I thought my mom would be around longer, but I'm so happy that I chose Harmony House for her final days.
Provider Response
Dear Mary Frank, you truly honor us with your gratitude. Thank you, Margaret
---
Caring96296350
July 22, 2014
I am a friend or relative of a resident
Harmony Residential was great. My mother lived there for almost two years and we visited her daily. I would say that I was very satisfied with their care. Then, the mother of my sister-in-law lived there for over two years too. I went there weekly. The girls at Harmony were really good with the residents. The place was immaculate. I had eaten there many times. I noticed that their diet were good and balanced. They had a nice outdoor where they could sit. It was really a good place to be for elderly people who couldn't take care of themselves anymore.
---
Anonymous86780650
June 30, 2014
I am a friend or relative of a resident
In mid-March, I placed my mother in Harmony Residential Care, Inc. - Abundant Living. They only have room for about seven residents. It is about as close to a home life as you are going to get if you are living like that. It is very clean, and the staff seems conscientious. They seem to want to include families in things. I guess what stands out about it is the general atmosphere, the feel you get, the ambiance. I have no criticisms at this point. I wanted a small, more intimate setting. I didn't want one of the big places that has hundreds of residents.
---
Twanda
May 20, 2014
I am a friend or relative of resident
My mother has been in 3 assisted living residences in the last 4 years. As her health declined, I would move her to a different one, thinking that newer is better, bigger is better, smaller is better, on and on. I had not considered having her in a small residential home, but her home health care workers suggested Autumn Glow, which is part of the Harmony Residential Homes. I toured it and was very impressed. From the first time I was there, I felt that it was a "homey" place. I moved my mother there a little over a month ago. I was really nervous, because she did not want to move. In the past, when she would misplace something or forget someone's name, or break something she would call me to come take care of it. That was when she was in the larger assisted living communities. She never liked the food, and complained that there was not enough help to meet her needs in a timely manner. Since she has been at Autumn Glow, she has not complained about the food or the care. In fact, she seems happy. For the first time in four years, she seems happy! I am more relaxed, not always expecting a call for something I need to take care of. Margaret, the manager of Harmony Residential, has helped me and my mother, both. She is kind and understanding and very patient. Jennifer, the woman who is there on all weekdays is very gentle with the residents and understanding. I can say the same for Lindsey, who works weekends. In addition to these staff members, and others I haven't met, Harmony provides activities directors who come and play games and do arts and crafts with the residents. A man comes twice a month to give chair massages to the residents. My mother was given a birthday party at which they served her favorite meal,(fried chicken) and a beautiful birthday cake. Before my mother went to Autumn Glow, she was happy to stay alone in her room, sometimes not going to the dining room for meals. Since she has been at Autumn Glow, many times when I go in to visit her, she is with the other ladies talking or watching tv in the living room. One day I called to talk to her on the phone. They told me she was playing Bingo! That made me so happy! The food that I have seen served there is the kind of food we had at home. Not fancy gourmet food, just plain, good food. Hamburgers, stews, soups, sandwiches, meatloaf. My mother is very well cared for there. She hasn't fallen in a long time, and the staff is always aware of when she is moving around. They are close enough to her to assist her before she might be aware that she needs assistance. Anyway, I recommend Harmony Residental Care highly. My mother is well cared for and seems content for the first time in years.
---
danielle1322
April 07, 2014
I am a friend or relative of resident
I am ashamed it took me so long to write a review. this place is absolutely wonderful. I try to take care of my mother alone and I did not realize how hard it was. the care givers are wonderful and the manager Margaret is exceptional. she took the time to help me make the transition. (I needed more psychological work than my mother !) the care is professional , the house is like a home. and I really love that I can go in to see her at anytime of the day.
if you have any hesitation email me I will convince that if you are taking care of a family member you love (and you are not a professional in that field) you are not thinking about them but you ! and I love all the "ladies" who are there (Margaret call them "her ladies") it is the best decision I made for my mother !
---
Kris4
January 28, 2014
I am a friend or relative of a resident
My best friend highly recommended Harmony Residential. Her mother was a resident there.
When my mom went in, she couldn't walk, couldn't see and she was in a wheelchair. She was highly medicated in another facility. When she went to Harmony, they had a doctor come in and re-do all her medications. She is now walking. She's doing very well. She's well taken care of. I can't say enough about Jerry, the supervisor on how great they are in taking care of my mom.
The place is spotless clean. They have many activities. They provide anything that the residents need. It's really one of the best places where I placed my mom.
---
Glenna3
January 23, 2014
I am a friend or relative of a resident
We have a terrific experience with Harmony. We have no complaints about them. They just provide everything for us. It's just excellent. We're very, very happy with them.
---
loving son3
November 20, 2013
I am a friend or relative of a resident
My mother was a resident of Harmony House for close to three years. The staff treated mom with respect and were sincerely compassionate caregivers. Mom was very content living there. She had a lovely room, ate well, gained weight, and enjoyed her friends. It was difficult for us to realize that mom wasn't doing a good job of taking care of herself anymore. She could no longer live in her house alone. She needed more help than we could provide to her daily. It meant the world to us to see that she was really happy with the choice we made to move her to Harmony House. They took care of everything including her health care. I was very pleased with all they did for her and for us.
---
Gloria17
October 30, 2013
I am a friend or relative of a resident
Harmony was the first place I visited and I really liked it. I was impressed with their layout and their furnishing. It's cheery, homey and comfortable. It has a nice neighborhood.
I talked to Margaret and she's wonderful. She really explained the program very well. She took me around on a tour. They have different homes and they're all close together and she took me to each one.
I was worried about mom on her first day with Harmony. It was hard for her. The next day she was pretty fine. She's adjusting pretty well. She said that everybody's friendly.
I would truly recommend Harmony to anyone that needed a place.
---
Caring4416
October 18, 2013
I am a friend or relative of a resident
My mother is very happy with Harmony Residential. Her room there is nice. We've had breakfast there and they have very good food. The staff is very caring. Mary is wonderful. She's there during the day. She bends over backwards for all the residents. Tanya is so much fun.
---
Caring0726
October 18, 2013
I am a friend or relative of a resident
My mother has been with Harmony Residential for a month now. She seemed to be well acclaimated with the place. She did not have any problems. We've been pretty pleased with the staff.
---
James47
October 16, 2013
I am a friend or relative of a resident
Everything with Harmony Residential was great. They were recommended to me by a home care company. I did not encounter any problems with them. The staff was very nice. My mother was happy there. She was there for respite care.
---
Carol77155150
October 12, 2013
I am a friend or relative of a resident
My mother was there for a year and a half. The place is well-kept. She had a room whom she shared with another lady. It was very colorful, cheerful and warm. It was just a very nice home environment. The food was excellent. The caregivers were just exceptional. They were very caring to my mother. They treated her like their own mother. She had Alzheimer's and towards the end, they were very kind and patient with her. Their care was exceptional.
---
Linda77155050
October 12, 2013
I am a friend or relative of a resident
I'm very happy with Harmony Residential. My mother has been there for a year and a half. The staff is very caring. My mother said that the caregivers are like her daughter. They're loving to her. They really go above and beyond to help her all the time. The food there are all home-cooked. It's really good.
---
forjoan2013
September 27, 2013
I am a friend or relative of a resident
Harmony House offers a very quiet and peaceful "home" for several residents that require more care than they are able to get by living independently. They provide this care with the most respectful and responsible staff that really do spend time getting to know and appreciate each and every resident for their individual qualities. My Mom has been a resident of this home for many years and I have always felt that not only does she get the greatest care available, the staff are excellent in communicating with family members and meeting all of the unique needs of each individual resident. I have the utmost respect and admiration for Margaret Surrock and the staff she employs, and could not have wished for a better, more secure or wonderful, loving place for my Mom to spend these years.
---
A Caring Daughter1
September 27, 2013
I am a friend or relative of a resident
My mother has been a resident in this facility for nearly 2 years and I wouldn't want her anywhere else. I can rest easy knowing that she is receiving quality care around the clock 24/7. Everything is done around a schedule which is so important for the elderly, including meals, baths/showers, scheduled medication. The caregivers get to know each resident in a very special way. My mother has said several times, "they spoil me". Anytime family comes to pick her up to take her out, they make sure she is dressed well and her hair is fixed so she can feel good about herself. Other services provided include manicures, massages, activities, and a PA comes to them regularly to give them medical care so that I don't have to take her to a doctor unless a specialist or hospitalization is needed. This works well since he sees them in their own environment. They also have special social occasions in which family members are invited. If you are looking for an assisted living facility for a loved one, I highly recommend Harmony Residential Care.
Provider Response
You honor us with your gratitude and trust. We love what we do. Thank you.
---
From Harmony Residential Care, Inc
---
Caring Hands...Touching Hearts...Helping You
We Care For You
At Harmony Residential Care we are dedicated to providing you compassionate assisted living in secure and inviting residential settings. Your independence and sense of self is enhanced with our supportive environment. Live worry free and secure knowing we are always here for you. Our professionally trained staff are ready to help you when needed 24hrs a day. We know food is an important part of your daily enjoyment. We use only the finest meats and organic fruits and vegetables when preparing our meals. The menu is carefully prepared by our Registered Dietician with you in mind
Every Service Is Included
Personalized Care Plans
RN on duty
Three Nutritious and Delicious Meals
Snacks and Drinks Anytime
Secure Environment
Wireless Call Pendant
Smart Fall Prevention System
Medication Assistance by Certified Staff
Dressing Assistance
Bathing and Grooming Assistance
Mobility Assistance
Incontinence Assistance and Supplies
We Honor Aging in Place including Hospice
We do your laundry and housekeeping
Special Features
We understand your needs. We respect your individuality. We offer you special features to enhance your activities of daily living. So live well and be happy. It's all here:
24 Hr Assistance
Personal Care Manager
Health & Wellness
Emergency call pendant
Fruit & Vegetable Gardening
Activities to Stimulate the Senses
Massage Therapy
Hydro Therapeutic Bathing
Wireless Internet
Cable Television
Dementia Care
When your loved one requires special care, we can help. We design personalized therapeutic care plans to nourish body, mind and spirit. Maintaining a consistent routine with familiar caregivers is important. In our cozy settings, individuals suffering with dementia feel at home and secure.
24 hr Personal Attention
Incontinence Care
Supervision and Companionship
Calming low-stimuli environment
Positive Social Interactions
Walking paths and gated grounds
Professional Care Management
When medical services are needed, we will assist you with a variety of community resources covered by Medicare and supplemental medical insurance:
In-Home Primary Care
Podiatry
Skilled Nursing
Physical & Occupational Therapies
Durable Medical Equipment
Financial Considerations
Private Funding/Social Security Benefit/Pension
COLTS Medicaid Waiver
VA Benefit
Long Term Care Insurance
Features of Harmony Residential Care, Inc
---
Costs
Minimum rate:

$3250/month

Minimum Memory Cost

$3550/month
Location of Harmony Residential Care, Inc
---
Get Cost Information
Get full access to reviews, cost information, and amenities