Elmcroft of Milford Chase
1345 Milford Church Road, Marietta, GA, 30008
Talk to a Family Advisor: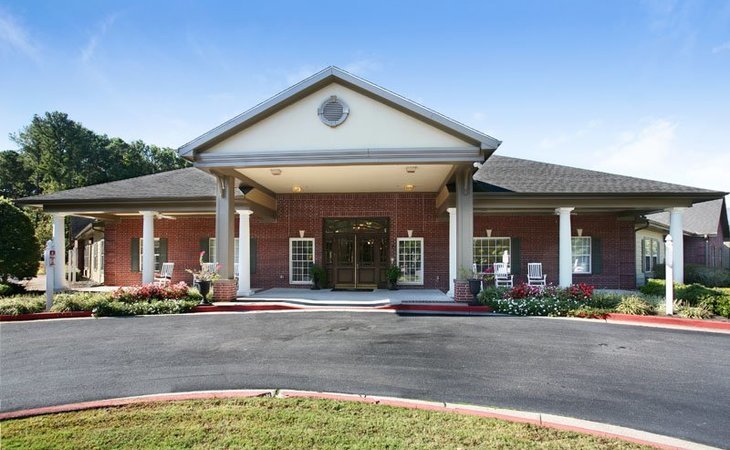 Reviews of Elmcroft of Milford Chase
---
Anonymous423370
April 18, 2017
I visited this facility
I really liked Elmcroft of Milford Chase because it was a more intimate community. The people were very congenial. I liked the screened porch. I had a good feeling about the place. The gardens were pretty, and there were places to walk outside. They had separate memory care lodging. I didn't like like how you would walk out of your room and into a hallway rather than into a common area.
---
JT680207
November 17, 2016
I visited this facility
Elmcroft of Milford Chase was incredible, and it's a beautiful place. It seemed like a happy place, and residents and staff seemed friendly and pleasant. They have 1-bedrooms and 2-bedrooms, and they were all pretty excellent. They have a laundry facility that the residents could use if they wanted to, a really pretty dining room, a library area, a room where people could watch movies, play games, or even work out, and a courtyard with benches all over. The residents can have pets, and I think that's amazingly cool. They were cooking that time, and the food smelled delicious. They had an area in the dining room where they had snacks, there was a popcorn machine, and people could cruise through there and get stuff.
---
Cheryl074238
October 06, 2016
I visited this facility
Elmcroft of Milford Chase was the very first one I visited. It was very nice. The staff was very helpful and spent a lot of time with me. It was great, but the rooms were too small. It seemed like a nice place. It was my first place, and at that point, I didn't know what questions to ask, and I didn't know what to look for, but the staff was very helpful, and she told me that I definitely wanted somewhere for my parents that had memory care on site so that I didn't have to move them again. She was really helpful. I spent a couple of hours there, and she was really super helpful, really nice, and talked about Caring.com in glowing terms.
---
Larenda
September 10, 2016
I am a friend or relative of a resident
Today I visited a friend at this facility and I must say that it was not what I expected. The staff are friendly and seem to have that personal touch. I've been in a lot of places and I know it's a tough job, but I didn't get the feeling that they were there just for a check. The nurse supervisor is very smart and you can tell that she loves what she does. It's not perfect, but I do believe they care.
---
Payne432563
June 17, 2016
I am/was a resident of this facility
I'm living in Elmcroft of Milford Chase. What I like about it is it's a smaller community and you don't get lost. The staff is friendly, caring, and on top of things because they know you personally very well. I think things are very clean, except for the carpets. There isn't a smell like in some nursing homes.
---
Roy801157
May 27, 2016
I am/was a resident of this facility
We liked the way Elmcroft was run. It was one of the nicest place we've seen, the biggest, and closer to our home. We've been there two months now. The room is a two-bedroom unit, so we set one up as a TV room, and we really enjoy the food.
---
Anonymous112454650
August 31, 2015
I am a friend or relative of a resident
My mother is currently at Elmcroft of Milford Chase. It does not smell, which is important. I found that the folks are not wandering aimlessly. They are engaged and busy. I had to put my mother in the section where they take care of people with memory problems, and they are taking care of her there. The services are good, and they provide the service that the doctor recommends. I am very comfortable of her being there.
---
Caring103451950
March 25, 2015
I visited this facility
Elmcroft of Milford Chase was a nice facility. It had a lower moving up fee. They had a friendly, very upbeat, and positive staff. They invited us back after our initial tour for my father to have lunch. The food was good. He liked the room. It just was a good fit. He could basically go throughout the community. It had a lot of open areas. The grounds were very well maintained, and the facility was clean, which is first and foremost for me.
---
Caring103517350
March 16, 2015
I visited this facility
We have looked in there at Elmcroft of Milford Chase, and I like their layout. I probably just pulled up assisted living in the area when I first started looking, and this one was close to me. I didn't really see too many of the staff when I was there, but the person that took me on the tour was the recreation director, and she was absolutely awesome. I did see the rooms. They were rooms with a private bath and small kitchenette type things like a sink, a microwave, and a mini refrigerator. I know they have a memory care. I did go back into their memory care area, and it seemed very nice. They had a laundry area that I saw for the residents that did their own laundry. They go out, and they have activities. Once a month they do different meals from different countries. One time I was in there, they were making Halloween masks.
---
Caring92672350
August 30, 2014
I am a friend or relative of a resident
We chose Elmcroft of Milford Chase because it was a very nice community and it was conveniently located for us. The building was very nice as well as his room. They had a more reasonable rate than what we found any place else. The staff were very, very lovely as well. They have a nice kitchen and restaurant. They probably have some things to do, but he is not partaking in them. His activities are watching TV and reading, but we talked about him taking up some walking around in the building.
---
Caring0720
July 20, 2014
I am a friend or relative of a resident
We chose Elmcroft of Milford Chase for the location and the atmosphere, and also their facilities were nicer than all the rest of them. My uncle is in a two-bedroom unit where he has two bedrooms, a sitting room, a bathroom, and a kitchen with microwave, mini-fridge, and sink. Also, he has control of his own temperature as far as heat and air conditioning. His unit is very nice. What I like about Elmcroft is its overall appearance and the operation of the facility. Also, my uncle engages in the facility's activities.
---
Mike48
June 30, 2014
I visited this facility
I would not recommend Elmcroft of Milford Chase because it felt more like a hospital than an assisted living home. The rooms were very small. I didn't see anything that I liked other than location of the facility.
Provider Response
Dear Mike,

Thank you for your review and feedback. Our priority at Elmcroft of Milford Chase is to provide a home-like atmosphere and the very best care for our residents. We regret you did not fully experience the Elmcroft difference during your visit. Please know we truly value your comments, it's paramount to helping us better serve future residents and families.

Elmcroft of Milford Chase
---
Caring75519650
January 31, 2014
I visited this facility
Elmcroft of Milford Chase was a very clean facility. I like the amenities that they had available. They were very well organized too. The staff was very knowledgeable. They were very good at explaining how they're set up and what they offer. From that standpoint, that was very satisfying. The main problem though is that they don't offer nursing care and that their care is very limited.
---
dbexpress
October 21, 2013
I visited this facility
I recently visited this community. I was very impressed with everything that I experienced while I was there. The staff seemed to be very happy and like what they do. The community itself was beautiful. They had different floor plans to choose from and I liked that memory care was available should by mother ever need it. They have great social programs and the care levels are done much different thatn I have seen before. They are very personalized and easy to understand. Although we are still considering out options as a family, this community is top on our list.
---
Mary fox johnson
June 28, 2013
I am a friend or relative of resident
after visiting this community i was very impressed with everything the staff was knowledgeable of all of the things that i needed and wanted for my loved one.
---
Barry2
June 12, 2013
I am a friend or relative of a resident
My mom stayed in Elmcroft of Milford. It was close to our house that's why we chose this place for her. It was a nice enough-looking facility. The people who worked there are super great. However, the care there wasn't very good. Right after she passed away, management had fired a lot of people because there were a lot of complaints about the place.
---
inadequate_Care
November 11, 2012
I am a friend or relative of resident
I am so happy that my dad is finally out of that place!!! He was completely neglected and not receiving adequate care. My father was underweight, malnourished and oftened soaked in his own urine; his hygenie was neglected as well, to the point of disgust. While I deeply regret my dad's experience I hope his case cautions others to think twice before sending their loved ones to Elmcroft.
---
Katie H
August 31, 2012
I am a friend or relative of a resident
The facility was well maintained and pleasant. The staff was very friendly and did a great job in engaging my grandmother in community life and keeping her as active as possible. At the same time, they were supportive in all the right ways. The only complaint was my grandmother thought the food was bland.
---
JacobSmith
June 16, 2012
I am a friend or relative of a resident
The staff present at this facility is really outstanding. There is a nursing staff present 24-7. The staff is always present ensuring the care of the residents, and assisting the residents participation in activities. A receptionist is always present during visiting hours who kindly greets you, and is able to point out where your family member is at. In addition, the management arranges meetings with the family every 6 months to discuss the resident's care and health. The staff at this facility is very motivated, unlike some other facilities I have visited in the past. Also, the facility is always very clean, and never smells bad. The food and dining offered is excellent; I wouldn't mind a plate of their food myself. Finally, the facility is one level which is really comforting when most residents wouldn't be able to handle stairs in an emergency. Other facilities I have toured in this area are two stories.
---
Gloriea
September 30, 2011
I visited this facility
Of course it's hard to consider putting your loved ones into any type of facility. Most people feel that their parents take care of them so it's a tradegy when you even have to considered putting them in a care facility. However, a visit to Elm's Croft in Maritta, Georgia helped me and my family feel comfortable about considering a facility. Elsm's Croft is different from just any facility. Elm's Croft is an "assisted care facility" that offers peace and security to your love ones. For example, when we visited we discovered they have a 24 hour nursing staff. It is good to know that my dad will be protected with immediate care personnel on-site. They provide complete 24 hour personal care. They also offer fabulous dining in a restaurant-style setting. This gives your loved one a scene of social activities. They have plenty social activities designed to help your loved ones health and mental well being. Unlike other assisted care facilities they focus on the mind of the client as well. They focus on assuring your client a healthly frame of mind being placed in a assisted care facility. You will always have an update on your family members emotional state. The facility is safe and secure and they offer reasonable visiting hours for you to visit your loved one. Furthermore, arrangements can be made for a family member to assist in the care of the client on a regular basis with the assistance of the Elm's Croft medical staff. Overall I considered this a remarkable assisted living facility for my dad. We haven't made a decision yet, but Elm's Croft is on the top of the list. They made the thought of assisted care for my loved easy and tasteful. The staff was friendly and caring towards my needs and what we expect for my dad. I would recommend this facility to anyone located in the Georgia area. If your not sure if it's what you want to do request a free tour. It'ss convient and lasts about 30 minutes without obligation to you. Furthermore, they don't pressure you after the visit to enroll your loved ones. The one downside is that only a few insurance carriers are being accepted.
---
A Concerned Social Worker
August 19, 2011
I visited this facility
This facility, which offers memory care, short stay and respite care along with a senior day program, is easy to find, and there is plenty of parking provided for visitors. It is clean and free of odors""an older building that's a little out of date, but elegantly decorated in a traditional style.
The building is ranch-style, so all on one floor; residents can easily walk out on the porch and sit and congregate. There's a pod in the middle with beautifully landscaped places that residents can use for walks.
The facility is medium-sized, with two wings""all private rooms. Common areas include a living room/dining room, hair salon, library, and sun room.
There is a menu posted each week, so residents know what to expect during mealtimes. Several selections, touted as restaurant style, are listed daily""and residents seem to enjoy the food.
There is an extended activity schedule with diverse offerings, including a Beauty Day, Margarita Wednesday, Takeout Night, Cooking Classes""a lot of things you don't normally see.
The residents appear well cared for and content. Some hire personal care to come in; otherwise, they charged for care a la carte, according to needs. Examples of extra care needs here include medication management, safety checks, transfer assistance and incontinent care.
---
From Elmcroft of Milford Chase
---
Residents of Elmcroft of Milford Chase are proud of the independence they maintain and enjoy the security of 24-hour personalized assistance. While we offer a helping hand with day-to-day tasks such as dressing, bathing and medication monitoring, they are treated as the accomplished individuals they are. They enjoy the freedom of choosing their own agenda and activities, while feeling secure in knowing that we are always there to provide support should they need it.
Our residents also enjoy a unique dining experience where original culinary creations, along with traditional dishes, provide a variety of meal options, and the social setting makes dining an event. Good friends, good food and excellent service create a truly enjoyable dining experience.
Features of Elmcroft of Milford Chase
---
Costs
Minimum rate:

$3030/month

Minimum Memory Cost

$3420/month
Location of Elmcroft of Milford Chase
---
Get Cost Information
Get full access to reviews, cost information, and amenities