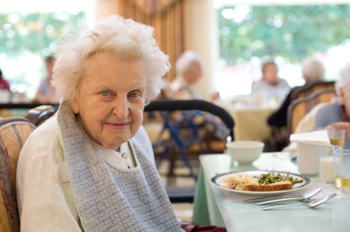 All Rights Reserved
Making and narrowing nursing home choices
Look into nonprofit nursing homes first
Make a list of the nursing homes you wish to consider, and look into the ownership of each one. Recent studies have shown that overall, nonprofit nursing homes provide higher quality care, higher staffing ratios, and have fewer health violations than those run by for-profit companies. If this information isn't readily available, ask about ownership when you visit.
Decide what kind of nursing home is best
If the person in your care has a medical condition that requires continuous monitoring -- anything from a feeding tube or respirator to an ongoing need for physical or occupational therapy -- he'll likely need to be in a skilled nursing facility. If his main need is for ongoing help with activities of daily living, then an intermediate rather than a skilled facility may suffice.
Sometimes older adults transition from the hospital to skilled nursing and later to intermediate care. Some facilities have both skilled and intermediate wings. Each facility will have intake planners who can help you evaluate a person's needs and find the right level of care.
Narrow down your nursing home choices
If someone is going to a nursing home after a hospitalization, the hospital will have a social worker known as a discharge planner who can help you find a home. But there's no substitute for doing your own legwork. One quick way to compare nursing homes in your area is by using Caring.com's local eldercare directory, which includes contact information, capacity, whether a facility is nonprofit, and displays Medicare's five-star rating. Medicare ratings include an overall quality and safety score along with individual ratings of a community's health inspections, staff, and quality of care.
You can also find nursing homes by using HealthGrades.com's nursing home ratings tool. By analyzing information from state inspections and consumer complaints, HealthGrades ranks nursing homes on a five-star system and offers a detailed report on everything from cleanliness and diet to "dignity and respect of each resident" to how often patients typically get bedsores.
Doing your nursing home homework
Check a nursing home's reports
Each nursing home is required to keep copies of state licensing reports on-site and to show them to you at your request. Once you think a home is a good possibility, take a close look at it.
You can also call your state or local long-term care ombudspersonand ask if there have been any substantiated complaints against the home you are considering. (An unsubstantiated complaint in itself, with no other red flags, may not be reason enough to steer you away, as complaints are fairly common.)
Log some time at the nursing home beforehand
Above all else, try to spend time -- with the person you're caring for, if possible -- at a place you are considering, and trust your instincts. Remember that, even if someone needs round-the-clock nursing supervision and a nursing home seems to be the only way to go, this is a difficult step for many seniors to take. The sight of other elderly and ill residents, often in wheelchairs, may evoke depressing feelings of being "put in a home." Staff at a good facility will be aware of these feelings and treat patients with care and courtesy. But ask yourself the following questions:
Do they address the person by name from day one and ask him about his preferences rather than seeming to treat him as "just a number?"
Do the long-term residents look well-groomed and animated?
Are there little touches, like well-tended plants, that make the place seem less institutional?
Small things like these can ease a challenging transition.